Over the years, Sennheiser has released some of the best audio devices you can find out there. Although their gaming headsets haven't exactly set the world on fire, they have been solid products by all standards. The Sennheiser GSP 670 is the company's first major release of headphones for the high-end gaming market and as with any high-end device, there is a lot to be anticipated. Let's see what we can find out in this Sennheiser GSP 670 review.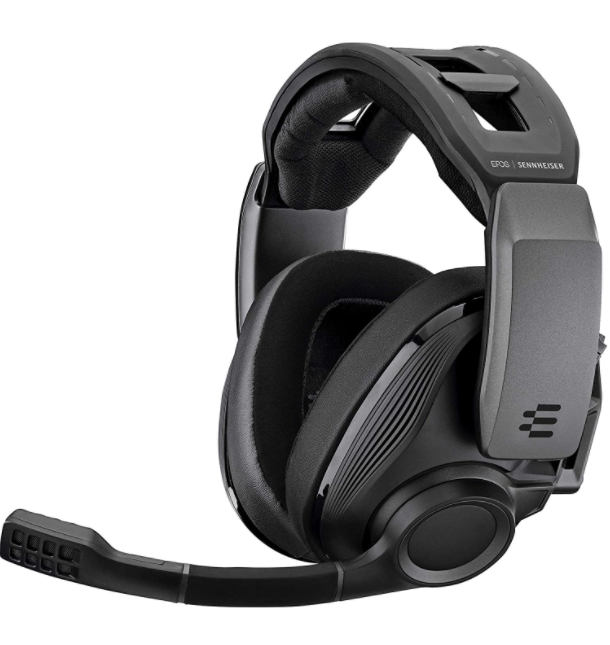 Sennheiser GSP 670 Review
Design and Build
This wireless gaming headset has a mostly plastic construction and features a flexible headband with solid, double-hinged ear cups. The headband consists of adjustable tension sliders. There is no extreme difference between the tightest and the loosest but it is still great to be able to make slight adjustments. The GSP 670 weighs more than 500 grams, hence, it is a very bulky gaming headset. Nevertheless, it balances properly and will not cause you any strain even when you wear it for long periods.
The Sennheiser GSP 670 sports ear pads with fabric tops and faux leather edges. The design seems rather tacky, but it also shows that the headset can work with a leather aesthetic without issues with flexibility or heat accumulation. Also, there appears to be a sound isolation ability as a result of this design. The adjustable tension of the headband also complements this to easily achieve a tight seal.
This gaming headset has an array of onboard controls. It might be difficult to figure them out at first, but they are not so hard to learn. The headset's microphone is attached to the left ear cup, as well as the micro-USB charging port and the switch for connecting the GSP 670 to its dongle or a device via Bluetooth. The right side of the headphone has a button for switching surround sound, along with a small dial for controlling speech volume and a bigger dial by the side. This other dial is the control for the general volume of the headset and when you move it all the way down, the Sennheiser GSP 670 will be shut down.
A quick view shows that all the features of the headset combine to provide an excellent sound experience, but there are actually a few issues that restrain such excellence. The Sennheiser GSP 670 is a very comfortable pair of headphones. The mic is brilliant and easy to handle. In addition to Bluetooth connectivity, you can also connect the headset to your phone, PC, or PS4 at the same time by using a 2.4GHz wireless RF USB dongle. The dongle can also nullify Bluetooth audio with the exception of phone calls. But the range of these headphones leaves little to write home about.
Sennheiser GSP 670 Performance and Sound
The overall audio performance of the Sennheiser GSP 670 is mostly accurate, especially for bass and mid-range sounds. There is a negligible degree of subtleness in the high notes which is not so much that it will affect your listening experience negatively. As a matter of fact, you might even find that there will be less shrillness in the high-pitched sounds of games. This will be even better for games that have plenty of explosions, tinnitus sounds, or mechanical whines. There will be no issues with the sound of explosions overwhelming the lower sounds like speech or footsteps.
For music listening, this kind of frequency response from the GSP 670 is ideal for electronic music with heavy bass, and even most other genres. The slightly deficient highs may make the sounds of some strings and cymbals rather too faint, but the effect is something really negligible.
For a gaming headset, the sound isolation of the Sennheiser GSP 670 is outstanding. Though it is nothing close to ANC, the thick ear pads and tight seal provide superb passive isolation. It effectively blocks out sounds at home, such as the buzzing of a fridge down the hall or a vehicle honking outside the window.
Final Thoughts on Sennheiser GSP 670
Is the Sennheiser GSP 670 a good choice? Probably not if you're hoping to spend less, but the GSP 670 Sennheiser headphones do have some advantages over more common headsets.
The GSP 670 is a great option for many reasons: it is extremely comfortable, sounds excellent, and also comes with some very handy features. However, the connection problems might be a bit upsetting if they come up. If they don't, then this a high-end headset that performs at an above-average level. Nevertheless, for its price value, it should be a better device than other cheaper products.