If you wish to get yourself a good pair of on-ear headphones but find that your budget is limited, do not fret, there are on-ear headphones of high quality which you can acquire for $50.
There has been a lot of changes in the headphones market over the last few years. There weren't many options to choose from when it comes to on-ear headphones under $50 before now but the current market is littered with numerous products which makes it more difficult to make a choice.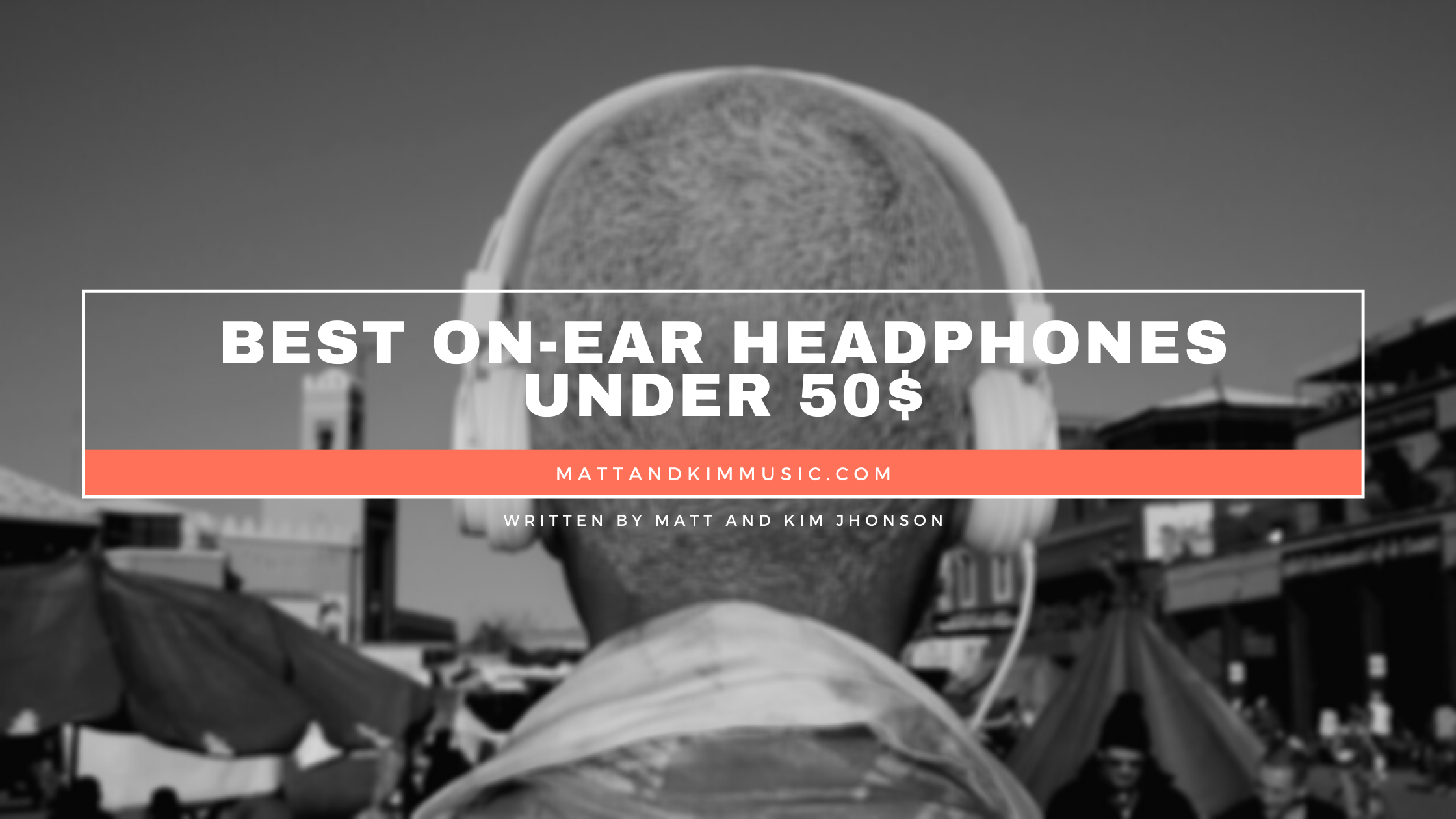 If you find yourself confused by the sheer number of products available in the current headphone market, then this article will be of great help to you. Here we examine the best on-ear headphones priced under $50. We selected these headphones after considering some standard markers for the best on-ear headphones under 50 that will suit you perfectly.
If you wish to acquire headphones that you can carry with you on your daily commute without necessarily breaking the bank or shopping for a gift these headphones under $50 are the best options available.
If you have a budget below the $50 mark, then take a look below at our collection of headphones under 50.
Best on-ear headphones under 50$:
1. SHURE SRH-145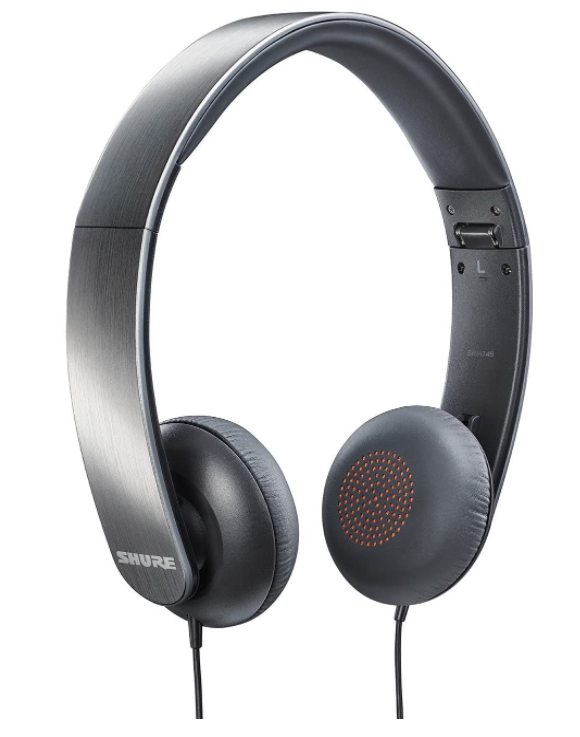 Are you desirous of a sturdy pair of on-ear headphones below $50 to help you in your travels? Or are you simply a staunch fan of the smaller design of the on-ear headphone style? SHURE SRH-145 remains the best option for you.
It comes with an elegant and thick headband which can be folded to make the headphones extremely portable. This excellent headband design is made even more handsome with a nice pair of deceptively plush earpads. The portable design of these headphones makes them the perfect option for people who are always on the go and do not desire to overload themselves with some of the heavier options on the list.
In case you do not recall the appearance of on-ear headphones, they are designed to sit directly on top of your outer ear. If you aren't familiar with this style of headphones, we advise you to give it a trial run to see if it is your speed before you commit to a purchase. This is because some people struggle with comfort during long listening sessions with the on-ear style.
2. Skullcandy Riff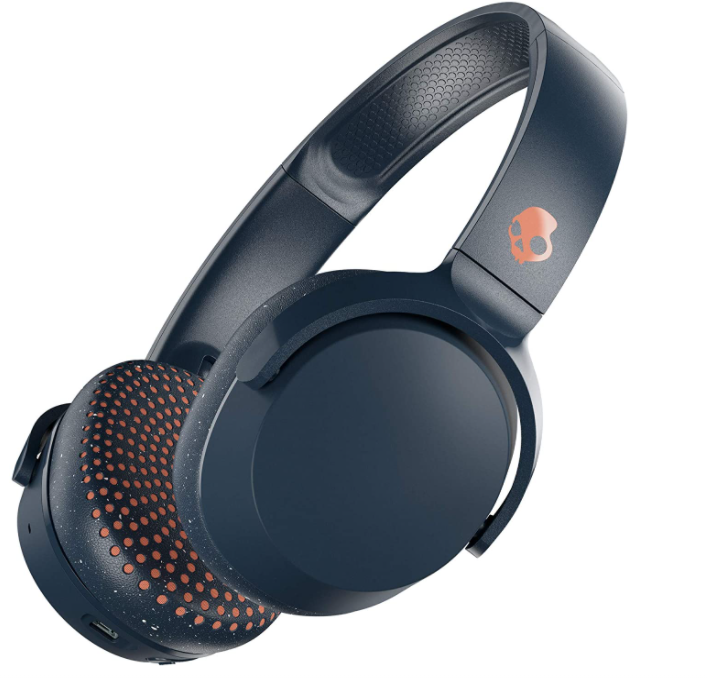 On-ear Headphones do not offer the full noise blocking capabilities of over-the-ear headphones but they will not pinch your ears the way over-ears do. Comfort is well covered by the Skullcandy Riff because one can easily wear these headphones for hours and have nothing to complain about.  The price is commensurate with the quality of the design which isn't premium in the least with a mix of metal and plastic going into the final appearance.
The sound quality on offer is excellent when you consider that these are less-than $50 on-ear headphones. The awesome sound is a result of a slightly boosted bass which is best enjoyed in quiet environments. It has well-pronounced highs and mids which is to be expected of a headphone without passive noise isolation capabilities.
If you want to be kept aware of your immediate environment, the ambient sound filters are available and make this a good option for you. On the other hand, this makes it impossible for you to fully get into the music. It comes with excellent Bluetooth connectivity which is also your only play option since the wired connection is not available.
It offers about 12 hours of battery life. It also has a quick-charge option that gives you 2 hours of playback with 10 minutes charge time. You have to charge using Micro-USB and not USB-C which is a little draw-back but not much of that.
3. JBL Tune 500 Headphones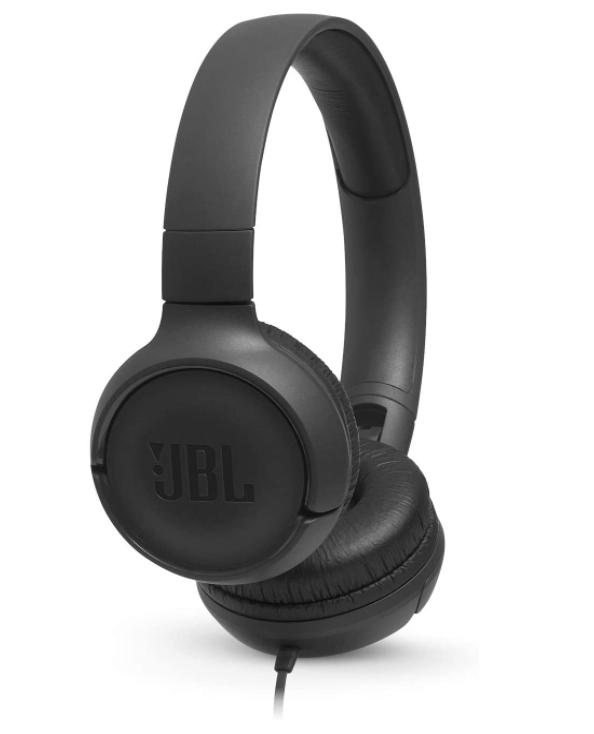 JBL is a brand that produces exquisite products using technology they have developed with their 60 years of experience in the market.  They are currently at the top of the ladder with other leading brands when it comes to professional sound reproduction. JBL produces a lot of audio equipment for the home, car, gaming, and many others. Here is a sound brand trusted by audiophiles because they produce quality which professionals can count on.
You can get the JBL Tune 500 headphones in a variety of colors including white, black, blue, and pink. This design is a wired on-ear type of headphone. It comes with soft ear cushions and a padded headband all of which helps to ensure full comfort.
It is on the light side weighing about 0.33 pounds. These pair of headphones come with a foldable flat cable which helps you avoid tangling and makes it easier to be carried wherever you go. It also comes equipped with a right-angled plug which can be conveniently used with pockets.
The Tune 500 comes with JBL Pure Bass sound. Its 32mm drivers, with a frequency range of 20 Hz to 20 kHz give you the expected booming bass sound you have been searching for. It also has delicate but lucid lyrics and mids with a flawless reproduction of high notes.
It has a one-button universal remote that helps you conveniently control and access your music. It also boasts compatibility with most if not all smartphones. This awesome JBL Tune 500 headphones also facilitate connection to voice assistants without using a mobile device.
4. Sony MDR ZX110AP Headphones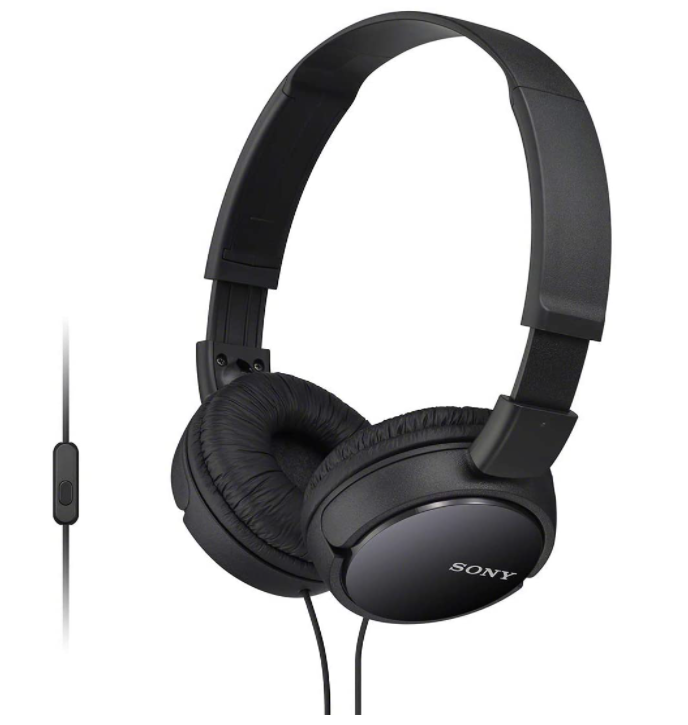 A member of the ZX-Series of Headphones from Sony, the MDR ZX110AP headphones can boost your personal listening experience. It is specially designed for your comfort and high-performance, this pair of headphones will give you the best listening experience. It delivers a strong music performance along with functional smartphone controls for use while you're on the go. Also, it is equipped with intuitive controls and hands-free calling functionality for simple operation. In fact, you need not ask for more.
There are varying varying colors of the MDR ZX110AP headphones available such as Black, Pink, and White. It is a fashionably wired, on-ear type of headphone. Its on-ear and press on your ear features are specifically designed to help you regulate your listening time. So it's advisable to take off the headphones for a bit after one or two hours of listening. It also features a swivel design for portability.
This model has Sony's special Acoustic Bass Booster from that gives you resonating bass sounds. The 30mm drivers permit an amazingly wide frequency response between 12 Hz and 22 kHz. It also provides harmonious mid notes and high notes with a punchy bass in addition to its 24 ohms of impedance.
The MDRZX110AP has an in-line microphone for hands-free calling. It boasts rare compatibility with both Apple and Android devices. Just download the free SmartKey App if you want to customize the avalable in-line remote functions. What's more? Every purchase comes with a free Y-type cord with a tangle-free design which is 1.2 meters long. Get this great pair of affordable on-ear headphones selling for less than $50 now.
5. JVC HAS160A Flat Headphones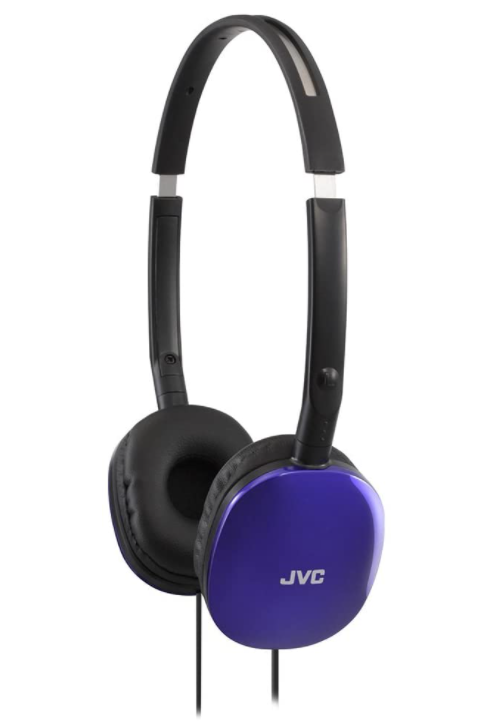 For fashionable retro headphones that take you back to the '90s in grand style, JVC brings you the HAS160A Flat Headphones. Its design makes you reminisce on the good old days while the sound quality takes you to the heaven of audios. Feel the best technology in music classically packed in retro.
JVC HAS160A Flat Headphones come in varying colors, including Black, Blue, Pink, Red, Violet, and White. Its ear cup paddings and headband are black. iPods are also available in matching colors. This is a wired, on-ear type of headphone.
It is designed in the trending retro style and also portable with a narrow stainless steel headband that can be adjusted to suit various head shapes. The earpads are very soft with sound isolation properties and can also be aligned to make the headphones lie flat for storage. When folded, it becomes less than 1 inch thick and very portable. It is also extremely light at 66g.
Its 30mm Neodymium driver units provide you with powerful, rich sound. You can only get the best from these headphones.
Finally, it features a classy headphone jack plated in gold and the chord you get is considerably long at 1.3 meters long.