If you often find yourself dozing off while listening to music at night or you have a nightly routine of playing music to put you to sleep, only to wake up later to the discomfort of earbuds pressing into your ears, then you should consider getting a pair of comfortable headphones for sleeping.
Anyone who sleeps on their side will likely know about the particular pain you feel when you wake up with a headphone pressed into one ear and the earbuds housing squashing down between your head and ear after sleeping for hours.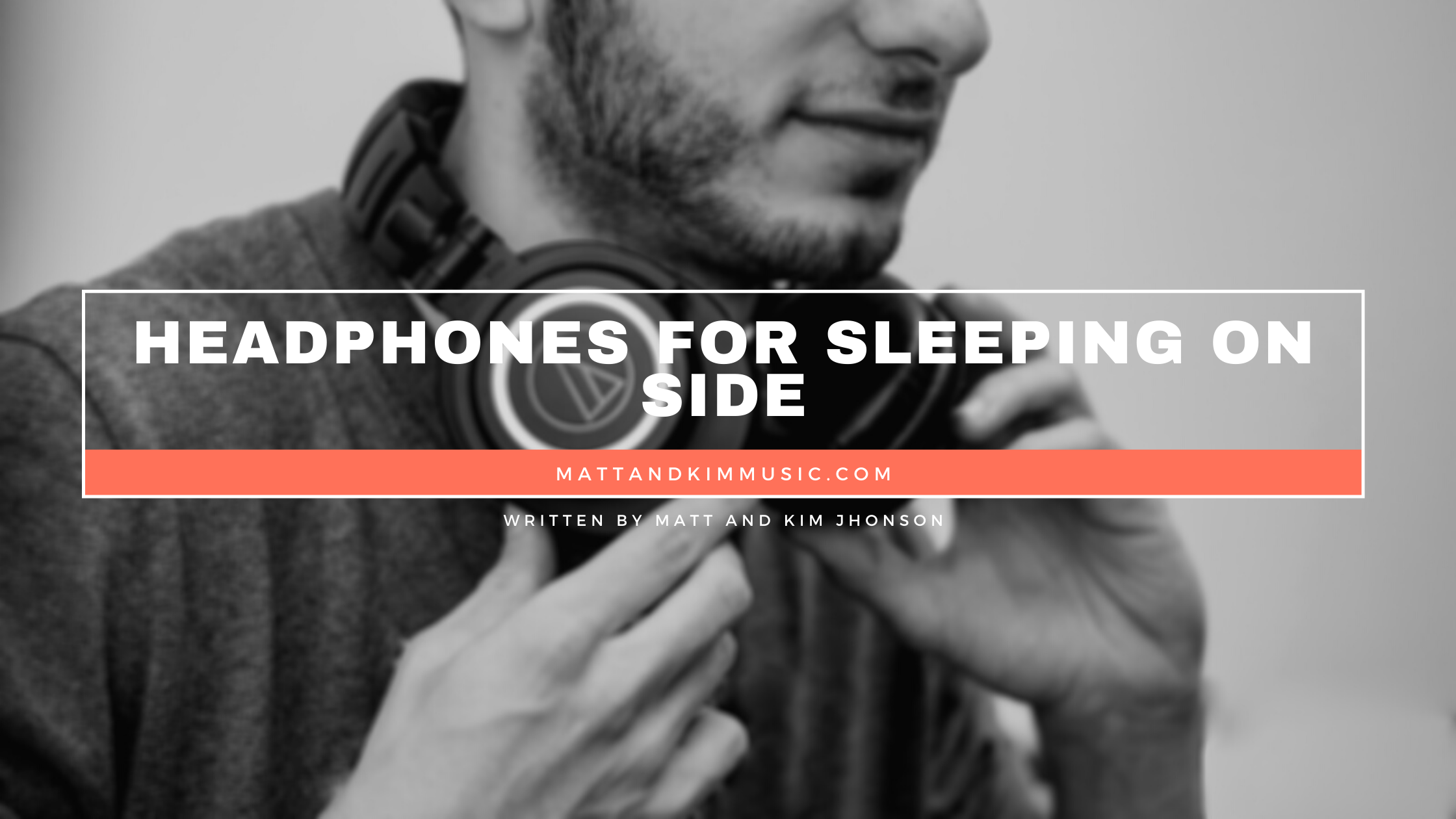 When buying sleeping headphones, there are three important attributes you should consider; sound quality, noise isolation, and snug fit, but most regular headphones are not designed to have all three in place. We have however found a number of headphones for sleeping on your side that let you get good sleep at night while listening to music.
Note that regular headphones will give you superior sound quality and create white noise to put you to sleep but they will hurt your ears when you sleep while wearing them. However, if you go for any of these headphones for sleeping on side that we have listed below, you will find that they are not only comfortable but have top-quality audio performance. You can use them in any situation that you have to go to sleep, like while sleeping next to a noisy snorer or traveling.
Headphones for sleeping on side in 2021:
1. AcousticSheep SleepPhones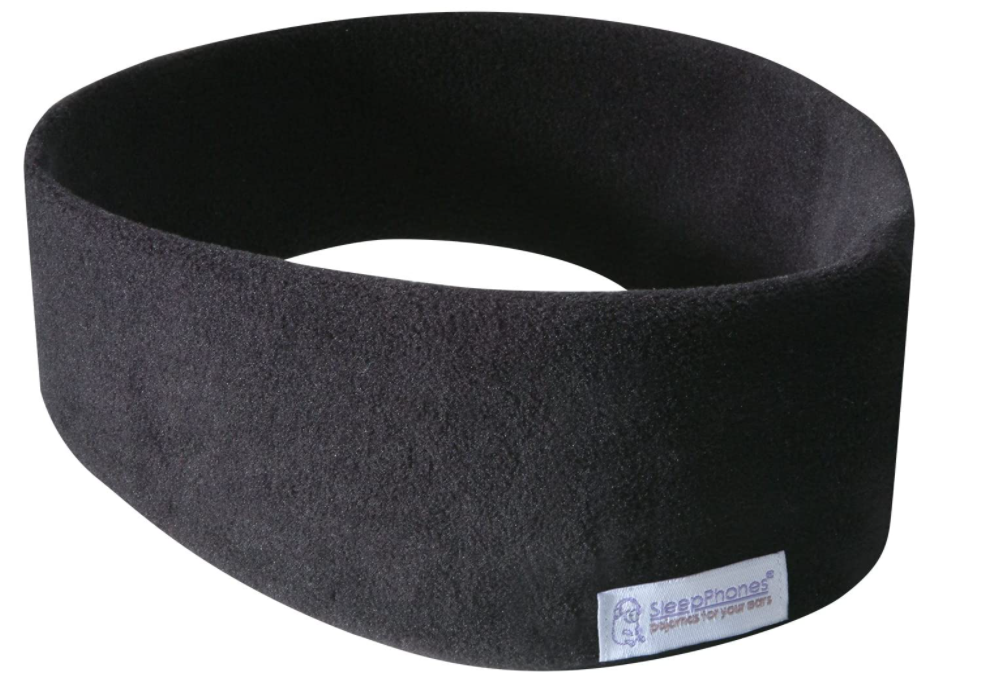 The AcousticSheep SleepPhones are the comfiest, cushioned headphones for side sleepers. Their major selling point is that their speakers are very flat, giving you the freedom to lie on your side for long.
There are several versions of Acoustic SleepPhones. There is the easy charging version, the wireless Bluetooth, the one with a standard 3.5mm pin connector, and the one that has a wireless transmitter for TV.
With the Bluetooth version, you get comfort, convenience, and reasonable sound quality. Though the sound quality can't be compared to the high end Bose headphones, it still delivers your radio, podcasts, and music in the full range clearly with no sound distortions while relaxing in bed.
The headphones come in two different fabrics: breeze and fleece. The breeze style is designed for people who like to keep cool while sleeping, while the fleece style keeps extra warmth around while you sleep.
The headband has a snug fit. It feels neither too tight nor too loose and has a built-in control on it. This lets you conveniently play, pause, skip tracks, and adjust the volume. It is nice having this control feature at your fingertip while lying down even though the buttons are a bit buried in the fabric and locating them may take a few seconds.
2. Lavince Bluetooth Sleep Headphones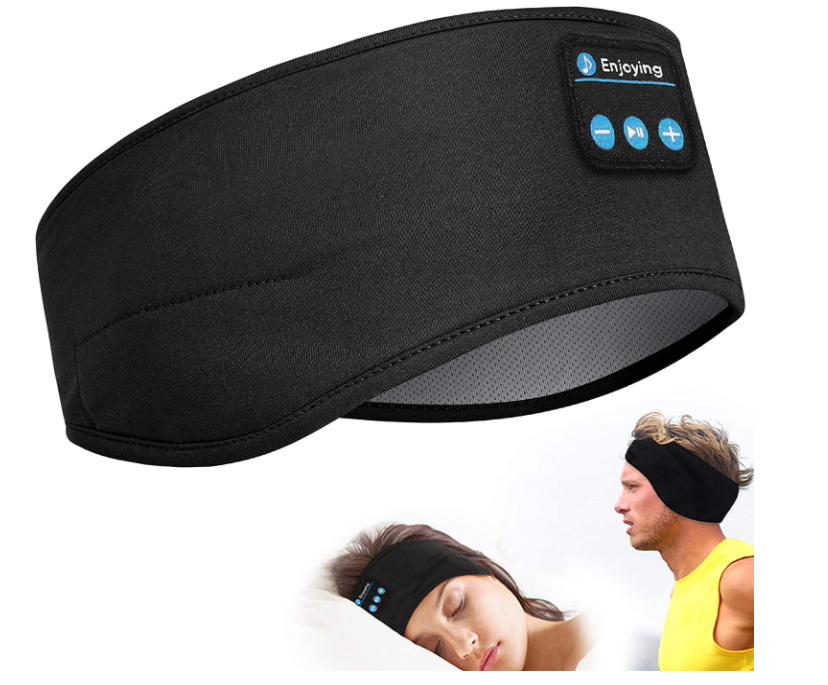 Side sleepers will enjoy using the Lavince Bluetooth Sleep Headphones to listen to their music, podcasts, or radio in bed.
With these headphones, you don't have to keep tucking cables out of the way beneath your pillow. You can connect them via Bluetooth to your smartphone or tablet. They run for 10 hours when fully charged so every normal sleeper can get listening time for a full night's sleep.
The breathable, stretch mesh material that the headband is made from help to prevent the accumulation of heat during the night. Heat buildup might not be an issue during the cold season in cooler places. But during the summer, headphones with thick fabric will cause some discomfort.
Lavince Bluetooth Sleep Headphones have thin speakers that are neatly fitted inside the headband. This allows you to lie on any side with the speaker directly under your ear. You can sleep comfortably in this position as long as you're not using a hard pillow.
Though this kind of headphone design is somewhat unusual, these are the best budget Bluetooth headphones for sleeping on your side. However, if you sleep on your back and prefer speakers with louder volumes, then we would recommend that you go for the AcousticSheep headphones, despite the difference in their designs.
3. CAHU CH Sleep Headphone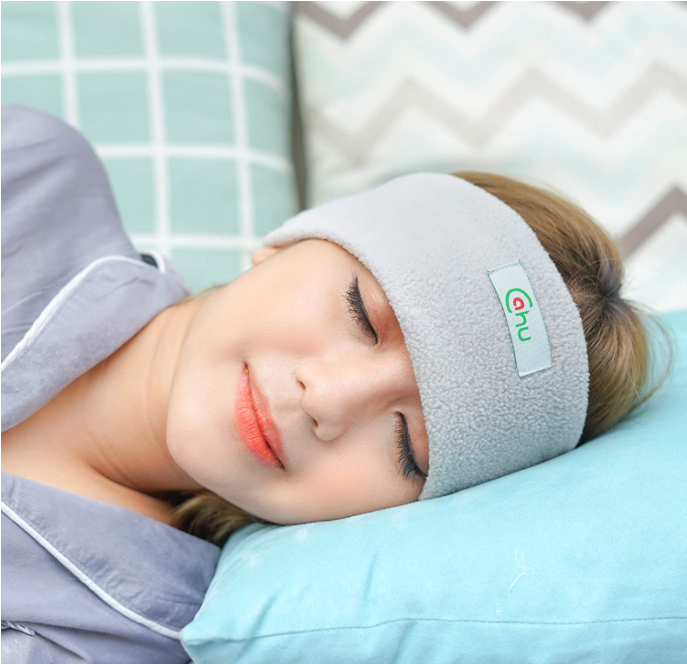 Apart from being great headphones for sleeping on side, the CAHU CH Sleep Headphone is also a nice sports headphone. It is designed according to the standard headband design for sleep headphones. As with other sleep headphones, the speakers are fitted into the headband. The headband is usually made of very comfortable material. For the CAHU Sleep Headphones, the headband is made of polar fleece.
The cord is placed at the back of the headband to prevent it from tangling and getting in the way. It works with the standard 3.5mm headphone jack and is compatible with all smartphones, MP3 players, and iPods.
Note that while the audio quality is very good, the accuracy of sound profiles is not the focus of these kinds of headphones. Hence, like most other sleep headphones, you will get nothing really impressive when it comes to precision. Sleep headphones are focused on giving you a comfortable and relaxing listening experience and the CAHU CH does just that. This headphone also has noise cancellation features and blocks out outside noises like moving vehicles and other noisy snorers around. This feature complements the incredibly soft feel of the headphone to give you a great pair of sleep headphones that keeps you comfortable in any kind of sleeping position you like.
CAHU CH Sleep headphones are useful for travelers. It is also a great sports headphone. When it gets soaked in sweat and smelly after a workout session, you can easily remove the speakers and wash the headband.
4. Dubslabs Bedphones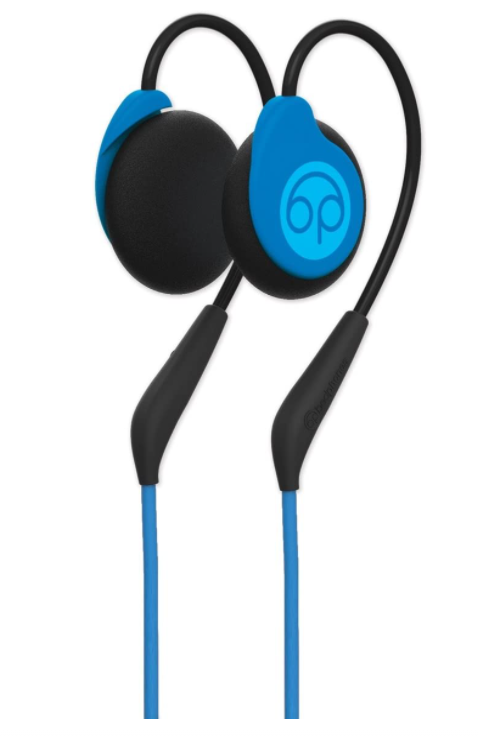 Most of the previous comfortable headphones have fabric headbands as their strong points. However, Dubdlabs Bedphones take a different approach, having very light speakers that rest with minimal pressure on your ears.
They were designed specifically to be used in bed and they never overheat in hot weather.
The headphones have a cable, whose only function is to connect the two speakers. They actually work with Bluetooth. With a couple of hours of charging, you can enjoy them for a whole night.
There is a volume control button that you can easily access while using them at night. They have very clear speakers, so they are perfect for tuning in to the radio or podcasts.
As much as these headphones are excellent in delivering clear sounds, the bass can be unexciting and the maximum volume not loud enough. Thus, they might not be the right headphones for you if you like to sleep with deep bass thumping into your head.
Notwithstanding, once you have fitted the speakers properly, you will find these headphones quite comfortable to put on while sitting on your bed or relaxing lying down on your side. Overall, the Dubslabs are the most efficient lightweight wireless headphones for people who sleep on their side and people who spend time relaxing in bed before drifting into sleep.
5. CozyPhones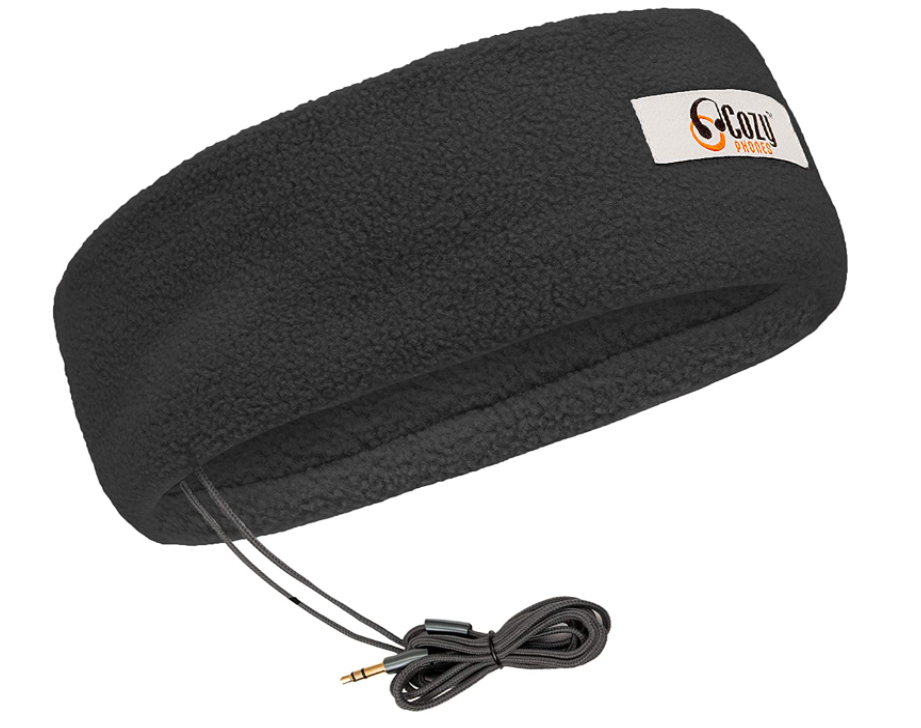 Cozyphones is a good option if you need comfy fabric headphones that work with a cable and not Bluetooth. They are also very affordable, just like the Lavince.
One of the major advantages of these headphones is that they have thin, flat speakers. Thus, they put minimal pressure on your ears when you sleep on your sides. Though they can't be compared to the AcousticSheep, they are flatter than most standard headphones.
The headphones are kept from overheating by a cool mesh lining covering the outside. We also found that you can detach the speakers and wash the headband in your washing machine. This device has a sound quality that is okay for quiet listening.
You will enjoy using them to listen to some relaxing music in bed as the sound is quite clear. However, you won't feel much thrill when you crank up to the maximum volume. They work with a tangle-free 52-inch long cable.
They also come with a standard 3.5mm stereo plug. The advantage of using these wired headphones is that you don't have to deal with the battery running out and having to recharge it at inconvenient times.
Generally, CozyPhones with their good audio quality and outside layers that don't overheat are ideal wired headphones for sleeping on side. If wired headphones appeal to you and you would rather connect with a cable to your mobile phone or audio device than connect via Bluetooth, then you should give these a try.