Bass Headphones are headphones that accentuate the bass over all other frequencies. Oftentimes, manufacturers of the best bass headphones under $100  utilize several design tricks to create bass headphones including the addition of passive components in the signal path. At other times, the creation of headphones that emphasize the bass above other frequencies is not deliberate, the end product just happens to emerge unplanned.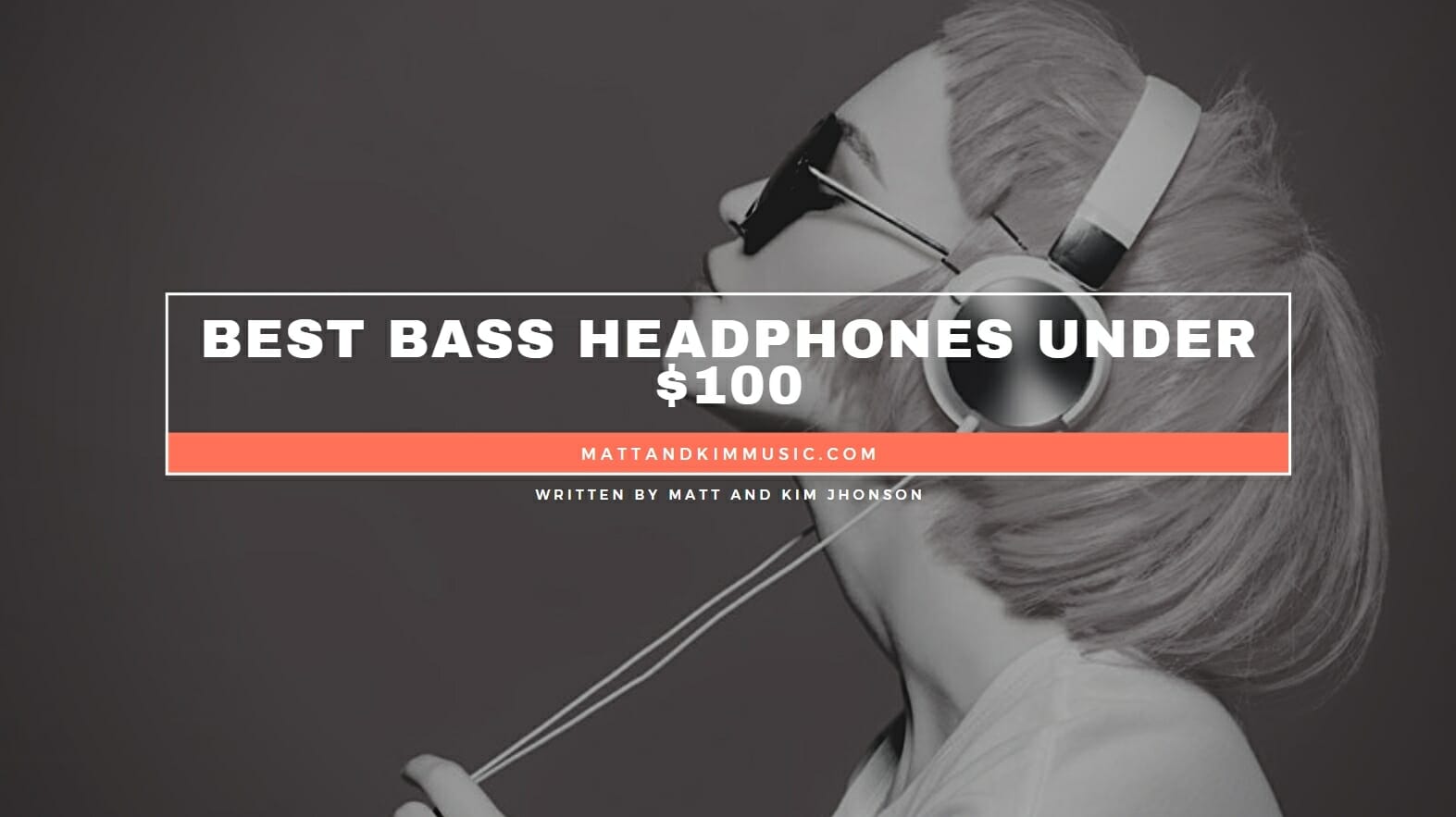 We adore good bass. It's stimulating and makes every music come alive. Despite our love for good bass, it is difficult to find the best bass headphones equipped to deliver the most bass. You need some balance, not just a headphone that compromises on the mid and high frequencies to give you all the bass. If you get a headphone that overpowers the other frequencies, you miss out on the right depth and detail which is the very thing that makes music unique.
You require a banging bass with clarity and the right mid and high frequencies to complement it. Besides a great balance in sound, you also need to pay attention to design, comfort, and durability. We have examined several products and have listed the best bass headphones under $100 for you.
1. Audio-Technica ATH-M30x
The brand, Audio-Technica is a notable name in the hi-fi business. The Japanese company has been in business since the early 60s and has remained amongst the highest suppliers of premium-quality audio equipment and accessories for home and professional use. The ATH-M30x is another top drawer product from them.
The ATH-M30x are tagged professional monitor headphones which tells you that they will serve you perfectly for use at home or in the studios. It comes with 40mm drivers with rare earth magnets included for frequency extension, while copper-clad aluminum voice coils are included for durability when used at high volumes.
The ATH-M30x may not easily be tagged an out-and-out best bass headphones below $100, but it recreates music with lots of detail, airy midrange, and banging bass.
Comfort is provided by the circumaural ear cups and cushions. Besides the provision of comfort, they are outstanding at isolating passive noise. This feature is of great importance to individuals like sound technicians, cameramen, and DJs because it keeps their attention completely on the sound emanating from the headphones.
Pros
They are premium-quality headphones designed for professional use.
It offers great comfort and comes with a headband that does not squeeze your head.
It can be folded to make it easy for you on the road.
It provides passive noise isolation.
Cons
The cable is non-detachable
The leather and plastic are not of the highest quality.
2. Skullcandy Crusher with Amp and Mic
The Skullcandy Crusher is the quintessential pair of bass headphones under $100 designed to serve the needs of up-and-coming DJs ad audio geeks. The headphones come equipped with Sensation 55, a patent-pending bass driver designed to offer you realistic bass energy. A slider, located on the left cup helps you control the bass.
REX40 is another driver incorporated into the headphones. Its duty is the provision of the smallest amount of distortion and sufficient frequency response. For DJs, getting an accurate frequency response allows you to achieve a seamless transition between songs across all frequencies.
These drivers are built into acoustic ports domiciled in the ear cups. This design feature allows the drivers to navigate with ease and provide premium bass energy and the least distortion. These powerful drivers may demand more drive than your headphone jacks can offer but with the Skullcandy Crusher, you need not worry as there is an amp built in to obviate the necessity of a line amplifier.
Pros
It comes with a dedicated bass driver.
Amp is built in.
It is lightweight and comfortable.
You can control the bass level.
Cons
The sound quality isn't great when the bass is off.
The headphones might be a little plasticky.
If set too high, the bass may overpower other sounds.
3. Cowin E7 PRO
Cowin has established itself as a household brand in the audio gear business after over ten years of operation. They hold a lot of patents on Bluetooth and Vibration-driven wireless technology. Some of their patented innovations can be found in the Cowin E7 PRO headphones.
With these headphones, you are sure to have expert-level noise blocking technology. The technology allows you to enjoy an immersive listening experience irrespective of your location. We should point out that the quality of the noise isolation remains unchanged in both wired and wireless modes.
Another striking feature is the large-aperture drivers on the E7 PRO. These 45mm drivers are there to provide crispier bass and improved all-round sound quality. The large-aperture drivers are domiciled inside swiveling ear cups with soft over-ear cushions. Comfort is also improved by the lightweight nature of these headphones especially when you wish to keep them on for long.
The E7 PRO comes laden with a built-in mic and an enhanced battery. The microphone has support for NFC technology as well as voice commands while the battery allows you to use the headphones for more than 24 hours on a full charge.
Cowin may not enjoy the wide popularity of some of the more notable brands, but the number of great features, quality of design, and pocket-friendly price ensure that these headphones remain one of the best bass headphones available for less than $100.
Pros
Good sound quality and external noise reduction.
Outstanding design quality and portability.
Strong battery life.
Cons
Although it is lightweight, it might feel slightly heavy after long use.
Advanced audiophiles may need better sound quality
4. OneOdio Pro-10
The OneOdio Pro-10 is the budget-friendly route for bass headsets. They cost almost nothing!
These headphones from OneOdio come with a variety of great features which include; 50mm neodymium drivers, thick padding, large ear cups, a removable cable, and decent noise isolation.
One would expect a delicate design at such a price but it is not so. These headphones are built to serve DJs and for studio monitoring and mixing. It has 90 degrees swiveling ear cups which are paramount to single-ear mixing.
The headphones offer decent sound quality. It comes with strong bass and flat medium and high frequencies. It is great for most music genres since it offers an impressive level of soundstage clarity.
You can also use these headphones for your gaming or for enjoying a movie especially when you are on a budget. It has a nice glossy finish which doesn't serve any meaningful purpose. These less than $100 bass headphones do not offer the best noise reduction features during live gigs but mileage may differ.
It has a 9.8ft long removable cable which is good although the cable doesn't allow great freedom and may be quite heavy.
Pros
The high-frequency response is crisp.
It has a strong bass.
The cable is removable.
It has an appealing design.
It offers medium impedance
Cons
It won't serve you well at live gigs.
The noise isolation feature is average.
5. Sennheiser HD 4.40 BT
Value for money is guaranteed by Sennheiser HD 4.40 Bluetooth wireless headphones which are regarded as one of the best bass headphones under $100.
The design is elegant and modern. It has an all-black and beefy appearance like most high-quality Sennheiser headphones. The beefy look is made so by the thick padding which is built in to provide comfort when you enjoy your epic movies, listen to full music albums or try to make a recording.
With the HD 4.40 BT, you always have a smooth delivery of bass guitar lines and synth sounds but the best comes with the kick drum delivery with its deep and powerful sound that cuts through a mix easily.
It comes as a surprise that there is a balance in the medium and high frequencies. These headphones may not be designed for improved dialogue but they do not falter in delivering clear vocals.
It comes with a welcome wireless feature. One full charge can give you over 20 hours of use. It has a basic range of about 30 feet which will serve you well in most homes or studios.
Pros
Improved bass.
Decent vocal clarity.
The padding offers comfort.
It offers wireless connectivity.
Cons
The design quality is average.
The battery life is less than the 25 hours advertised by the company.