Sennheiser HD 280 Pro is a kind of professional-style headphones that offer excellent sound quality, noise isolation, and comfort at an incredible price. The Sennheiser HD 280 Pro review below explains in detail why they are regarded as one of the best over-ear headphones under $100.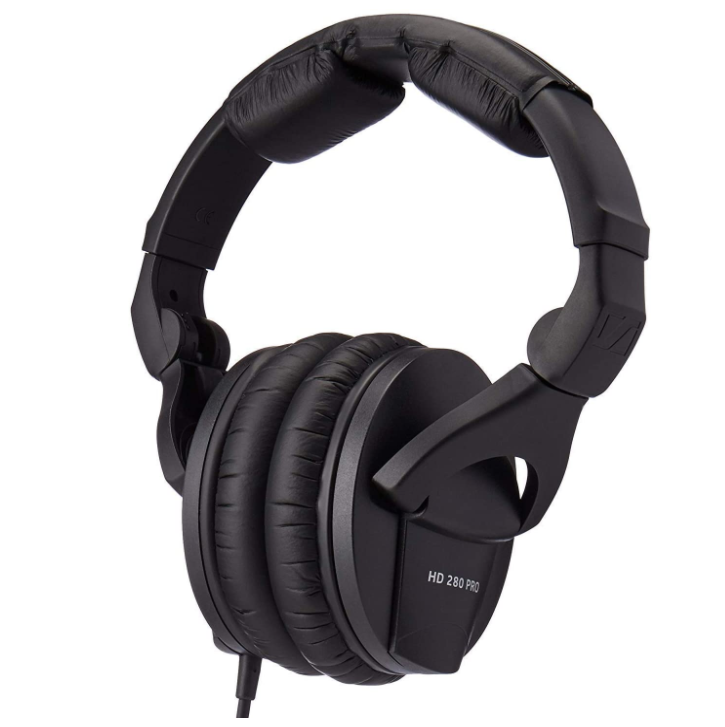 Sennheiser HD 280 Pro Review
Design and Build
They are lightweight with a folding design. They are equipped with professional features. The compact folding design is a unique feature that attracts most professionals and travelers to the HD 280 Pro. You can bend the ear cups to make them fold flat or fold them into the headband to give you a sturdy device that you can pack in a gear case or backpack.
When the cable is extended, the length reaches 9.8 feet or 3 meters. But when coiled, they stand at 3.3 feet or 1 meter. There is a 1/4 inch stereo adapter that twists to the 3.5mm plug to ensure a secure fit and prevent the headphones from detaching accidentally. While the Sennheiser HD 280 Pro headphones are not sold with accessories, you can get cables and cases from third-party merchants. HD 280 Pro has an amazing coiled cable that is suitable for production or studio use when you need cable flexibility but you don't like too many wires in the place.
The Sennheiser HD 280 Pro are the favorite headphones professional audio and production engineers worldwide use on location and in the studio daily. The cable is coiled and heavy-duty and has stain relief. However, the drawback associated with this design is the additional pressure the headphones exert on a device when being used with the 3.5mm jack.
According to Sennheiser's product description, you can easily replace the cable that comes with the headphones. This is technically possible because the cable comes with a modular pin connector to allow for connection inside the left ear cup. However, it isn't a 3.5mm jack design. You can get headband padding and replacement ear pads easily whenever you want to replace them. This is what you need to prepare for because studio headphones are frequently used.
They're made of mainly plastic and are strongly built. With the collapsible design, they will give you a wonderful user experience.
The Sennheiser HD 280 Pro circumaural headphones come with a fluffy synthetic leatherette headband and a sturdy and comfortable ear cup padding. The ear cups are affixed to the headband with a hinge and swivel design that makes the range more flexible.
The full swivel design is DJs' favorite, as it helps them to listen with a single ear cup. Such a design shows that the headphones are perfect for different ear and head sizes.
Sennheiser HD 280 Pro Performance and Sound
The cushioning around the ear cup completely covers the exterior of the ear, allowing for adequate bass response and extra noise isolation. Sound leakage is virtually absent, so you are rest assured that nobody can eavesdrop or listen to your music. Likewise, you won't be worried about the ambient noise.
The HD 280 Pro Sennheiser headphones weigh 10 ounces (285 grams) excluding the cable, so they are quite heavy. The 32 DB of passive noise isolation boost the rank of these closed-back headphones in noise attenuation ratings among their under $100 headphones counterparts.
That weight may be seen as being little. However, the coiled cable is very heavy and contributes to the overall mass when you're using the headphones. Some people who have large heads may not want the comfy fit because it will look like the headphones clip too much to the ears and the head.
But most closed-back headphones make your ears warm when using them for a long listening session. Generally, they are very comfortable to use because you'll feel the experience of wearing a high-quality pair of headphones.
Courtesy of the closed circumaural design, you can use HD 280 Pro for listening in the recording studio, at home, or while commuting.
They have excellent sound quality, though not the best Sennheiser in audio quality. They lack strong bass, a feature which makes them good for critical listening, but not suitable for bass heads.
They have a good sound reproduction. Their balanced, articulate, and flexible highs and mids can blend freely with various musical genres. The balanced sound signature is made to meet the expectations of DJs, musicians, and audio engineers.
Final Thoughts on Sennheiser HD 280 Pro
The Sennheiser HD 280 Pro qualifies as one of the best over-ear headphones under $100 because it boasts of high-quality sound, professional features, and excellent performance.