If you are tired of crappy microphones and the headsets that harbor them, then it must be time to step up and go for more expensive pieces like the Sennheiser Game One. Price doesn't always guarantee performance and I am sure you're wondering if these headphones will give you all the excellence you seek or just be an expensive piece of disappointment. let's dig in and find out what to expect from the Sennheiser Game One!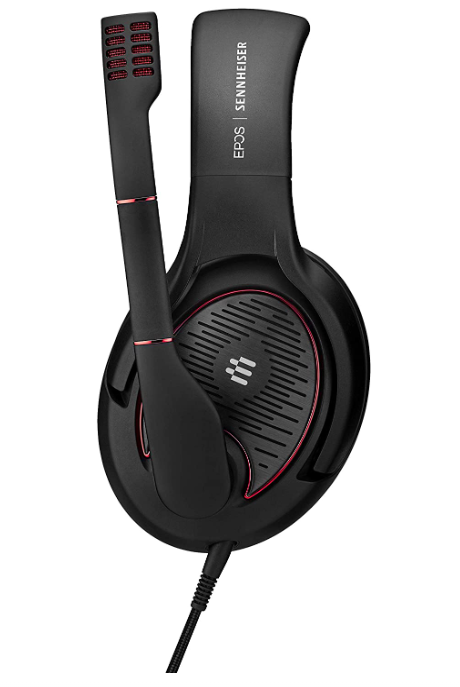 Sennheiser Game One Review
Design and Build
Similar to a variety of gaming headsets, the Sennheiser Game One offers high aesthetic value, a quality that endears it to many gamers who spend considerable time playing their favorite games. While this highly efficient pair of gaming headsets are devoid of RGB lightning, they are still decked out with red fashionable streaks which no true gamer can resist.
The Game One is specifically designed with functionality in mind. For instance, it has a black matte velour padding that serves glasses wearers perfectly. Do you find it uncomfortable wearing your glasses with regular headsets? Then these headphones are the best for you. They are designed with black, matte plastic that cannot be easily scratched or soiled.
The Sennheiser Game One comes in an open-back design which makes it very different from other gaming headphones.  Therefore it does not offer even the smallest bit of isolation which means you should use them at home for the best experience because at LAN parties the experience will be ruined by ambient noise. Nevertheless, this gaming headset is designed to deliver an incomparable rendition of 3D space which always helps gamers attain victory in FPS, deathmatch, and RPG games.
The Sennheiser Game One makes use of a split TRS cable that utilizes one end for the headphone and the second end for the headphone's microphone. If you wish to use these headphones with a personal computer or a Nintendo switch using a headset/headphone jack, you will have to get an adapter (definitely a TRRS) to merge the audio and microphone signals. While this may seem to be inconvenient, it is certainly not the only headphone model with this design. Be sure to confirm that you will be able to fix this before making your purchase.
However, if you have a personal computer, you will do well to check it for an audio (green) port and a microphone (pink) port. If these features are present then all you get to do is plug in, but, you should know that making use of a TRS adapter will help you get more out of the microphone than a motherboard can ever provide.
Sennheiser Game One Performance and Sound
Considered to be one of the best gaming headsets in the current market, the Sennheiser Game One doesn't disappoint in the sound department. It offers a neutral frequency response which means that these headphone does not influence the sounds, instead, it allows you to hear the exact sound each game is designed to give off. You won't find that a particular game has a louder or much quieter sound than normal. What this feature offers is an opportunity to equalize your music any way you want it without going through a lot of hassle.
If you've been enjoying the deep bass of Turtle Beach or Razer Headphones, you may view the Game One as a little deficient when it comes to bass. Truly, the bass is slightly de-emphasized but you will find a reasonable amount of bass in the Game One than you would on cheaper headsets. You'll just have to get used to it with time and what's more, this means you can get clearer audio from these than you'll get from other headsets.
With this type of sound signature, you can have a lot more fun with a first-person shooter, RPGs, and any other game where music is central to the action.
The microphone on these headphones isn't the best out there. It demands a considerable amount of power and therein lies the problem especially since entry-level gaming headphones don't allow much room for fooling around. You may have to yell a lot at the computer with the Sennheiser Game One if you are the soft-spoken type or don't know how to boost gain in software.
Final Thoughts on Sennheiser Game One
Here are the major highlights of the Sennheiser Game One: it is comfortable for long sessions, offers excellent sound reproduction on a budget,  allows easy tweaking of volume on the go, and can be used as monitoring headphones if the user so desires.  What you have here is a special gaming headphone with numerous advantages incorporated into its little frame. Sennheiser compromised on sound isolation in favor of everything else so if you are looking to block out ambient noise, HyperX Cloud Alpha will be a better option for you.