The Sennheiser brand is a highly respected name in the audio industry, and the company has been consistent in producing some of the best headphones over the years. A lot is at stake for a brand with Sennheiser's history, and releasing a headphone with poor quality into the market will be a big dent in the company's reputation. That said, we will be reviewing the Sennheiser HD 569 closed-back wired headphones today. How do these classic pair of wired headphones hold their own in an industry being taken over by wireless innovations? That is the exact thing we will take a look at today. This Sennheiser HD 569 review will closely examine the construction, quality, audio performance, and signature.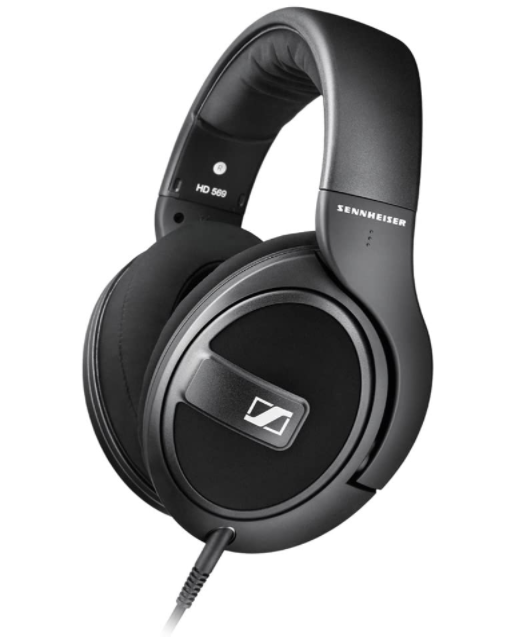 Sennheiser HD 569 Review
Design and Build
If you have to spend this much on a pair of headphones, they better be well built and have a premium design. While reviewing the design and build of the Sennheiser 569, we examined several things. We looked at the build quality to find out if they rattle or have any features of poor manufacturing practices. We also looked at the quality of their design to know if these are a pair of headphones you want to be seen wearing in public. And finally, we looked at how much comfort they provide. You wouldn't want to spend hundreds of dollars on headphones that are not comfortable to use.
Now that we have established our method of testing, let us first look into the design. We absolutely love the design of the Sennheiser HD 569. They are not the most low-key of closed-back headphones we have come across, but they are not cheesy either. The HD 569 is the ideal balance between a professional and contemporary aesthetic that is just like Sennheiser. We love how the headband dives in and folds over each ear cup. These little details are what give the headphones some uniqueness.
The Sennheiser 569 headphones are suitable for use almost anywhere. You can wear them as a professional working in an office or as an artist recording your next hit song in the studio. They are also suitable for casual use while commuting. In addition to the great design, you will enjoy wearing the headphones for several hours because of how comfortable they are. The ear cups rest very snugly over your ears and the headband clamps with just the right amount of force.
There is enough thick padding on both the headband and the ear cups, made with felt material that feels extremely smooth to touch. We strongly approve of the design and comfort offered by the HD 569 headphones. But one little objection we have against them is that the ear cups are not foldable. Otherwise, it would have been easier to move around with them. They may not be the grandest pair of headphones on the market, but they have quite a decent build for plastic frame over-ear headphones and they are also really comfortable.
Sennheiser HD 569 Performance and Sound
One thing you should take note of is that these are wired headphones. Hence, they do not have any fancy wireless features such as Bluetooth 5.0 or anything similar. But they do have quite an excellent sound signature with rich details in all the tone ranges. The audio is delivered by 23 Ohm transducers and 38mm drivers. These drivers are very efficient and amazing in their performance, and the transducers are proprietary to Sennheiser.
The audio quality is very crisp which makes them ideal headphones for listening to vocals. On the HD 569, vocals are incredibly emphasized. They also sound like the closed-back headphones they are. They offer some amount of noise isolation, but there is no active noise cancellation. The noise isolation is okay for just listening when you're in the subway or a crowded restaurant. As mentioned earlier, there is no Bluetooth function.
The sound signature of these headphones seems to give more prominence to the vocals and clarity of mid and high notes in a soundtrack. It's a thrilling experience listening to genres like acoustic and some rock and roll with the Sennheiser HD 569. The bass is full enough to give an exciting listening time but if you are a bass head, you should look into other options.
Final Thoughts on Sennheiser HD 569
With a price tag of less than $200, the Sennheiser HD 569 closed-back, over-ear headphones sound excellent. The sound is balanced with a great but probably not thumping bass.