Closed-back headphones are designed for studio use and noise isolation. This is the reason why almost all of the models on this list are used by audio engineers and recording artists. But even though they do a fairly good job of blocking outside noise, closed-back headphone sets are not necessarily equipped with active noise-cancellation technology.
We've tested some of the most popular closed-back cans and compared our experience with thousands of reviews from verified purchases. Some of them were overhyped, but many turned out to be every bit as good as advertised. If you're not an audiophile right now, the crisp output of these models will turn you into one.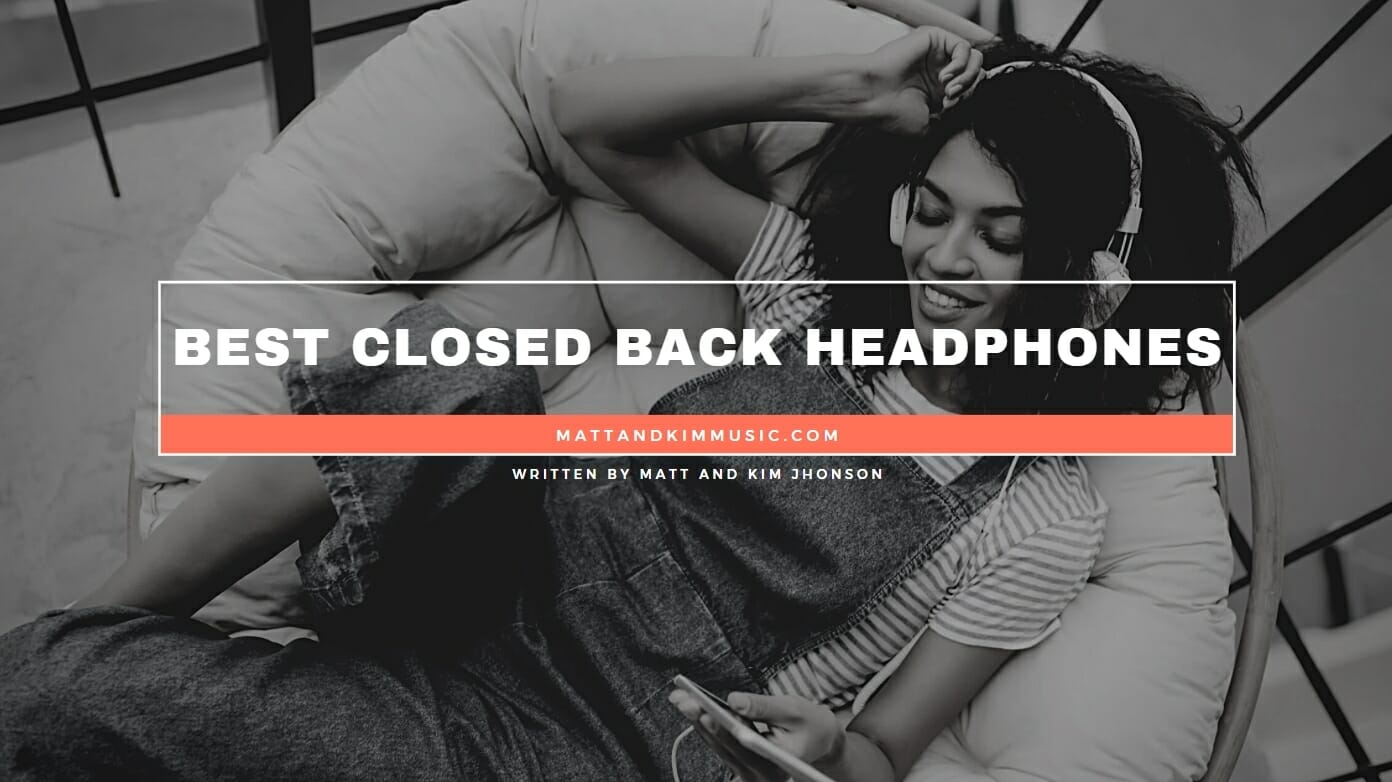 Finding the right closed-back headphone for your needs is an entirely different matter. Some prefer comfort over style, others look for as much noise-canceling as possible, while the majority just want a good value purchase. No matter your needs, our list of the best closed-back headphones has something for you.
Top 8 Best Closed-Back Headphones:
1. Sony MDR7506: The Overall Best Closed-Back Headphones 
Sony's MDR7506 is our number one choice for closed-back headphones. These headsets have some serious history – the model has been in continuous production since the early 90s. Ideal for audio recording and production, these lightweight cans are often described as the closest thing to a live performance. 
We struggled to find a comfortable closed headphone set that matched these. The MDRs weren't too tight, nor too loose, and they offered just enough space and depth for our ear lobes. We're picky, we know, but you'd probably be the same if you had to wear them for hours on end.
Features:
Studio-grade sound.

The neodymium magnet renders a full range of sounds. Crystal clear highs, mids, and lows. Frequency response is between 10 Hz and 20 kHz.
Accessories for ease of use.

Soft case for protective storage, 1/4-inch adapter included.
Lightweight Design.

They weigh just over 8 oz (226 grams), so they won't weigh you down.
Rugged design.

Perfect for those who like to rock the vintage look.
Pros:
Clear, flat sound perfect for audio-mastering, mixing, and production

Long-lasting given appropriate use

Excellent price-to-quality ratio, among the best in their price range
Cons:
Foam cups covering can peel off, but you can buy quality aftermarket replacement pads
2. Audio-Technica ATH-M50x: The Best Closed-Back Headphones for Mobility
Audio-Technica's ATH-M50x  is a close competitor to the Sony MDR7506. Despite the difference in price, the two are close rivals in terms of quality. The ATH-50x is more fun to listen to if you're into electronic music, as the bass has a nice weight to it. That said, the sound is definitely less neutral. If you need a headset for audio or studio monitoring, you're better off with Sennheiser or Sony.  
The Audio-Technica ATH-M50x offer excellent isolation from environmental noise. The clarity of the sound coming through these closed headphones is nothing short of exceptional, albeit some frequencies are slightly tuned to deliver a more entertaining experience. The swiveling earcups are a personal favorite for us, as it allows the headset to perfectly cup the individual wearer.
Features:
Proprietary aperture design.

Large, 45mm driver (speakers) built with proprietary Audio-Technica technology. 
Excellent sound quality.

Clear, impressive sound regardless of range.
Wireless version.

There's a wireless version with Bluetooth 5.0 and its range is excellent.
Included Accessories. 

Detachable straight cable (3.9 ft.) and coiled cable (3.9' to 9.8' ft.)
Pros:
Highly-mobile, so you can take them with you wherever

Reliable noise isolation, which means you won't bother anyone around you

Comfortable to wear for extended periods of time, even with glasses
Cons:
Some frequencies are slightly tuned

You can't use any 3.5mm cable due to the lock mechanism on the jack
3. Sennheiser HD 280 PRO: The Best Closed-Back Headphones for Audio Monitoring
The Sennheiser HD 280 PRO is yet another closed-back headset that's been around for decades –  for good reason too. Having tested them for several days at our desk jobs, these are nothing less than a joy to listen to. The two tiny cushions on the band, as well as the soft earpads, guarantee a high level of comfort. 
A major plus for the Sennheiser HD 280 PRO is the sound, which has a natural, clear quality to it regardless of frequency. Their flat response does not compromise any of the bass, so you can have some fun with it after a session of studio monitoring or recording. Another major plus is their natural noise-canceling quality: they block out at least half of what's on the other side without any leak! 
Features:
Effective noise-canceling.

Most environmental noises won't make it through. 
Linear sound experience.

Your ears are more likely to bleed from extended use before any sound is distorted.
Comfortable to wear.

Collapsible, rotating earcups fitted with a good amount of pad. 
Designed for long term use.

The forums say it takes a while to break them in, but the effort is well worth it.
Pros:
All of the pads and the cord are easily replaceable

Excellent price-to-quality ratio

Gentle treble, perfect for classic music
Cons:
No wireless version/detachable cable

Lack of mobility
4. Jabra Elite 85h: Closed Back Headphones with Impressive Battery Life
We're now jumping to a premium pair of wireless closed-back headphones, the Jabra Elite 85h. Although more expensive than the previous cans, this headset delivers a good level of mobility, and you get a lot of technology to boot. Right out of the gate, we've noticed the Smart ANC (active noise cancellation), which does a great job of blocking background noise.
With the help of SmartSound technology, Jabra Elite's audio adapts itself to your environment, which was noticeable when we transitioned from music to calls. Another great plus is the Sound+ companion, which comes with several equalizers presets, and the possibility to create your own settings. You can get more battery without ANC on, but the difference isn't big enough to be a problem.
Features:
Embedded noise-canceling technology.

The ANC feature might seem like over-the-top, but it's one of the biggest strengths of the closed-back headset.
SmartSound audio.

This automatically switches between three EQ modes depending on surrounding noise.

Water resistance.

Suitable for environments that experience frequent light rains or high humidity.
Built-in Assistant.

Instantly connect to Alexa, Ciri, or Google Assistant with one button or voice command.
Pros:
Great battery life, 36 hours w/o ANC

Premium look

Customizable mobile application
Cons:
May feel a little loose, not fit for running

Poor microphone quality
5. Shure SRH840: Closed Back Headphones for Studio Recording
Shure's SRH840 takes the fifth spot, and the main reason for this is its high price. At nearly double the cost of the Sennheiser or Sony models we've selected, we feel this closed-back headphone set should offer more. We found the headphones a bit heavy for our taste and the plastic seems less than durable.
That said, we had a lot of fun with this pair of cans. The quality of the sound did impress us, with clear notes across a wide range of frequencies. The bass might be slightly more pronounced than neutral, but it's not enough to interfere with studio panning. Comfort levels will vary depending on the wearer, so it's best to test them out thoroughly before committing.
Features:
Fine-tuned frequency responses.

This was obvious regardless of range and it makes the headset a good purchase for critical listeners of classical music.

High-quality engineering.

The

40mm neodymium dynamic drivers are perfect for audio engineers.
Comfort.

Fully padded headband and collapsible earcups.

Mobility.

Coiled, 10 feet cable, secured with bayonet clip to allow maximum mobility. Can be detached and replaced.
Pros:
Rest comfortably over the ears of most buyers

Replacement cable and set of ear pads included

Carrying bag included
Cons:
A bit heavier than most closed headsets

Plastic casing could be more durable
6. Beyerdynamic DT 770 PRO: Closed Back Headphones for Noise Cancelling
Beyerdynamic's DT 770 PRO may be on the lower end of our list, but if comfort is important for you and you don't mind paying extra, they should be one of your go-to choices. The thick pads are covered with a soft velour, rather than the more common leather imitation, which gives them a premium feel.
The headband's robustness and earcup design make it so that the DT 770 PRO clamp down nicely, without making it feel as if they're squeezing your brains out. These closed-back headphones are designed with studio use in mind. They deliver high-quality details over an impressive soundstage, while the crisp bass is a nice addition. 
Features:
Universal studio usage.

The

80 Ohm impedance really shines when you use them with an amplifier or DAC. 
Durable design.

Robust, German-made design that withstands the test of time.
High wearing comfort.

Manufactured with audio engineers in mind, this headset has some of the best earcups you'll wear. 
Premium sound quality.

Spacious, transparent frequencies that facilitate sound production and monitoring. 
Pros:
Impressive sound volume. We were blown away by the clarity of the bass frequencies

Velour earpads prevent sweating

Wide sound stage recreates the feel of a live performance
Cons:
Requires an amplifier to be worth the price

Non-removable cable
7. Sony WHCH710N: The Best Closed-Back Headphones for Style
Sony's WHCH710N combines the flexibility of wireless headsets with the noise-canceling element of closed-back headphones. The design could use more durable materials, while the lack of hinges makes them difficult to transport inside the luggage. That said, you can rely on Sony to deliver excellent sound quality down to the last detail of an echo.
We love the fact that the Sony WHCH710N headphones can be paired through Bluetooth 5.0 and NFC (near field communication). The connection strength is quite admirable – we wandered around our house and workspace and felt no difference 30 feet away. More importantly, these cans have a smooth look to them, so you can rock them on a jog, as well as on your way to work.
Features:
Active noise cancellation.

Although we've seen better noise-cancellation features, this pair doesn't disappoint. Just make sure they're nice and tight.
Ambient sound mode.

When you turn on this feature, the set becomes similar to an open back version.
Bluetooth 5.0 and NFC pairing.

Stream your favorite music or podcasts and take calls with ease.
Enough battery to last.

At 35 hours of battery life, you won't have to worry about charging them throughout the day.
Pros:
Smartphone and voice assistant compatible

Dual noise sensor

High-resolution audio
Cons:
No carrying case for traveling

Might feel tight for some wearers
8. Bose SoundLink II: The Best Closed-Back Headphones for Balanced Audio
Bose's SoundLink II headphones are a good alternative to Sony's wireless cans and they're just as stylish. The reason why Bose takes a lower spot on our list has to do with their price and battery life. That said, you'll be getting your money's worth in terms of comfort and performance, which is what the manufacturer is best known for. 
Another drawback you might want to consider before purchasing a Bose SoundLink Around-Ear Wireless Headphone II is the volume. The digital fine-tuning makes it so that music will often sound better when you're listening to it at a lower volume. Most of us felt this wasn't a problem, but it will definitely be one for people who like the occasional blast. 
Features:
High-tech sound processing.

Active EQ and TriPort technology digitally process the signal so you never hear distortions.

 
High-quality calls.

Even when there's considerable noise around you, the headset will make your voice sound clear, while also isolating your caller.
Good comfort.

They're definitely one of the most comfortable wireless closed back headphones on the market.
Wired connection available.

Plug them in when you can, and save some battery for the road.
Pros:
Switch between two connected Bluetooth devices

Slim protective case for traveling

Sizeable ear cups
Cons:
Low battery life for their price

If you're an audiophile Bose's sound processing can be annoying