There are too many good closed-back headphones under $100 in the market at the moment which makes settling on a choice very difficult. The well-rounded nature of closed-back headphones makes them useful at the home, office, or in public. They come equipped with noise cancellation technology to ensure you enjoy all the pleasures your music or favorite shows have to offer. They are also built for comfort even when you use them for a long time.
Closed-back headphones have grown in prominence as most people choose them to get the best music experience. Due to its growth over the years, it has become difficult to identify the best closed-back headphones on the market. Numerous possibilities abound for recreational listeners, music producers, singers, musicians, etc.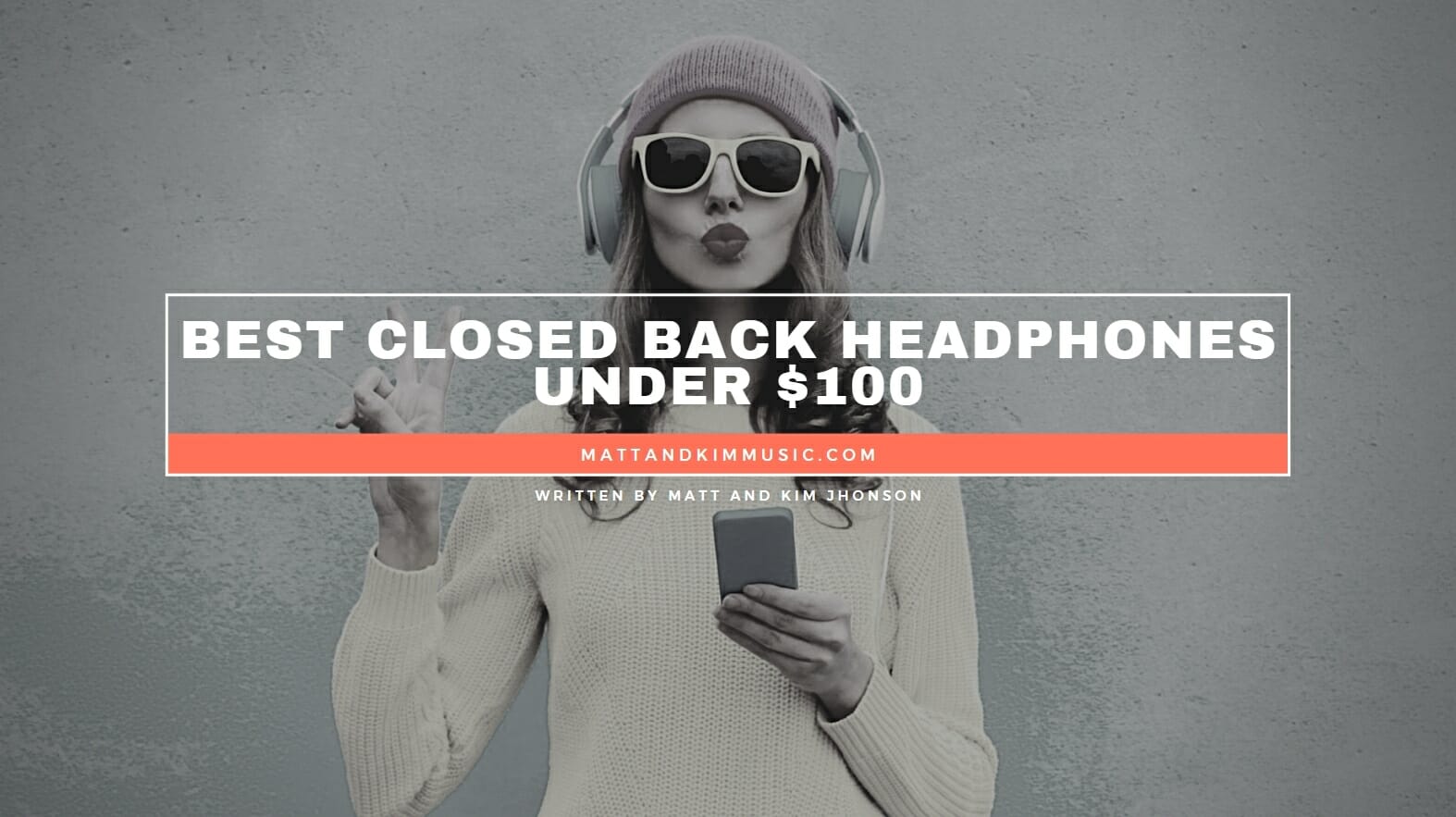 Picking the best closed-back headphones under $100 can be a difficult undertaking but we have selected our favorites in this area. On this list, you will find some of the best closed-back headphones below $100 which you can purchase in 2020. You can acquire any of them for yourself or you might find an alternative to serve your needs. There are advantages and disadvantages to each of the under listed products. If you are ready, let's take a look.
Best Closed-Back Headphones Under $100 in 2020:
1. LyxPro HAS-30
The LyxPro HAS-30 is a great pair of closed-back headphones available for under $100. It is designed in the mold of professional recording headphones which means they can be used as studio monitoring or DJ headphones.
The LyxPro may not be heavy on the bass but it comes with enough extension on the lower register to serve the need of most beginner DJs. It provides comfort and serves users best when used for home entertainment.
These headphones come with a leather headband and well-padded ear cups. You needn't have to worry about head pressure since only a little amount is allowed in order to keep external noise from mixing in with the audio.
Other technical specifications are 50mm drivers, between 15Hz and 26kHz frequency response range, as well as 100dB sensitivity. All of these come together to give you a robust ad pristine sound signature even at higher levels. Two detachable cables are a part of the package; one coiled and one straight.
Pros
It offers full and clean sound.
It is comfortable on the ears.
Two detachable cables.
50mm drivers.
It offers a wide frequency response range
Cons
It doesn't offer great noise cancellation
2. Sony MDR7506
If you hope to be doing a lot of music recording and mixing projects, it will serve you well to acquire a pair of heavy-duty headphones.
The Sony MDR7506 headphones offer you great value for money as it goes for under $100. The frame is made completely with plastic to offer comfort even when it is worn for long periods. The comfort level comes as a surprise since it doesn't have much high-end padding.
There is an unnecessary emphasis on low frequencies by a lot of studio headphones. The MDR7506 strikes the right balance by going for greater definition in the midrange and high frequencies. Although the lower frequencies may sound flat, you will get a rich and natural tone because of the design choice above.
The MDR7506 headphones offer more versatile options for enjoying a wide range of music genres than other headphones in the same price bracket. If you want a headphone that allows you to hear even the tiniest parts of recordings, the MDR7506 is the best you can find amongst the closed back headphones for less than $100 price range.
Pros
Large soundstage.
It can be used for professional studio mixing.
It offers a great definition in the mid and high frequencies.
Cons
It doesn't do so well outside studio work.
It isn't favorable to bassheads.
3. Shure SRH440
The Shure SRH440 is another great set of headphones under $100. With these headphones, you get great noise cancellation at an affordable price. The design is of a dependable quality made so by Shure's vast experience in manufacturing audio equipment.
These aren't the headphones you want to wear on your way to school or when you are spending some time on the beach but they can serve for your listening pleasure at home, or when you want to drown out your coworkers' endless droning at the office or for studio mixing.
It offers a reasonable level of comfort with fairly thick padding and plush ear cups although the whole frame is a bit rigid. On the plus side, the rigidity signifies the strong nature of the frame which offers longevity even under harsh conditions.
The mid and high frequencies take the center stage in these headphones. There is great attention to detail. The Definition on the low end isn't very poor but the quality of the bass is poor. Despite the minor negative, the SRH440 offers far more than expected in the treble detail and enhanced vocals for headphones of its price range.
It has good all-round sound isolation. Interference in a loud environment is canceled out while only a small amount of sound escapes from the headphones in enclosed spaces when it is set at medium to high volume.
Pros
It is inexpensive.
The frame is sturdy.
The treble definition is outstanding.
Passive sound isolation is good.
Cons
It isn't very comfortable.
The sound is more neutral than rich
4. Status Audi CB-1
The Status Audio CB-1 headphones come loaded with 50mm drivers. At such a reasonable price, these headphones can convey a neutral sound signature. The CB-1 headphones possess sufficient noise cancellation properties to allow you to keep to yourself in comfort.
A little bit of external sound may sometimes creep in when this happens, it only enlivens whatever you are listening to. We have discovered that the CB-1 gives more when used as recording headphones.
This is due, in large parts, to the comfortable and big ear pads. The physical design may not be so remarkable, however, it helps to remember that these headphones come with removable cables with a twist-lock function. This improves the durability of the jack port.
If you wish to take these less than $100 closed back headphones with you on your road trips, its foldable design will serve you well. It reduces their visibility and offers a bit of extra protection. Lastly, they offer a great frequency response range at 15Hz to 30kHz which is excellent if you desire that extra bass without losing out on good mid and high registers.
Pros
It comes with detachable cables.
Wide frequency response range
Tonal clarity is good.
Foldable design.
It has thick ergonomic ear pads.
Cons
5. Edifier H840
If you desire premium sound quality but you cannot afford a pair of entry-level headphones from leading brands, the Edifier is best positioned to meet your needs. Despite the low cost, you do not lose out on many of the great benefits except for the brand name. The H840 performs beyond its price range when it comes to general usage. This makes it one of the best closed back headphones under $100.
You need not worry about comfort since these are over-ear headphones. They are very lightweight at 7oz. the lightweight nature means clamping force is at a minimum positioning these headphones to serve well for journeys and listening sessions. There is minimal padding on the headband and ear cups which is balanced out by the large ear cups.
The H840 comes with an impedance of 32Ohm which isn't favorable to smartphones, tablets, computers, or gaming consoles at a high volume. You might have to get an amplifier. It has 40mm drivers strong enough for a variety of styles and settings.
It has a frequency response range of 20Hz to 20kHz which is exactly the human hearing range. It offers a surprisingly dynamic sound. The midrange frequencies do not overwhelm the bass neither does the bass overwhelm the midrange frequencies. With these headphones, you can hear the nuances of complex musical genres.
Pros
It is budget-friendly
It offers dynamic sound
Ultra-lightweight
The design is compact
Cons
Comfort features are minimal.
It has a low impedance