You have probably been there before – you want to practice on your guitar, but the garage is the best option. Plus, it only works during the daytime, when your family and neighbors are awake. You will still be a nuisance and you will still be told off every now and then. At this point, finding the best headphones for guitar practicing is probably the best way to go. You can blast the volume up and still enjoy an authentic experience.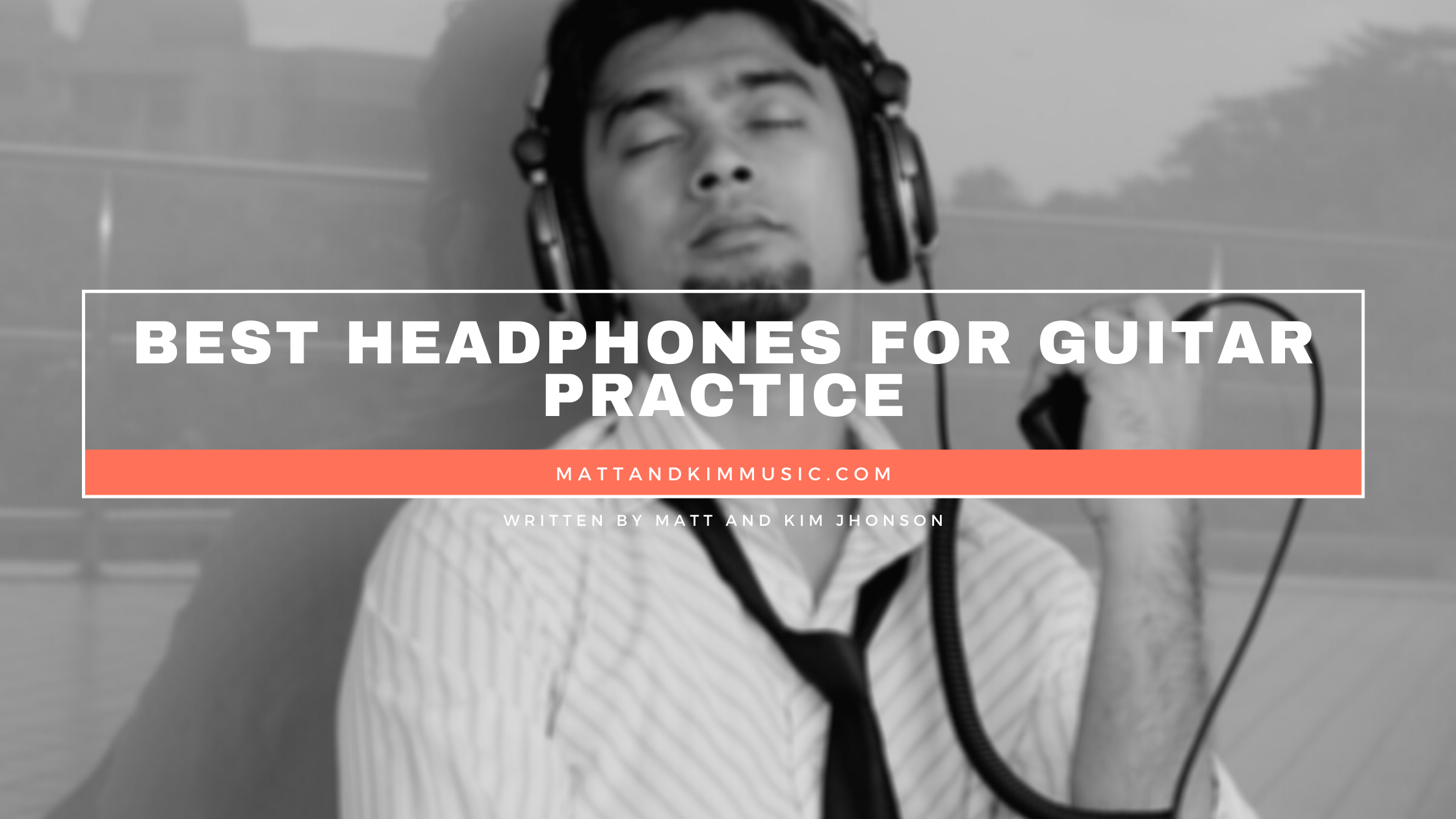 However, while most headphones will get the job done, some of them are better than others. It does not mean that you have to spend a fortune. Instead, you have to learn from others' previous experiences. Discover the right headphones for guitar practice based on other buyers' reviews and recommendations. Now, what are the top rated options on the market? More importantly, why are they so well received in the music industry?
Top 5 Headphones For Guitar Practice
1. Philips Stereo Headphones For Podcasts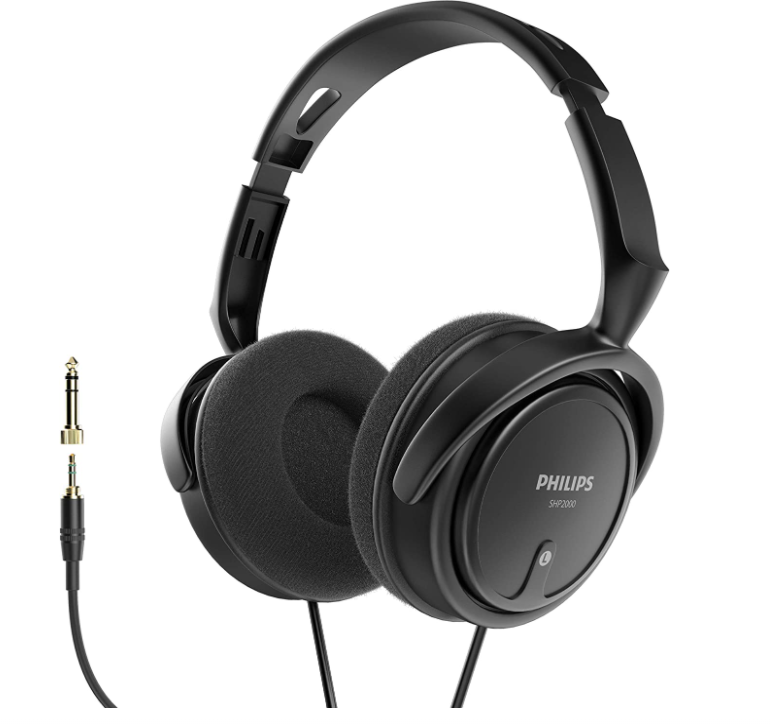 Philips is one of the leading names in this industry – you know you cannot go wrong in terms of quality, but what else should you expect from these headphones? They are only available in black and they come with a beautiful sleek design – all about simplicity.
Connectivity is wired. You have a 3.5mm jack cable, which is classic and works with pretty much every audio playing device on the market – from TV sets to smartphones and gaming consoles. It also has a snap on 6.3 adapter to cover a few exceptions.
The frequency response varies between 10Hz and 23,000Hz. You also have 40mm speaker drivers – open back profile – for a powerful bass and a detailed sound. When it comes to guitar practicing, it sounds even better than without headphones.
The ear cups rotate to 90 degrees. You can use these headphones in a studio, but the same feature is handy when searching for the perfect fit. Plus, you should know the headband is adjustable, so it goes on both small and big heads.
Ear cushions are thick and sturdy. The headset may look a bit bulky there, but you want comfort. You can have these headphones on for hours without feeling any pressure on your ears or pains behind them – not even if you wear glasses.
Last, but not least, it is worth mentioning the contour of the ear cups for great sound isolation, as well as the six foot cable that provides a bit of freedom when it comes to moving – it is irrelevant for guitar practicing though.
2. Vogek Sopownik DJ Headphones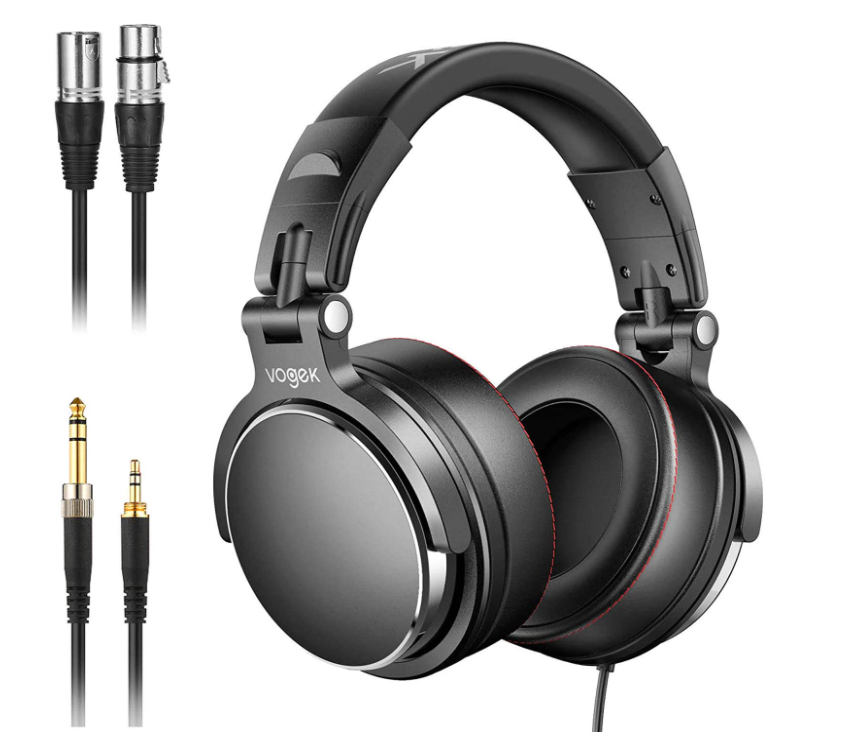 While a bit bulky and heavier than other headphones in this range, you should know that quality is never light. This headset is well put together and feels sturdy. It has plenty of adjustability and comes in a beautiful mix of black and silver.
The looks may count, but only to a certain point. Performance is more important when hunting the best headphones for quietly practicing on your guitar. The headphones come with 50mm speaker drivers and neodymium magnets. The bass response is incredible, while your guitar will be super crisp and clear.
The manufacturer has also implemented a professional noise cancellation technology, which guarantees high quality sound and superior music experience. After all, these headphones were initially designed for professional DJs and music experts.
Connectivity is wired. You get a long 10 foot cable – pretty flexible and durable too – with two jacks. You have the classic 3.5 jack, which works with almost everything out there. Then, you have a 6.3 plug, which is great for the few exceptions on the market.
Ear cups swivel to 90 degrees for easy storage and transportation, but also to help professionals with single ear monitoring. None of these helps when it comes to guitar practicing, but at least the swiveling profile ensures a good fit.
The headband is well padded, as well as the ear cups. They basically come with memory foam, which grabs the shape of your ears – no pressure, no discomfort. The headband is also adjustable in length.
3. Audio-Technica ATH-M20x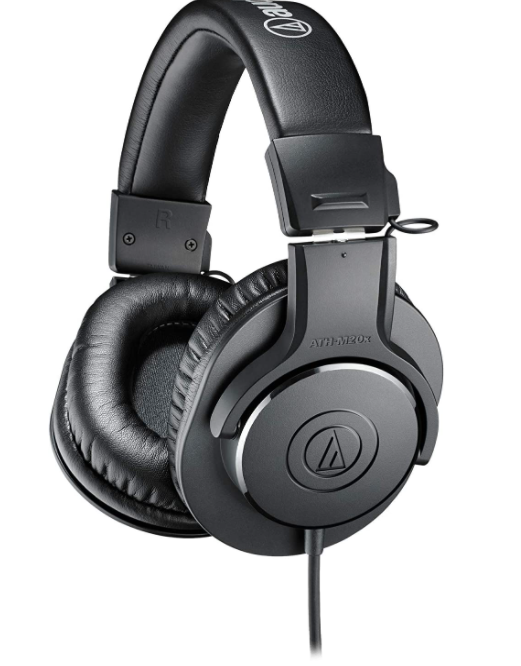 If you want to feel like a professional, then you better invest in a professional headset too. These headphones to hook up your guitar are suitable for experts who want a top notch experience. The over ear headset is available in black and comes with oversized ear cups for an extraordinary experience.
The headset is initially built for mixing, tracking and other studio applications. Obviously, it will do a pretty impressive job for guitar practicing as well. It is heavy and sturdy, but it is built to last – less likely to cause any discomfort to your neck.
You have large 40mm speaker drivers, as well as some rare earth magnets. Audio-Technica has brought in some copper clad aluminum wire voice coils too. Practically, the headphones are well tuned for a superior experience – even at a super low frequency.
The clarity of these headphones will leave you speechless. You can blast the volume at the highest level or keep it low – everything is crystal clear. Whether you use them in games or to play music, you will love how the bass feels too.
There is no noise cancellation, but you do not need it anyway. Given the oversized ear cups and the circumaural contours, sound isolation will never be an issue. The ear cups feature heavy cushioning, as well as the headband – which is adjustable in length, by the way.
Finally, you can connect these headphones to virtually everything through the cable they come with. Connectivity is based on a classic 3.5 jack, which is compatible with almost every device on the market. You also have a 6.3 jack for devices that cannot take the other alternative.
4. OneOdio A71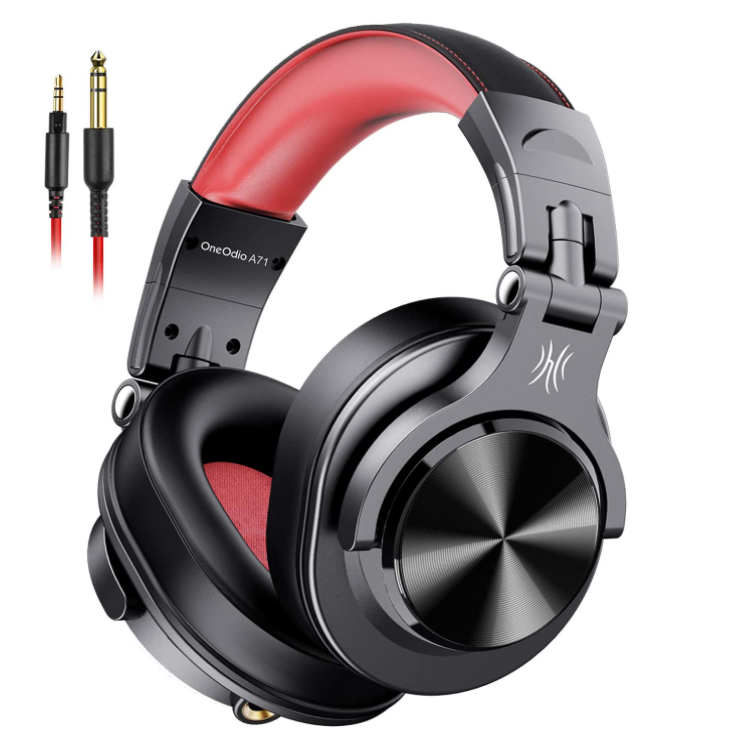 OneOdio's A71 headphones for guitar practice come in two color combinations – red and black or silver and brown. They both look sleek and stylish, but more importantly, they provide excellent value for money and a top notch audio performance. They feel sturdy and durable as you hold them, without seeming heavy.
The sound is what makes headphones stand out in the crowd. This set comes with 40mm speaker drivers for a super deep bass and exquisite clarity. You also have neodymium magnets – clear vocals and crisp high tones. When it comes to guitar practicing, you can hear every detail regardless of the volume.
Ear cups feature thick padding. They are comfy and soft – no pressure on your ears. The headband is also padded and ensures a high level of comfort. Since the ear cups swivel, you can find the perfect fit within a few minutes only.
The thick padding clears out the necessity of active noise cancellation, especially as you are less likely to practice in an airplane or in traffic. However, if the environment is loud, you still have superior noise isolation to keep the audio in and prevent the ambient noise from leaking in.
The connectivity is wired. You have a long cable – about 10 feet, so you get some freedom of movement as well. You will not necessarily need to move too much while practicing, but the feature is great when you use the headphones with your computer or TV set.
The cable has a classic 3.5 jack for compatibility with most devices out there. You also have a standard 6.3 plug for devices that cannot take the other alternative. Simply put, you can forget about buying a separate adapter.
5. LyxPro HAS-10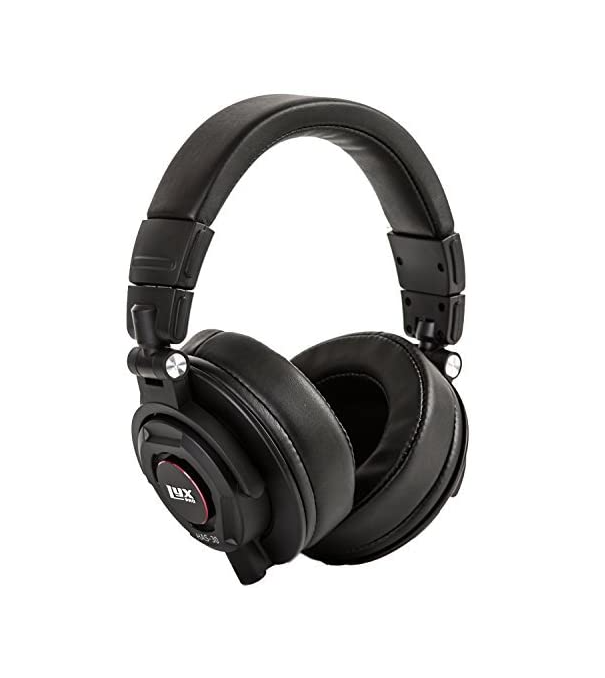 LyxPro may not be the most popular name on the market among beginners, but it is definitely a reputable name among professionals. These are its best headphones for guitar practicing if you want value for money – just the right feature for professional results and no random bells and whistles.
The closed back headphones are only available in black. The ear cups rotate and the headband is adjustable. It is based on telescoping stainless steel and the sizing scale goes up to 180 degrees, meaning you can find the perfect fit regardless of the size of your head.
Speaker drivers are large and accurate, but you also have a top notch NdFeB magnet system. The response is not just dynamic, but also instant. The bass is crystal clear and your notes will be crisp regardless of the volume. You can blast it up or keep it low – no issues whatsoever.
Everything is padded, except for the joints. Ear cups are bulky due to the thick cushioning. The same goes for the headband. Apart from finding a good fit, it is just as important to feel good, especially if you plan to practice for hours.
When it comes to connectivity, you have a durable cable and a screw on jack for extra durability. It is less likely to break too soon. It also has a high grade of compatibility with most devices on the market.
Talking about durability, you should know the ear shells are made of aluminum. The leather on the ear pads and headband is real and not fake, so it is less likely to flake away.