Getting a pair of good noise isolating headphones is probably one of the best investment decisions you'll ever make. The pleasure of being able to enjoy nice audio at home, while commuting, or at the workplace, is what you are going to experience with this fantastic device.
Headphones that isolate noise are available in wired, wireless, over-ear, or in-ear styles. There are wide varieties of options out there, and sometimes, it is difficult to choose a preferred pair.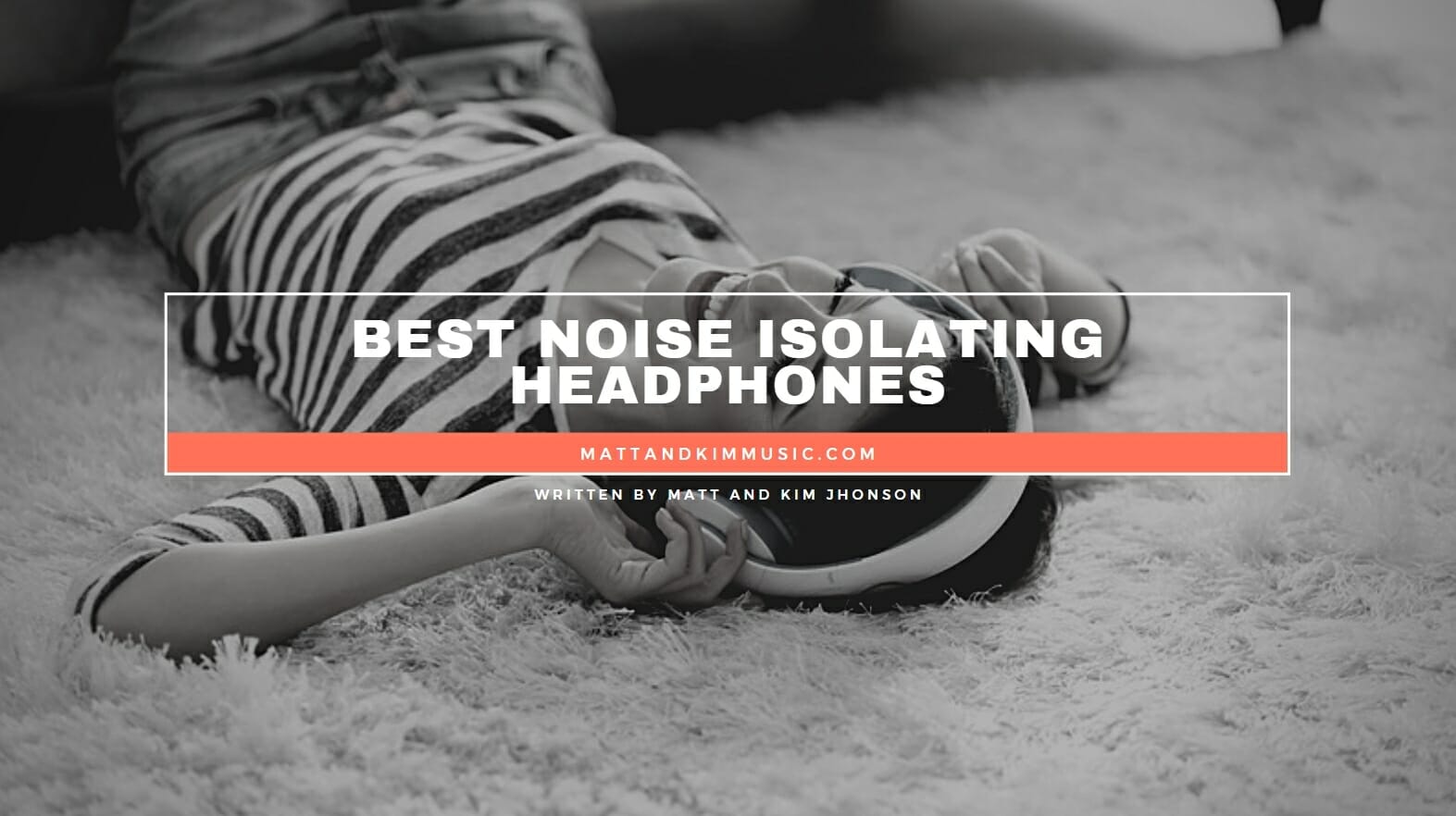 Fortunately, we've conducted comprehensive research on your behalf. Taking different needs and preferences of individual users into consideration, we've detailed below some of the best noise isolating headphones that will give you value for money.
Best Noise Isolating Headphones Reviewed:
The Audio Technica ARH-M50x headphones remain the preferred choice for those who seek noise isolation. They derive numerous benefits such as a nice design and impressive sound quality from these headphones.
The first noticeable feature in any product is its design, and you'll observe this outstanding quality in this pair of headphones.
Audio Technica ATH-M50x headphones have a black design blended with silver accents. You'll observe that there are some paddings under the headband as well as in the earcups.
These are adjustable headphones that easily fit on any shape of head. One of the most amazing features of these noise isolating headsets is the way they sound. With a nice rounded bass, the headphones provide a carefully tuned mids and a lot of details and features in the high end. They are perfect at obstructing any noise coming from outside. They normally reduce most of the higher frequencies, though not completely. Yet, they certainly reduce the intensity of a very noisy environment to a manageable level.
There have been countless positive reviews that the Audio Technica ATH-M50x headphones have garnered since they were launched some years ago. While CNET gave a rating of 8.7, others gave different reviews based on their experiences.
Pros
Awesome design
Decent sound quality
Affordable
Cons
If you would like to get a pair of fantastic wireless noise isolating headphones, your right choice might be the Master & Dynamic MW60 headphones. The company, Master & Dynamic, is famous for making exquisite and high-quality headphones, with MW60 as one of its best products in this category.
The design of Master & Dynamic MW60 headphones is one of its selling points. Made from premium materials, such as leather, their looks are awesome. However, the way these headphones sound is probably more important than their design. The company has done a great job producing the MW60 headphones, a pair of devices that produce a decent bass response that doesn't go over the top but has sturdy highs with good midrange tuning. With excellent noise isolation, these headphones reduce the disturbance of outside noise without the help of any active noise cancellation.
Though relatively expensive, the MW60 headphones come with additional benefits of wireless playback support. They come with Bluetooth 4.1 connectivity with Aptx while the battery life has garnered positive reviews for its 16 hours of use.
Since they were introduced to the market, the Master & Dynamic MW60 headphones have attracted a lot of excellent ratings. For example, while Headphone Review gave them 8.1/10, Wired went more with 9/10. Any noticeable downside? The major one is that they are a bit expensive.
Pros
Perfect sound quality
Wireless Bluetooth support
Awesome design
Comfortable
Cons
These headphones are designed for studio use mainly because of the importance of sound isolation in such a sensitive environment. As a type of closed-back device, DT 770 M 80 headphones stay fixed around your ears, isolating any noise in the surrounding area. They cause sound to be isolated up to 35dBA, making them one of the top circumaural headphones best for noise isolation.
They come with leather padded headband and soft-skin replaceable earpads, thereby allowing you to wear them for several hours without causing irritation.
The high-quality build is one of the most noticeable features of these headsets. They are made of thick plastics that are not easily breakable. The metal headband is covered with leather to make it soft, even after wearing them for several hours.
When it comes to sound, they produce accurate sound that is devoid of any sort of frill. That is, they are flat, but with sufficient bass to add to the fun of the music. The soundstage is excellent for closed-back headphones.
In conclusion, the Beyerdynamic DT 770 M is a fantastic pair of noise isolation headphones producing impressive sound isolation, comfort, durability, and sound quality that is perfect for any genre of music you might think of.
Pros
Excellent design
Comfortable,
Perfect sound quality
Cons
They can't work with smartphones unless they are connected with an amplifier
These headphones are designed to meet your expectations of a pair of headphones for noise isolation.  They are portable and comfortable to use. As a device that emits high-quality sound, look no further than Sennheiser HD 25 headphones, because you will see numerous features like impressive sound quality, a polished black design, and the capacity to cut out outside noise despite having an over-ear design.
There are numerous outstanding qualities of these headphones, the most notable one being the sound quality. Sennheiser is famous for producing headphones with remarkable audio performance. These are a testament to that fact, as they deliver a ton of clarity in the upper end and a reasonable amount of bass.
These headphones have noise isolation that is suitable for on-ear headphones but not comparable to in-ear or over-ear headphones because it is difficult for on-ear headphones to create a seal on one's ear canal.
Over the years, the Sennheiser HD 25 headphones have garnered positive reviews and are widely used industry by DJs.
Pros
Excellent design
Comfortable
High-quality sound
Nicely built
Cons
The noise isolation can't be compared to over-ear or in-ear headphones
These are wireless phones, a feature that makes them suitable for sports use. Besides, they have high-quality sound and good looks.
Hearing other music playing over the speakers while you are enjoying your own music is an experience that you won't like to have. This is where the best noise isolating headphones comes to the rescue. The Optoma NuForce headphones are very useful for sports. They are wireless, hence you have no cause to worry about being restricted by wires during your workout.  They grip easily to your ears so that you don't fear that they will fall while you are working out.
When it comes to sound, the Optoma NuForce headphones have an excellent boosted bass response and a detailed high-end, allowing you to have an enjoyable listening experience.
These headphones have received numerous positive reviews. While TechRadar awarded them stunning five stars, Trusted Reviews gave them a fantastic 8/10 rating. These headphones are not known to have too many downsides apart from some quality issues about their build, as reported by some buyers.
Pros
Excellent sound quality
Affordable
good design
Cons
Issues about build quality