Studio headphones are some of the best must-have gaming tools, especially PC gaming. In terms of sound quality, studio headphones for gaming have an edge over other expensive and quality gaming headsets in the industry.
Nowadays, the popularity of gaming keeps soaring, as more people now create ample time to sit down and play not only music but games at their desks. And as obtainable in your Steam library, the list of headphones being released is now growing at such a fast pace that you'll find it impossible to play all games with your laptop or computer.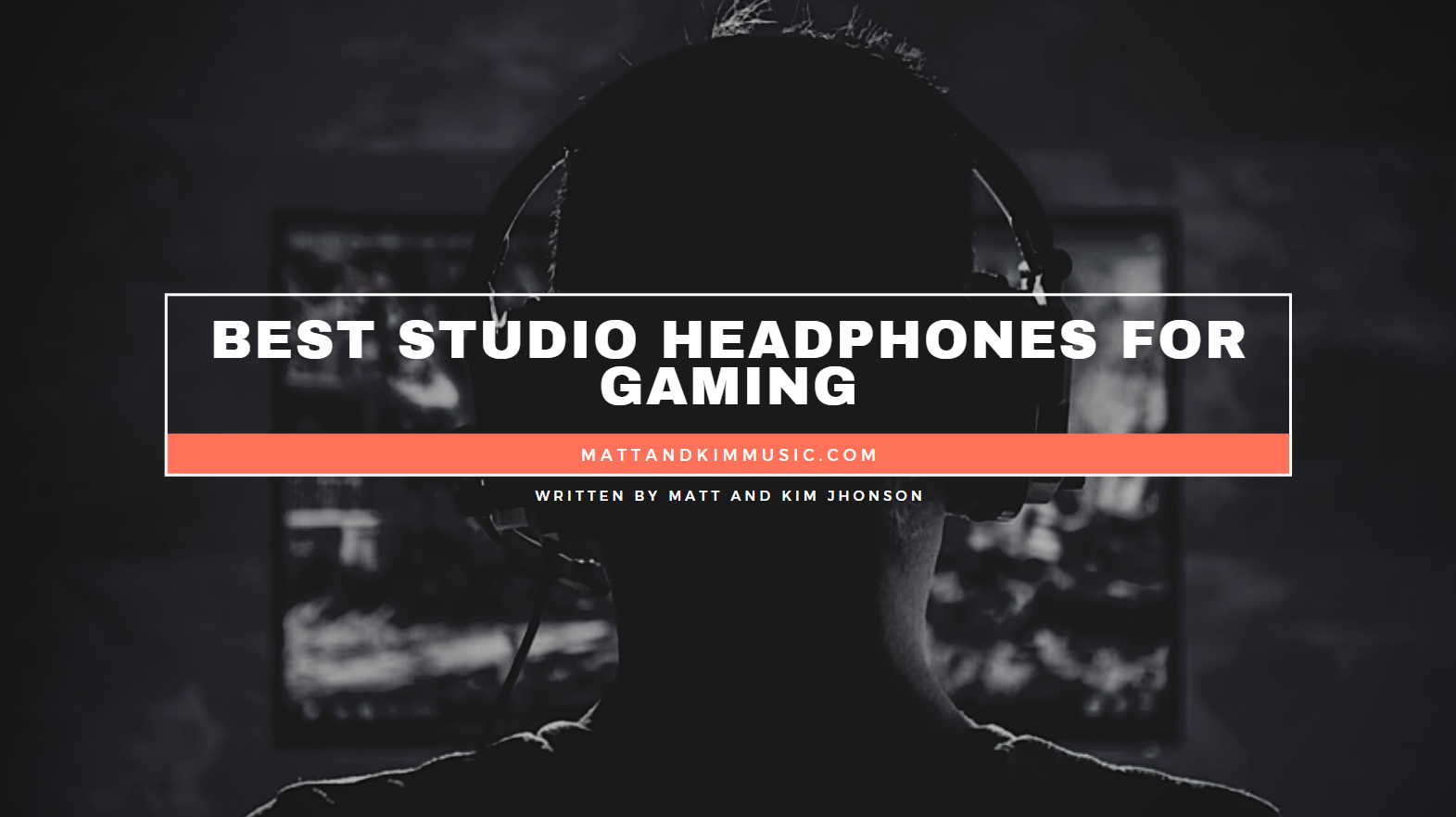 In the gaming industry, having the audio experience is also as vital as having the visuals, making the need for an excellent pair of studio and gaming headphones essential.
This detailed guide of the best studio headphones for gaming will aid you in your search for a pair of headphones that are suitable for your needs and fall within your budget.
Here you have the Best Studio Headphones For Gaming:
Specs
Open Back
38 Ω Impedance
53mm Speaker Drivers
5Hz — 30kHz Frequency Response
5mm gold-plated plug
3 ounces
We place the AudioTechnica AD700x on the first spot not only because of its value for money but also its attractiveness and elegance.
The mids meet your expectations of perfect gaming experience, as they appear completely flawless. Though boosted bass or treble is a good option, having strong mids to improve your gaming experience is the best.
The AD in AD700x means "Aerodynamic". It was named as such because of the lovely headband system. Unlike ordinary headphones, it doesn't extend across your head but contains 2 pads that lie on your head. This system is moderately comfortable but not the most secure.
Wherever you go, just look out for different kinds of headphones, and you will realize that the AD700x headphones come atop among the best studio headphones suitable for gaming and quite easily the best in the under $200 price range.
Pros
High-quality sound
Extraordinarily comfortable
Open-air design
Portable and convenient
Best value for money
Cons
Not really secure for some head sizes.
Vast sound stage
Specs
Closed Back
32/80/250 Ω Impedance
45mm Drivers
5Hz-35kHz Frequency Response
14 ounces weight
6-3m cable
5mm + 6.3mm plugs
Selling around $200, the Beyerdynamic DT 770 Pro is among our selected few of closed-back pair of headsets.
They are excellent in terms of performance when it comes to mid-range audiophile headphones. These cans will produce the cleanest and most fantastic sound that you may not experience from more expensive headphones. Worthy of mention is a vast sound stage (for closed back), a very vital component of FPS games. Though the highs are a bit lacking in some aspects, these headphones have outstanding lows and strong mids. The sound is not only spacious but transparent. These headphones come with 3 different cables that can be used for different ohm levels. While most people will prefer the 32 and 80 ohm cables, other die-hard enthusiasts will go for the 250 ohm cables.
Really, pushing 250 ohm requires a high-quality DAC or sound card. In addition, you will get a warranty booklet which details your 2-year warranty, a pretty fabric carrying case, and a 6.35mm stereo jack adapter.
All-in-all, we pick the Beyerdynamic DT 770 Pro as one of the best pairs of studio headphones you can buy for gaming that sell below $200. You have found the right option in your search for a durable solid closed back pair of cans.
Pros
Excellent sound stage (for closed back cans).
Transparent and spacious sound
35/80/250 ohm options
Secure and comfortable over extended use
Cons
Specs
Open Back
50 Ω Impedance
53mm Speaker Drivers
15Hz – 28kHZ Frequency Response
5mm + 6.3mm plugs
6 ounces
As an open-backed studio headphone for gaming, the Sennheiser HD 598s has an exceptionally broad sound stage that enables you to identify footsteps and gunshots effortlessly.
A drawback of open-back headphones is that you may not enjoy using them in a noisy environment, a situation where closed-back options are more suitable for you and those around you.
They have neutral sound, but their fair boost to treble can enliven your vocals and talking sound. Although the treble isn't too boosted, it contributes in no small measure to the overall sound quality.
The 50 ohms impedance is sufficient for you; so you will certainly get excellent sound and you won't need any amp or DAC to drive the Sennheiser HD598 headphones.
The built is of high quality. Despite being built entirely from plastic, they are relatively durable and convenient at 8 ounces.
In conclusion, the Sennheiser HD598s emits a very clean and quality sound with an impressive wide stage.
Pros
Clean, quality, and balanced sounding
Removable cable
Exceptionally comfortable
Portable
Velour ear cups
Cons
Specs
Closed Back
45mm Speaker Drivers
15Hz – 28kHz
10 ounces Frequency Response
38 Ω Impedance
5 + 6.3mm plugs
An incredibly popular set of closed back studio headphones, the AudioTechnica ARH M50x produces a clean and high-quality bass-heavy sound. However, it is not as badass as Beats.
Generally, it has excellent sound, making the M50x a very suitable option for gaming. Despite being closed back, you are guaranteed a very broad sound stage that will enable you to identify footsteps and gunfire.
They come with a detachable cable, with 3 cables in the box, including a short and straight 2m cable, a coiled 3m cable, and a 3m-long cable.
In addition to being portable and comfortable, they are a set of headphones suitable for gaming. They are very easy to wear, and they won't injure your ears. To give you more value for money, they come in 4 different color schemes, namely white, black, blue, and dark green.
In comparison to the Sennheiser HD598 mentioned earlier, while one has fairly boosted treble, the other has fairly boosted bass. Also, while one is open back, the other is closed back.
Pros
Extremely Popular
Balanced and High-Quality Sound
Excellent Sound Stage
Very Comfortable
A wide range of colors to select from
Removable Cable
Solid Bass
Easy to fold
Cons
The response from the bass is sometimes muddy.
Specs
Semi-Open
16 Ω Impedance
50mm Speaker Drivers
5 Hz – 35kHz Frequency Response
2 ounces
The Beyerdynamic Custom One Pro headphones rank high among the under $200 best studio headphones for gaming. In addition to being completely customizable, they transmit high-quality clean sound. Furthermore, they have bass ports on the bottom of the ear cups to allow you to toggle and make them semi-open or closed back headphones. This extraordinary feature, which places Custom One Pros atop other M50x, is more appreciated when you are in a quiet setting.
Its build quality is incredibly durable, with virtually any of its components, including its headband, an in-line mic, and side inserts, customizable.
With 16 ohms impedance, your integrated sound card is unlikely to have any difficulty driving the cans. Also, it does not require any auxiliary DAC.
All in all, the Beyerdynamic Custom One Pro headphones are a great set that will surpass your expectations.
Pros
Bass Port that allows you to fine-tune.
Low Impedance Unamplified Sound
Quality
Broad Range
Incredibly Customizable
Nice Sound Stage
Cons
Relatively recessed mids (unnoticeable about 99% of the time).