Headphones represent big hype these days. Some models can go well over budget and give gamers and musicians a top-notch experience, but that's also doable with some of the best headphones under $40. Some others cost less than a burger in your favorite fast food and one of the cups will stop working after a few months.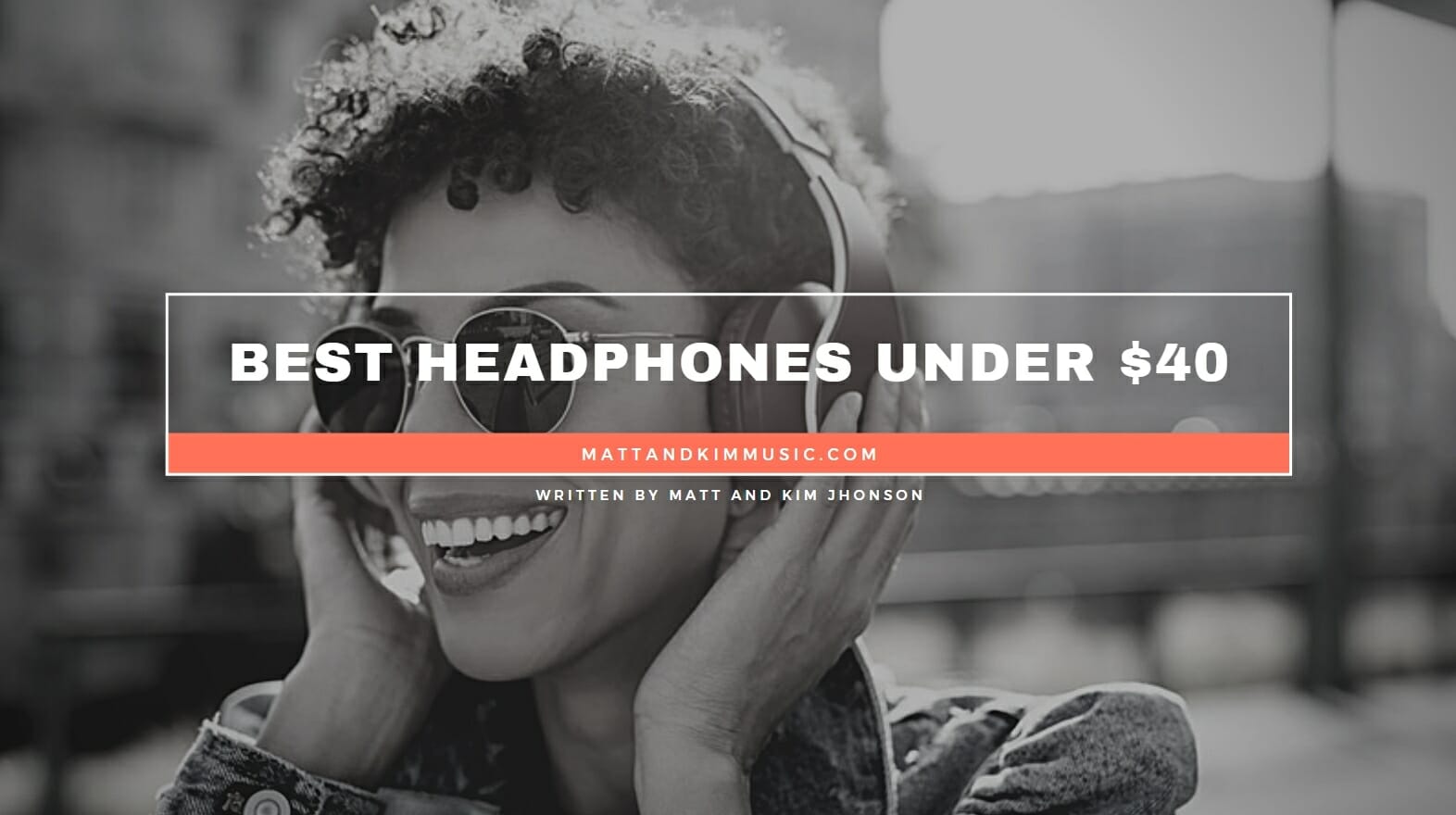 A middle option makes more sense then – plus, you would rather have value for money than pay for the brand name. Now, deciding on the best headphones under $40 could be a bit challenging because there are lots of options out there.
Some of them are worth every cent and can successfully compete against more expensive alternatives. Some others will quit on you within the first years. A bit of research will work a long way, whether you count previous buyers' reviews or educate yourself on features and capabilities.
All in all, here are the best headphones you can buy with a limited budget.
Top 5 Headphones Under $40
Sennheiser may not be the most famous name on the market, but the brand has never disappointed its users. It provides inexpensive headphones, as well as excellent value for money. This set is only available in a black design and brings in precise German engineering that nothing else can beat.
You have a classic on ear design. Since the headband is adjustable, you can get a perfect fit. Adjustments are fairly simple to do. Furthermore, the headphones are lightweight and will not put any strain on your neck – even if you wear them for hours while smashing terrorists in your favorite shooting game.
Design innovations do not stop here though. The headset is fully foldable – no tools required. You can store them safely without worrying about them, not to mention transporting them without grabbing too much space.
The set comes with 26 ohm transducers. Performance is simply flawless, while clarity will never be an issue. Drivers are compatible with pretty much any device you can think of.
There are no fancy connectivity aspects, hence the good value for money. The set is wired. Practically, it works with any device that has a 3.5 jack slot – smartphones, tablets, laptops, TV sets and so on.
Last, but not least, it is worth mentioning the noise isolation capabilities. While the ear cups are not massive, they will cover your ears. The ambient noise is dramatically reduced, so your listening experience will go to another level.
Pros
Efficient foldable design for easy storage and transportation
Good noise isolation capabilities
Lightweight profile
Clear performance
Easy to adjust
Cons
Featuring a futuristic design and available in four different colors – blue, red, gray and green, these gaming headphones simply could not avoid the under $40 list. They provide excellent value for money and a top notch performance.
The headset has been designed for gamers, but you can obviously use it to play your favorite music or talk to your business partners over the Internet. It is compatible with any operating system, as well as any device that has a classic USB audio port – laptops, consoles, TV sets and so on.
The 7.1 surround sound system stands up in the crowd. Mixed with the 50mm magnetic neodymium driver, you have professional performance and immersive experience. There is no software required for the headphones – simply plug and play.
The design may seem a bit bulky, but the headset is lightweight and provides comfort for hours of use. Each ear cup features memory padding, while the headband is adjustable and built with comfort in mind.
The microphone is built in – rotates to 120 degrees. Also, it ensures noise reduction, so there will be no more white noise – just your voice clearly for your conferences or team mates.
Last, but not least, there are a few extras that will make your life easier. Connectivity is wired and the wire measures over seven feet in length. Also, you have a few controls on the microphone as well.
Pros
Good surround sound capabilities
Compatible with anything with a classic USB slot
Ergonomic design
Noise canceling – both the headphones and the microphone
Long wire for freedom of movement
Cons
Bulky design, yet it is still lightweight
Cowin's headphones that fit a $40 budget will not let you down. The headset looks quite luxurious and it comes in a few different colors – black, green or white. The metallic accents above the ear cups give it a luxurious appearance.
In terms of performance, the active noise canceling technology is what makes the difference, whether you travel, work or play in a loud environment. The technology works well in both modes – wired and wireless. Indeed, these headphones can connect to any device that has a 3.5 audio jack slot or Bluetooth connectivity – laptops, smartphones, TV sets, computers, tablets and more.
The impressive performance is given by the superior 40mm drivers. The bass response is flawless and pretty deep, while the sound is super crisp – you can hear all instruments, vocals and lyrics at very low volumes as well.
You can use these headphones to play music, game with your buddies, have conferences or talk to your family. The built in microphone will make communication a breeze.
When it comes to the Bluetooth connectivity, NFC pairing helps with voice commands and ensues a super stable connection – even if you are a room away.
Last, but not least, there is not much to worry about if you want comfort. Earcups swivel to 90 degrees. They are based on protein padding and feature a skin texture. They cover your ears without putting too much pressure on them.
Pros
Beautiful and luxurious design
Multiple connectivity options
Powerful wireless connection over Bluetooth
Good battery life
Good sound performance due to the quality drivers
Cons
Noise cancellation on the microphone could have been better
You are less likely to face disappointment, whether you invest in a high end product or a budget one from Philips. It is one of the most reliable names on the market and its budget headphones less than $40 will impress you with their capabilities. The headset is only available in black – a mix of shiny and matte black that looks simplistic and elegant.
These headphones feature over the ear cups. They are relatively large, so they will provide great sound isolation, regardless of how large your ears are. Unlike cheap headphones, the padding will resist over the years instead of cracking due to too much usage.
Comfort is not to be overlooked either. You have soft foam on each ear cup. Cushions will adjust automatically based on the shape of your ear. They will never put too much pressure on your ears, so you can wear the headset for hours without worrying about it. Philips has gone the extra mile and has cushioned the headband as well.
The headband is fully adjustable – it makes no difference what size your head is. As for the connectivity, the set is wired. The cable is about 10 feet in length, so there is plenty of freedom involved. You also have a single sided cable that reduces tangling – the adapter is included.
Given the wired connectivity, these headphones will work with any device that takes a 3.5 jack – smartphones, television sets or tablets, among others.
Now, you probably wonder what kind of performance Philips has brought in for less than $40. The high res audio is given by 40mm speaker drivers. The bass is super deep and details are crisp and clear – vocals, lyrics and instruments at low volumes as well.
Pros
Excellent value for money
Loads of padding for a comfortable experience
Lots of adjustability
Durable and subtle design
Quality performance
Cons
No volume control on the headphones
A beautiful design, compatibility with any device and great performance – what else can you ask for? These could be the best headphones under 40 if you want a reliable middle choice. The design is beautiful and features metallic accents – a few different colors to choose from too.
Performance is flawless – 50mm speaker drivers and neodymium magnets. It is way above average in this price range for clear vocals, crisp sounds and a powerful bass.
Connectivity is basic – wires. You get a wire measuring almost 10 feet, so you can move around and get some freedom while playing your favorite music. The cable can reach your TV as well.
As for the compatibility devices, you get 3.5mm and 6.35mm plugs, so the headset is virtually compatible with any device, from smartphones and tablets to TV sets and computers.
The ear cups swivel to 90 degrees, so you can use a single cup too. The headband is fully adjustable and quite flexible.
In terms of comfort, cushions are designed for many hours of daily use without putting pressure on the ears. The band is softly padded as well.
Pros
Heavy amounts of cushioning
Good looking design
Excellent performance
Carry pouch included in the package
Super long cord
Cons