Every pro player has a quality gaming headset around their ears. If you want to develop an alien-like awareness that will win you games (and get you reported), you need an excellent pair of gaming headphones. As seasoned FPS and MOBA gamers, we've tried every possible audiophile headphone set from the cheapest no-name brands to the most expensive, high-end products. 
Whenever you play a game where environmental awareness is important, perfect audio feedback will help you stay ahead of your opponents. This is the reason why you should invest in a quality pair of cans if you're serious about taking on those matchmaking leaderboards. That said, it doesn't hurt if you can use them to listen to your favorite tracks while scrimming.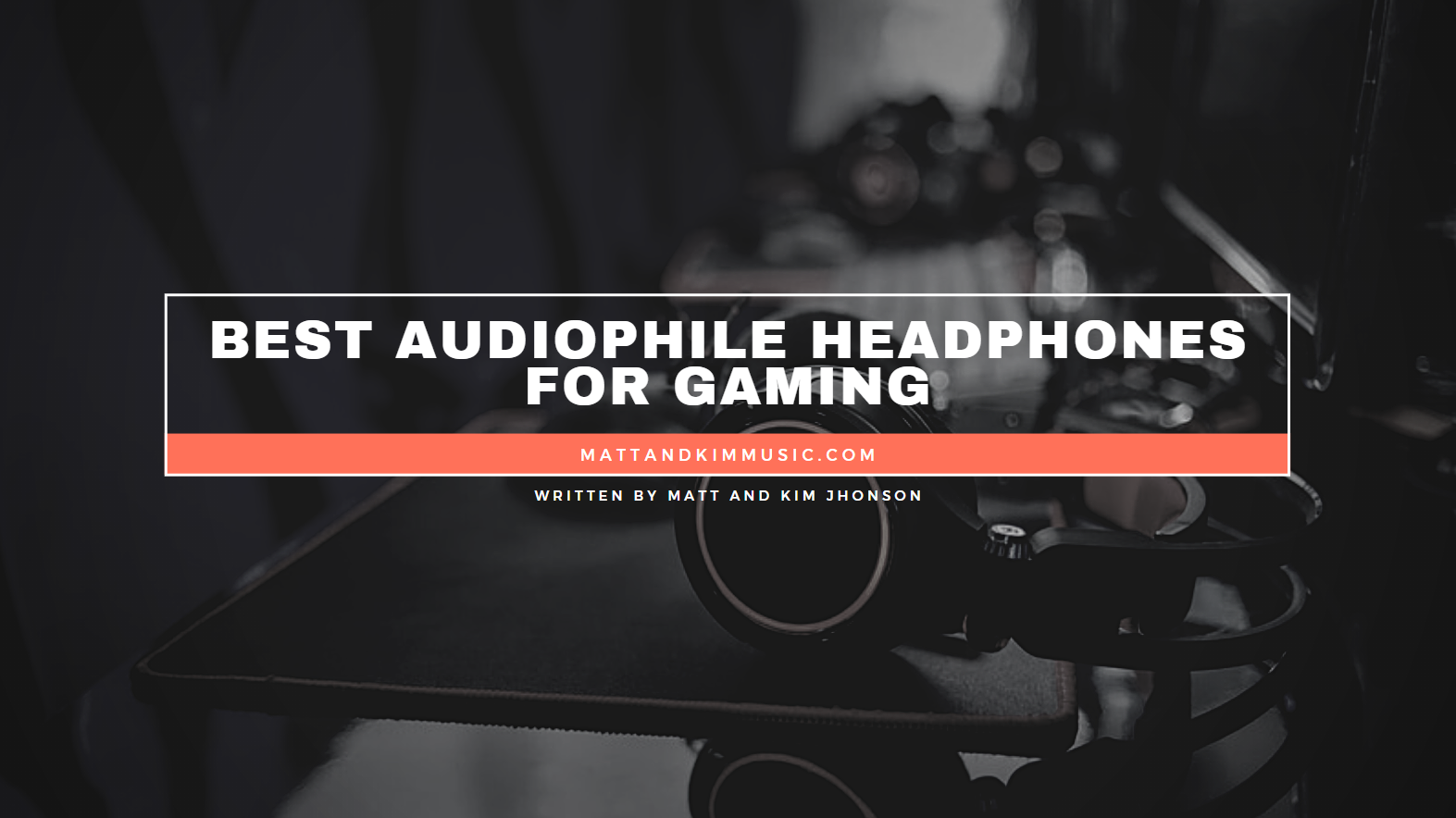 Given the size of the gaming industry, the headphone market has quickly become saturated with a flood of subpar products. So we decided to make a list of the best audiophile gaming headsets you can buy right now. We've tested, worn, and won with each of these models, although we liked some better than others.
Top 8 Best Audiophile Headphones for Gaming
1. Audio-Technica ADG1X/AG1X
Audio-Technica's ADG1X and the closed-back version AG1X sit at the top of our best audiophile headphones for gaming. Made by a premium manufacturer of headsets, the only drawback we could find with these cans is the non-detachable microphone. They may not be as cheap as their competitors, but they deliver fantastic in-game audio.
The open-back design of ADG1X means they're lighter and it makes it possible to see some of that critically acclaimed hardware inside. Your ears will be comfortably squeezed between 53mm drivers, which deliver highly accurate sound reproduction for gaming. The cable features a switch that makes it possible to adjust volume and mute the mic, and there's an extension included.
Features:
Open-air design.

Although we prefer closed-back headphones, this open-back model from Audio-Technica is more comfortable to wear for extended periods of time.
High-fidelity sound.

This is one gaming headset that does not compromise on audio quality, with great bass frequencies to boot.
Comfortable Earpads.

The manufacturer redesigned the earpads to feature 3D wing support, which is just a fancy way of saying that they adjust to your head's shape.
High-quality microphone.

No matter how loud or soft you talk, your teammates will hear you every time.
Pros:
Perfect audio reproduction for gaming.

Extension cable included so you can chill on the couch. 

Comfortable overall design.
Cons:
Open-air version leaks sound.
2. SteelSeries Arctis Pro + GameDAC 
SteelSeries' Arctis Pro is one of the flagship headsets from the renowned gaming peripheral company, the kind that every gamer aspires to because the pros wear them. Disclaimer: marketing had nothing to do with our pick. The only reason it takes the second spot on our list is its peppered price, which was a big con for us. If your budget isn't a problem, this pair of sturdy cans should be your first choice.
Some might think it overkill, but high-resolution audio is one of those things you can't unhear once you bathe your ears in it. With SteelSeries, it's all due to the GameDAC unit. This is a handy, small module with an embedded chip that processes and boosts your audio signal. Aside from the high-fidelity surround sound, you'll love how comfortable the headphones are. If you want audiophile headphones for gaming, this is as good as it gets.
Features:
Surround sound.

The surround sound option recreates a 3D environment on your ears with the push of a button. 
Premium comfort.

Comfortable ear cushions and a durable, ski-goggle headband made from steel. 
LED lights.

Stylish LED ring lights around both headphones.
Handy volume controls. 

The back of the left earcup has a discreet volume control.
Pros:
First gaming headset certified for HD audio.

Good noise isolation.

Comfortable to wear when properly adjusted.
Cons:
High price.

Not portable when used with DAC.
3. EPOS I Sennheiser GAME ONE
If you're an avid audiophile, as well as a gamer looking to get an edge, Sennheiser's GAME ONE is a great choice. The best part about these cans is that you don't have to pay the hefty price tag that comes with top-of-the-line brand names. Sennheiser recently partnered with EPOS, a renowned Danish company in the audio industry, and updated its gaming headsets with the latter's proprietary speakers.
The main strength of Sennheiser's GAME ONE model is performance. These gaming headphones combine the best audiophile qualities with the most important features in gaming audio. The open-back, acoustic design is ideal for high-volume setups where you have to hear every drop of a pin in-game, as well as every small input from your teammates.
Features:
Classic design.

Simple, stylish design, a modern take on the vintage gaming headsets of the early 2000s.
Proprietary speakers.

You've never heard speakers like these – extreme acoustic clarity and comfortable bass extension.
Easy volume control.

Discreet volume control integrated on the right headphone.
High-quality mic.

Exceptional voice quality that blocks out a significant amount of external noise.
Pros:
Easy to use, no software needed so you can just plug and play.

Premium audio performance, which makes them one of the best audiophile headphones for gaming.

Comfortable fit due to pivoting, velvet-padded earcups and headband.
Cons:
Open-back design allows external noise inside.

Lack of 7.1 surround sound.
4. Audeze Mobius 
If Razer Kraken are the headphones you use on the road to professional gaming, Audeze Mobius are the ones you buy once you get there. The reason why is simple – you can purchase a solid GPU with the money you pay for the Mobius. That said, this product is deserving of the title best audiophile headphones for gaming (for those who can afford it). Once more, cost is the main reason why a fantastic headset gets a lower spot on our list.
What Audeze did with the Mobius is truly awe-inspiring and it changed the market for gaming headphones for ever. The main reason you'd buy these cans instead of upgrading your GPU is the fantastic sound quality and 3D audio. The technology inside this audiophile headset is well worth the price, as it delivers an ultra-realistic rendering of in-game sounds. 
Features:
Planar magnetic drivers.

This is NASA-grade technology known to offer alien-like clarity to your in-game sound.
Fully-integrated surround.

The headphones come with built-in audio chip that renders audio in 5.1/7.1.

Wireless capability.

Bluetooth technology ensures you can use these gaming headphones for casual listening.
Movement tracking.

Equipped with cutting-edge head tracking technology by WAVES Nx.
Pros:
Open and impressive soundstage perfect for gaming. 

Great noise isolation by design.

Premium feel due to texturized finish.
Cons:
Poor battery life.

Average microphone quality.
5. Sennheiser HD600
If you can't afford the Mobius, but want that impressive stage that can only be delivered by open-back headsets, Sennheiser's HD600 should be your go-to audiophile gaming pick. This is basically a high-fidelity stereo headset that can easily dub as a gaming equipment. Aside from pricing, the only real downside is the lack of a microphone.
The current Sennheiser HD600 is an up-to-date version of a model that's been around for decades. You might think it's not such a big deal, but the level of comfort that comes with this kind of manufacturing is uncanny. You'll forget you're wearing them. The sound is exactly what you'd expect from critical listening headphones – accurate, natural, and consistent across all ranges, which is why audiophiles love them so much.
Features:
Extremely comfortable.

The headphones are anatomically designed to fit neatly and be as comfortable as possible for any wearer.

Audiophile gaming.

Audio performance comes off as natural and accurate on a truly impressive soundstage.
High-quality build.

The headband and swiveling earcups are sturdy enough to withstand a couple of falls. 

Service commitment.

Both the ear cushions and the headband can be replaced by Sennheiser servicing when they wear out.
Pros:
The open-back model that delivers high-fidelity audio.

Replaceable cable.

Lightweight design lowers fatigue for intensive gaming sessions.
Cons:
No noise cancellation.

No microphone.
6. Beyerdynamic DT 990 Pro
With Beyerdynamic's DT 990 Pro we return to the realm of affordable audiophile headsets for gaming. The model delivers exactly what you'd expect from the manufacturer: high-fidelity sound and an extremely comfortable listening experience at an affordable price. As is the case with Sennheiser's HD line, there's no built-in microphone.
The Beyerdynamic design might take a little getting used to, but it definitely helps if you try them on before making an opinion – the earcups are made of memory foam wrapped in soft velour. Even the most pretentious of wearers will give in to the plushy softness of this audiophile headset. That said, these headphones are made for listening, not travelling, so don't expect any hinges that facilitate transportation.
Features:
Open-back design.

These full-size, open-back headphones are deceptively spacious, and you'll be blown away by the soundstage.
Studio quality sound.

Use them to bring studio-quality sound accuracy to gaming. Even the slightest change in sound source will be noticeable.
Durable.

German-made, resilient design using high-quality polymers. They'll last you for years.
Highly comfortable.

One of the few manufacturers that successfully use velour and memory foam for the earpads.
Pros:
Excellent tonal quality for sounds across the spectrum: easily listen to music, teammates, and in-game sounds at loud volume without getting fatigued.

Great value purchase.

Easily replaceable parts.
Cons:
No attached microphone.

Susceptible to environmental noise.
7. Razer Kraken 7.1 V2
With Razer's Kraken 7.1 V2 we step into affordable gaming headphone territory once more. At this point, the problem is whether the headset is audiophile-friendly or not. What you'll notice straight out of the box is that you won't be able to use them with mobile devices, as they only have a USB connector. If you want a 3.5mm jack, you should go for the Kraken Pro.
If you want to play at home, on PC or a PlayStation, the Razer Kraken 7.1 V2 is up to the task. Their main strength is the virtual surround, but you'll definitely enjoy all the bells and whistles that come with the Razer software, such as RGB light synchronization, advanced equalizer, and more. 
Features:
Accurate, clear sound.

The immersive audio experience delivered by the 7.1 virtual surround is complemented by a solid tonal performance.
Retractable microphone.

Highly underrated feature that makes them comfortable to wear when listening to your favorite tunes.
Durable build.

Lightweight and flexible frame made from aluminum alloy.
Comfortable.

Cushions are designed for extended use, can easily be worn with glasses or accessories.
Pros:
Full bass sound is a pleasure to listen to in shooters.

Good noise cancellation due to closed-back design.

Razer logos subtly light up in the colors of your choice.
Cons:
USB only.

No volume control on the cord.
8. HyperX Cloud Alpha S
We couldn't have ended our list of best audiophile headphones for gaming without HyperX's Cloud Alpha S. Aside from being a close rival to Razer's Kraken line, this pair of cans comes with a unique feature that will definitely appeal to fans of electronic music and FPS games – bass adjustment sliders. The durable aluminum frame is a neat bonus that extends the lifetime of the headset considerably.
The HyperX Cloud Alpha S is compatible with gaming on any device, although the 7.1 surround sound might require updates on some consoles. If you're an audiophile, you'll love the detachable microphone and braided cable. Pop the mic out and listen to your favorite tunes on a walk without feeling… well, weird. One downside is that some users reported the microphone distorts their voice slightly.
Features:
Dual chamber drivers.

Patented dual-chamber technology that renders an accurate sound and allows low frequencies to be tuned separately.

 
Comfortable, durable build.

Leatherette ear cushions prevent discomfort and facilitate airflow, durable aluminum frame.
7.1-channel USB sound card.

Easily adjust the volume, mute the mic, or turn 7.1 function on and off with the audio control mixer.
On-headphone bass switch.

Select between three levels of bass strength without alt-tabbing.
Pros:
Powerful sound with impressive bass tones.

Separate volume controller and 7.1 module for PC gaming.

Replacement ear pads included.
Cons:
The quiet mic that slightly distorts lower voice tonalities.

High-frequency sounds are slightly distorted at high volume.