Every pro player has a quality gaming headset around their ears. If you want to develop an alien-like awareness that will win you games (and get you reported), you need a good pair of audiophile headphones for gaming. Whenever you play a game where environmental awareness is important, perfect audio feedback will help you stay ahead especially if you are serious about placing on the leaderboards.
As seasoned FPS and MOBA gamers, we realize the importance of a good pair of audiophile gaming headphones and how expensive they can get. As the market becomes saturated with subpar products, our team set out on a mission to look for the best gaming headset for audiophiles.
After consulting different Facebook groups, setting up polls, speaking to many audiophile gamers, and acquiring a long list of the models they recommended, we tested all these models and came up with the best choices for those of you who are looking to buy audiophile gaming headsets in 2021.
Top 16 Best Audiophile Headphones for Gaming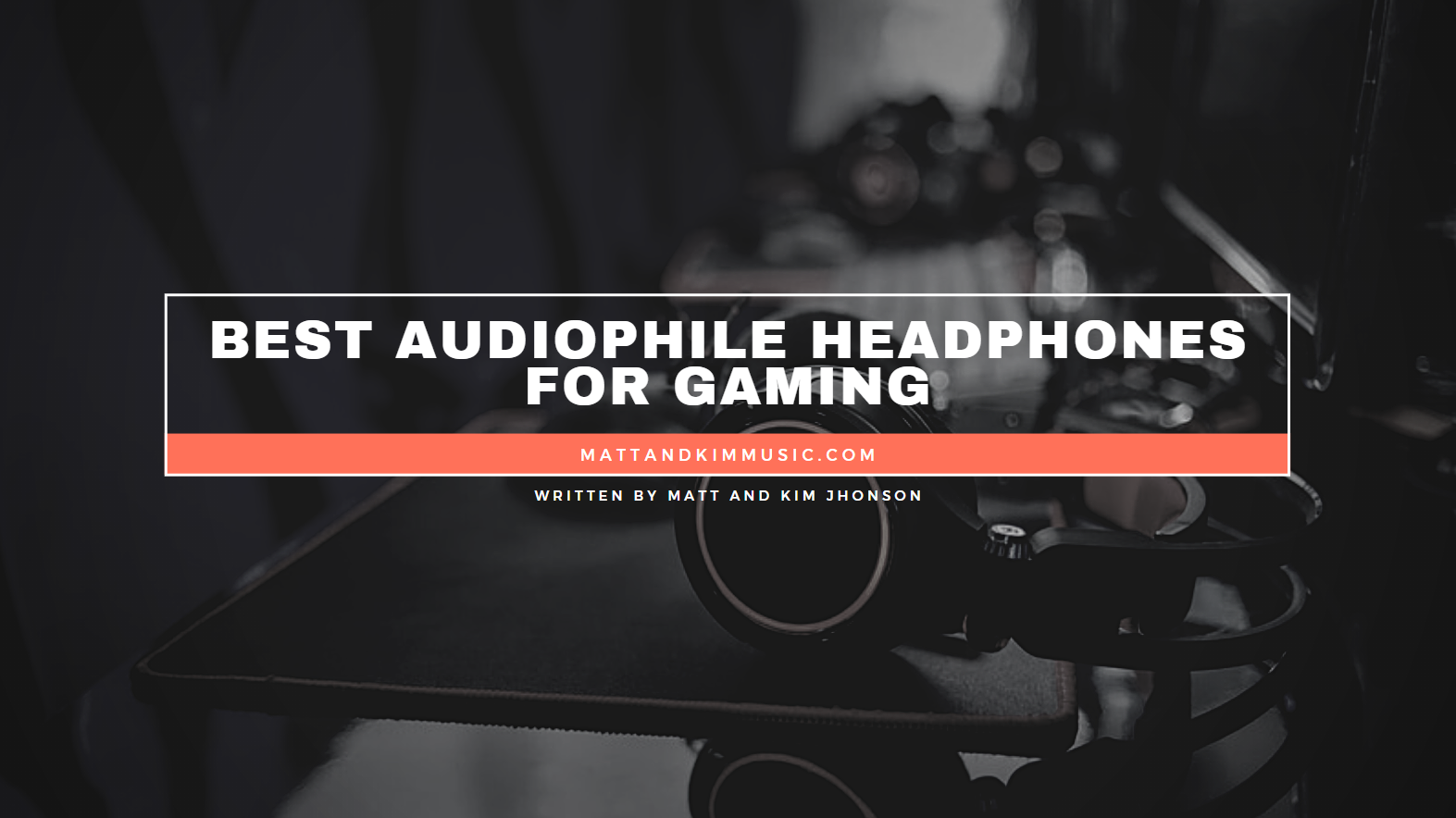 1. AKG Audio K712 Pro – Easy winner as best overall audiophile headphones for gaming – Best Price/Value ratio!
At the top of the list, the best overall gaming audiophile headphones are the AKG Audio K712 Pro. Made by one of the biggest players in the world of sound, AKG is a brand synonymous with good sound. Although this audiophile gaming headset is a little on the more expensive side, it is worth it as it is better than thousand-dollar alternatives for gaming.
We love the over-ear design that allows maximum comfort, especially during long gaming sessions. Although the earpieces are a little on the bulky side, the headset was surprisingly light and none of us felt any accumulation of fatigue and discomfort that is usually experienced with extended durations of wear. We were also impressed with the softness of the leather top band and earpads.
AKG Audio K712 Pro – Features
Design – The open-back over-ear design allows for maximum comfort especially when worn for extended durations.
Sound – Sophisticated open technology allows for spacious and airy sound without compromise. Powerful sound imaging due to an improved low-end performance by 3dB. Revolutionary flat-wire voice coil offers incredible impulse and treble response.
Pros:
Excellent Audiophile Gaming Headphones, better than $1000+ alternatives when it comes to serving this specific purpose.
Perfect for gaming – Lightweight (270 grams) and designed for maximum comfort and long-term wear without feeling fatigued.
Excellent Earpads and top band – Overall they are VERY comfortable.
Unrivaled Soundstage – one of the best if not THE BEST. Good bass impact without being excessive.
Good Bass Impact.
Incredible for Gaming (CS:GO, Fortnite, PUBG, and other BR shooters)
Great value for money and is durable enough to easily last many years – They won't depreciate over time (very important when looking to buy audiophile headphones, especially for gaming!)
Cons:
An AMP may be required as volume is quite low from motherboards or console remotes. However, even after taking the price of the AMP into consideration, you are still getting better quality sound for under $500 compared to $1000 headphones.
Although well designed and comfortable, the earpieces are a little too bulky for our taste.
The open-back design of the headset improves sound quality but results in sound leaks and does not block much noise, making it unsuitable for situations with crowds.
2. Beyerdynamic DT 880 – Best Audiophile Headphones under $200 for Gaming
Beyerdynamic's DT 880 premium stereo headphones are a great option for gamers who love music. It is the best gaming & audiophile headphones for under $200. This affordable audiophile headset can be a reliable companion for years as the manufacturer offers replacement parts for all components. Although extremely sturdy, we were surprised at the lightness when we picked it up. Combined with the comfort from the soft headband and earpads, the DT 880 is perfect for long gaming sessions without excessive heat buildup and results in less wearer fatigue compared to the DT 990.
We love the semi-open design of the DT 880 as it combines the strengths of both open and closed headphones. It allows just enough sound to pass through while still feeling isolated enough to enjoy good sound. Let's face it, many of us can't spare our hands to remove our headsets every time someone tries to talk to us while gaming!
Beyerdynamic DT 880 – Features:
Design – A study and light semi-open design results in low attenuation of ambient noise, comfort, and durability.
Sound – The DT 880 has a relaxed and neutral sound, making each sound component clearly audible, great for gamers who need good audio feedback. It is also perfect for gamers for love music as it offers a concert atmosphere at home.
Pros:
Great value for the price as the best budget audiophile gaming headset.
Very comfortable for long gaming sessions with minimal wearer fatigue.
Great for FPS Games on budget.
Positioning and footsteps are very clear.
Very Sturdy Headphones.
Very Light.
Less fatiguing than the DT 990, better for long-term use.
Cons:
To get the most out of the headset, an AMP may be required adding to the cost.
The AKG 712 is better overall. However, the DT 880 is cheaper and has great value for those looking for lower-budget FPS gaming headphones.
The design of the headphones makes them more sensitive to ambient noise.
Best in its price range, the Philips SHP9500 is a great pair of gaming headphones if you are on a budget. The architecture of this headset allows the diaphragm more freedom to move resulting in better sound transparency and smoother frequencies. It also has 50mm high power drivers that reproduce great music dynamics with a crisp bass.
We decided to rank the Philips SHP9500 third on our list as there is truly no other comfortable full-size audiophile headphones at this price range that would be a good fit for gaming too. For full-size cans, these are incredibly light and exert just the right clamping force. For those who despise warm ears, these are perfect as its open-back design improves breathability and enables you to use them for longer durations. Not only that, even the earpads breathe!
Philips SHP9500 – Features:
Design – An acoustic open-back over-ear design that has precisely angled drivers that naturally fit the ears offers comfort and accurate sound to create a dynamic listening experience.
Comfort – It has a double-layered headband cushion that is soft, comfortable, and breathable while the outer layer is made with steel that ensures strength and durability. The earpads are breathable to help dissipate heat and pressure.
Pros:
The best pair of audiophile gaming earphones in this price range, very affordable and great value due to its build quality.
Great for games that require distance and directional footsteps especially in FPS games.
Cons:
Earpads cannot be replaced and cannot be folded. A hard-shell case is recommended during travel.
Although it still sounds exceptional, it may not be suitable to be used outdoor due to sound bleed because of the open design and it does not block ambient noise.
Offering the most accurate in-game spatial awareness, the Audio-Technica ATH-AD700X is a great pair of affordable audiophile gaming headsets. Boasting an incredibly lightweight design that has minimal pressure on the ears, it is comfortable for long sessions of gaming. What our team loves best about this headset is the directional audio quality as it has improved our gameplay greatly. All our team members can hear footsteps better to guess where it is approaching from.
Audio-Technica ATH-AD700X – Features:
Design – The open back design with lightweight honeycomb casing reduces the weight and pressure on the ears resulting in natural sound. It also has a self-adjusting 3D wing support, total ear-fit design, and flexible raised-fabric earpads that maximizes durability and comfort.
Sound – Offering an open and airy sound, it has newly designed 53mm drivers that produces clear midrange and treble.
Pros:
Offers the most accurate directional audio quality despite its affordability.
Lightweight, comfortable, and has a decent built.
Cons:
A little too eye-catching for our taste due to its bulkiness.
Although great for games, the treble can be a little too harsh and the bass needs to be tauter making it not the best choice for those who also want to use it for listening to music.
If you are an avid gamer that cannot escape noisy environments, the Beyerdynamic DT 770 is the best gaming audiophile headphones for you due to its closed over-ear design. It has great sound quality, making it a good choice for gamers who also love music. Its durability and closed design make it the perfect companion for gamers who are always on the go.
When we started the review, our team of 6 members had conflicting reviews regarding the sound where the first few reviewers reviewed it lower than the later reviewers. However, after revisiting the sound issue, we found out that this headset requires several hours of "burn-in" to sound better. Over a space of 3 days, our reviewers on the third day scored the sound quality much higher than those who tested it out on the first day.
Beyerdynamic DT 770 Pro – Features:
Design – The DT 770 pro has a closed back design that is durable and well built. Designed for comfort, it has a robust spring steel headband and soft adjustable earcups.
Sound – It has an innovative bass reflex system and produces a frequency range with precision. Specially designed for sound and music monitoring, it provides a neutral listening environment and top-notch impulse response.
Pros:
It is designed with comfort and convenience for the user. The soft ear cups and spring steel headband enables the user to have a secure fit and comfort even when worn for prolonged durations.
It has a single-sided cable that enables the user to put on and take off the headset without the cables getting tangled.
Great for gaming and listening to music in crowded areas or during travel.
Cons:
Depending on your preference, an amp may be required.
The sound still leaks despite the design especially in quieter environments.
It feels tighter on the head compared to other headsets and may be too much for some users.
Can feel a little too warm for some users.
An option for those looking for a pair of cheap audiophile closed-back gaming headphones, the Cooler Master MH-751 offers comfort and high-quality sound for long gaming sessions. Although a cheaper option, our team is impressed with the superior comfort and sound for its price range. Extremely lightweight, it has goof build and quality. It comes with a standard jack that makes it compatible with most mobile setups and consoles. We recommend this headset for audiophile gamers who want an all-rounder as it is good for games, music, movies, and even comes with a microphone.
Cooler Master MH-751 – Features:
Design – An over-ear closed back design with plush cushions, leatherette padding, and swiveling cups, this headset offers superior comfort. It comes with a cable and mic that are detachable. Combined with the foldable design, this headset is perfect for gaming marathons on the go.
Sound – It has 40mm neodymium drivers that produces a full and balanced sound, great for gamers who are seeking a headset that is good for all purposes.
Pros:
Very versatile and well-worth the price for gamers who loves games, music, and movies.
It has a subtle design that can be folded and comes with detachable mic and cable, perfect for gamers who love portability.
Cons:
Although we did not experience any issues, some users have reported that the microphone is sub-par at filtering noise.
Customer service can be bad if support is required for any issues experienced with the item.
One of the best high-end headphones for gaming, the Sennheiser HD 650 is an open back professional headphone is a genuine masterpiece that will satisfy even the most demanding listener. Although pricey, it is a must have especially for those who already have an amp or dedicated listening set up. Our team is genuinely impressed with the sound quality it offers. It sounds rich, musical, clean, natural, and effortless.
Despite having options with more bells and whistles, this model is regarded as the gold standard. For many audiophiles, the Sennheiser HD 650 is "it". The high-quality materials used to make it definitely reflects its comfortability and sturdiness. Lined with silk, the internal ear cups are well padded and extremely comfortable. We also have no doubts regarding the durability of the model as it is built to last.
 Sennheiser HD 650 – Features:
Design – It has an open dynamic design with high-quality titanium or silver finish. It uses specially designed acoustic silk to ensure precision and uniform dampening. The elliptical design makes it exceptionally comfortable as it fits the ears perfectly. It also features hand selected matched driver elements, lightweight aluminum voice coils, and high-power neodymium magnets
Pros:
This model is made in Ireland and has a two-year international warranty.
Can be connected directly to stationary hi-fi components.
Produces outstanding sound that is crystal clear, vibrant, and balanced.
Due to its weight and comfort, it can be worn for long durations without fatigue.
Cons:
Although phenomenal on its own, it is best used with an amp.
Its open back design means it does not block noise and leaks noise. This means it is unsuitable for use in crowds.
Clamping force can be too much for some users.
The audio-Technica ATH-M50X is a critically acclaimed model that has been praised by many top engineers and audio reviewers. If you are a music lover who have been looking at headphones such as Beats by Dre, this model has better sound quality than the best Beats headphone for half the price. With a sturdy build that is durable, the earpads can be replaced to guarantee a longer life.
It is a good pair of audiophile headphones for music and gaming. We love how it is great for critical listening as it has an exceptional range of bass, treble, and mid-range. Although great for neutral listening, the team is not impressed with the comfort of this headset. About half of us on the team feel that the clamping force is a little bit too much only after 30 to 45 minutes of wearing. This may be fixed by stretching it to reduce the clamping force. The ear pads and lining also are not the best.
Audio-Technica ATH-M50X – Features:
Design – It has a closed-back design and 90 degrees swiveling earcups that make it foldable for portability and easy one-ear monitoring. The circumaural design provides sound isolation even in loud environments.
Sound – It features proprietary 45mm large-aperture dynamic drivers for high-quality sound reproduction. Praised by pro audio reviewers and top audio engineers, this model offers exceptional clarity with deep bass response.
Pros:
Great in terms of versatility, this model delivers great quality for mixing, recording, gaming, or DJing.
The closed-back design means there is minimal bleed with swivel earcups that allow portability.
Cons:
The clamping force may be too much for some users as some of the team members experienced fatigued after wearing it after 30 to 45 minutes.
The earpads are lined with fake leather and will flake with time.
The padding in the ear pads feels cheap and is not the most comfortable option.
Audio-Technica's ADG1X and the closed-back version AG1X sit at the middle of our list. Made by a premium manufacturer of headsets, the only drawback we could find with these cans is the non-detachable microphone. They may not be as cheap as their competitors, but they deliver fantastic in-game audio.
The open-back design of ADG1X means they're lighter and it makes it possible to see some of that critically acclaimed hardware inside. Your ears will be comfortably squeezed between 53mm drivers, which deliver highly accurate sound reproduction for gaming. The cable features a switch that makes it possible to adjust volume and mute the mic, and there's an extension included.
Audio-Technica ADG1X/AG1X – Features:
Open-air design – Although we prefer closed-back headphones, this open-back model from Audio-Technica is more comfortable to wear for extended periods of time.
High-fidelity sound – This is one gaming headset that does not compromise on audio quality, with great bass frequencies to boot.
Comfortable Earpads – The manufacturer redesigned the earpads to feature 3D wing support, which is just a fancy way of saying that they adjust to your head's shape.
High-quality microphone – No matter how loud or soft you talk, your teammates will hear you every time.
Pros:
Perfect audio reproduction for gaming.

Extension cable included so you can chill on the couch. 

Comfortable overall design.
Cons:
Open-air version leaks sound.
SteelSeries' Arctis Pro is one of the flagship headsets from the renowned gaming peripheral company, the kind that every gamer aspires to because the pros wear them. Disclaimer: marketing had nothing to do with our pick. The only reason it takes the second spot on our list is its peppered price, which was a big con for us. If your budget isn't a problem, this pair of sturdy cans should be your first choice.
Some might think it overkill, but high-resolution audio is one of those things you can't unhear once you bathe your ears in it. With SteelSeries, it's all due to the GameDAC unit. This is a handy, small module with an embedded chip that processes and boosts your audio signal. Aside from the high-fidelity surround sound, you'll love how comfortable the headphones are. If you want the best audiophile headphones, this is as good as it gets.
SteelSeries Arctis Pro – Features:
Surround sound – The surround sound option recreates a 3D environment on your ears with the push of a button. 
Premium comfort – Comfortable ear cushions and a durable, ski-goggle headband made from steel. 
LED lights – Stylish LED ring lights around both headphones.
Handy volume controls – The back of the left earcup has a discreet volume control.
Pros:
First gaming headset certified for HD audio.

Good noise isolation.

Comfortable to wear when properly adjusted.
Cons:
High price.

Not portable when used with DAC.
If you're an avid audiophile, as well as a gamer looking to get an edge, Sennheiser's GAME ONE is a great choice. The best part about these cans is that you don't have to pay the hefty price tag that comes with top-of-the-line brand names. Sennheiser recently partnered with EPOS, a renowned Danish company in the audio industry, and updated its gaming headsets with the latter's proprietary speakers.
The main strength of Sennheiser's GAME ONE model is performance. These gaming headphones combine the best audiophile qualities with the most important features in gaming audio. The open-back, acoustic design is ideal for high-volume setups where you have to hear every drop of a pin in-game, as well as every small input from your teammates.
EPOS I Sennheiser GAME ONE – Features:
Classic design – Simple, stylish design, a modern take on the vintage gaming headsets of the early 2000s.
Proprietary speakers – You've never heard speakers like these – extreme acoustic clarity and comfortable bass extension.
Easy volume control – Discreet volume control integrated on the right headphone.
High-quality mic – Exceptional voice quality that blocks out a significant amount of external noise.
Pros:
Easy to use, no software needed so you can just plug and play.

Premium audio performance

Comfortable fit due to pivoting, velvet-padded earcups and headband.
Cons:
Open-back design allows external noise inside.

Lack of 7.1 surround sound.
If Razer Kraken are the headphones you use on the road to professional gaming, Audeze Mobius are the ones you buy once you get there. The reason why is simple – you can purchase a solid GPU with the money you pay for the Mobius. That said, this product is deserving of the title best headphones for gaming (for those who can afford these audiophile head pieces). Once more, the cost is the main reason why a fantastic headset gets a lower spot on our list.
What Audeze did with the Mobius is truly awe-inspiring and it changed the market for gaming headphones for ever. The main reason you'd buy these cans instead of upgrading your GPU is the fantastic sound quality and 3D audio. The technology inside this audiophile headset is well worth the price, as it delivers an ultra-realistic rendering of in-game sounds. 
Audeze Mobius – Features:
Planar magnetic drivers – This is NASA-grade technology known to offer alien-like clarity to your in-game sound.
Fully-integrated surround – The headphones come with a built-in audio chip that renders audio in 5.1/7.1.
Wireless capability – Bluetooth technology ensures you can use these gaming headphones for casual listening.
Movement tracking – Equipped with cutting-edge head tracking technology by WAVES Nx.
Pros:
Open and impressive soundstage perfect for gaming. 

Great noise isolation by design.

Premium feel due to texturized finish.
Cons:
Poor battery life.

Average microphone quality.
If you can't afford the Mobius, but want that impressive stage that can only be delivered by open-back headsets, Sennheiser's HD600 should be your go-to audiophile gaming pick. This is basically a high-fidelity stereo headset that can easily dub as a piece of gaming equipment. Aside from pricing, the only real downside is the lack of a microphone.
The current Sennheiser HD600 is an up-to-date version of a model that's been around for decades. You might think it's not such a big deal, but the level of comfort that comes with this kind of manufacturing is uncanny. You'll forget you're wearing them. The sound is exactly what you'd expect from critical listening headphones – accurate, natural, and consistent across all ranges, which is why audiophiles love them so much.
Sennheiser HD600 – Features:
Extremely comfortable – The headphones are anatomically designed to fit neatly and be as comfortable as possible for any wearer.
Audiophile gaming – Audio performance comes off as natural and accurate on a truly impressive soundstage.
High-quality build – The headband and swiveling earcups are sturdy enough to withstand a couple of falls. 
Service commitment – Both the ear cushions and the headband can be replaced by Sennheiser servicing when they wear out.
Pros:
The open-back model delivers high-fidelity audio.

Replaceable cable.

Lightweight design lowers fatigue for intensive gaming sessions.
Cons:
No noise cancellation.

No microphone.
With Beyerdynamic's DT 990 Pro we return to the realm of affordable audiophile headsets for gaming. The model delivers exactly what you'd expect from the manufacturer: high-fidelity sound and an extremely comfortable listening experience at an affordable price. As is the case with Sennheiser's HD line, there's no built-in microphone.
The Beyerdynamic design might take a little getting used to, but it definitely helps if you try them on before making an opinion – the earcups are made of memory foam wrapped in soft velour. Even the most pretentious of wearers will give in to the plushy softness of this audiophile headset. That said, these headphones are made for listening, not traveling, so don't expect any hinges that facilitate transportation.
Beyerdynamic DT 990 Pro – Features:
Open-back design – These full-size, open-back headphones are deceptively spacious, and you'll be blown away by the soundstage.
Studio quality sound – Use them to bring studio-quality sound accuracy to gaming. Even the slightest change in sound source will be noticeable.
Durable – German-made, resilient design using high-quality polymers. They'll last you for years.
Highly comfortable – One of the few manufacturers that successfully use velour and memory foam for the earpads.
Pros:
Excellent tonal quality for sounds across the spectrum: easily listen to music, teammates, and in-game sounds at loud volume without getting fatigued.

Great value purchase.

Easily replaceable parts.
Cons:
No attached microphone.

Susceptible to environmental noise.
With Razer's Kraken 7.1 V2 we step into affordable gaming headphone territory once more. At this point, the problem is whether the headset is audiophile-friendly or not. What you'll notice straight out of the box is that you won't be able to use them with mobile devices, as they only have a USB connector. If you want a 3.5mm jack, you should go for the Kraken Pro.
If you want to play at home, on PC or a PlayStation, the Razer Kraken 7.1 V2 is up to the task. Their main strength is the virtual surround, but you'll definitely enjoy all the bells and whistles that come with the Razer software, such as RGB light synchronization, advanced equalizer, and more. 
Razer Kraken 7.1 V2 – Features:
Accurate, clear sound – The immersive audio experience delivered by the 7.1 virtual surrounds is complemented by a solid tonal performance.
Retractable microphone – Highly underrated feature that makes them comfortable to wear when listening to your favorite tunes.
Durable build – Lightweight and flexible frame made from aluminum alloy.
Comfortable – Cushions are designed for extended use, can easily be worn with glasses or accessories.
Pros:
Full bass sound is a pleasure to listen to in shooters.

Good noise cancellation due to closed-back design.

Razer logos subtly light up in the colors of your choice.
Cons:
USB only.

No volume control on the cord.
We couldn't have ended our list of top audiophile headphones for computer gaming without HyperX's Cloud Alpha S. Aside from being a close rival to Razer's Kraken line, this pair of cans comes with a unique feature that will definitely appeal to fans of electronic music and FPS games – bass adjustment sliders. The durable aluminum frame is a neat bonus that extends the lifetime of the headset considerably.
The HyperX Cloud Alpha S is compatible with gaming on any device, although the 7.1 surround sound might require updates on some consoles. If you're an audiophile, you'll love the detachable microphone and braided cable. Pop the mic out and listen to your favorite tunes on a walk without feeling… well, weird. One downside is that some users reported the microphone distorts their voice slightly.
HyperX Cloud Alpha S – Features:
Dual-chamber drivers – Patented dual-chamber technology that renders an accurate sound and allows low frequencies to be tuned separately. 
Comfortable, durable build – Leatherette ear cushions prevent discomfort and facilitate airflow, durable aluminum frame.
7.1-channel USB sound card – Easily adjust the volume, mute the mic, or turn 7.1 function on and off with the audio control mixer.
On-headphone bass switch – Select between three levels of bass strength without alt-tabbing.
Pros:
Powerful sound with impressive bass tones.

Separate volume controller and 7.1 module for PC gaming.

Replacement ear pads included.
Cons:
The quiet mic that slightly distorts lower voice tonalities.

High-frequency sounds are slightly distorted at high volume.