You like high-fidelity sound reproduction, the ability to hear every instrument on your favorite tunes, and deep customization of your audio experience and you are looking for the best audiophile headphones under $200? If you count yourself in this category, you are an audiophile, meaning you want as much as possible from your audio files. Choosing the right headphones is mandatory for a top-notch sound then.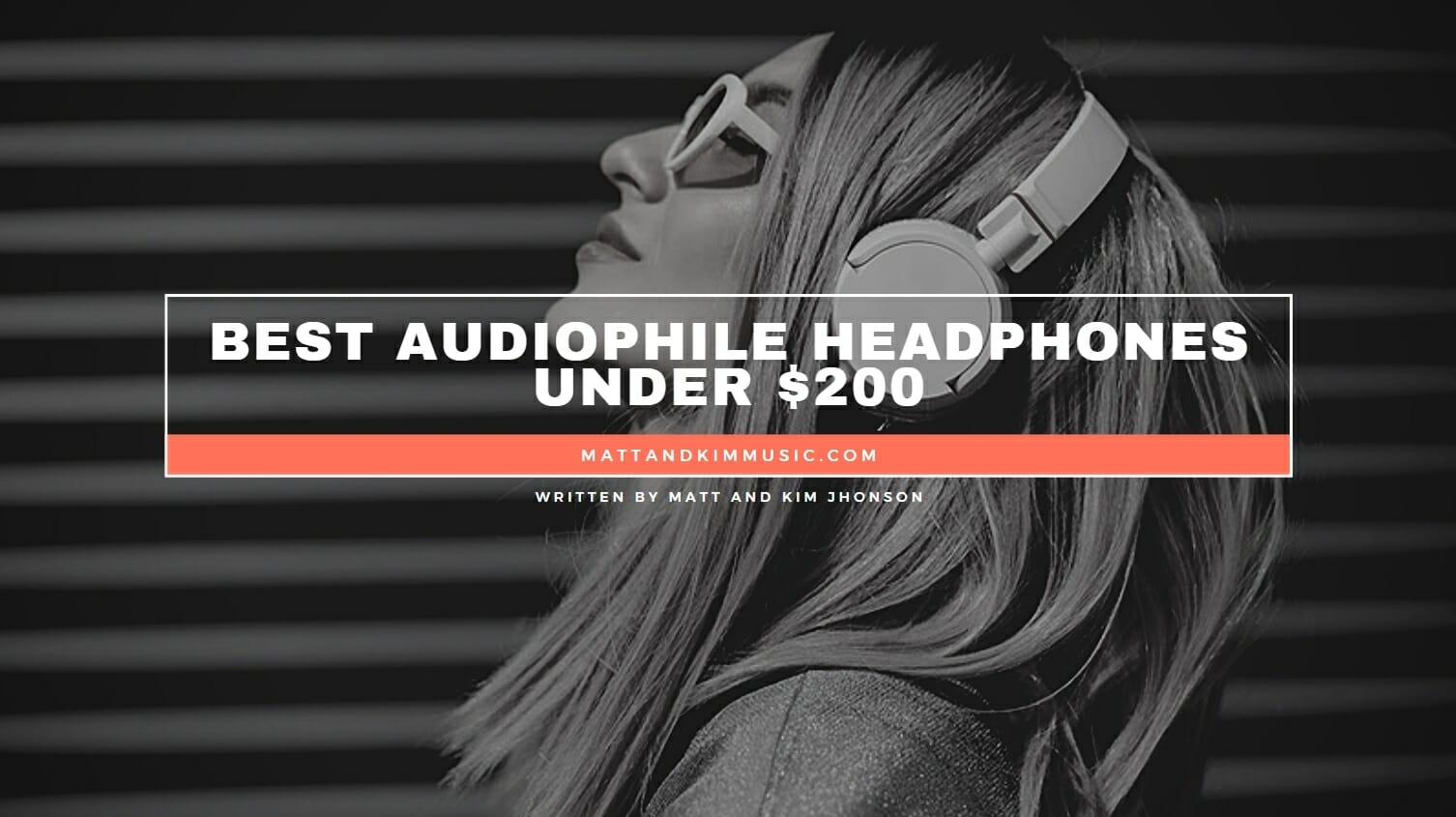 You are less likely to find audiophile headphones for $10 or $20 – not if you want quality. You might need to go higher than that. With all these, it does not mean that any expensive headset will get the job done. Deciding on the best audiophile headphones under $200 requires a bit of research, especially when it comes to top-rated headsets. So, what kind of options do you have?
Top 5 Audiophile Headphones Under 200
1. Skullcandy Crusher Evo
The simplistic design is the first thing to draw some attention. These over-ear headphones come with large ear cups and feature a clean style. They are available in two different colors – black or gray. There are no differences in terms of design and performance though.
The headset comes with two types of connectivity. The Bluetooth connectivity ensures compatibility with all Bluetooth operated devices. You have 41 hours of playtime. Pairing is fairly simple – a matter of seconds. Once paired with a device, the headset will reconnect automatically when in range.
The wired connectivity features a 3.5mm jack cable. It works with pretty much any device out there, from smartphones and consoles to computers and TV sets. The wired connectivity is handy when you run out of battery or if you play music over an old device that cannot support Bluetooth.
In terms of customization, it is extremely precise and deep. There are dozens of different options, but you will need a smartphone or a tablet to access them. Get the Skullcandy proprietary application, pair the headphones and you will gain access to every setting in the book.
When it comes to comfort, you have large ear cups with plenty of padding. They will feel comfortable on your ears, even after many hours of use. The headband is adjustable on more levels, but it is also padded on the inside to prevent discomfort.
Now, the performance is not to be overlooked either. You have an adjustable sensory bass and large speaker drivers. The bass is extremely deep, while instruments and vocals are easy to identify – even at low volumes.
Pros
Lots of adjustabilities
Clean and sleek appearance
Superior padding
Good playtime on the wireless connectivity
Both wired and wireless connectivity
Cons
Might connect to both the Bluetooth device and the app at the same time, meaning the audio is cut
2. Audio-Technica ATH-AD500X
Audio-Technica's audiophile headphones that fit your $200 budget will surprise you with their appearance at first. The headband looks pretty small, while the ear cups look oversized. Other than that, it looks a bit rough and heavy duty. Where is the catch?
The headband is heavily adjustable, meaning you can increase or decrease its length over multiple levels. It makes no difference if you have a small head or a large one – this headset will fit with no issues at all. There is a frame around the headband too, only for a more stable experience.
Over-ear cups are, indeed, large. This way, you get a deep sound with no ambient noise leaking in. They have lots of cushioning, but you can also see the drivers through the external sides. The headphones only come in a black design.
Drivers are massive for this price range – 53mm. You also get CCAW voice coils. The sound is not just natural, but also crisp and clear. The vocal projection is flawless and the bass is so strong that it will shake your chest.
Connectivity is wired. You have the classic 3.5mm jack for most devices – smartphones, consoles, tablets, computers, TV sets and so on. At the same time, you also have a 6.3mm jack adapter for those few devices that cannot take 3.5mm jacks.
There are a few extras that add to the quality of this headset. The lightweight honeycomb aluminum casing reduces the weight, while the self-adjusting 3D wing support housing adds to the comfort. You also have flexible ear pads for durability and a highly conductive OFC cable for connectivity and a tangle-free experience.
Pros
Rugged and sturdy design
Good connectivity – 3.5 and 6.3 jacks
Massive 53mm drivers
Superb audio reproduction
Comfortable to wear
Cons
Ear pads could have been better
3. Hifiman HE400i
Hifiman has designed a fairly simple headset. For less than $200, you get a top notch audio, durability and comfortable experience. The headset is quite sleek in design – clean lines, over ear style and only available in a black style.
The audiophile in you wants to know more about the performance – nothing to worry about here. You have a massive diaphragm for a high signal input and lots of flexibility in the tone. The response time is almost instant, while the sound reproduction is flawless due to the evenly distributed magnetic force.
Speaker drivers are not just large, but they also feature spatial imaging and super wide sound stage. You have a deep and clear bass – even at high or low volumes. The same goes for the actual vocals and instruments – crisp sounds regardless of the volume.
The headset is extremely comfortable, mostly because of its weight. It weighs less than 0.8 pounds – quite impressive for its features. The headband may seem small at first, but it is widely adjustable, so you should not worry about the size of your head.
Ear cups are well padded and thick. The same goes for the headband, which is heavily cushioned. Ear cups feature a gloss charcoal finish on the outside and a superior pressure pattern on the inside, so you will never feel the pressure on your ears.
Connectivity is wired. You have a classic 3.5 jack cable. It will work with almost every device out there. The wired connectivity is preferred these days because it is compatible with old devices that cannot support Bluetooth.
Pros
Good looking design
Lightweight design
Superior audio experience
Loads of padding
Comfortable to wear
Cons
4. Philips Audio Fidelio X2HR
You could never go wrong with Philips – a name that stands out in the crowd when it comes to audio electronics. Its Audio Fidelio X2HR release can easily make it to the under $200 headphone list due to its features, capabilities and superior experience.
The headset is available in black only. It features a couple of headbands and some thick ear cups. The headphones are well put together and feel sturdy and heavy. They also feature an over-ear construction for a more immersive experience.
You get 50mm high definition neodymium drivers, as well as a superior LMC diaphragm. The bass is incredibly strong. You are less likely to hear any distortion, even at high volumes. Also, you can hear instruments and vocals at the lowest volumes as well.
Another extra in terms of performance involves the acoustic open-back design. Ear cups are double layered and feature speaker plates. You have luxurious memory foam pads with a breathable finishing – the pads are replaceable too.
When it comes to the headband, it is adjustable. You have a self-adjustable hammock and a 3D mesh. The headband is covered in genuine leather, which will last for ages. You get a perfectly secure fit with no pressure or pains over your ears.
Connectivity is classic and features the traditional 3.5mm jack. The cable is detachable. It also comes with a 6.3mm jack adapter – practically, this headset is compatible with every device out there. Furthermore, there is a cable management clip to prevent tangling.
Pros
Superior ear cup design
Genuine leather headband
High adjustability
More types of connectivity
Superior speaker drivers
Cons
5. Sennheiser HD 599 SE
Sennheiser's best audiophile headphones under 200 will surprise you with its nice looks and the well-shaped ear cups. They seem oversized and they actually are. The over-ear design ensures a good seal against ambient noise.
The open-back headphones feature a highly adjustable headband. It is padded on the interior side to prevent discomfort. The whole headset is quite lightweight too, so you can use it for hours.
Earpads move a little for a perfect fit. In terms of comfort, you have a soft velor to cover the pads, which are heavily cushioned anyway. Also, you will love the external design of these ear cups.
In terms of connectivity, it is wired. You have two cables though. The 3.5 jack cable measures just under four feet and it is compatible with most devices out there, from smartphones and TV sets to computers and laptops.
You also have a 6.3mm jack cable that measures about 10 feet. This one is more suitable for a few gaming consoles that cannot take 3.5mm jacks. In other words, the headset is compatible with any device on the market.
Given the size of the ear cups, you can guess the speaker drivers are massive. You can tell the moment you put the headphones on. The bass is so deep that you can feel it down your chest, while clarity is flawless – both at low and high volumes.
Pros
Massive drivers for a deep bass
Good audio clarity
Heavy cushioning for comfort
Lightweight profile
Two cables for connectivity
Cons
Lows might sound a bit closed