Unless you are a professional gamer or music expert, chances are you do not need to spend a fortune on headphones. In fact, you can find high-quality headphones with no bells and whistles that anyone can afford – it is only a matter of doing your homework. Choosing the best headphones under $15 could be tricky though.
You know there are plenty of rubbish options in this price range out there, but you also know that a bit of research will bring in some high-quality options.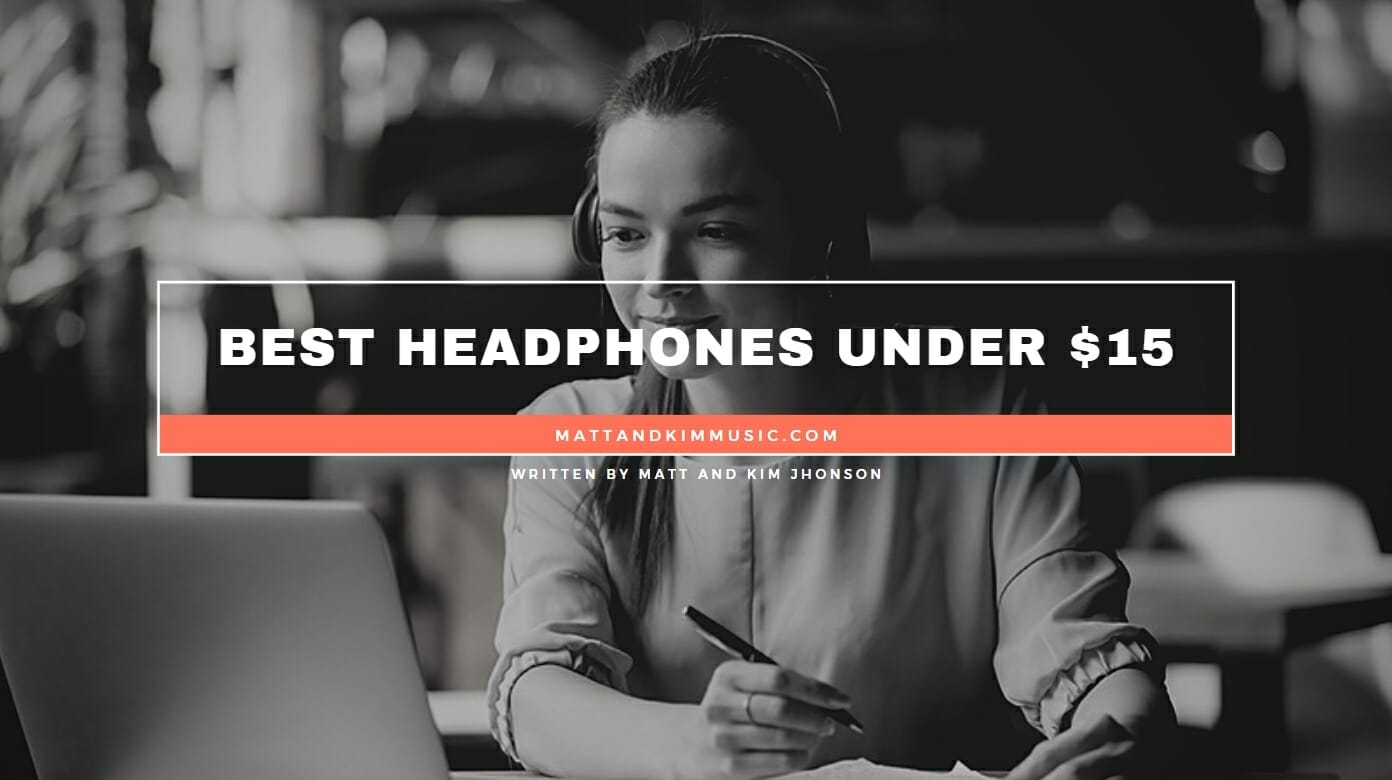 Furthermore, not everyone can afford to spend a fortune for professional headphones. If you think about it, you do not even need all the features they come with anyway – just a bunch of random extras that only add to the price. As long as the sound quality is great, you are good to go with a good pair of headphones under $15.
All in all, here are the best budget headphones you can buy these days.
Good Headphones under $15 in 2020
Sony might have designed the best headphones that fit a $15 budget if you are after value for money. You can buy this set with or without a microphone. It is also available in more colors – black, white, and rose.
The unit comes with an incredible bass booster, which will ensure you gain as much as possible from your favorite music. You also have 30mm drivers – pretty standard in this industry for frequency response.
There are no fancy connectivity features, hence the value for money. The headphones are wired. They bring in an in line microphone and they are compatible with any device that can take a 3.5 jack.
The on the ear design ensures good noise cancellation. Moreover, the set is fairly lightweight for its size – less than five ounces. It will not put any strain on your neck, even if you are the type who spends hours a day in front of the computer.
The wire measures just under four feet in length. It is less likely to restrict your moves or tangle. Other than that, you have a swivel design for portability and convenience.
Finally, the headphones are slightly adjustable, so it makes no difference how large or small your head is. They also come with a free SmartKey application for remote functionality and customization.
Pros
Rich and full frequency design for an exquisite experience
Good noise cancellation and lightweight for the size
Excellent value for money
Comfortable to wear, even for hours
The wire is less likely to tangle
Cons
No in line volume control
Available in a vibrant mix of blue and black, Linyy's headphones are adjustable, cover the whole ear and will work wonders with any device that has a 3.5 jack slot. They are slightly adjustable in size, so you can ensure a perfect match for your head.
The sound quality is what makes the difference and this set is less likely to disappoint you, especially when compared to the other headphones under $15 on the market. The software features a deep bass, but it also has a dynamic power sound that underlines superior quality – you can hear instruments even at the lowest volume levels.
The set comes with 40mm audio speakers that adapt to the sound you need. In terms of connectivity, the headphones will work with 3.5 aux devices, as well as those that support Bluetooth connectivity. The Bluetooth connectivity can cover 33 feet.
In terms of design, the headset is comfortable and ergonomic. The headphones are foldable and come with their own case for storage and transportation. Ear pads are foam cushioned for extra comfort too.
There is nothing to worry about if you want to communicate to others. The built in microphone ensures you do not have to purchase anything else separately. Take calls or speak to your team mates in games with no issues at all. The right ear cup also comes with extra control buttons – one of them for taking calls.
Connectivity is fairly simple and requires no experience. You can connect these headphones to smartphones, tablets, laptops, computers, television devices and so on.
Pros
Well cushioned for a comfortable experience
Multiple connectivity options
Built in microphone
Extra controls on the right ear cup
Good audio speakers
Cons
Once connected, you will get a long annoying sentence to notify you about it
Motorola is one of the leading names in this segment and its budget headphones can easily compete against more expensive alternatives in terms of sound quality and controls.
Simply put, you will love playing your tunes through these over the ear headphones. Clarity will not disappoint you, while the full bass will provide a full experience. It is worth noting you got 40mm drivers – excellent to isolate ambient noise and bring in rich sounds.
Unlike other similar sets under $15, these headphones also come with a premium appearance. They are available in black and feature metallic accents. They ensure a natural feel though.
Ear cups rotate to ensure excellent storage and transportation. In other words, the headset is travel friendly and less likely to damage during transportation. Heavy duty components add to the overall durability as well.
In terms of connectivity, the headphones are wired. They will work with any device that has a 3.5 slot. Practically, you can use them with most smartphones, tablets, computers, laptops, television sets and so on.
Extras add to the value for money and this product comes with a few features that will make your life easier. The microphone is built in and can successfully cancel ambient noise when in a conference call or while gaming.
Pros
Quite efficient at canceling ambient noise – both the headphones and the microphone
Beautiful luxurious design with metallic accents
Comfortable to wear, even for hours
Good audio drivers for a rich experience
Heavy-duty construction
Cons
No Bluetooth connectivity
Panasonic is one of the most reputable names on the market when it comes to audio equipment and its budget headphones will not disappoint you. For less than $15, you are getting an over the ear design, but you can also buy them in a cheaper on the ear style.
The full size construction provides good noise cancellation and will deliver high quality sound and a rich experience. You can use the headphones for hours continuously without the noise to get altered.
The bass is pretty deep. You will be able to hear all instruments due to the 30mm neodymium drivers – up to 1000Mw of power. The sound is crystal clear regardless of the music you play – no problems communicating in games either.
Panasonic's headphones come with lots of padding for a comfortable experience. They cover the whole ear – forget about distractions and random noises. The headband is fully adjustable too – it makes no difference how small or large your head is. Comfort will never be an issue.
Then, connectivity is basic, but this is one of the things that keep the price low. You have wired connectivity, so you can hook up to any device with a 3.5 jack – laptops, computers, smartphones, TV sets, tablets and so on. The cord is pretty long – 6.5 feet, meaning you have some freedom to move around.
Finally, the design will not disappoint you either. You get a matte black finish, a lightweight profile and durable materials for heavy everyday uses.
Pros
Durable materials and good looking design
Rich sound regardless of the audio
Good drivers for deep bass, vocals and lyrics
Long wire for extra mobility
Ultra padded for a comfortable experience
Cons
Slight sound leaks when you blast the volume at the maximum level
Immerse yourself into a new experience – deep sound, rich instruments and vocals and proper noise cancellation. These headphones cover the whole ear and feature 40mm drivers. Ear cups are compact and ensue great clarity – good bass, crisp mids and so on.
Despite covering the whole ear, these headphones will not push too hard against them. You can wear them for hours without feeling any discomfort. They are super passed – even the headband is cushioned. You can achieve the right fit with the adjustable headband too.
Lorelei's best headphones under $15 are made of durable materials – sturdy and thick plastic. They are available in multiple colors, with black being the most commonly sold one. They are lightweight and can be folded, so storage and transportation should not be an issue.
Connectivity is wired – no bells and whistles here. The cord is about five feet in length, so you have a bit of freedom when moving around.
The set comes with a built in microphone. It will fall somewhere around your mouth. It is in line. As for the connectivity, any 3.5 slot can take the headset – phones, tablets, TV sets, laptops and so on.
There are a few controls on the wire too, such as answering calls, previous song and so on – just the basic ones, hence their inclusion on the under $15 list.
Pros
Great value for money
Durable headset with a folding profile
Easy to store and transport
Rich audio and great bass
Well cushioned for comfort
Cons
Might be a bit too small for those with large heads