Choosing the best headphones under $75 could be a tacky experience. You know even a two-dollar pair of headphones can give you a quick emergency fix if you are in the airport and you realize your headphones are at home. But on the same note, you would not normally buy something like this – chances are those buds will stop working after a couple of weeks.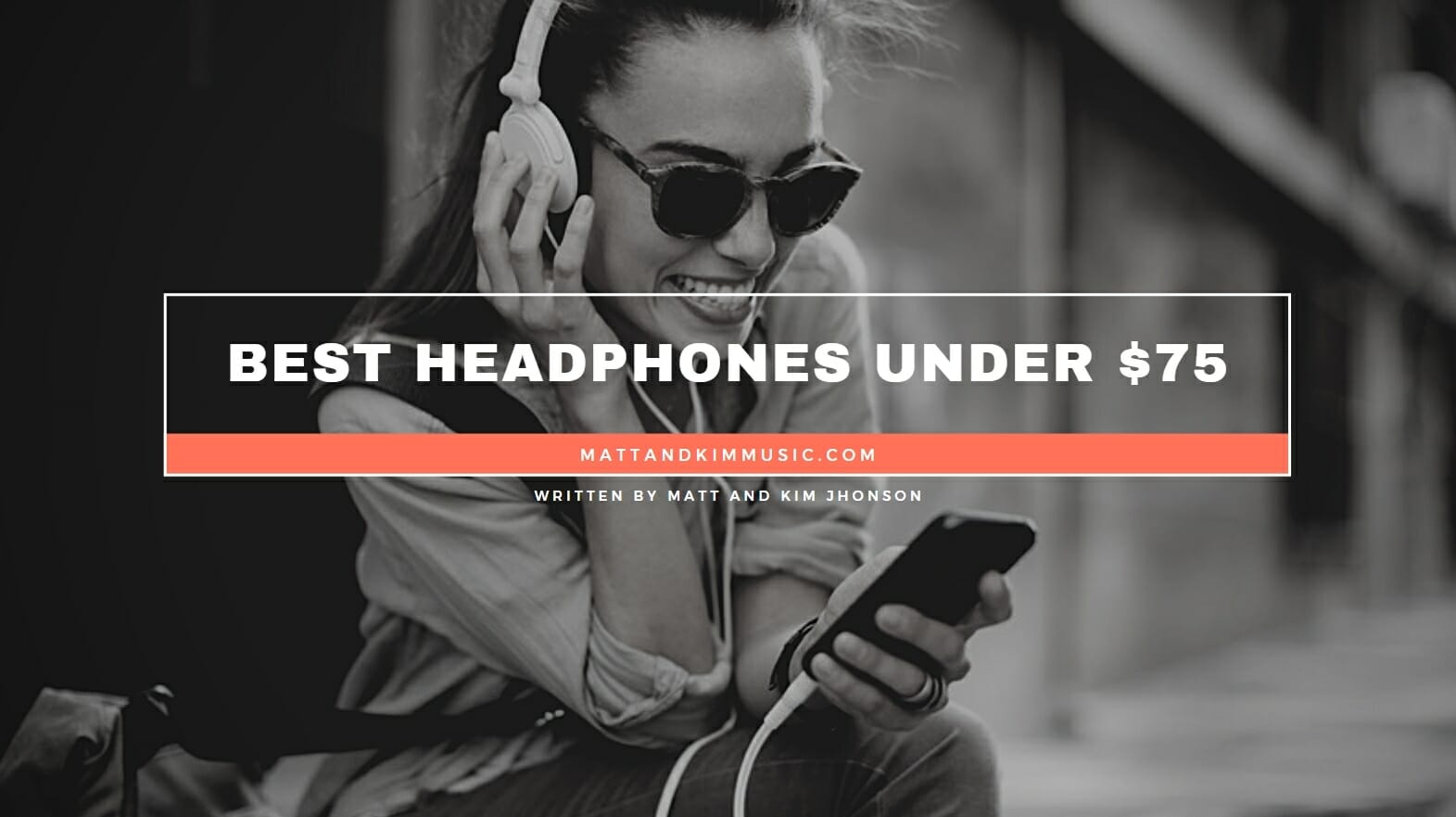 When it comes to headphones, there are more options – the cheap segment, the high end range that brings in gold headbands and fancy extras and the middle range. The middle range provides good value for money and can bring in a good experience – whether you need them for work, games or music. But choosing the best headphones under 75 still involves a bit of research.
Now, what options do you have and what makes them so special?
Top 5 Headphones Under 75
A beautiful design, good performance and a good reputation – what else can you ask for? These headphones are available in a fancy modern style. Ear cups are massive and can easily cover the whole ear for a deeper experience.
The headphones come with 50mm neodymium drivers. This is way above average in this price segment – they can compete against more reputable brands too. The bass is deep, but you can also hear every instrument and vocal. Turn the volume down if you are in a quiet environment and you will still be able to distinguish instruments.
The impedance goes up to 32 ohm – again, more than the industry standard in this price range. As for the sensitivity, it is rated to a maximum of 101dB.
The headphones are wired. You have a 3.5 jack, meaning you can use them with anything that has such a slot – most phones, tablets, computers or TV sets. Plus, you have a long cable – around five feet, so you get a bit of freedom too.
In terms of adjustability, the headband is suitable for both small and large heads. It adjusts on a few different levels for a better fit.
Comfort is not to be overlooked either. The ear cup cushioning is breathable, so you can wear the headphones for hours without worrying about sweat. Ear cups will also swivel to ensure a perfect fit on top of your ears.
Pros
Super large ear cups
Breathable cushioning
Heavy adjustability
Superior neodymium drivers
Suitable for work, gym, music and games
Cons
No Bluetooth connectivity
The professional version of Cowin's E7 headphones will not disappoint you. These headphones make it on the under $75 list despite the high quality standards. They feature 45mm large aperture drivers for extreme accuracy, bass depth and attention to details. The sound is crisp and crystal clear, regardless of the environment around you.
The headset comes with an advanced noise canceling technology. You could be in traffic or on a plane – nothing will bother you. Believe it or not, the noise cancellation goes up to 85dB and it works in both the wired mode and the wireless mode.
Talking about connectivity, the wireless connection is established through Bluetooth. You have a long distance range, so you can use the headphones even if the other device is in another room. The battery life is pretty good too – up to 30 hours per full charge.
The extra wired connectivity features a 3.5 jack. Given the two options, these headphones are practically compatible with almost every device on the market – from smartphones to television sets.
The headband is highly adjustable, while the ear cups swivel to 90 degrees for a perfect fit. They are well cushioned and boost protein leather, which is more durable and gentle on the skin. You can use the headset for hours without experiencing any issues.
There are a few extras to mention too. Most importantly, the microphone is built in. It is stable and can reduce the ambient noise, but it is also pretty clear.
Pros
Crystal clear microphone
Good noise canceling technology
Multiple connectivity options
Comfortable to wear
Good battery life
Cons
Ears could get a bit sweaty
Sony does not need too many presentations – you know you will get a good headset, whether you go in this range or you want something more expensive. These headphones less than $75 will impress you with their versatility and quality standards – in fact, they could easily compete against more expensive alternatives.
The design will not disappoint you either. The headphones cover the whole ear, but they are not bulky. They are actually quite sleek and compact. They also come in two different colors – black and blue. Given the simplicity, they look a bit luxurious.
Adjustability is great, whether you have a small or large head. You can adjust the headband – it actually provides adjustments on more levels, so you can go really large or small. The headband is also padded for a more comfortable experience.
Talking about comfort, you will love the ear cups. As you touch the pads, they seem a bit hard. Once on your ears, they will fit like gloves. They swivel a little for a better fit and they do not put too much pressure on the ears.
Connectivity is wireless. You will have to connect through Bluetooth, meaning you can connect to your TV set, smartphone, tablet or laptop. The wireless connectivity gives you some freedom, especially when you watch TV or do some chores around the house while playing music. The battery life is pretty good at 18 hours. A full charge will require four hours of your time.
As for extras, you have a built in microphone, as well as plenty of controls on the ear cups.
Pros
Superior bass compared to other alternatives
Durable, yet comfortable build
Good wireless connectivity
Built in microphone
Multiple extra settings through a proprietary application for your smartphone
Cons
Takes four hours for a full charge
AKG has slashed prices by providing professional studio headphones at an affordable price – anyone can get studio headsets for their home uses now. You can tell this is a professional set by just looking at it – loads of leather, heavy design, quality materials and a luxurious appearance. Plus, there are many features and controls as well.
In terms of design, these headphones that fit a $75 budget come with a semi open style. They feature two oversized ear cups with lots of padding. They are comfortable and swivel slightly in order to ensure a good fit. Ear cups and materials are well stitched for an exquisite durability – you can wear these headphones on a daily basis without worrying about them.
Connectivity is fairly simple. The headset is wired. Since it is designed for professionals, do not expect too much flexibility, but high quality standards instead. All in all, you have a 3.5 jack, as well as a 6.3 adapter. In other words, these headphones work with most TV sets, smartphones, tablets, computers and laptops.
The cable measures around 10 feet in length. It is more than enough to move around, but also to watch TV from a decent distance.
Ear pads are replaceable, the cable is detachable and adjustability is fairly simple. The patented Varimotion 30mm XXL transducer provides a great signal, while the impedance is rated at 55 ohm.
Pros
Rugged design for durability
High quality sound and clarity
Semi open design
Super long cable
Compatible with most devices
Cons
Available in a sleek black design and looking more luxurious than they cost, these might be the best headphones under 75 if you are after value for money. The headset is quite large and the ear cups cover ears with a tight gap.
Sound quality will pleasantly surprise you – no compromises here. You have crystal clear sound, a great frequency response, extra bass and crisp treble sound. The distortion is set at 0.5% – you will not even notice it.
You have multiple connectivity options to ensure the headset works with every device out there. First, it connects through Bluetooth connectivity and can work continuously for about 20 hours. You also have a classic wire with a 3.5 jack, as well as a 6.3 adapter. Practically, your headphones will work with most TVs, smartphones, tablets and computers.
The wireless connectivity is flawless due to the 2.4GHz RF technology. You can listen to music over Bluetooth without even being in the room – up to 100 feet in distance.
Finally, the soft padded headband is adjustable, while the ear cup padding is relatively soft. Ear cups are fully sealed to reduce sound leakage. Moreover, there are some controls on the ear cups for convenience.
Pros
Comfortable to wear for hours
Good wireless connectivity with little to no distortion
Multiple options in terms of connectivity
Good battery life
Crystal clear sound
Cons
Controls on the ear cups may feel a bit flimsy
​