Just take a moment and visualize the possibility of enjoying music without the need to stick a headphone in or over your ears; in this instance, the sound is delivered via vibrations in your jaw and cheekbones. Sounds delivered in this manner do not need to go through your outer and middle ear, it goes directly into the inner ear with your bones serving as the sound conductor.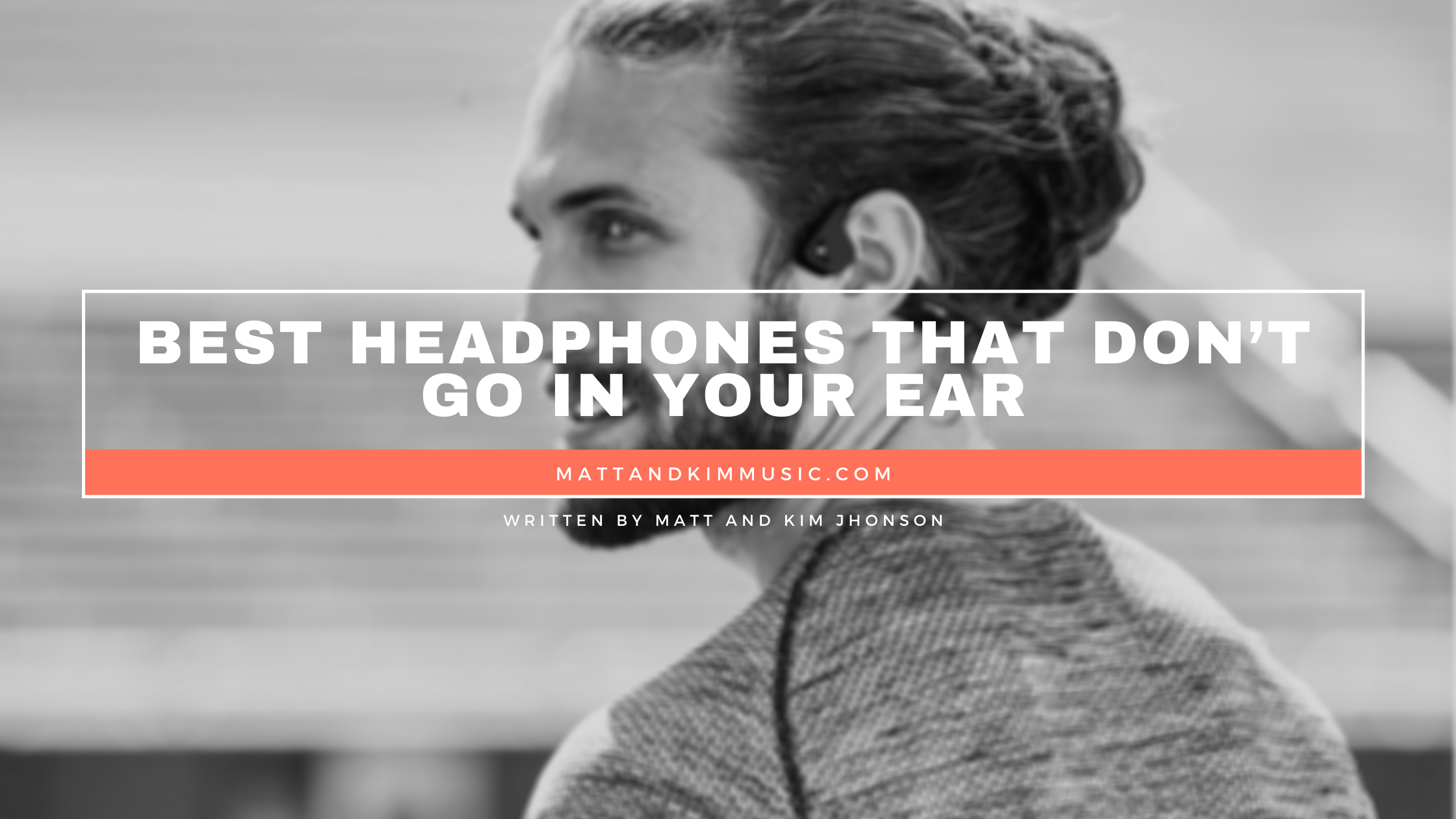 Is this a little too much to imagine? Does it sound like something out of a fantasy or science fiction movie? On the contrary, bone conduction technology has been around for over ten years. You will need headphones that don't go in your ear if you suffer any form of hearing impairment, these nifty headphones can also be used for scuba diving and sports like cycling or running and also as a major form of military communication.
We have cataloged the best headphones that don't go in your ear available in the current market, read on to find out what we have.
Best Headphones That Don't Go in Your Ear in 2021 are:
1. AfterShokz Aeropex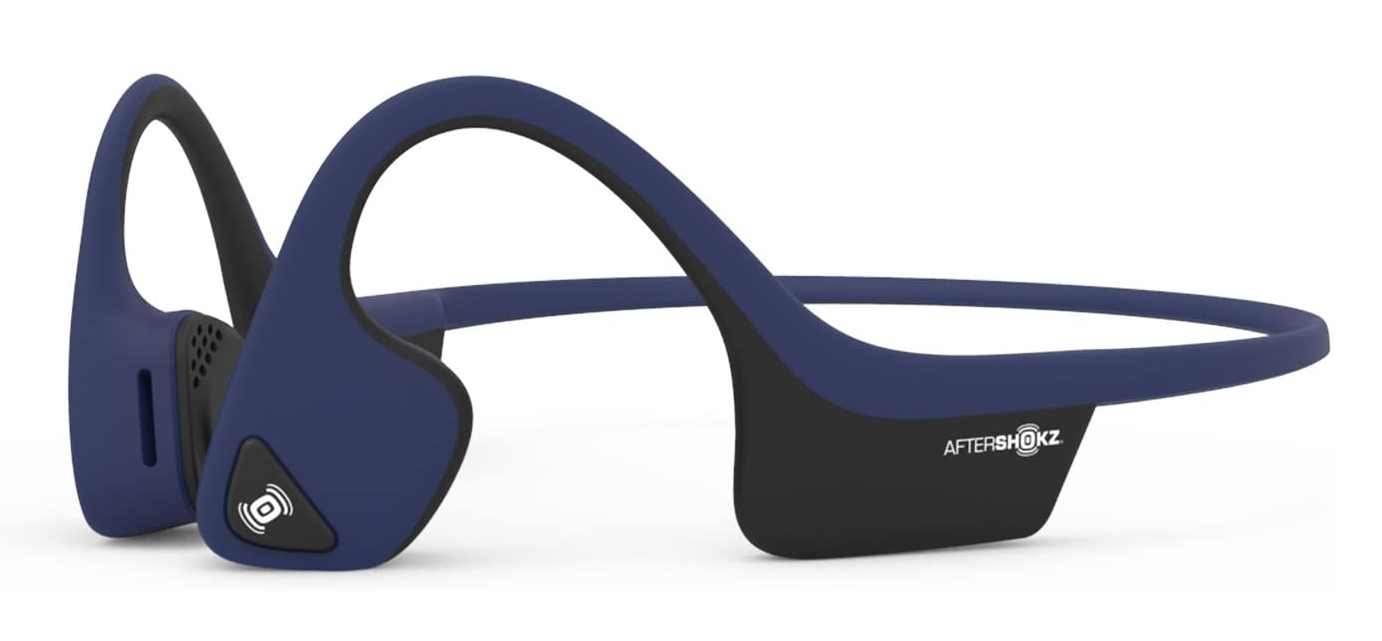 The Aftershokz Aeropex is the best – especially when it comes to technical features – of all other AfterShokz headphones that don't go in your ear.
It also weighs the lightest of all the headphones on this list with a weight pegged at 26g. The KppeX BH528 and Zulu Exero which are the closest things to the weight of the AfterShokz Aeropex both weigh 2g (8%) more.
Another feature that sets these headphones apart is their battery output; with 8 hours of continuous playtime on offer, they are the best of the bunch on this list when it comes to battery life. It offers at least two more hours than other headphones that don't go in the ear.
With an IP Code of IP67, the AfterShokz Aeropex offers the best dust and waterproof rating of all headphones on the list. You will find these headphones perfect for work out with their combination of a comfortable fit and stable wireless connection.
Of course, with all these excellent features, it shouldn't surprise you to learn that the AfterShokz Aeropex is the most expensive set of cans on this list. The price shouldn't dissuade you, if you want the best of the bunch, go for the AfterShokz Aeropex.
2. Aftershokz OpenMove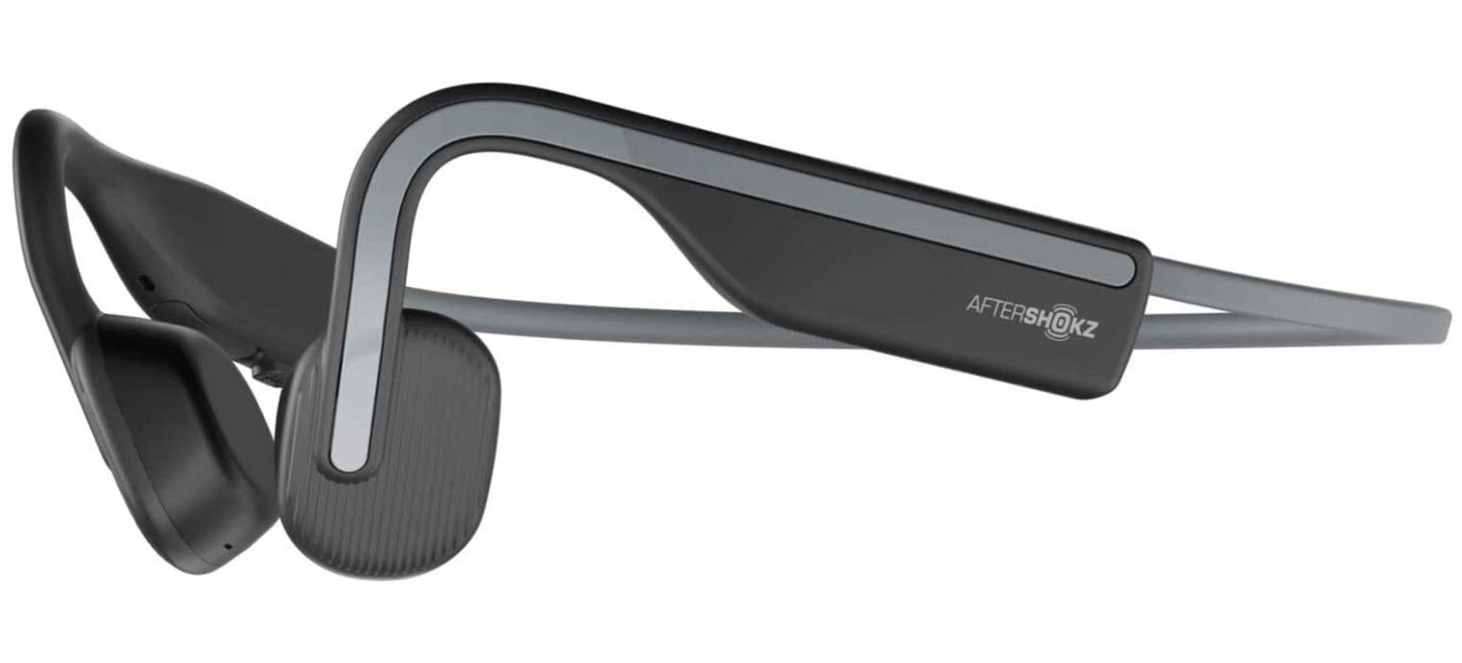 If you can't afford the top-of-the-shelf AfterShokz Aeropex but still desire an AfterShokz product, consider the more affordable AfterShokz OpenMove which delivers just about the same audio quality.
Although these headphones cost less than most AfterShokz models, they still give the AfterShokz Aeropex a good run for its money when it comes to audio quality. Both headphones are equipped with the enhanced PremiumPitchTM 2.0 designed to offer users a more robust and detailed sound no matter how noisy the environment is.
AfterShokz OpenMove can withstand intense training or workout sessions and stand tall against harsh weather conditions. The above is guaranteed by the IP55 waterproof and dust rating the headphones possess.
These headphones designed not to go into your ears fight valiantly against audio leakage. This means you won't disturb others with your audio content on commutes and in the office.
The Bluetooth 5.0 on the AfterShokz OpenMove provides a reliable connection of up to 33ft. it also offers a very stable connection and allows fast pairing with other audio devices.
With the OpenMove, you get multi-pairing which allows you to connect to two different devices. You also get incoming call notifications and these headphones allow you to connect automatically to the right device to take your call.
3. MilanSo Bone Conduction Headphones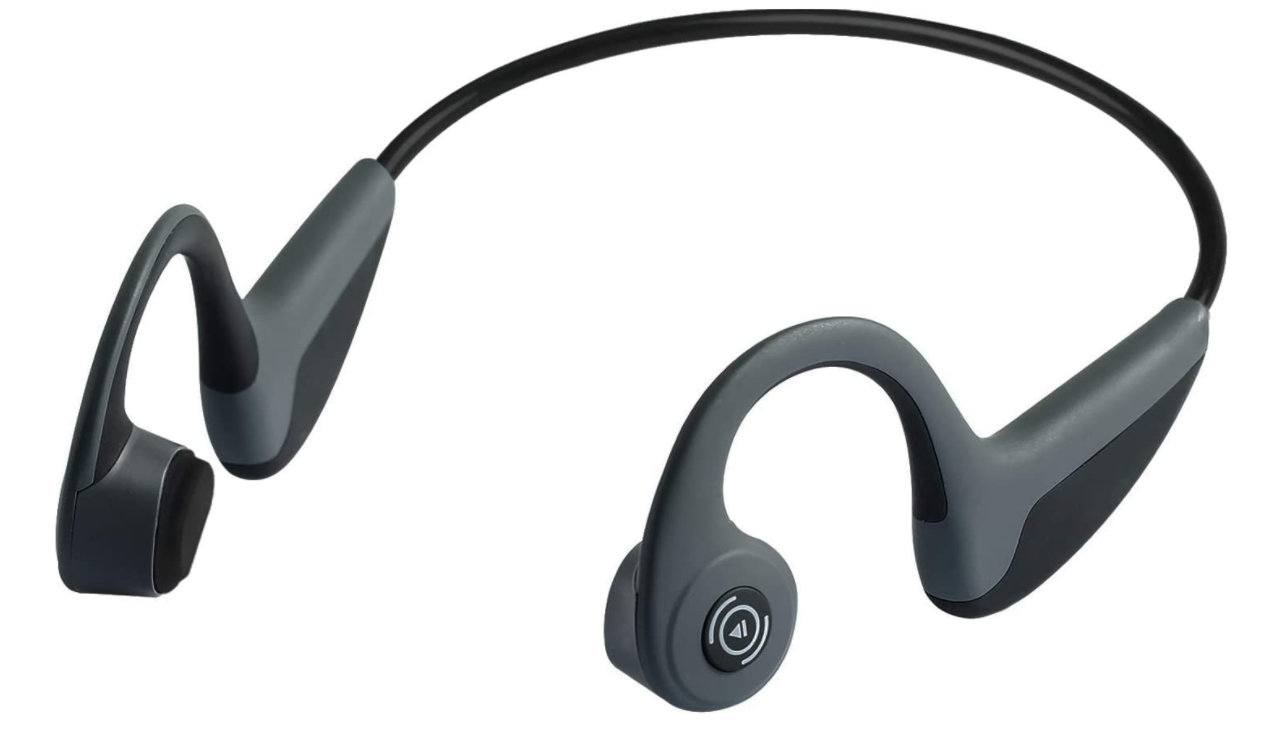 With an IP56 waterproof rating, you can enjoy MilanSo Bone Conduction Headphones outdoors without fear of adverse weather. It is equipped with the improved Bluetooth 5.0 technology which ensures quick and trusty wireless connection irrespective of the type of audio device you wish to connect to.
While most bone conduction headphones struggle to deliver good sound quality due to their open-ear build, Milanso Bone Conduction Headphones deliver the goods effortlessly. Even in noisy environments, it doesn't struggle like the rest.
These headphones perform at a considerably high volume threshold that works against the noise and they do this better than other bone conduction headphones at this price point.
Good bass is usually a rarity for bone conduction headphones but the Milanso Bone Conduction Headphones deliver surprisingly good bass.
With a non-slip build and an IP56 waterproof rating, these headphones that don't go in your ear are designed to support the buoyant lifestyle. With an IP56 rating, you won't have to worry about harmful dust or water touching them.
These headphones are equipped with Bluetooth 5.0 which remains connected for up to 33ft giving you some freedom.
MilanSo Bone Conducting Headphones run on a 200mAh lithium battery which can carry you through a full workday or feed you music all through an intense workout or training session. It charges quickly, requiring only 2 hours to get a full charge, and then goes ahead to dish out continuous 6 hours of playback. It also offers a 10-day standby time.
4. Tayogo S2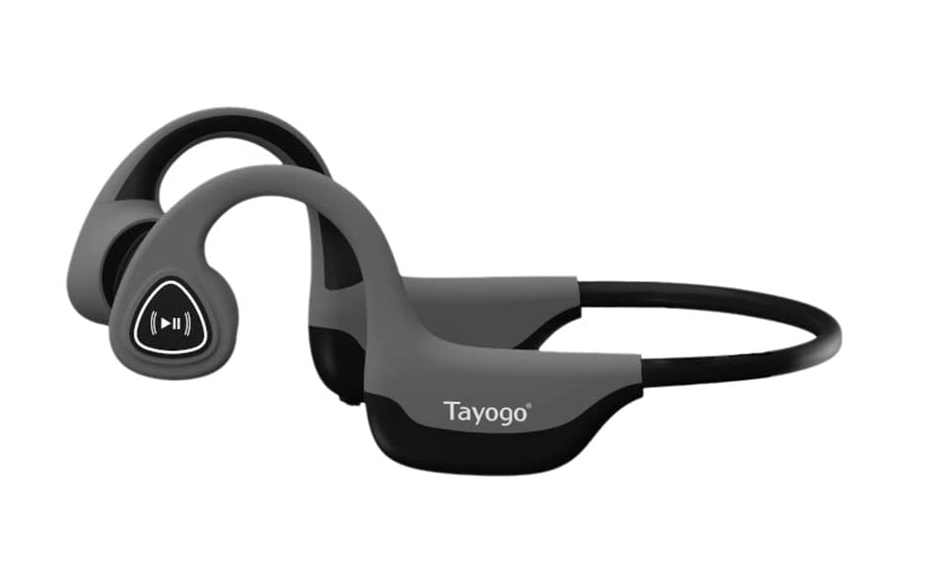 If you are looking for affordable headphones that don't go into your ear, the Tayogo S2 is a great option. If you are simply curious and wish to see what all the hoopla about bone conducting headphones is, then this is a good starting point for you.
It shares similarities with more pricey bone conduction headphones and offers a stable connection range of up to 30ft.
Tayogo S2 is equipped with Bluetooth 5.0 which guarantees quick pairing and connection which users can trust across a variety of devices. Pairing is easy with smartphones, laptops, tablets, smartwatches, and other wearables.
There is no discomfort so you can concentrate fully on your music for up to six straight hours on a single charge.
These headphones hug your head comfortably thanks to their wrap-around design. It is also equipped with soft rubber pads that perch lightly on your cheekbones without interfering with the vibration transmission. These little design tricks ensure stability and allow you to enjoy your intense workout sessions without worrying that your headphones would slip off.
Due to the technology that powers these bone-conduction headphones, they cost more than most other headphones but Tayogo offers the S2 at a much more budget-friendly price.
These headphones do not flop despite their relatively low price, they can still compete with other headphones that don't go in the ear when it comes to functionality and the quality of features. Are you curious and interested in knowing what bone conduction headphones are all about? Get yourself the Tayogo S2.
5. Vidonn F1 Titanium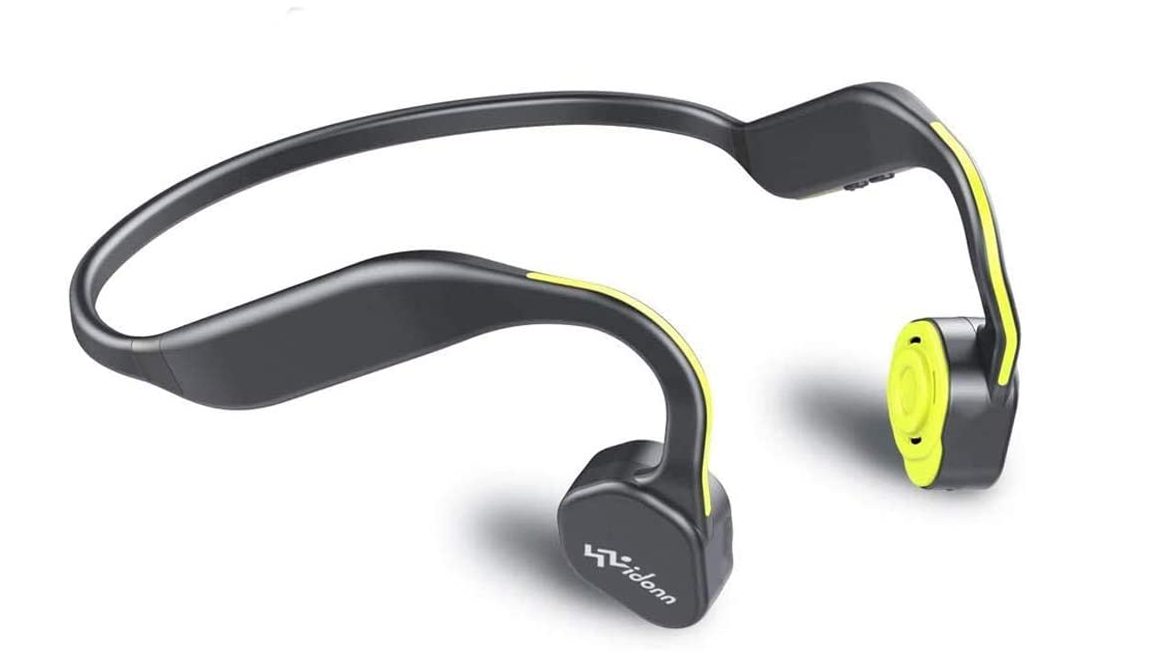 If you are looking for the perfect bone conduction headphones for your hardcore body goals, think of the Vidonn F1 Titanium. They won't slip off when you are going hard on the sit-ups, squats, or smashing your goals on the elliptical machine. These headphones come in an anti-drop and ergonomic design that will appeal to the sporty types. It comes in a titanium wraparound design that sits comfortably around your head and won't knuckle under in the face of harsh conditions.
It offers a CVC noise-cancellation feature that allows you to enjoy your audio while remaining aware of your environment. It delivers crisp audio that will please many.
There is a Bluetooth audio scheme that rejuvenates HiFi sound in these headphones that don't go in your ear. The connectivity allows you to enjoy great audio quality for up to 10 meters.
You can recharge the 180mAh lithium battery on these headphones in 2 hours then go ahead to enjoy music time and phone calls for 6 hours on the trot. All things considered, this is quite remarkable.
While these headphones fit some head shapes perfectly, some people have complained that the device does not sit comfortably around their heads. We've also gotten reports of a less robust bass sound. All of that notwithstanding, these headphones offer some great features to make them worth your money and time.