Bone conduction technology has been available for some time now but over the past year, it has gotten a lot better when it comes to its application in consumer-level headphones.
Essentially, bone conduction headphones are designed to sit on your cheekbones and then convey audio through your bones directly to your inner ear, completely circumventing your ear canal. There are numerous advantages attached to these kinds of headphones but the most important benefit remains the fact that they allow you to be present and hear other sounds in your immediate surroundings. This makes them a good choice for cycling and running on major roads.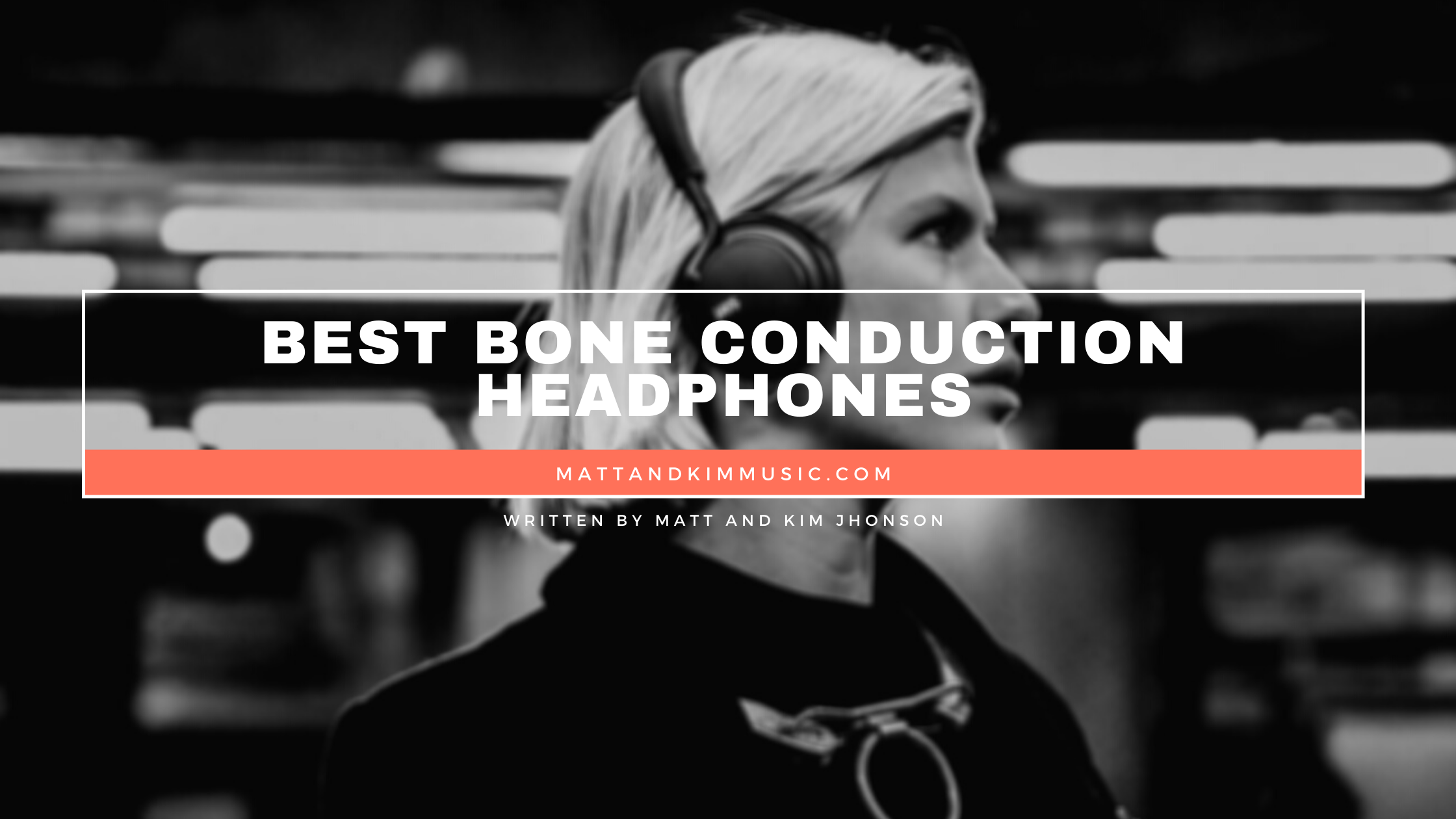 You will experience an odd sensation if you can hear the crunch of gravel beneath your feet even as you listen to your favorite song. If you work out in public, work in a busy office, or have little kids you need to watch closely, you will find bone conduction headsets perfect for your needs.
We took the liberty of testing a variety of headphones and have cataloged below, the best bone conduction headphones amongst all we have tested.
Best bone conduction headphones 2021:
1. AfterShokz Aeropex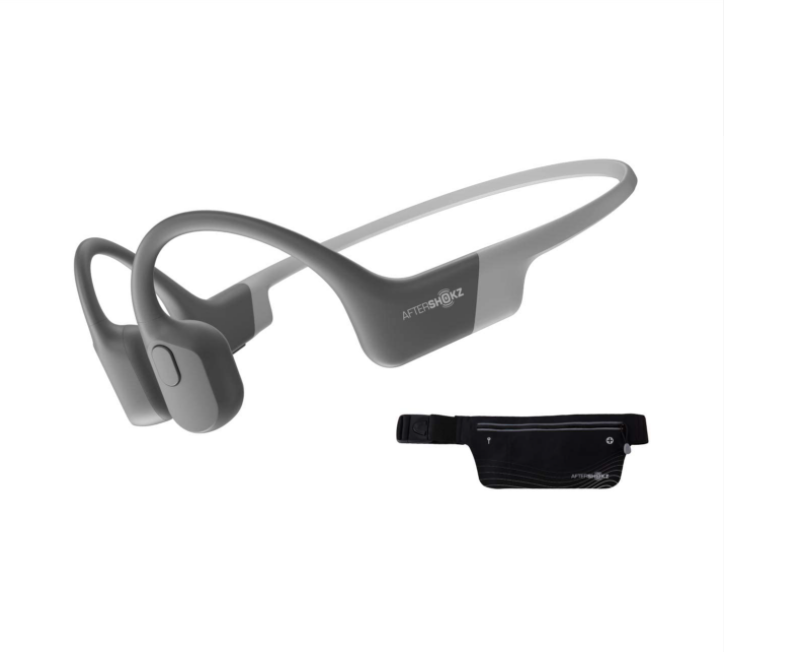 The best part of the Aeropex experience is how the sound disperses across the entire pad so that the audio output is immersed into a wider part of your skull. In trying to achieve this, the brand was able to enhance the bass, which we have found to be the toughest part of the scope in bone conduction. This won't offer what you are likely to get from in-ear or over-ear headphones but it is definitely the best AfterShokz has produced since inception.
You are assured of up to eight hours after a full charge even with the beefier audio and a more adaptable build. This is a top-notch battery for a product of this specification. The onboard buttons execute their assigned roles to perfection ensuring you can easily play/pause or raise the Google assistant. You may experience some issues with the buttons and their combo functions when you attempt to turn off the headphones or redial a last-dialed number. You may press the wrong button sometimes and there is no way to remedy this.
It comes with a nice "Audrey' voice assistant for pairing which also works with non-android devices. We believe Android's Fast Pair would have made the process simpler. Most of the issues found within the Aeroplex are minor issues, they do not take much away from the general experience which is why we consider them amongst the best bone conduction headphones out there.
2. Vidonn Bone Conduction Headphones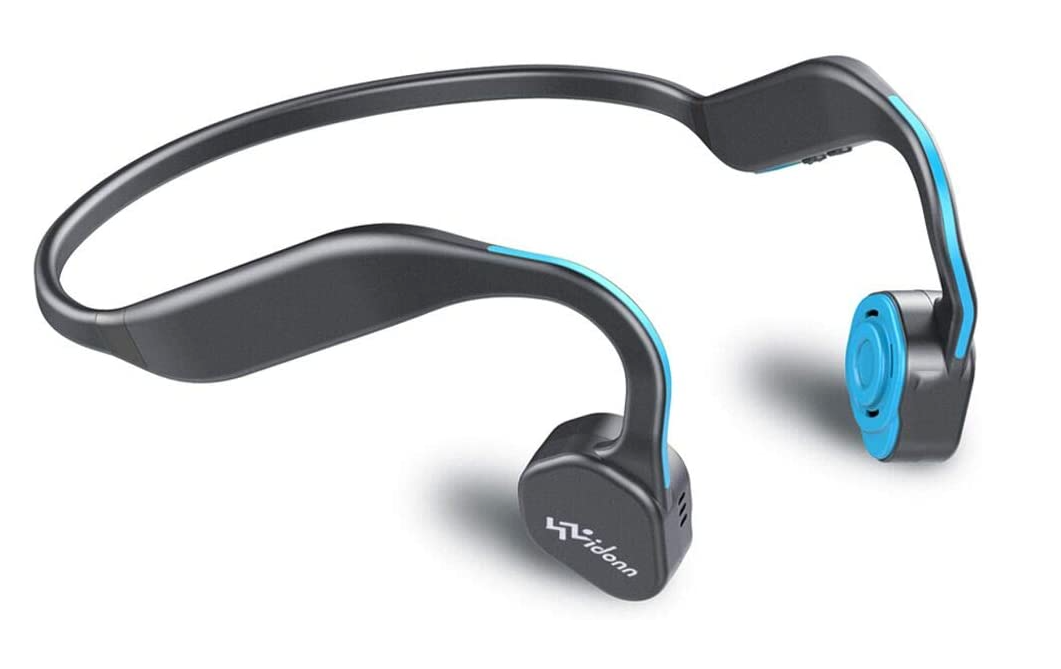 Vidonn, like the other headphones on this list, utilizes bone conduction technology. They are lightweight which ensures that you don't feel any weight around your head while wearing them. They are extremely comfortable.
Their lightweight nature does not detract from the fact that they make for a secure fit. Their perfect fit makes them great for such activities as sports, dancing, or other physical activities and not just for hearing loss. Bone conduction headphones are also sweatproof and boast a sweatproof rating of IP55. This rating is perfect for individuals who love to work out or for those rare occasions where you are caught under light rain showers.
To perfectly incorporate the bone conduction technology, Vidonn bone conduction headphones come with open-ear design. With such a design, you will find that the earbuds do not block the inner ear. The open-ear design on these headphones mean you can enjoy music even when you are in public or on a stroll and still be able to hear what is going on in your immediate environment.
The fact that you can use these headphones at any time and their relatively low price places them amongst the best budget bone conduction headphones out there. It is perfect for drivers, bikers, or just for ensuring your safety on your commute because it ensures that you are aware of your environment.
The Vidonn comes with a microphone that will serve you well when you need to take calls. With the microphone, you really do not need to pause your activities to do anything.
The battery gives you a solid six-hours after each charge which is perfect for your music listening experience, audiobooks, podcasts, or for taking phone calls.
3. Tayogo Headphones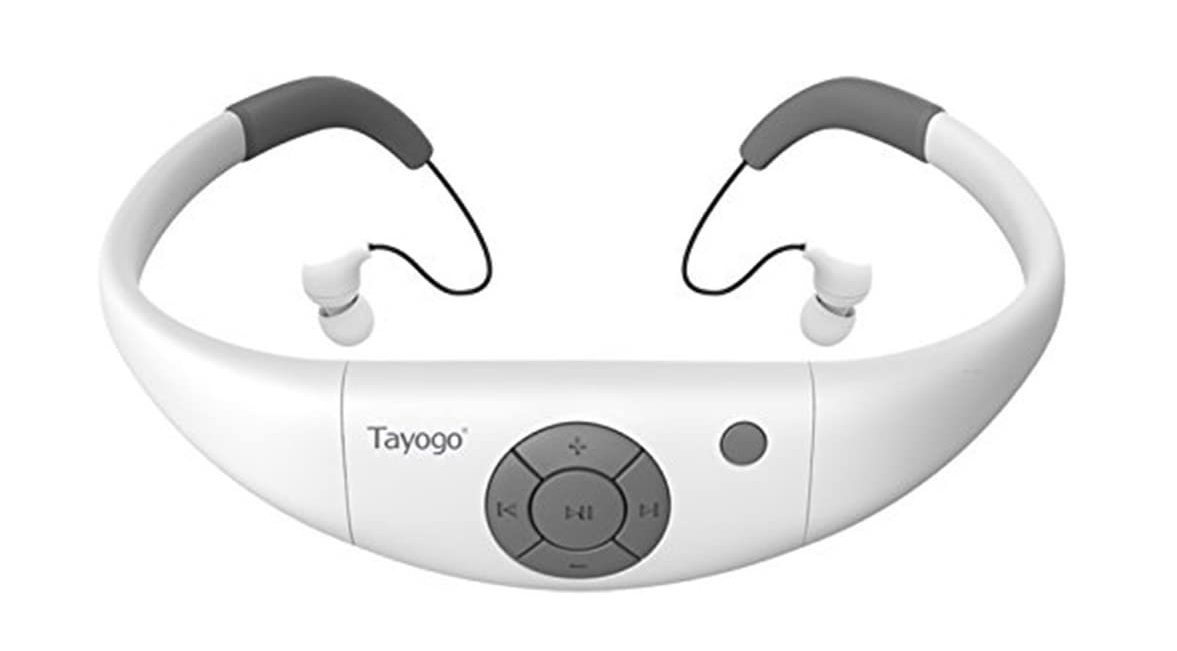 Tayogo equipped these bone conduction headphones with a built-in HD microphone to ensure you can take all your calls no matter what you are doing at the time. You could be working out, making your way to work, or just enjoying the pleasure of a good audiobook. You never have to pause for anything.
It offers a solid 6 to 7 hours of battery life when you are taking calls. The intriguing part is the fact that each bone-conducting headphone comes with a standby time of 7 days which means you don't necessarily have to charge your headphones daily.
The Tayogo headphones are secure and sweatproof making them ideal for your workouts. You don't have to worry about fit when you get these headphones on.
A little bit of technical terms is required at this point. A 5.0 Bluetooth connectivity aids seamless connection on these headphones. They are compatible with Android and iOS devices making it possible to use your bone conduction headphones on any device of your choosing.
These headphones offer an outstanding sound quality just like the more common variety of headphones. It offers a powerful bass and a dynamic range to ensure you get premium sound quality.
4. Monodeal Open Ear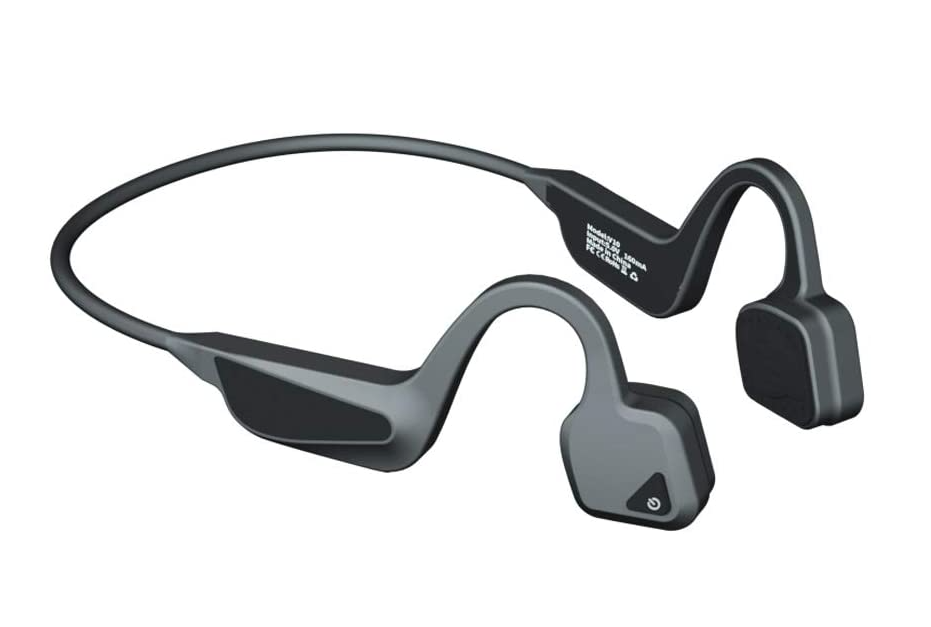 Monodeal Open Ear bone conduction headphones offer great comfort and convenience. They are built to be lightweight and soft to ensure you enjoy the best possible comfort when enjoying your music. It is ideal for sports lovers and people who suffer from hearing loss or use hearing aids. It comes with touch control which makes it easy to answer/end calls and play/pause a piece of music or audiobook.
The sound quality you get with bone conduction headphones is no match for the sound quality you can get with traditional headphones but with Monodeal, what you get is a crisp and precise sound quality which improves your listening experience.
The silicon wraps perfectly around your head to ensure that the headphones do not slip down when you wear them. It doesn't matter what you do; working out, running, or taking care of your chores, they always stay in place.
It offers 6 hours of battery life ensuring that you can take those lengthy calls and enjoy good music albums without the headphones going off. This is the standard battery duration for every bone conduction headphone and shows that the Monodeal are headphones you can trust.
5. VJJB Bone Conduction Headphones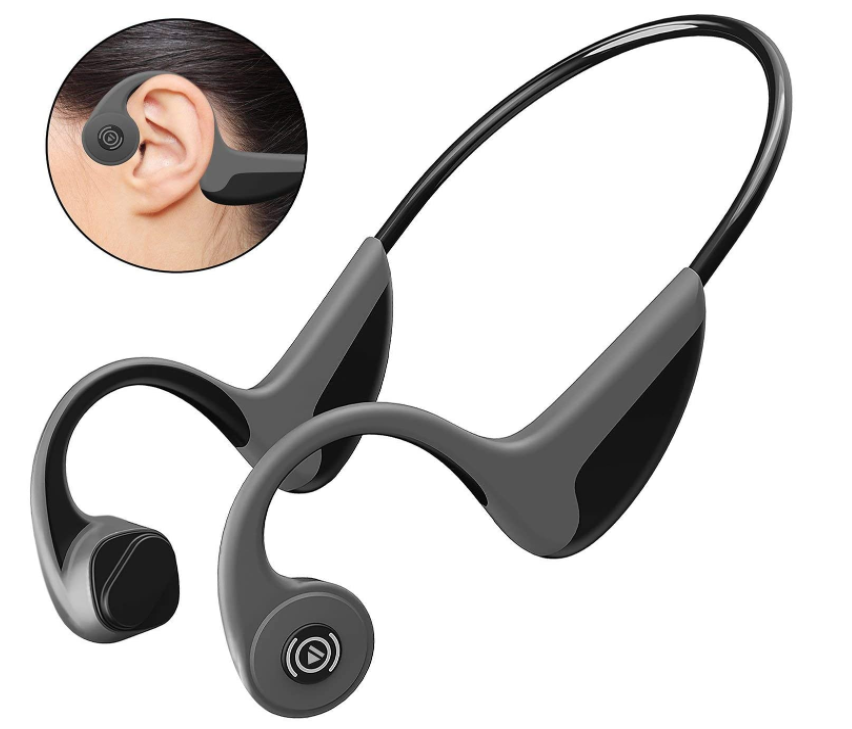 The VJJB comes with Bluetooth 5.0 which means they support multipoint pairing for iOS, Windows, and Android devices. Besides these, the connection range is also impressive, running up to 30 feet. Remarkable, even for bone conduction technology right?
A multi-function button and a physical button is included in these bone conduction headphones. The multi-function button enables you to play/pause music and also receive/end calls. It doesn't matter what you wish to do, whether it is listening to music or taking those important calls, it can all be done at the touch of a button. You can simply turn the device on and off with the physical button. A USB charging port is included in the full package.
With these bone conduction headphones, you get 6 hours of battery life which isn't much different from several others on this list. You can enjoy long music sessions or take lengthy calls without worrying that you might run out of power.
The VJJB headphones are built specifically for sports. You expect headphones designed for sports to be sturdy, sweatproof, and perfectly fitted and the VJJB is all of these and more. You can wear it for running, hiking or to enjoy a sweaty workout session at your favorite gym assured of its durability and fit. The VJJB offers an adaptable, titanium design which means it can bend 360 degrees with ease.