The headphones market is littered with numerous options. The options are fairly extensive even when you have managed to narrow it down to something like "over-ear headphones for exercising" how would you know what brand produces the best set of headphones in this category?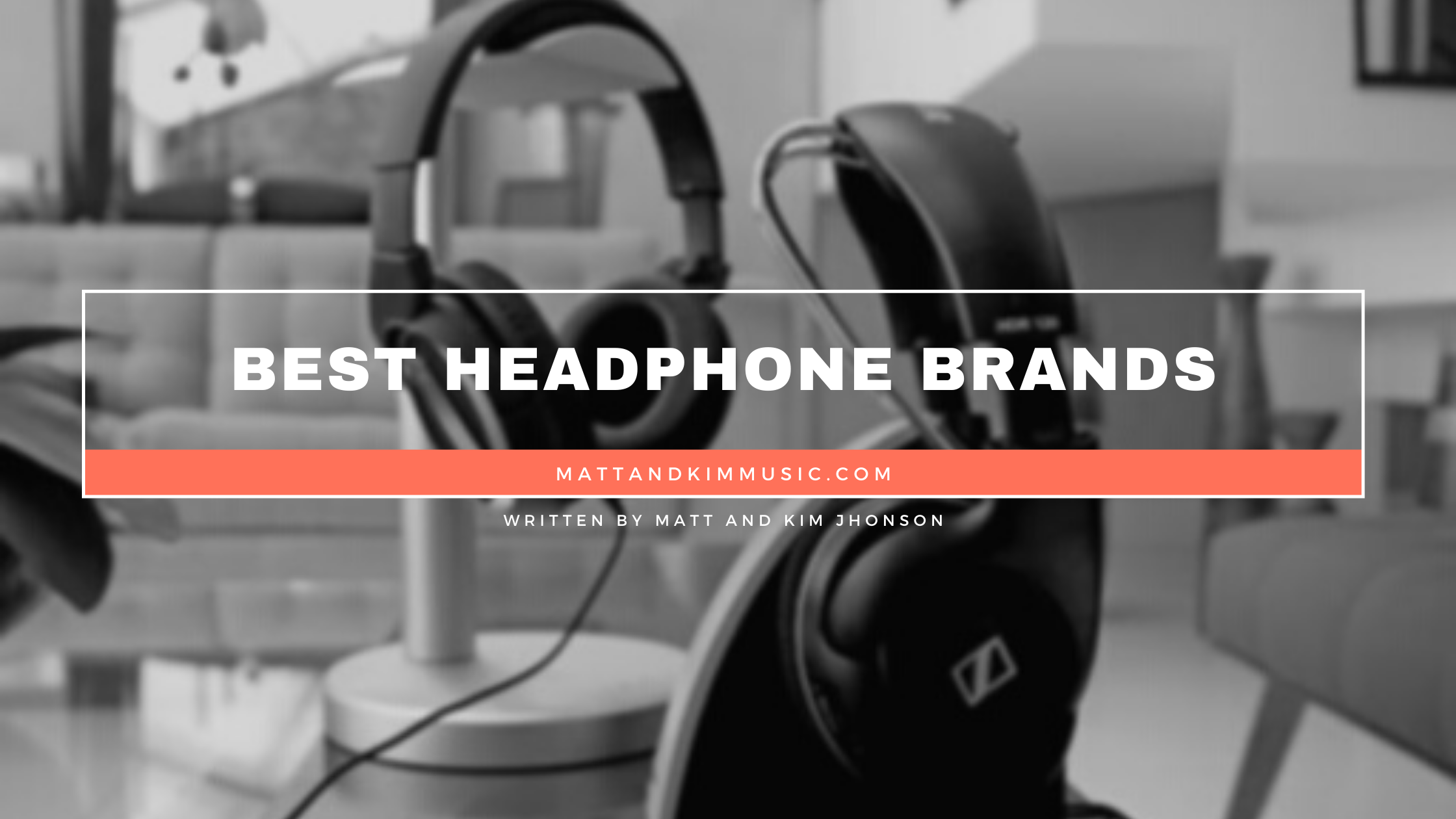 You should know that the big brands are a jack of all trades, producing headphones for everyone while some brands are committed to producing headphones for specific groups like professional musicians and gamers. You can get good headphones from many brands out there. Each brand offers a unique characteristic that sets it apart from others even when they offer similar products. That notwithstanding, some brands are miles ahead of others.
We took our time to examine headphones from more than 100 unique producers and have collated a list of the 13 best headphone brands which we now recommend to you. Do not judge by their placement on the list, we did not list them in any order or rank; we have chosen to organize them by specialty. This means you will find brands producing similar headphones closer to each other, this is done in a bid to help our readers find what they are looking for with greater ease.
Best Headphone Brands in 2021 are:
1. Sennheiser
Sennheiser is a renowned brand beloved of all audiophiles who enjoy their line of open-back headphones designed for a variety of budgets. You will also find Dedicated TV headphones built to give users a wireless TV experience without lip-syncing issues and Bluetooth headphones designed for leisure listening in Sennheiser's oeuvre. This brand has some over-ear and in-ear products but they do not produce a lot of truly wireless headphones. Due to the numerous overlapping models with very minor differences from Sennheiser –Just like Sony does – it is usually difficult to decipher which of their numerous products offer the best value for money. Nevertheless, Sennheiser is a reputable brand that produces a lot of quality products users can trust.
Amongst all the Sennheiser headphones we examined, we can confidently say that the Sennheiser HD 800 S is the best. They come in an over-ear design with a wide and open soundstage which results in a well-tuned sound signature. These reference headphones make enjoying your best high-fidelity audio files in a quiet room a very remarkable experience. The price of the HD 800 S is quite high so audiophiles on a budget can go for the Sennheiser HD 58X Jubilee which is more affordable. The sound on the HD 58X Jubilee is not as immersive as what you might get on the HD 800 S but it offers great value for money. You will also enjoy the more versatile, noise-canceling design of the Sennheiser Momentum 3 wireless which offers bass-rich audio with an appealing and comfortable design for the everyday user. If you don't want Bluetooth headphones messing with your videos, you might choose to go for the Sennheiser RS 185 RF wireless for your movie and music enjoyment.
2. Sony
With Sony, you are assured of a variety of headphone models ranging from the cheap wired earbuds to pace-setting premium noise-canceling headsets. If you desire powerful headphones for audio mixing or you're simply interested in nice headsets to take you through your commutes, look to Sony, the brand has something for everyone. It is important to point out that a lot of headphones from this brand are rather sub-par while some others are unnecessary. We rate their high-end Bluetooth headphones among the best we've come across. When you consider the fact that the Sony companion app offers a lot more options for personalization than most brands, you will understand why we rate them so highly.
The Sony WH-1000XM4 Wireless is the best Sony product we encountered in our tests. These are premium headsets with an over-ear design. They are quite similar to the Sony WH-1000XM3 Wireless in performance. Of course, the Sony WH-1000XM4 Wireless offers a few interesting extra features lacking in its predecessors like a more powerful battery and multi-device pairing. Their powerful ANC feature makes them one of the most remarkable noise-canceling headphones we encountered in our tests. They offer a slightly bass-heavy sound profile but with the companion app which offers presets and a graphic EQ, you can tweak the sound to suit your taste.
Those who prefer in-ear headphones can go for Sony WF-1000XM3. These headphones have a premium appearance, they are customizable and possess a balanced sound profile. On top of all that, these are Truly Wireless headphones. Another Truly Wireless headphone is the Sony WF-SP80N which is a solid option for gym rats and those who love to work out with good music in their ears
3. AKG
AKG Acoustics established in 1947 is an Austrian-based producer of microphones, headphones, and more. There aren't many affordable models coming from the AKG stables, most of their products sell from $60 to $1500. Their pricing is steep with most of their products going for upwards of $300 to $600.
This brand designs mostly professional headphones. Besides their professional mixing and mastering headphones, AKG Acoustics also sells wireless headphones, earbuds, and everyday over-ear and on-ear headphones. You will find Bluetooth connectivity on all of AKG's wireless headphone models. These models offer customizable audio, noise-canceling technology, or unique drivers.
AKG headphones are lightweight and durable. They are made with heavy plastic that isn't easily scratched while remaining nice to the touch. Although the bass frequencies on these headphones pack a strong punch, the sound quality is pretty good with a clean and flat response.
AKG's line-up of powerful on-ear, in-ear, noise-canceling, and wireless headphones can seem a bit much for those going through their oeuvre for the first time. But it is quite the tour as many of these headphones impress acoustically.
AKG has something for you if you are willing to part with some good money. With them, you can pick up an intricate set of high-quality and portable in-ears or plush, studio-quality over-ears. If you seek a pair of headphones that can help you keep ambient noise out during long flights or daily commutes, AKG has some nice noise-cancelers perfect for the job.
AKG Acoustics is a brand that can rival others when it comes to headphone production. They offer noise-cancellation and longevity with about 23 sets of cans designed for professional use, you have no reason to skip on AKG. All professionals will enjoy the use of AKG headphones be it at the office or the studio.
4. Beats
Beats headphones are everywhere. They have developed a reputation for building plasticky and overpriced models with bass-heavy sound profiles over the years but their recent acquisition by Apple Inc. in 2014 changed the narrative. You will find versatile and well-rounded headphones that offer users better value for money amongst Beats by Dre models at the moment. Their sound profile is surprisingly well-balanced and the headphones themselves offer considerable comfort. Currently, their wireless models enjoy seamless pairing with other Apple devices. The build quality of Beats headphones does not measure up with headphones from other brands in the same price range and no Beats headphone is customizable. Generally speaking, Beats have come a long way from the early days and we find it easy to recommend their wireless earbuds.
The Beats Powerbeats Pro Truly Wireless is the best Beats headphones among all the Beats models we tested. They spot an in-ear design and offer a stable fit and an IPX4 water resistance rating that makes them perfect for enjoying some work out at the gym. The sound profile on the Powerbeats pro is well-balanced which makes them great for a variety of different music genres.
If you want on-ears, take a look at Beats Solo Pro Wireless. They offer a well-balanced sound profile and an ANC feature capable of keeping away lots of ambient noise including voices, the hum of cooling units, and lots more. You also get to enjoy over 24 hours of continuous playback even with Active Noise-cancellation on.
Alternatively, you could go for the wired Beats EP if you don't want to fret over battery life or latency issues.
5. Bose
Bose holds the crown for comfortable, noise-canceling headphones. They have come under the gun a few times for inconsistencies in the build and audio quality expected at their product's price range but improvements have been noticed over the past few years. You will find that their recent products remained comfortable while offering a well-balanced sound profile, excellent battery life, and Bluetooth support. Bose headphones may not feel as well-built as those of their competitors, some of their models are amongst the best we tested.
The Bose QuietComfort 35 II is the best of the bunch from Bose. They come in an over-ear design and are the most comfortable headphones we tested. The build of the headphone is also excellent while durability is guaranteed. Their sound profile is balanced and perfect for enjoying all kinds of audio content. Noise-cancelation is well-handled by the ANC feature.
The Bose SoundSport Free Truly Wireless headphones offer a well-balanced sound profile with a breathable and portable design that would appeal to gym-goers and athletes. They offer a stable in-ear fit suitable for your work out sessions.
6. Dolby Atmos Headphones
Dolby Atmos Audio is one of the most ingenious technologies to grace the audio industry. This innovation has succeeded in moving sound to an object-centric source as opposed to the more traditional channel-centric source. All audio sounds were originally made out of a limited set of speakers which often affected the dynamics of the sound, then the Dolby Atmos Audio came into the scene and changed everything. To liberate audio from channels, Dolby Atmos treated each audio type as audio objects which brought about a multi-dimensional audio experience. This is why you can enjoy an immersive, natural sound when you watch a movie or play video games through Dolby Atmos.
You can enjoy Dolby Atmos with any headphones but if you want the real multi-dimensional audio, you need to get the right headphones for Dolby Atmos. let's show you the right headphones for Dolby Atmos.
The ATH-M50x is the best Dolby Atmos headphones we tested. These headphones which are beloved by audio engineers and professionals all over the world are the best of Audio-Technica's M series. They offer a well-balanced sound with a focus on all frequencies. You can enjoy all genres of music with these headphones. It is equipped with 90-degree swiveling earcups to allow single-ear monitoring. They are very portable.
You will enjoy the stability provided by the textured matte design of these headphones. The earcups offer a noise-isolating fit that won't stress your ears. Generally, The Audio-Technica ATH-M50x spots a robust design that promotes longevity. There is a removable 3mm straight single side cable included to improve studio recording. You also get to enjoy a 1-year warranty from Audio-Technica.
7. Skullcandy
Skullcandy might not be known for producing the best high-end headphones in the market, but the brand is popular for good reason. They produce headphones in colorful, fancy designs with plenty of bass that lovers of EDM and hip hop can enjoy without breaking the bank. While the best of their premium over-ear headphones have active noise canceling, a greater number of their Bluetooth supported models are very minimalistic and don't come with many extra features. Also, Skullcandy headphones feel cheaply made and somewhat uncomfortable. They are also not versatile-sounding. Nevertheless, they provide good enough value for those who can overlook their look or sound.
The best Skullcandy headphones we have reviewed are the Skullcandy Venue Wireless. Lovers of bass-heavy music such as EDM and hip hop will be delighted with these solidly built over-ears because of their lively, v-shaped sound profile and extra punchy bass. They have a battery life of 24 hours and excellent active noise-canceling for keeping out ambient noise. If you want a pair of wireless earbuds, then consider the Skullcandy Sesh Truly Wireless. They have a solid build and secure in-ear fit, so they are suitable for use at the gym or during a run. Their battery life is short, compared to the Venue, but their portable charging case provides about two extra charges. There is also the Skullcandy Jib Wireless which offers a fair amount of versatility and which we rate as one of the best cheap earbuds we've reviewed.
8. Audio Technica
Audio Technica is a Japan-based company that has produced a large variety of headphone models. Their most popular release is the M-Series lineup, comprising of closed-back studio headphones designed for professional use. There is quite a number of models in this lineup, so the models that give the best value for their price are not easily obvious. That said, the Audio Technica's with the highest performance is outstanding in terms of build and audio quality and are all a no brainier for any class of audio professionals. The brand also designs noise-canceling headphones, along with some Bluetooth models for use on the go, though we have only tested a few of those.
The Audio Technica ATH-M50X is the most outstanding among Audio Technica headphones that we have reviewed. They are closed-back over-ears that offer extreme comfort and durability in superior quality plastic construction. They have a well-balanced and highly accurate sound profile, with a slight hint of emphasized bass, which makes them a great option for both critical listening and studio work. If you find these to be rather too heavy, check out the Audio Technica ATH-M60X, because of their slightly less-balanced sound profile but makes up for that with a lighter on-ear design. If you want a more affordable headphone still within the Audio Technica series, check out the Audio Technica ATH M20x. Their performance can't be compared with the M50x or M60x but since they are so affordable, they are a good addition when you need to acquire several headphones for a new studio space.
9. JBL
JBL has been so successful with their innovative loudspeakers that they have become a popular household brand. They also have a wide variety of consumer headphones mainly for casual listening and sports. As an offshoot of Harman, most headphones from JBL usually come with a well rounded and balanced sound profile that is compatible with almost every music genre. There are also some more recent Bluetooth models that support a companion app that offers you a complete parametric EQ to adjust the sound output to your preference. Their build quality, design, and comfort are not the best. That said, most JBL headphones are fully packed with features such as multi-device pairing, voice assistant support, and a good battery with power-saving options.
The JBL CLUB 950NC is the best JBL headphones we've tested. They are comfortable and fit securely. Their battery lasts over 25 hours and will serve you for several days. They have a well-balanced default sound profile and you can also personalize the sound to your own taste using the parametric EQ and presets provided in the dedicated companion app. If you want headphones with a higher microphone performance, consider the JBL Live 650 BTNC Wireless. These come with an extra punch on bass notes which is great for EDM and hip hop fans. They also have sound customization features. If you're on a budget shopping for wireless in-ears that are suitable for working out, it's best to go for the JBL Endurance Sprint Wireless.
10. Grado
Grado Lab focuses on dynamic high-fidelity headphones with open-back, on-ear designs.
The small team at Grado Lab has expertise in this particular style of headphones as can be seen in their work for over half a century.
Each pair of Grado headphones is handmade in-house and produced with the kind of skill needed for making high-quality headphones. They have various editions to accommodate all the needs of their customers.
The best Grado headphones we've reviewed are the Grado SR80e. They are adaptable enough to deliver a wide range of sounds, whether during studio use or while playing video games. The frequency is kept balanced by a 4-conductor cable, creating a balanced scape. The result is more accurate audio, free of distortion or static.
They have an open back structure which enhances a more natural and rounded stereo recording. This design makes the headphones more ideal for indoor use since they let sound spill out and don't drown out much environmental noise.
They contain.1dB drivers which are responsible for the punchy bass texture at high speeds and excellent mid-range sounds. The open-back design implies that the drivers are exposed. Still, they manage to deliver a powerful bass, which is impressive considering how this design usually results in a flat low pitch.
The earpads are comfortable as they don't clamp on your ears too tightly or hurt when you take them off. They are also easy to carry around due to their lightweight. Their long cable is advantageous for playing instruments while connected to a stereo or other device.
11. Beyerdynamic
Beyerdynamic is one of the earliest headphone manufacturers, and to this day, Germany remains the center of production of most of their devices. They have a large variety of products just like Audio Technica but their most famous models are made for studio use. The company has a reputation for producing solid and durable headphones, with special attention to sound quality. We observed that their open-back models seemed to have less bass roll-off than other open back brands, but they still have a brilliant sound. People who are sensitive to high frequency may consider Beyerdynamic headphones too sharp or shrill on sibilants like S or T sounds, but this varies between individuals. By all standards, Beyerdynamic headphones are good for critical listening.
The Beyerdynamic DT 990 is the highest-rated among Beyernamic headphones we've tested. These open-back over-ears have large, sufficiently padded ear cups and a very even sound profile which makes them suitable for long sessions of critical listening in a quiet room. They have better construction and are cheaper than some open back releases from other companies, but their soundstage is less natural and less expansive. For a solitary listening session in the studio, consider getting the closed-back Beyerdynamic DT 770 PRO. If you're not into wired headphones, there is the Beyerdynamic Amiron Wireless which offers a premium listening experience for a premium price, though their inconsistent fit can be disappointing.
12. Jaybird
Jaybird specializes in producing audio devices for athletes. They started the business of Bluetooth earbuds for sports in 2006, and the journey has been great ever since. We have reviewed most of their earbuds and they are all ideal for sports. They also have an excellent companion app that offers some of the best-ever sound personalization options. Note that the company makes its own proprietary charging cases and upgrades them with each new version. This means that the charger from an old model cannot be used on a newer one, which can be frustrating. Nevertheless, their earbuds are among the best for running and exercising that we've tested and are a suitable option for serious athletes.
The Jaybird Tarah Pro are the best earbuds from the company we've tested. The portable construction, durability, and breathable design of these wireless in-ears make them perfect for sports. They have a moderately balanced sound profile with a little extra boom in the bass to keep you motivated during your most challenging workouts. You can also use the graphic EQ and presets in the Jaybird MySound App to improve the sound. For listeners who would rather go for a truly wireless design, the Jaybird Vista Truly Wireless is a nice option. These are comfortable and can be customized. A portable charging case is included in the package to serve you for several days. If you're restrained by a budget, you can check out the Jaybird Freedom F5 Wireless 2016 which isn't quite as solid as other models but still deliver an all-around performance.
13. Razer
Razer is very popular in the gaming industry. Though they are known for their variety of incredible gaming accessories, their headphones are not all that amazing. The headphones come with a haptic feedback feature which is a nice addition, however, they aren't ideal for marathon gamers. They don't fit comfortably enough for lengthy gaming sessions and just as well, you would always hardly get a consistent fit.
Razer has a reputation for producing gaming headphones with good microphones. Pro gamers will be pleased to know that the companion software offers a good degree of customization. However, not all headphones support this, especially the ones in the budget price category. Also, if you like to play games for long hours, you will find that these headphones are not the best in terms of comfort. And because of their fit, it may be difficult to get a consistent sound.
The Razer Opus is the best Razer headset we've tested. Though Razer is known as a gaming headset manufacturer, these are one of the first non-gaming releases and they have a good all-round performance. They are a solidly built and comfortable pair of over-ears that are equipped with active noise canceling (ANC) which does an excellent job of keeping out environmental noise. They are great for listening to different kinds of music genres since their default sound profile is pretty balanced and neutral. Their companion app also gives room for you to personalize your sound using the graphic EQ and presets made available. They have an impressive battery life of over 32 hours.
Unfortunately, the microphone of the Razer Opus is not the best and unlike other headphones from Razer, these do not come with a boom microphone. Also, they don't support multi-device pairing, so you may have a difficult time if you like to switch between your audio sources regularly. That said, they perform excellently for their price, and this makes them one of the best headphones selling below $200 that we have reviewed.