Headphones are ideal in a series of applications, whether you work in an office, blast some games with your teammates, or simply enjoy crisp and clear music while browsing the web. But then, whether you do not feel like feeling pressure on your ears for hours or you want to share some audio with a friend, a set of speakers could be just as handy that's when the best Headphones that turn Into Speakers come into play.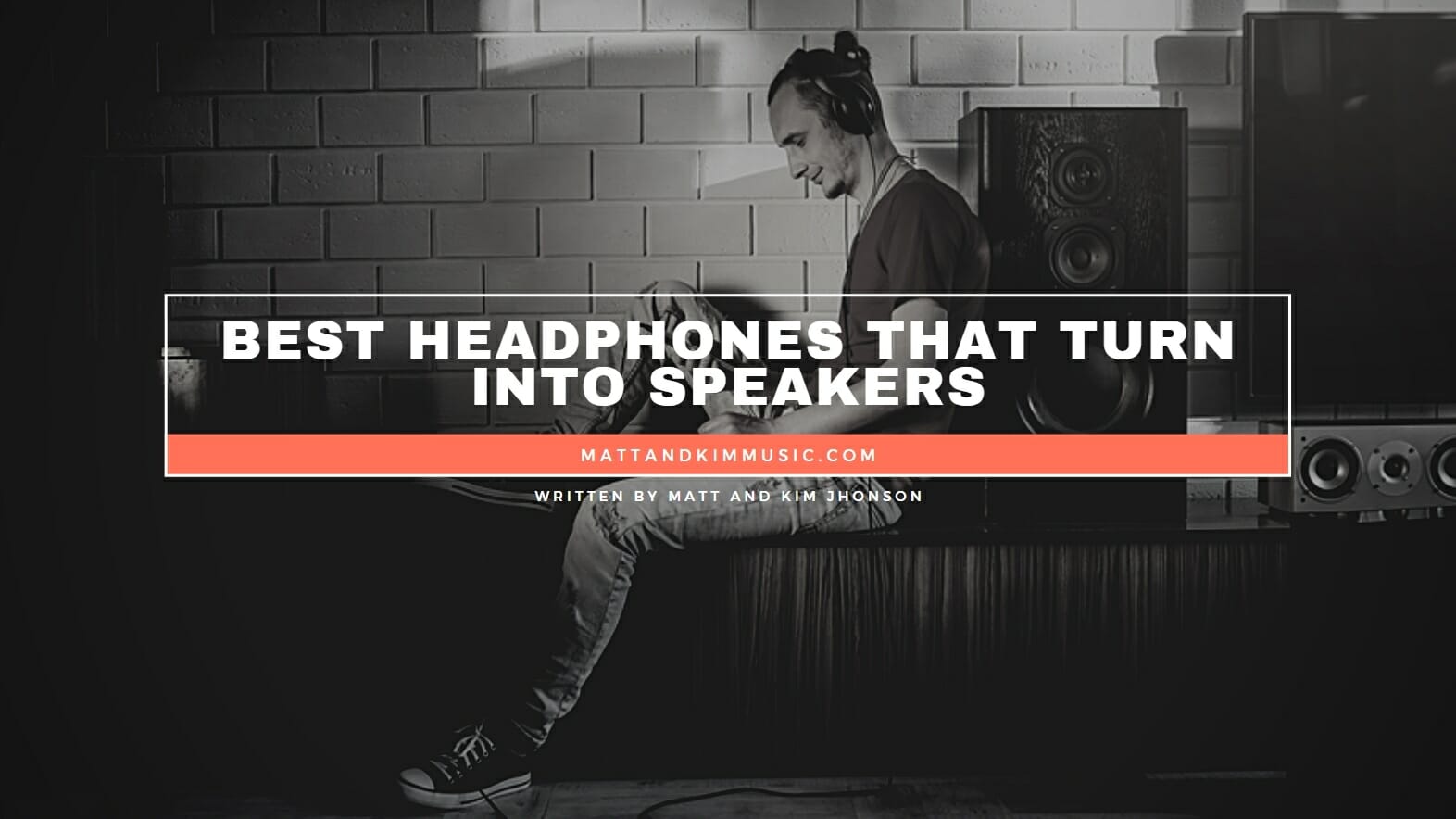 These days, you can find headphones that turn into speakers – a more convenient idea than actually buying two different sets. These headphones may not represent a massive category, but you can still find some good options that will provide a great immersive experience when used as headphones and quality audio when used as speakers. So, what options do you have?
Top 5 Headphones that turn into speakers
Sodolife has designed a beautiful product that has double functionality. You can use this headset as professional headphones, but you can also adjust it to turn it into a wearable speaker. Despite this functionality, it provides good audio in both modes.
The headset is designed as over ear headphones. You also have built in FM radio. You can also throw in a memory card with music and play your favorite music. The design is quite attractive and well put together, yet it only comes in one color – rose gold.
Connectivity is both wired and wireless. When used wirelessly, the headset connects over Bluetooth, meaning it is compatible with any other Bluetooth device. Pairing it is fairly simple – once paired, it will reconnect automatically whenever in range.
The battery is pretty good and provides up to eight hours of continuous playtime in speaker mode and 16 hours in headphone mode. The headset will only charge in two hours. It works with smartphones, tablets, TV sets and so on.
The wired mode is just as handy and suitable when you run out of battery. It is also useful if you use an old device that cannot connect over Bluetooth. The cable is quite long to prevent tangling and ends with a standard 3.5 jack.
Finally, the headset is comfortable to wear. The headband is adjustable and padded on the inside. Ear cups are heavily cushioned for a comfortable experience too.
Pros
Good battery life
Wired and wireless connectivity
Heavy cushioning
Sound isolation capabilities
Compatible with most devices out there
Cons
Bluetooth connectivity range could have been better
SoundBot's headphones to be converted into speakers will not disappoint you. According to the manufacturer, this sturdy headset can easily convert into a portable speaker with no issues at all. It is only a matter of pushing the right mode button.
The headset feels sturdy and durable as you hold it – slightly heavier than other headphones in this range. It is only available in a sleek black design and it features a bit of flexibility in terms of finding the perfect fit.
Ear cups are heavily padded and a bit bulky, but they also move a little. The headband also has some padding on the inside, so there is no pressure on top of your head. The headband is also adjustable, so it makes no difference how small or large your head is.
Connectivity is mainly wireless. You have Bluetooth connectivity and pairing the headset to various devices is a matter of seconds. The battery is massive and will provide 25 hours of playtime in the headphone mode.
Wired connectivity is also an option. It comes in handy if you run out of battery, but also if you want to use the headphones with an old device that cannot support Bluetooth. The cable features a classic 3.5 jack for compatibility with pretty much every device out there.
Other than that, you have 40mm speaker drivers for deep bass and crisp audio. When it comes to the speaker mode, you have a 3W external loudspeaker. A built-in microphone is also part of the package.
Pros
Built in microphone
Good audio in speaker mode
Superior speaker drivers for the headphone mode
Cabled and wireless connectivity
Easy to swap from one mode to another
Cons
No slots for memory cards
This could be an excellent option if you are after headphones and speakers 2 in 1. Whether you use the speakers or the actual headphones, performance will pleasantly surprise you. The headset also comes in two different styles – black and silver. It looks good and feels well put together.
The sound is impressive, regardless of the mode you use. When it comes to the speaker mode, you have a 3W driver for a good power output. The headphone mode is just as attractive – large speaker drivers to ensure a deep bass that will shake your entire body. The sound is clear – no distortion involved, no matter how high or low the volume is.
The fit is pretty good. The inside of the headband is soft and comfortable. Ear cups are thick and benefit from quality cushioning – there will be no pressure on your ears though. Adjustability in the headband ensures a perfect fit as well.
Connectivity is mainly wireless. This is the primary role of the headset. You basically have Bluetooth connectivity. The unit will pair easily with any type of device that takes Bluetooth connection. Once paired, the headphones will reconnect automatically if in range – no need to go through the whole process again.
Cabled connectivity is also part of the package. Whether you run out of battery or you use an old device with no Bluetooth, the cabled connectivity will keep you on track. You have a 3.5 jack cable that works with most devices out there.
There are not too many extras, but there are a few good features to make your life easier. For instance, you have FM radio, as well as a slot for a memory card with your favorite music. Veenax has also included a built in microphone that features noise cancellation technologies.
Pros
Excellent audio in both modes
Built in microphone
Noise cancellation for the microphone
Cabled and wireless connectivity
Slot for memory cards
Cons
A bit of signal interference in the radio mode at times
Flips Audio might have designed the best headphones to turn into speakers if you are after value for money. The headset comes with the right features for a convenient playtime – no fancy bells and whistles. It is available in two different colors – white and black.
The headphones are collapsible. They feature a folding design, meaning they are easy to store and transport without risking to break the joints. They come with two modes – one for headphones and another one for speakers.
The headphones come with neodymium speaker drivers. They are large and feature a technology to amplify the sound. The bass is quite deep, while vocals and instruments are easy to identify, whether the volume is too high or too low.
Connectivity is wired. You have a long cable and a 3.5 jack at the end. This type of connectivity is compatible with pretty much every device on the market, including old phones, tablets, television sets, computers and laptops.
The headset is designed with over ear headphones, meaning the ear cups are quite large. While there is no noise cancellation, ear cups provide a pretty good seal, so ambient noise will be successfully kept out of your headset.
Other than that, the ear cups are custom vented. Memory foam helps with comfort as well. The headband is padded on the inside, but also adjustable for a good fit. Furthermore, it is worth noting that a carry case is included in the package too.
Pros
Memory foam comfort in the ear cups
Comfortable to wear
Folding design and transportation case
Amplified sound
Custom ventilation system
Cons
Flips Audio's headphones that turn into speakers will surprise you with the audio performance. They feature 40mm neodymium drivers, which are normally more than enough to ensure a deep bass and a crystal clear audio.
The headset also comes with a technology to amplify the audio, as well as a built in resonator for even more bass. Since safety could be an issue with such an experience, the function only works in the speaker mode.
The headphones come with a flip design. They are easy to store and transport. Moreover, they also feature a travel case with a clip, not to mention the USB cable and the connectivity cable – you have everything to enjoy a good experience out of the box.
Switching from one mode to another is simple. Simply flip the ear cups out and the speaker mode kicks in – no need to press buttons or work through the settings.
Connectivity is wired. Simply throw the 3.5 jack cable into any device with such a port and the headphones work like a plug and play device. They work with old devices, modern TV sets, smartphones, gaming consoles, tablets, laptops and computers.
Last, but not least, comfort will not let you down. You have heavy cushioning on the ear cups and the interior of the band, as well as adjustability for a perfect fit.
Pros
Compatibility with most devices out there
Easy to swap from one mode to another
Quality audio experience
Good looking design
Carry case included
Cons
No Bluetooth connectivity