With Sennheiser headphones, we know what we'll get even before we listen: an excellent audio delivery, and of course, with this brand, there is very little to complain about. Sennheiser may not always be shock-full of style but they are functional and this is true of the novel CX 300S. If you are familiar with Sennheiser in-ear headphones, you will find the Sennheiser CX 300S very familiar.
Read on, as we discuss the details of a headphone that ticks all the possible boxes in this Sennheiser CX 300S review.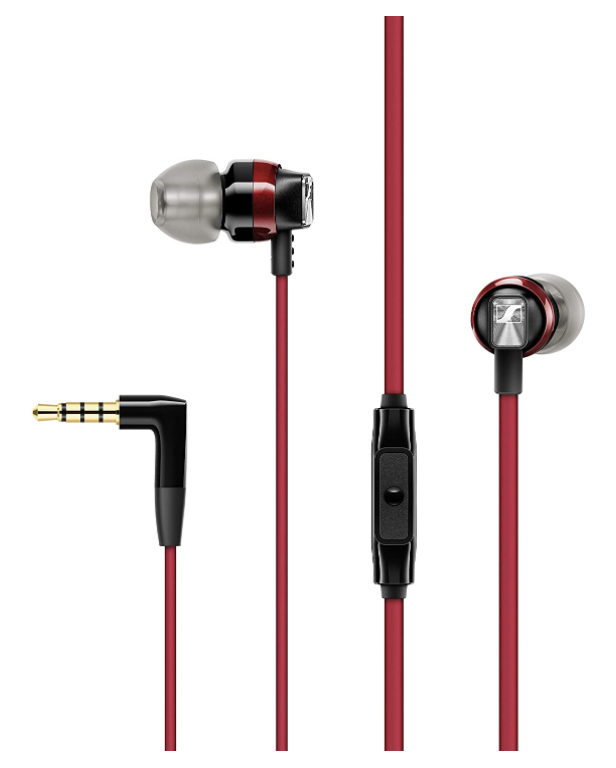 Design and Build
Sennheiser always takes the simple path when it comes to the physical design of their headphones and that works quite nicely for the Sennheiser CX 300S. You will find it easy to pop these headphones into your ears. We are sure you will be pleased to learn that sound isolation on these headphones is excellent thanks to the perfect fit provided by the ergonomic design. It doesn't even matter how your ear is shaped, there is a provision of varied ear tips in the package to ensure everyone gets a good fit.
Sennheiser went overboard with their no-frills design strategy so you shouldn't expect a pleasing exterior. Looking at the white-colored model of the CX 300S, you would think the plastic cheap and likely to lose the coloration very easily. But if you aren't too hung up on looks – which you shouldn't be anyway – then you will be interested in the excellent build quality of these headphones. The finishing is insulated very well and you get to enjoy reasonably thick cables that are flat-shaped to ensure very little tangling. You shouldn't have to worry about durability because Sennheiser is so sure of what they have built they are giving you a two-year warranty!
With the Sennheiser CX 300S, you can enjoy hands-free phone calls, play/pause, and skip songs all thanks to a mic and remote which were incorporated into the cables. The audio clarity during calls is excellent and what's more, the microphone actively tries to keep out some ambient sounds.
Sennheiser CX 300S Performance and Sound
The juice on the Sennheiser CX 300S headphones is provided by the low frequencies. The bass is deep and full adding extra warmth to your rock songs while making your pop songs more impactful. You will also find that the sub frequencies become audible when you listen to hip hop. Even with these offerings from the low-end, it doesn't feel exaggerated. All the same, you might go in search of a different sound signature if you aren't into bass. These headphones deliver nice detail and considering their price range, that's better clarity than you can get elsewhere. The timbre on the CX 300S maintains a natural tone even though acoustic instruments sound bloated on this range.
The mid-range on the Sennheiser CX 300S is reasonably present. You will find that the upper mids are a bit bold while the low-mids sound a little hollow with most of their drive coming from the bass frequencies. The fact that the vocals sit slightly forward notwithstanding, these headphones deliver a sweeping and robust chorus when you play big rock and pop tunes. Headphones at this price range won't offer the same separation and transparency as the CX 300S. When we tested cellos on these headphones we found that they delivered excellent texture and pluck while acoustic guitar delivered clear and accurate sound. These buds prove that they are the buds for all genres.
Classical music fans will enjoy these CX 300S Sennheiser headphones because strings offer enough nuance to satisfy listeners. Back to pop, percussion instruments deliver a crisp sound that gives life to the tracks. While offering some life, the CX 300S doesn't become too bright meaning you won't encounter a lot of sharpness even when you listen to instruments in the highest register. If you are sensitive to high frequencies, these earphones are for you.
The soundstage on the Sennheiser CX 300S is quite wide. It may not have attained holographic status but it offers some real depth. It offers considerably precise imaging which allows users to hear degrees of width when it comes to instrument placement.
Our general impression of the Sennheiser CX 300S is that the lows are abundant, it offers a more universal sound signature and provides good detail for headphones at this price range.
Final Thoughts on Sennheiser CX 300S
We aren't very surprised at what Sennheiser has done here. Offering a universal sound signature that is fatigue-free and well detailed for just 50 bucks might sound insane for other brands but not for Sennheiser. Of course, with the CX 300S, you won't find the same enviable balance and charismatic sound you find on such high range and notable IEMs like the HD 1 but surely, the Sennheiser CX 300S gets the job done to perfection!