The demand for true wireless headphones is on the rise and audio companies are at their best, trying to meet up. Even the older, established manufacturers are not left out. The Sennheiser CX 400 BT are a pair of true wireless headphones that come with some serious audio capabilities. This is expected because they come with the same set of drivers as the super expensive Sennheiser Momentum True Wireless 2.0. The CX 400BT are more affordable but are they actually worth the money? Let's find out in this Sennheiser CX 400BT review.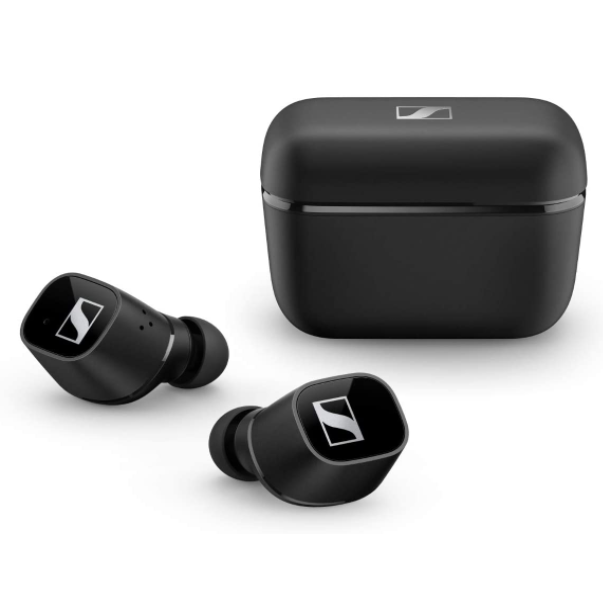 Sennheiser CX 400BT Review
Design and Build
The CX 400BT true wireless is one of Sennheiser's second generation of true wireless earphones. Each earbud contains a rather large 7mm driver, and justify their demand for your hard-earned money by striking a form of balance between the Sennheiser Momentum True Wireless 2.0 and other cheaper earphones. What the Sennheiser CX 400BT lack in sophistication, they make up for in quality. Though they may not look as sleek as their higher-end counterparts, they do not fall short in any way, except that they are bulky.
Most of the construction on the CX 400BT consists of hard plastic, which is the ideal decision for in-ears of this size. Weight can be a serious issue when it comes to earphones that rely on only your ear canal for balance, so light plastic is best to achieve comfort with these kinds of earbuds.
There are touch controls on the back of the earphones, which helps you avoid always having to fumble around for your phone in your pocket whenever you want to change tracks or receive a call. Note that the controls are divided between both sides and each earbud has a separate function from the other.
As with any other Bluetooth accessory, it is very easy to pair your phone with the Sennheiser CX 400BT. Open the case and take out the earbuds. As soon as the earbuds are out of their case, they automatically begin to scan for a device to pair with. On your phone, open the Bluetooth settings panel to find the Sennheiser CX 400BT in the dropdown list. Follow the normal pairing procedure when you locate it.
After the first time, the earphones will pair automatically with the same device (if the Bluetooth radio is on) whenever you take them out of their case.
Sennheiser CX 400BT Performance and Sound
The Sennheiser CX 400BT does a very neat job of providing isolation from the environment around you, although our conclusion may be related to the fact that we had to tuck the earbuds in a little to get a proper fit.
Your own experience should certainly be different to some extent because the noise isolation offered by the headphones largely depends on how well they fit. So you should play around with the ear tips for the best fit, to ensure that you get the best out of your earphones.
The Sennheiser CX 400BT does not pay special attention to bass emphasis, and the average listener will be fine with Sennheiser's decision to go with a more appealing sound instead of trying to fill your head with deep bass.
Though this makes it a bit difficult to drown out ambient noise when you're on the go, the audio quality will seem significantly clearer than what you will get with more bass-focused headphones. One other reason for this is that Sennheiser actually increased the emphasis on some ranges so that these particular sounds could be delivered more prominently.
The only seeming flaw with the CX 400BT is that the high notes have a dip, which is something common with Sennheiser headphones. The purpose of this is to counteract the negative effects of natural resonances in the human ear. The Sennheiser Momentum True Wireless also has this feature, and the sound of the CX 400BT shares many similarities with that model.
Final Thoughts on Sennheiser CX 400 BT
The audio quality of the Sennheiser CX 400BT is very similar to that of the higher-end Sennheiser Momentum True Wireless 2.0 even with its significantly lower price. Though $200 may be beyond your budget for earphones, these are actually a steal for their price. There are many headphones in this price category on the market which you may enjoy, but the CX 400BT performs so well that you can't question them.
Having said that, anyone who wants to go for something less than $100 will have to compromise on audio quality. However, that may not be as bad as it seems. Most true wireless earphones are not really intended to provide you with a perfect or critical listening experience. They are earphones you buy because you need something to use during your daily commute, or in a place that tends to be noisy.