If you've been searching for the perfect headphones but are not sure of the one to choose from, we've brought to you a Sennheiser RS120 II review to provide you with full details of the great device. The Sennheiser RS120 II Wireless headset is designed to meet your needs and even surpass your expectations. In this article, we touched on the characteristics, design, and sound quality of the Sennheiser RS120 II. You'll find this piece very useful when you are shopping for your preferred option. These headsets are more affordable than the standard Bluetooth wireless headphones. So, you can give it a try to see how best it can suit your needs.
Sennheiser RS120 II Review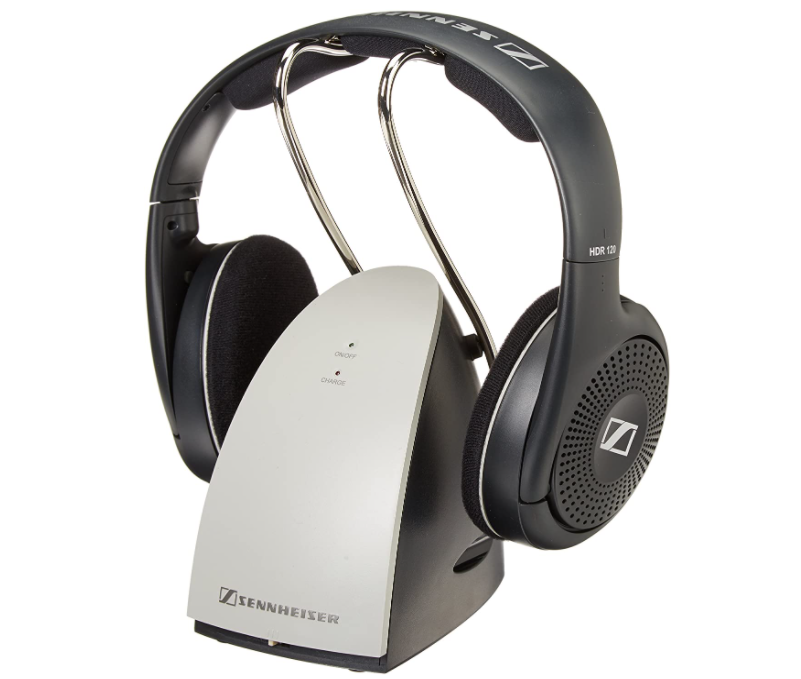 Design and Build
Sennheiser RS120 II is a wireless and cordless headset designed to meet the trends in modern technology. It is very flexible to allow you to enjoy music anywhere in your home without disturbing other members of your household. The headset contains a padded headband for added comfort.
Sennheiser RS120 II weighs only 8.1 ounces, so it is very light and comfortable. It has supra-aural ear cups–that is, the earpads sit comfortably on your ears. The replaceable ear pads can easily fit your ears and give room for breathing, courtesy of the material.
However, there is a difference between the noise cancelation of Sennheiser RS120 II and that of headphones with earcups that completely cover the ears. You need a transmitter before using the Sennheiser RS120 II. Take note that this is an essential component of this product.
It has an exquisite and classic design to ensure it fits perfectly into your home décor. Ensure that you place the transmitter in the proper place to enjoy excellent performance. The RS120 II is cable-free, so it delivers top-quality sound without being connected to any cable. The above feature is possible because the device operates on Radio Frequency (RF) Technology of 900 MHz.
The RS120 II is wireless. It comes with a transmitter that has a dock used for charging. It's easy to recharge. Ensure that when you are not using the headphones, you put them over the charging dock. But note that when the ear cups are extended, you won't be able to recharge the device. You'll enjoy using the device for hours after a full charge.
The Sennheiser RS120 II runs on rechargeable 2 NiMH (nickel-metal-hydride batteries) AAA batteries. The radius at which the wireless signal transmits is around 328 feet.
The wireless signal can penetrate ceilings and walls and can transmit with a radius of about 328 ft. To make sure your music is easy to manage, always control your music directly from your RS120 II. The whole package comes with an RCA to 1/8 inch adapter along with a 1/8 inch to ¼ inch adapter. The essence of the multiple adaptors is to ensure that your headset is compatible with virtually any device that produces sound. Also, you get a 2-year warranty to ensure you enjoy the device for as long as possible.
Sennheiser RS120 II Performance and Sound
The high and mid-range bass in Sennheiser RS120 II are built to deliver great sound for your pleasure. The hissing noise is the only serious drawback that occurs when the transmitter is kept close to another electronic device that has a remote control. While most users may find it disturbing, you can prevent it by keeping your transmitter far from those devices with remote control.
The presence of radiofrequency technology on the RS120 II users enables users to tune manually into various channels of frequency. Plus, the 900 MHz of frequency is so adequate that you won't need to interfere with other channels. The radiofrequency technology is the equivalent of Infrared Technology in terms of sound and quality. Unlike other Bluetooth devices, RS120 II doesn't go back and forth. It works perfectly with CDs and DVDs. The resolution of the sound quality is very detailed. The treble sound is clear while the bass is very deep enough to give you a wonderful experience in listening to music or watching television. The sound quality is unrivaled compared to its counterparts in that price range. You'll enjoy listening to music for several hours comfortably without any distraction.
Final Thoughts on Sennheiser RS120
In conclusion, the Sennheiser RS120 II over-ear headphones are highly recommended If you crave excellent features accompanied by high-quality sound and comfort. They are durable and reliable to use. They are a very affordable pair of wireless headphones. Aside from the hissing noise which you can easily get rid of, the only serious drawback you may face is the needless closeness of the tuning and volume controls.