the Best Closed-back headphones under $300 are 100% sealed around their back, meaning the only sound that will reach your ear is the one coming through their channels. The technology has a simple purpose – it blocks and cancels external noise, such as ambient noise from airplanes, traffic, or just people in an office. The sound may not feel 100% natural, but it is clearer and you will get used to it in no time.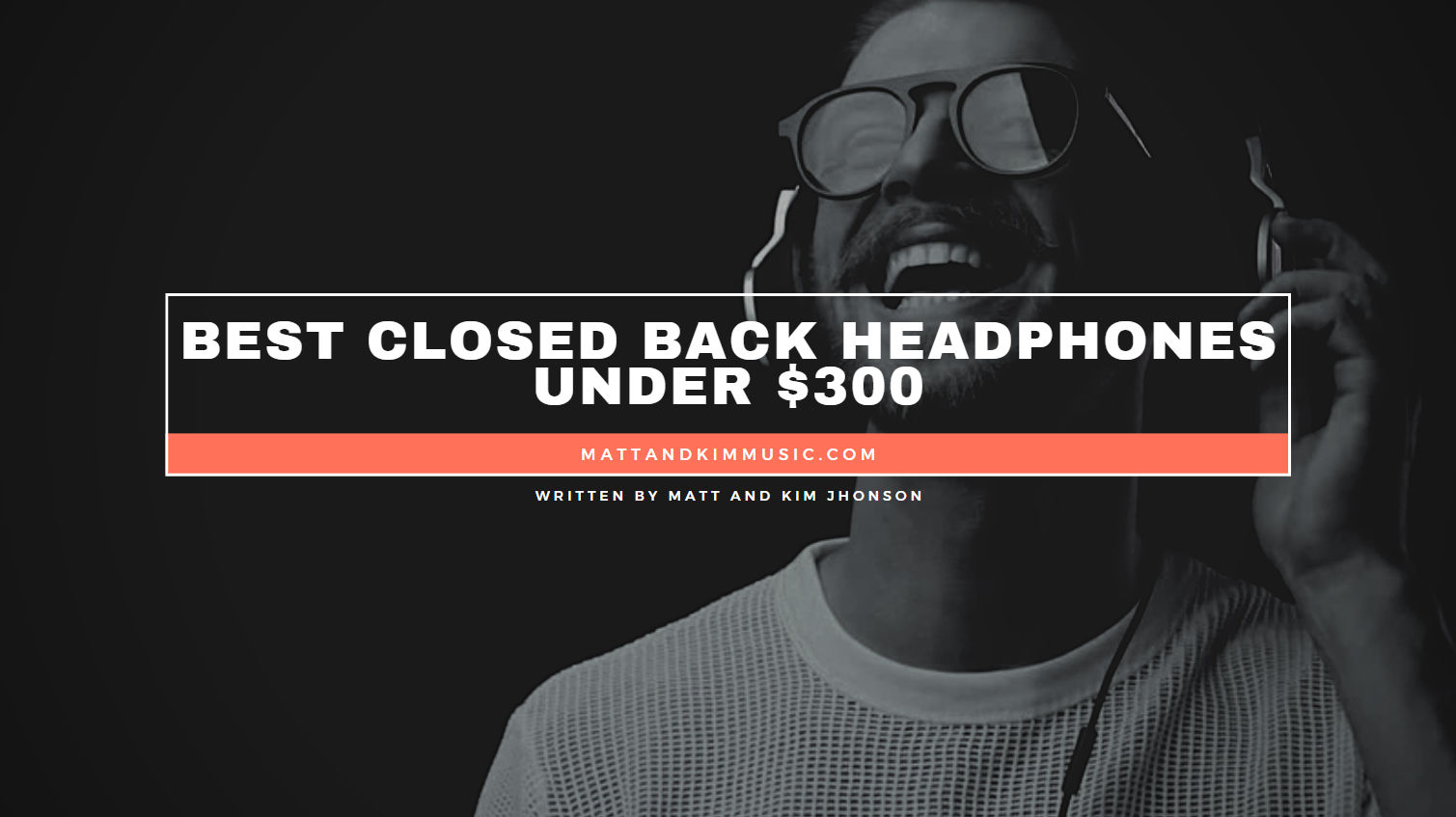 This type of technology cancels the utmost necessity of noise cancellation technologies, which are more expensive. In other words, you can block most of the ambient noise around you without spending a fortune on such headphones. Now, choosing the best closed-back headphones under $300 could be a bit tricky because there are literally dozens of options on the market.
Deciding on the best one requires a bit of homework, as well as some reviews from third parties – usually, previous buyers who have actually tried the headphones. So, what are the best-rated options out there?
Top 5 Closed Back Headphones Under $300
Audio-Technica has gained a reputation for a simple aspect. Basically, this brand brings in headphones designed at professional standards. They are mostly suitable for professionals, but they are accessible in price and can make good alternatives for gamers, office workers or simply people who want a top-notch audio performance.
The brand's closed-back headphones within the $300 budget will not disappoint you. The design is pretty good – a mix of black and metallic accents that look luxurious. You can tell the ear cups are relatively large and will fully cover your ears, so you can get a good seal to trap the audio in and prevent external noise from interfering.
In terms of performance, this headset comes with 45mm large-aperture drivers. They are larger than what you can normally find in this segment, so the sound is crispy and clear. You can deal with both low and high frequencies (up to 40,000 hertz), without having to worry about the balance. The bass is simply incredible.
If you want these headphones for professional uses, you should know they are tuned for super-accurate reproduction. The design contours around your ears isolate the sound and can compete against high-end noise cancellation technologies. Loud environments will never raise a problem. They are also great for DJs, tracking, mixing, and mastering.
Connectivity is wired – long tangle-free wire and compatibility with any device that can take a 3.5mm jack, meaning you should never face any issues. Furthermore, ear cups swivel to 90 degrees for easy storage and a good fit. The headband is obviously adjustable and can easily cover both small and large heads.
Pros
Excellent for professional uses like tracking or studio mixing
Great sound performance due to the large drivers
Good noise isolation capabilities in loud environments
Padded headband for more comfort
Good looking design
Cons
The design is the first thing that will draw your attention. These headphones look exquisite. They have a vintage feel with oval ear cups, but they also feel sturdy and well put together. They come in a few color combinations and each of them looks super stylish.
The headphones feature a four-driver system. The system is proprietary and only used on Blue's headphones. It comes with 44mm ultra responsive speaker drivers. The bass is super clear, even if you turn the volume to maximum. Sounds are crisp and clear, including vocals and instruments.
You also have dedicated 30mm drivers for the active noise cancellation technology. The technology involves sending some waves to combat ambient noise. You will not hear a thing during flights, while in loud offices or gyms.
The performance improvements go even further. Blue has also brought in a built in audiophile amplifier. The sound is not just crisp and clear, but also dynamic and extremely well detailed. You will hear the instruments and vocals that you have not heard before.
Connectivity is wireless. You have Bluetooth connectivity – compatible with most devices with this technology. The battery goes up to 24 hours – less if you activate the noise cancellation technology and the amplifier.
Finally, you have a foldable design for storage and transportation and a built in microphone. Ear cups are super comfortable and the headband is adjustable. It also features some extra cushioning and fabric material to cover it.
Pros
Beautiful vintage appearance
Lots of padding
Adjustable headband
Noise cancellation technology
Built-in audiophile amplifier
Cons
Heavier than other headphones in this segment
Sennheiser's headphones matching the $300 budget feature a closed back construction, an around ear design and a sleek appearance. They are only available in black and they come with a flexible headband and large ear cups.
Connectivity is wired. You have a 3.5mm jack cable that measures about four feet. You have a bit of freedom, but the best news is it works with almost every device on the market. A few gaming consoles may come with 6.3 slots – nothing to worry about. The package includes a 10 foot 6.3 jack cable too, which adds to the compatibility standards.
There are no active noise cancellation features, but the closed back design and the noise isolation make a great team against ambient noise. You can use these headphones on the plane, in a busy gym or a busy office.
In terms of audio quality, you have 38mm speaker drivers – average for this price range. The audio quality is good. The bass is deep and vocals and instruments are easy to identify at both high and low volumes.
Earpads are thick and comfortable. The cushioning is deep and puts no pressure on your ears – not even if you wear glasses. The headband is not just adjustable, but it is also padded for even more comfort.
There are no fancy extras, bells, and whistles. Instead, you have an inline microphone on the 3.5mm jack cable for communication.
Pros
Good audio quality
Well put together
Plenty of badding
Comfortable to wear for hours
Two cables included in the package
Cons
No major extras for the price
Beyerdynamic's headset can easily make it on the under $300 list, especially if you are after value for money. The closed-back headset is suitable for music, games, office work, and even professional studio applications like mixing.
The headphones come with large speaker drivers. The bass is extremely accurate. The sound has a high resolution and feels pure. You can easily hear vocals and instruments, whether you play music at a low volume or the highest option.
Made in Germany, you can tell this headset is durable. As you hold it, you will notice it is a bit heavier than other alternatives in this price range. It is sturdy and well put together, but it also feels robust as you try it on.
Connectivity is wired. You have a 3.5mm jack cable measuring around 10 feet. It can connect to any device with such a slot. It may even be more convenient than Bluetooth connectivity because the cable works with old devices that cannot take wireless connectivity. Plus, the transmission is clearer.
When it comes to comfort, you have a well-padded headband that can also be adjusted. Ear pads feature deep cushioning for great comfort. Plus, they are covered in a soft fabric and they swivel a little, only to ensure a good fit.
Finally, there are no extras or fancy bells and whistles – hence the good value for money.
Pros
Long cable
Super accurate bass
Comfortable ear pads
Great fit
High adjustability
Cons
SoundMAGIC's best closed back headphones under 300 take the audio quality to another level. They come in a sleek black design and feature a few metallic elements. Ear cups are oversized for a deeper audio experience.
You can tell this headset is designed for audiophiles. It features high-resolution audio and incredible frequency response. Power and balance are stable and provide a satisfying experience. You have massive 53mm speaker drivers for a deep sound too. It makes no difference how high or low the volume is – everything is crystal clear.
While there is no noise cancellation, the headphones come with superior noise isolation standards. At the same time, the closed-back design helps to ensure a good seal around your ears, so there is no need to worry about ambient noise.
The headphones come with a sturdy mechanical design. You will love the aluminum yoke for reinforcement or the aluminum slider. The headband is highly adjustable too, while the matte coating is scratch-resistant.
Ear cups are comfortable, as well as the padded headband. They are also covered in durable materials, while the slight swiveling capabilities guarantee for a great fit.
The connectivity is universal. You have a 3.5mm jack cable, as well as a 6.3 adapter. In other words, the headset is compatible with any device out there.
Pros
Universal compatibility
Comfortable fit
Large speaker drivers
Well padded
Hard case included in the package
Cons
Heavier than other headphones in this range