If you're looking for the best closed-back headphones under $200, you're at the right place.
Closed-back headphones are headsets that are completely sealed around the back. Hence, the name closed-back headphones. These kinds of sets are great for blocking out a lot of outside noise. And while the sound you get may not be natural sounding, closed-back headphones are fabulous for working in the studio as they make sure your mic doesn't pick up much more noise.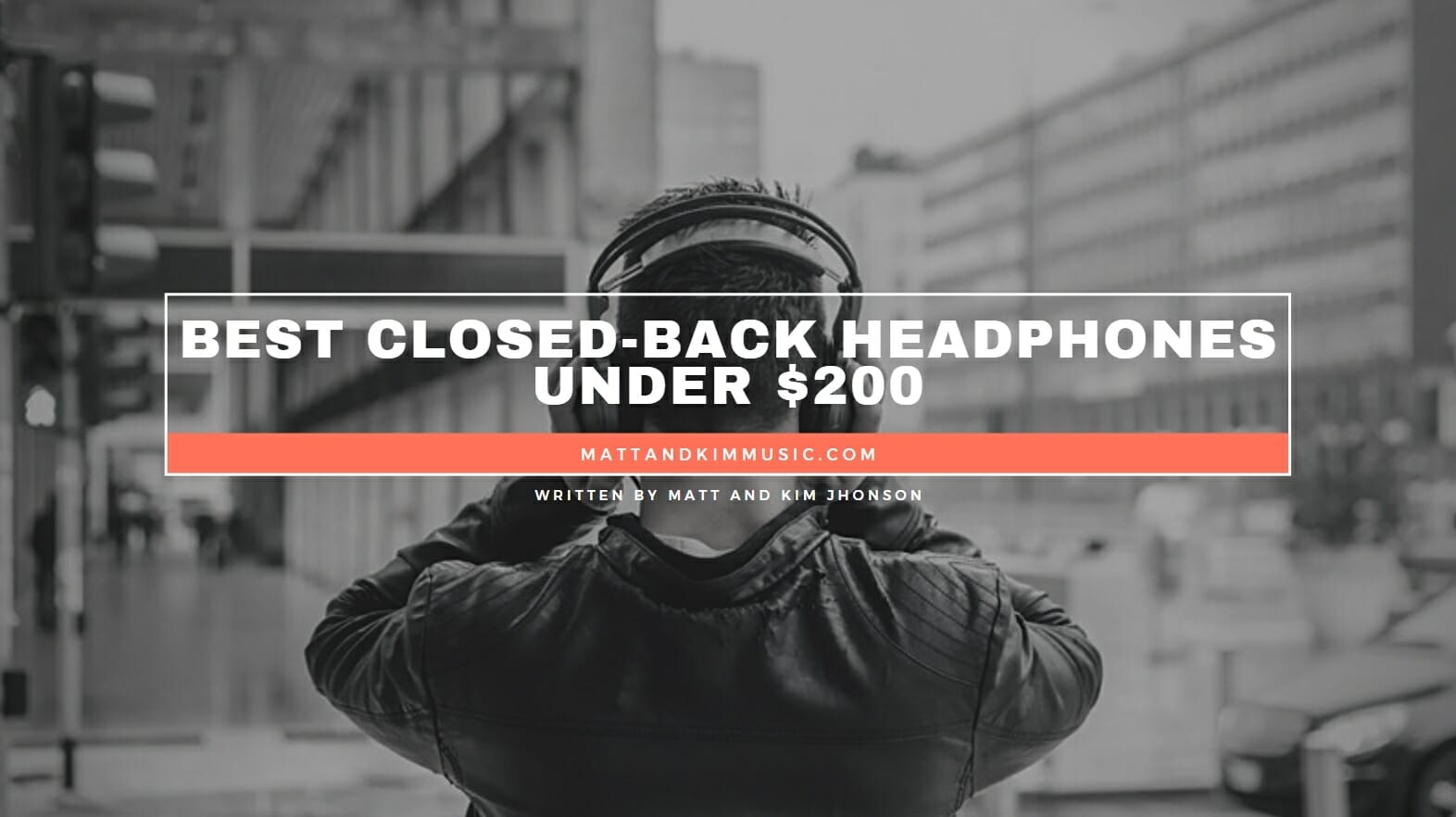 Headphones, like most electronic gadgets, could be quite expensive. And if you have a low budget, this can be daunting. But it doesn't have to be so. There are some pretty good closed-back headphones you can get for under $200. And we're going to be checking them right now.
Here are the best closed-back headphones under $200:
1. Heil Pro Set 3
The Heil Pro Set 3 is probably the cheapest closed-back headphone you can get with this level of quality.
The headphone not only looks very clean, but it also sounds very clean too. It's a professional lightweight set that anyone can wear for hours on end, and creates one of the cleanest sounds you'll ever hear.
The Pro 3 set is great for all kinds of recording, and it's amazing for internet and radio broadcasting as well. You may not think it's smart to buy a closed back headphone that costs less than $200 for your broadcasting or podcast work, but you would be limiting yourself with that. The Pro Set 3 works well for all kinds of recording in all kinds of situations. Its closed-back tech prevents disturbance, and the 40mm driver diameter allows you to correctly hear even the faintest of notes.
The fact that the headphone is very lightweight means that you can wear it for as long as you want.  Additionally, the headphone comes with three cables. There's a 1.8 M flexible straight cable, and a 1.8 M straight cord. The third cable is a 3 M coil cord and finally, there's a 1/8″  professional gold plated screw-on 1/4″ adapter.
Pros
It looks really good
Excellent noise cancellation
2. Audio-Technica ATH-M50xBT Wireless Bluetooth Over-Ear Headphones
The wireless on the go design of the Closed Back M50xBT Headphones, combined with its unique noise cancellation technology makes sure it makes this list.
The headphone has Bluetooth connectivity, built-in controls and a battery that can last for forty (40) hours. It comes with touch control that allows you to easily control the voice assist feature. The mic and button controls are built into the ear cup and they make it easy to handle calls, volume adjustment and music playback.
The (This closed back) headphone comes with proprietary 45-millimetre large-aperture drivers that deliver great clarity with deep and accurate bass response. This is also backed up with an extended frequency range.
Since the headphone provides about forty (40) hours of battery life, it's terrific (good or bad? I ask because it sounds good to me haha) for long-distance travel. The collapsible design also ensures that it will easily fit into a backpack. Whether indoors or outdoors, the circumaural design of the headphone will isolate outside noise and provide crispy sound. The sonic signature that accompanies the M50xBT is one of what makes it such a good closed back headphone choice.
The voice assists feature is slick, fast, and very useful. This is one feature that you'd not find on every closed back headphone, especially one that costs less than $200. As is important with all headphones, the M50×BT is comfortable to wear. The professional-grade earpad and headband material assures comfort over the longest periods of use.
Pros
Forty hours of battery life
Collapsible design
Touch control
3. Mackie MC Series Professional Monitoring Closed-Back Headphones
The Closed Back Mackie MC Series offers clarity and accuracy like never before. It's terrific for critical listening and is amazing for referencing a mix. It's an exciting choice for DJs all over the country that demand high-quality performance from their Closed Back headphones.
It delivers on the promise of noise cancellation by having a precision-tuned closed-back design. It also comes with reference-quality 50mm drivers for perfect isolation and the production of distortion-free sound. The Closed Back headphone is just perfect for studio and field recording work, especially when compared to others priced under $200.
The hardware of the headphone is pretty great too, as it has a premium leather headband and earpads that make it look really good. But the solidness of the hardware doesn't only affect the aesthetics of the Closed Back headphone. It also affects the level of comfort it offers. With plush headbands and ear pads, the MC Series guarantees the highest level of comfort you can get with a headphone.
The high headroom and reference-quality 50mm transducers make it a joy to listen to, and the premium leather headbands and ear pads make it a comfortable headphone to use. The fact that it's great for all kinds of listening (including critical listening and studio recording) also makes it stand out as a high-quality Closed Back headphone.
It also comes with 3 different premium cables and locking bayonet connectors. Asides this, it also has a gold-plated 1/4″ adapter and a premium protective case.
Pros
Premium build
Excellent noise isolation
Very comfortable and easy on the ear.
4. Sennheiser HD 300 Pro Collapsible High-End Monitoring Headphone
If you want crisp and high-resolution sound, this is the Closed Back headphone you should go for. The HD 300 Pro from Sennheiser produces a depth of audio detail that is near god-like.
No matter what you use your headphone for— whether it is editing, composing music, or even mixing, the HD 300 Pro will give you clean audio with all the details you could possibly want. This is done through a radical reimagining of what it means to be a headphone. For example, Sennheiser fixed the linear frequency response. Now, it doesn't interpret— instead, it just ensures neutral transparency.
An important part of the HD 300 Pro that is often overlooked is its circumaural, viscoelastic earpads that fit the ear like a glove. So many people complain about how uncomfortable headphones feel, and it's true. Some Closed-Back headphones under the $200 range really feel like a burden on the ear. But the HD 300 Pro is certainly not one of those headphones.
The Closed Back headphone has also reduced distortion and added highly sensitive transducers. This ensures the highest level of sound reproduction that you can get from a headset. If you want that three dimensional natural sound, then you should probably check out this Closed-Back headphone. And this isn't just tech talk either— the headphone sounds, really, really good. At this price point, there is perhaps only one headphone better. And it's not a coincidence that that headphone was also made by Sennheiser.
Pros
Three dimensional natural sound
Great for all kinds of studio work
Super comfortable
5. Sennheiser PXC 550-II Wireless – NoiseGard
The Sennheiser PXC 550-II Closed Back Wireless headphone comes with adaptive noise cancellation technology which ensures that you're never disturbed by unwanted background noise, wherever you are. No matter the environment, whether it's a night club, or in the middle of a filled train, the technology has got your back.
It is great as a personal travel assistant because of its one-touch access to a voice assistant button that links you to virtual assistants like Alexa and Siri. The triple microphone setup ensures that you have the best clarity when giving voice commands. It's the exact definition of seamless.
It's easy to think that a headphone that packs features like this would have a weak battery, but that couldn't be more wrong. The PXC 550–II comes with a powerful thirty-hour battery life that is more than enough to last you an entire journey.
With an ergonomic design that features rotating earcups, the headphone will perfectly fit your ear and cause you no discomfort. If you love listening to music for long periods at a time, this is the Closed Back headphone for you.
There's also a smart pause feature that allows you to automatically switch off the headphone easily. Once unfolded, the headset automatically connects via Bluetooth, so you can continue right where you left off. The smart travel feature of the headphone ensures that you can tailor the sound experience to your playlist—and it doesn't matter if it's film, news, or music— anything goes. It also has a triple microphone array that makes it easy for you to stay connected anywhere you are. The microphone detects the slightest sound and transmits it, making sure that your calls and voice commands are always captured.
If you're a frequent traveler, this is the best Closed Back Headphone under $200 for your needs. It'll isolate you from the noise in your background, and introduce you to magic.
Pros
Thirty hours battery
Bespoke mic
Exceptional fit.