There is a massive difference between headphones designed for music and headphones for audio books. When you need a headset for music, noise isolation and cancellation are not always relevant, as the loud plethora of instruments can easily cancel ambient noise. When it comes to audio books, they are read in a quiet environment, so ambient noise can easily become a nuisance. In other words, choosing the best headphones for audio books involves doing a bit of research upfront.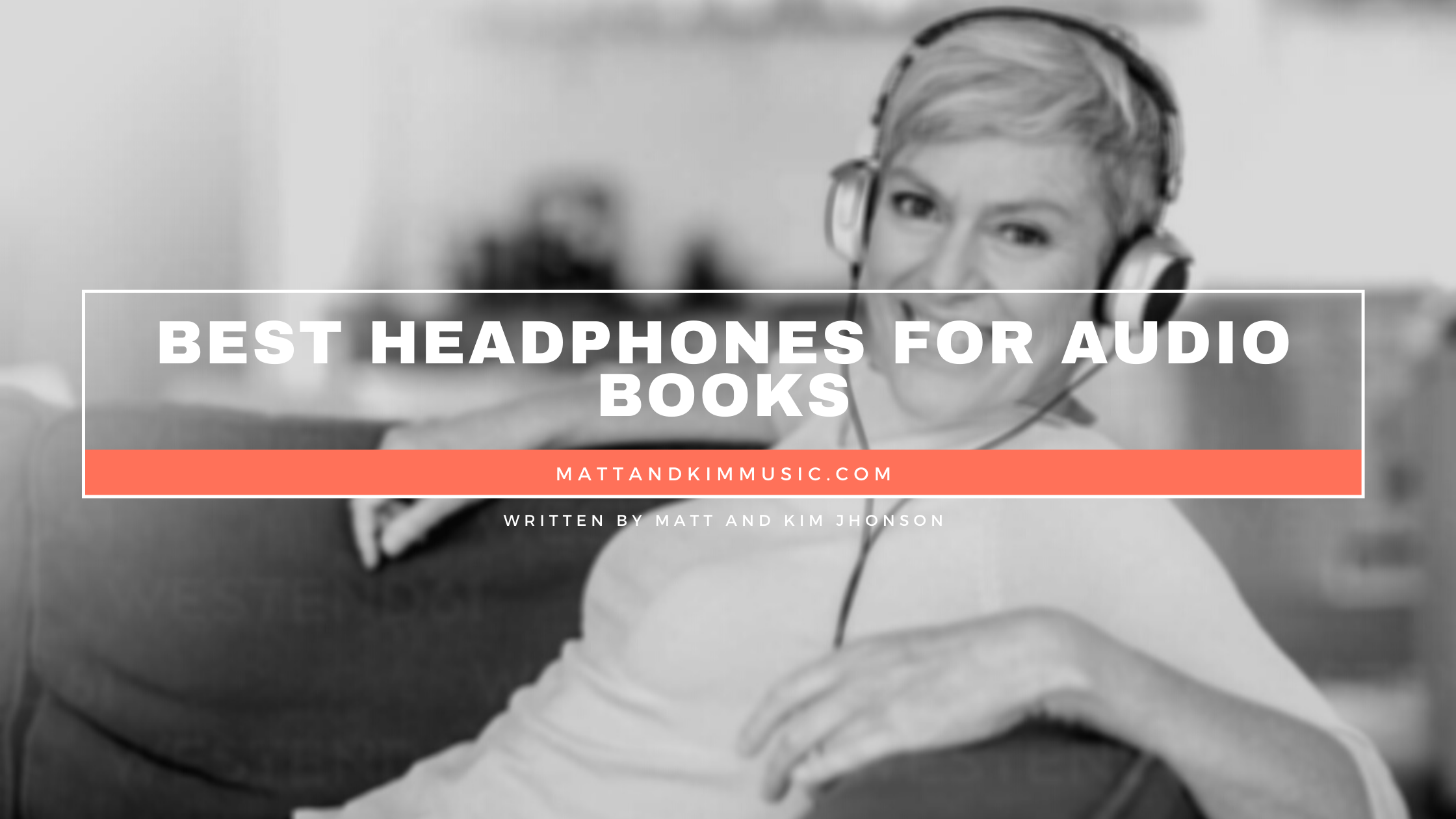 Headphones suitable for audio books should have large ear cups and easily cover your ears. You want to prevent the ambient noise from kicking in. If they also feature noise isolation or cancellation, even better. Obviously, there are loads of options out there, but some models have a better reputation than others. So, what are the top rated headphones in this segment and more importantly, what kind of features do they come with?
Top 5 Headphones For Audio Books
1. Edifier P841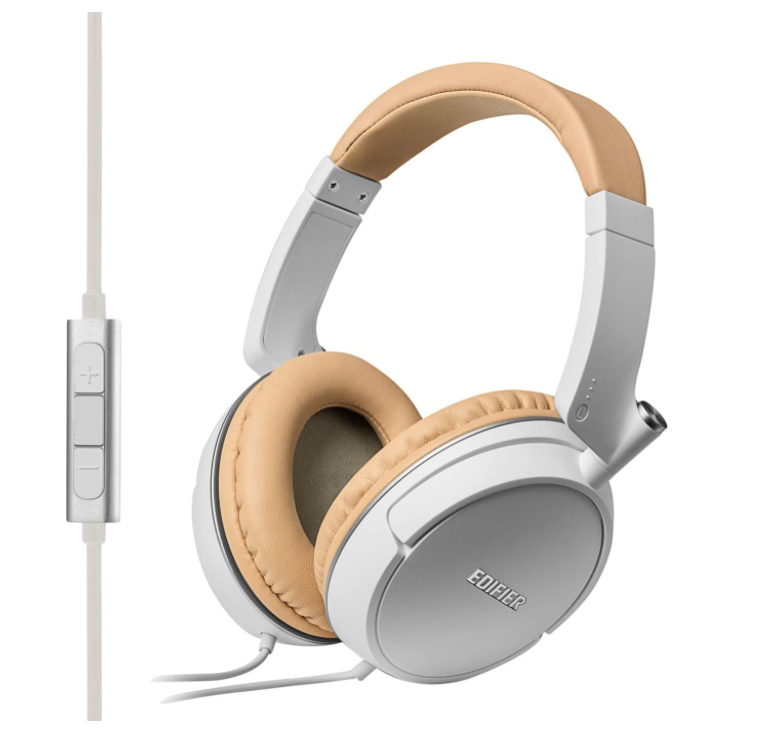 Edifier may not be the most popular name on the market. But if you take your time to research its headphones, you will notice they are extremely well rated and feature great rankings. Plus, value for money is excellent. The P841 headset is available in four colors and comes with a beautiful simple design.
Connectivity is wired. You can hook up the 3.5 jack cable into any device that can play audio. Compatibility is flawless, as most devices have this slot. You have a pretty long cable for a bit of freedom too. Furthermore, the cable features an in line microphone and controls – you can take calls, change tracks, adjust the volume and so on.
Ear cups are large and they feature massive speaker drivers. While the bass is not your main priority when playing audio books, chances are you will use these headphones for music too. They are super crisp and clear at any volume. You can hear vocals and instruments without struggling, while the bass will not distort the music at high volumes.
The fit is perfect. You have a bit of adjustability on the headband, which is pretty large anyway. The headphones will work wonders on both small and large heads. Moreover, it is worth noting that both ear cups rotate on the axis, so you can easily make small adjustments to make sure they touch your ears at the right angle.
Comfort is given by more than just a good fit though. Ear pads are well cushioned and feature a luxurious cover. The headband follows the exact same standards. The headset feels comfy and soft on your head. You will not have to remove them every few hours to let your ears relax, but use them for a whole day with no issues at all.
Finally, you may want to know that they are super durable. The headband is made of steel and the cushioning and covers are rated to last for years. As for extras, the noise isolation technology ensures ambient noise will never manage to leak in and disturb you.
2. Cowin E7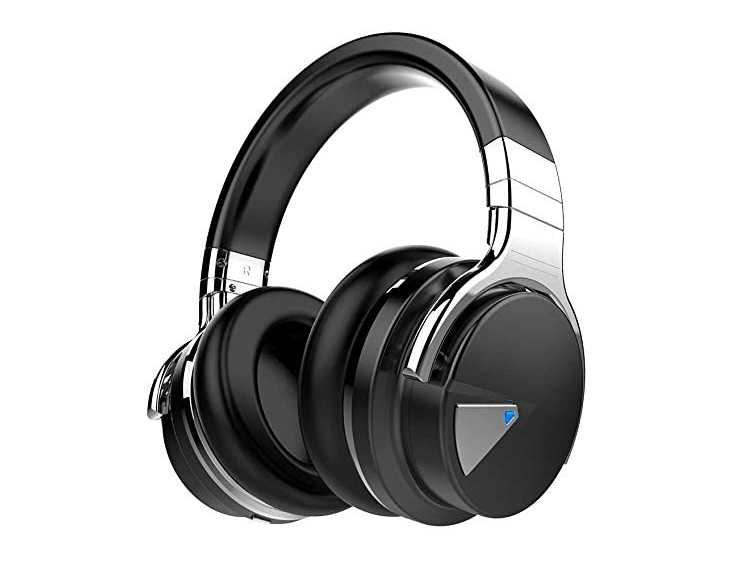 Available in a bunch of colors and featuring a sleek design with chrome accents, these headphones suitable for audio books come with active noise cancellation technologies, meaning ambient noise will be reduced whether you are in a loud office, a busy house or a plane.
Speaker drivers are large – 45mm – and ensure an accurate response. Vocals and audios are crisp and powerful. Given their capabilities, chances are you will love these headphones for music too – deep bass and clear vocals.
Connectivity is both wired and wireless. In the wireless mode, you will connect by Bluetooth. You have a 33 foot range for some freedom of movement. Pairing is super simple too. When fully charged, the battery will give you about 30 hours of playtime.
You also have wired connectivity and a 3.5 jack, which is great when you run out of battery or if you use an old device that cannot take Bluetooth connections. The headset can also take voice commands and NFC pairing.
The ear cups may seem a bit bulky, but this is what you get if you want a large battery, quality drivers and lots of padding. The cushioning is super soft and the ear cups ensure a perfect fit – plus, the headband is adjustable in length.
When it comes to extras, you have a built in microphone. It has a quality noise isolation feature, so your voice will be super clear.
3. Mpow BH381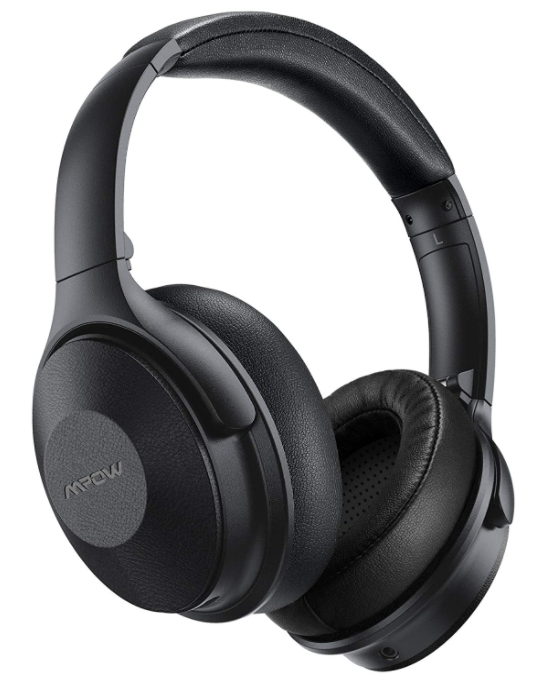 Mpow's noise cancellation headphones for audio books will successfully clear out ambient noise, be it from an airplane engine or a loud office. You can focus on what really matters without being bugged by annoying sounds.
These headphones come in three different colors – black, pink and gray. They have a simplistic matte appearance and they can easily cover your ears. At 7.24 ounces, these are some of the lightest headphones in this price range.
The headband folds for easy storage and transportation. It is also adjustable. Throw the swiveling ear cups in and finding the ideal fit is only a matter of seconds. You get a pretty good grip, but without any pressure on your ears – not even if you wear glasses.
The wireless connectivity goes over Bluetooth. You have a large 650mAh battery. When fully charged, the battery provides up to 45 hours of playtime. If you are in a rush, charge the headset for 10 minutes and you will get a couple of hours of playtime.
The headset comes with a built in microphone – crisp and clear. Even if you take a call on a windy day outdoors, your voice will still be super clear. You have wired connectivity as well – a 3.5 jack that works with pretty much every device on the market. You should know the microphone works in the wireless mode only.
Finally, the massive 40mm drivers ensure a good bass and excellent audio. They are covered in plenty of cushioning for your comfort. The top part of the headband is also cushioned for a soft experience.
4. PowerLocus Active Noise Canceling Headphones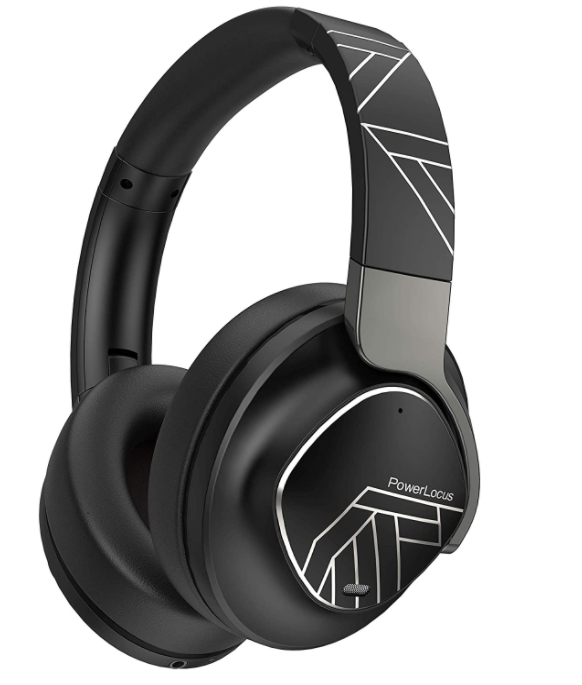 These headphones made for audio books come with the world renowned active noise cancellation technology – they send waves against ambient noise to cancel it, so there is nothing to worry about when it comes to audio leaks. You can play your favorite audio books in a plane, a loud gym or a busy office.
The headphones have large ear cups and come in a few different colors. They also feature a bi-fold design, meaning they fold for easy storage and transportation. Moreover, the package includes a hard EVA case to keep your headset in good condition.
The sound is super clear – large speaker drivers, as well as a terrific bass and crisp audio. It makes no difference if you are after audio books only or you are also into gaming or music. It makes no difference how low or high the volume is.
Ear cups fully cover your ears. They feature protein foam and eco leather. You will notice the inside part of the headband is also padded for extra comfort. The headband is adjustable and the ear cups swivel to 90 degrees – finding the right fit will never be an issue.
Connectivity is wireless. It goes over Bluetooth. You get some freedom of movement due to the 33 foot range. Pairing devices is fairly simple and further connections are automatic. The battery will bring in up to 70 hours of playtime.
Last, but not least, you also have a 3.5 jack cable for wired connectivity. It is great if you run out of battery or you use an old device with no Bluetooth capabilities.
5. PowerLocus Bluetooth Over Ear Headphones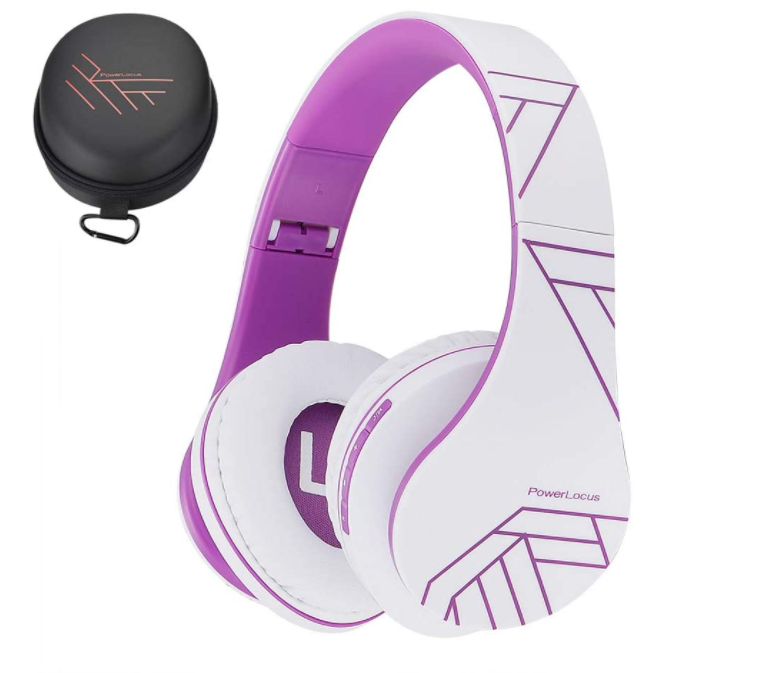 PowerLocus is a champ when it comes to value for money. Its best headphones for audio books come in a bunch of different color combos and feature a large over ear design. Given the high level of adjustability, they are suitable for both kids and adults.
The large speaker drivers guarantee for high definition audio – super clear bass and deep vocals and instruments. Everything is clear at any volume. The noise reduction technology is similar to the noise cancellation one in efficiency, only it is cheaper.
Connectivity is done over Bluetooth. The 33 foot range is more than enough to play music or your favorite audio books while moving around the house or office. Pairing is simple and the headset is compatible with any Bluetooth device.
When fully charged, the battery provides about 15 hours of playtime. Worried about it? Hook in the 3.5 jack cable and you will switch to wired connectivity. The cable works with more devices – including those that cannot connect wirelessly.
Comfort will never raise any issues. You will notice the ear cups are bulky and large due to the heavy cushioning. Memory foam ensures the padding will adapt to the shape of your ears, while the protein leather adds to the softness.
The headband is adjustable and finding the right fit should only take a few seconds.