As a guitarist, it will be amazing to hear your own guitar signal via a nice pair of headphones. Such a great device will enable you to differentiate clearly between any slight nuance and the playing that demands rigorous practice.
With a great pair of electric guitar headphones, you'll experience a smooth and effective practice. When using an amp, some players are fond of engaging in the habit of suppressing their sound, either by distorting it or raising the volume too loud. Consequently, they become unable to recognize the errors that they are committing.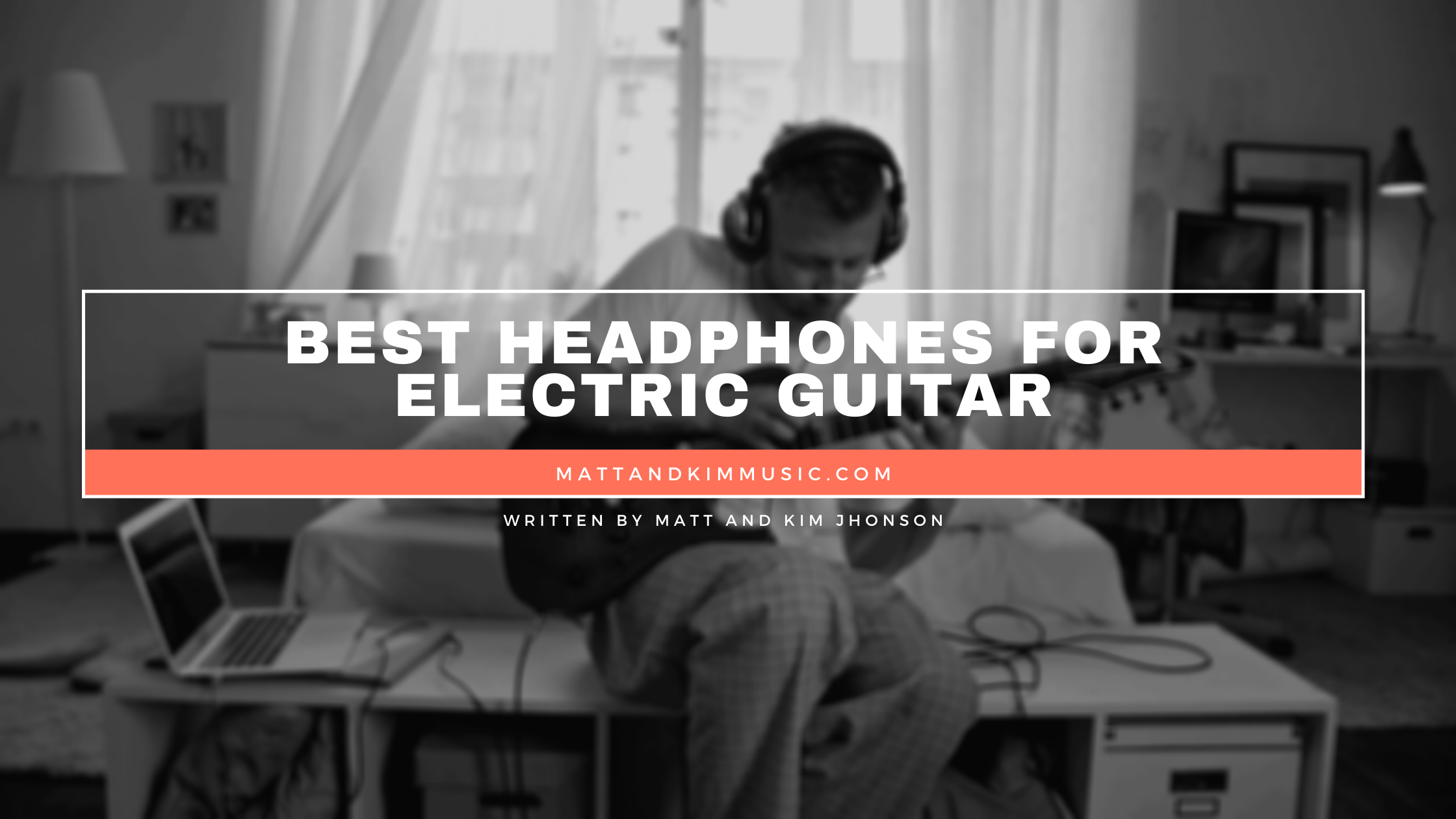 Using a good pair of headphones for electric guitar will enable a guitarist to acknowledge the sound of their guitar. You'll be able to appreciate it clearly as if it was operating in an audio console and operating on monitors. That is, you'll grab the process of recording, mixing, and mastery of music.
Are you looking for the best guitar headphones that you can buy to practice and at the same time improve your playing experience? Or are you searching for a suitable pair of guitar headphones for home recording? Here are the reviews of the best headphones for electric guitar available on the market.
Best Headphones for Electric Guitar in 2021 are:
1. Audio Technica Ath M50x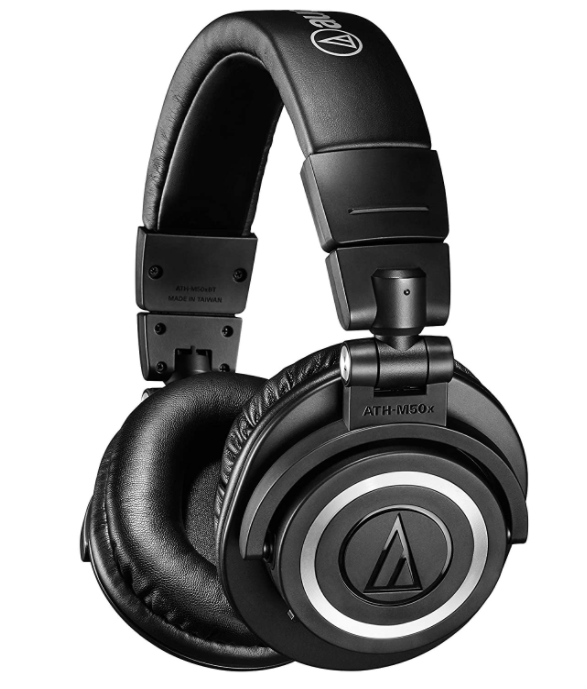 Audio Technica ATH M50X is one of the most popular headphones for electric guitar, especially among musicians and professionals. In recent years, the demand for this product has soared to the extent that the manufacturers had to redesign the entire "M-Series" to arrive at a more elegant and modern-day design while still maintaining their unique sound.
The ATH-M50X, which is the latest version, delivers clear sound, great bass response, and augmented frequency range that are the distinct qualities of bass guitar headphones. Besides, the company made a substantial improvement by enhancing the circumaural design (improved noise isolation), rotary phones (that is suitable for one-ear monitoring), and powerful construction.
In addition to the above, the ATH M50X is easily foldable, so you can store them in your bag while commuting. They have 3 different types of cable, namely a 3m curly and 2 straight cables of 1.2m and 3m.
You can practice with them in different environments or when you need to move around. They are also very convenient for use as your headphones for guitar amp for commuting or traveling.
In conclusion, the ATH M50X headphones are designed to meet your specifications of closed-back headphones at a budget-friendly price. Compared to their counterpart in the same price range, they have a universal design. If you like, you can buy a Bluetooth adapter to support them.
2. Sennheiser HD 600 Headphones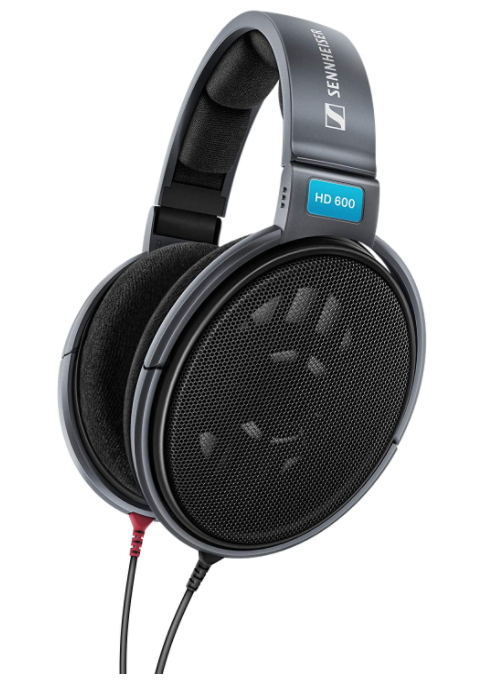 Sennheiser boasts of being the leading studio-oriented electric guitar headphones. They are built to meet your requirements for a pair of affordable yet high-quality headphones. HD 600 are open dynamic stereo and audiophile-grade that are perfect for studio use.  They come with an advanced diaphragm and have virtually no standing waves.
They produce a pure sound that is devoid of hearing disorders. The outstanding transient response offers you a pleasing audio experience.
The compact aluminum voice calls and the neodymium magnets also give you unequaled sensitivity.
Apart from the performance, the comfort of use is another important aspect to look at.
HD 600 has a glamorous finish and detailed design including an adjustable padded headband and cushioned earpads.
The great open-ear cups with metal mesh pads do not only help in delivering a very transparent sound but also improve the aesthetics of the design.
Though you may experience some sound leaks in the room, these headphones are superb. The HD 600 also has a computer-optimized magnetic system made to reduce harmonic distortion and intermodulation.
They have a detachable, Kelvar-reinforced OFC copper cable. They come with a 2-year warranty. They are an excellent pair designed to suit your needs.
3. Beyerdynamic DT 770 Headphones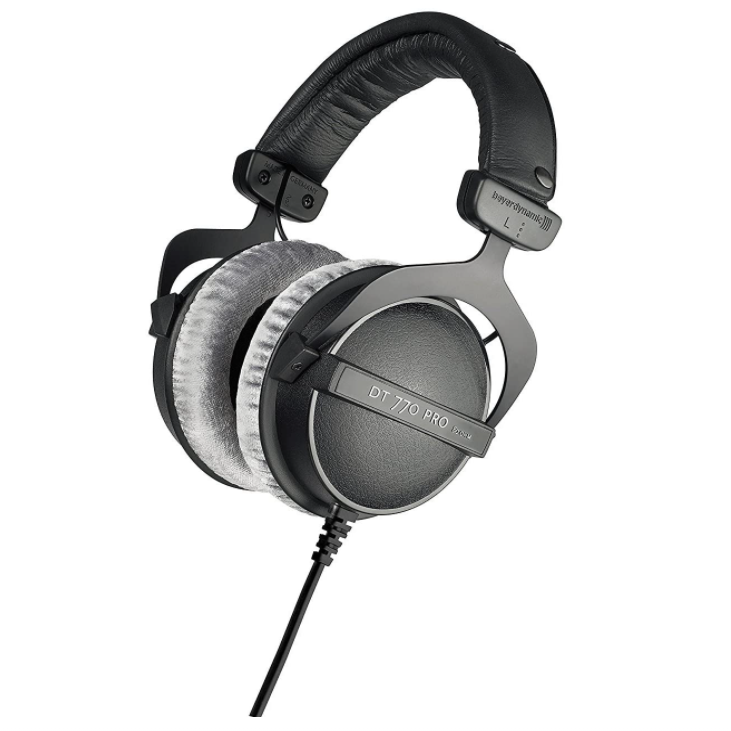 The DT 770 are excellent closed-back headphones used for a wide range of things and various kinds of playing such as electric guitars, acoustic guitars, bass guitars, and many others. They can serve different purposes such as mixing, live monitoring, sound design, recording, and more. These headphones for electric guitar are so versatile and extraordinary that they are the preferred choice of prominent professionals.
The DT 770 headphones come with replaceable cables and cushions. The incredibly comfortable silver cushions are perhaps the most conspicuous feature of the device. However, the headphones are not suitable for use in a very hot environment because they are not made of dri-FIT.
Besides, the DT 770 Pro gives you a balanced and detailed sound. These are amazing especially if you are a lover of bass-heavy guitars that have the "Bass Reflex" technology of  Beyerdynamic's design. They have a clear and well defined low end that can be compared to the availability of a subwoofer in a corner of your room. However, they don't overdo the above effect. DT 770 can also be used as mixing monitors, mainly because of the presence of the bass response rather than bass enhancement.
4. Beyerdynamic DT 880 Pro Headphones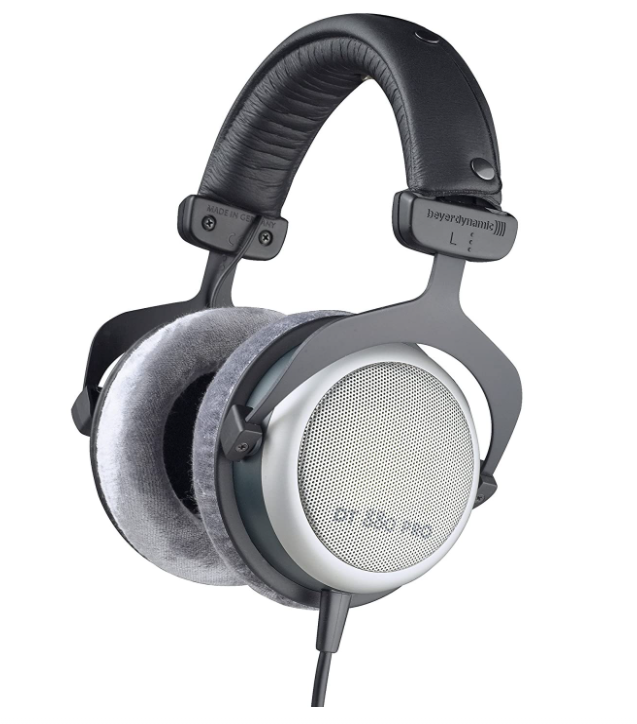 Another pair of electric guitar headphones on our list is the Beyerdynamic DT 880 Pro Headphones. They are semi-open headphones made for studio use. They have a neutral and natural sound, so they are suitable for mixing sessions and progress monitoring. The adjustable cushioned headband and permeable ear cup design allow for maximum comfort. The circular ear pads also offer you acoustic accuracy as they block out external sounds from interfering with your listening experience. This amazing design is also widely used by professionals in different sectors.
The headphones come with a single-sided coiled connection cable that has a ¼-inch jack adapter and a mini-jack.
The DT 880 Pro is perfect for use both in the studio and at home for gaming, listening to recorded instruments, or gaming.
Irrespective of the purpose of the use, the balanced sound, and wide stereo image are some of the reasons producers and audio engineers prefer the DT 880 Pro to others in this category. The sound has amazing detail and depth both at high and low volume. The price of the product is very reasonable. However, the company also produces a DT 880 version for home use which is more affordable than DT 880 Pro.
There is not much of a difference between the two except that the home model has a little softer headband to ensure optimum comfort and pleasure, while the Pro version comes with a spiral cable. Both, however, produce the same sound clarity, so you can choose either of the two that falls within your budget.
5. AKG K44 Studio Headphones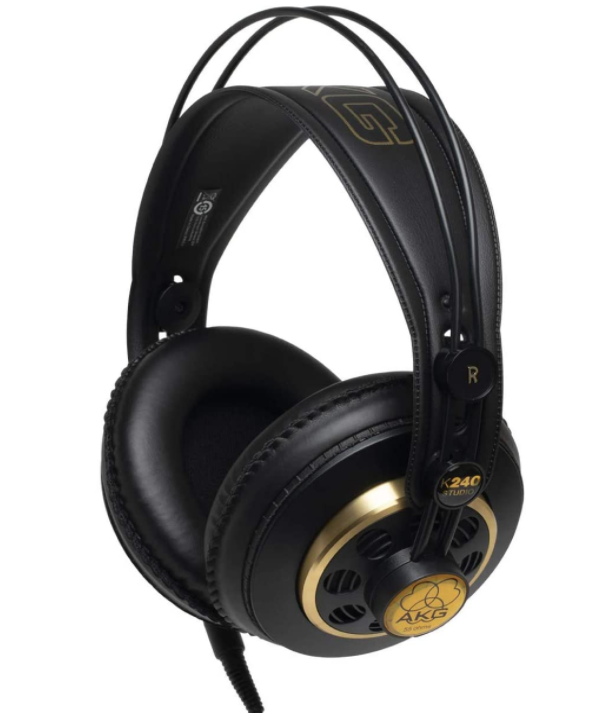 AKG K44 Studio Headphones are your perfect choice if you need cheap headphones below $100 to practice guitar with. The K44 is semi-closed. They are comfortable for use. They come with an 8′ cable and a 3.5/6.5 mm stereo adapter. You'll discover many features in them.
The sound is very clear but somehow overdone on the bass and mid frequencies. Fortunately, the treble isn't too tapered, so the headphones fit our criteria and are highly recommended. In terms of quality, they rank higher than their competitors including Bose and Beats. We suggest you try these headphones for electric guitar for practicing and playing guitar.