I have to admit that it is quite easy to get headphones for yourself or an adult.  But, the complication sets in when you are trying to get the best headphones for your kids. You want to know why? It involves an entirely different process. There are so many aspects of kids' headphones that you need to pay attention to. For starters, you need to pay attention to the volume-lifting technology, ensure that the style of the headphone is fancy and is designed for kids and they should sit on their ears properly. That is, the headphones should fit their ears properly rather than look out of place.
Everything about kids is quite fragile. So, as an adult or a parent, you have to ensure that their hearing is protected. In as much as you prefer your kids relaxing by listening to good music through their headphones rather than through a speaker, you do not want to get them, ear blasters. If you want to be comfortable while babysitting your kids, just make sure that their headphone doesn't pose the risk of any potential hearing damage. As a result, while shopping for headphones for kids, shop for kid-friendly headphones as these headphones have volume restrictions. This is important because extremely loud noise can damage their overly sensitive hearing.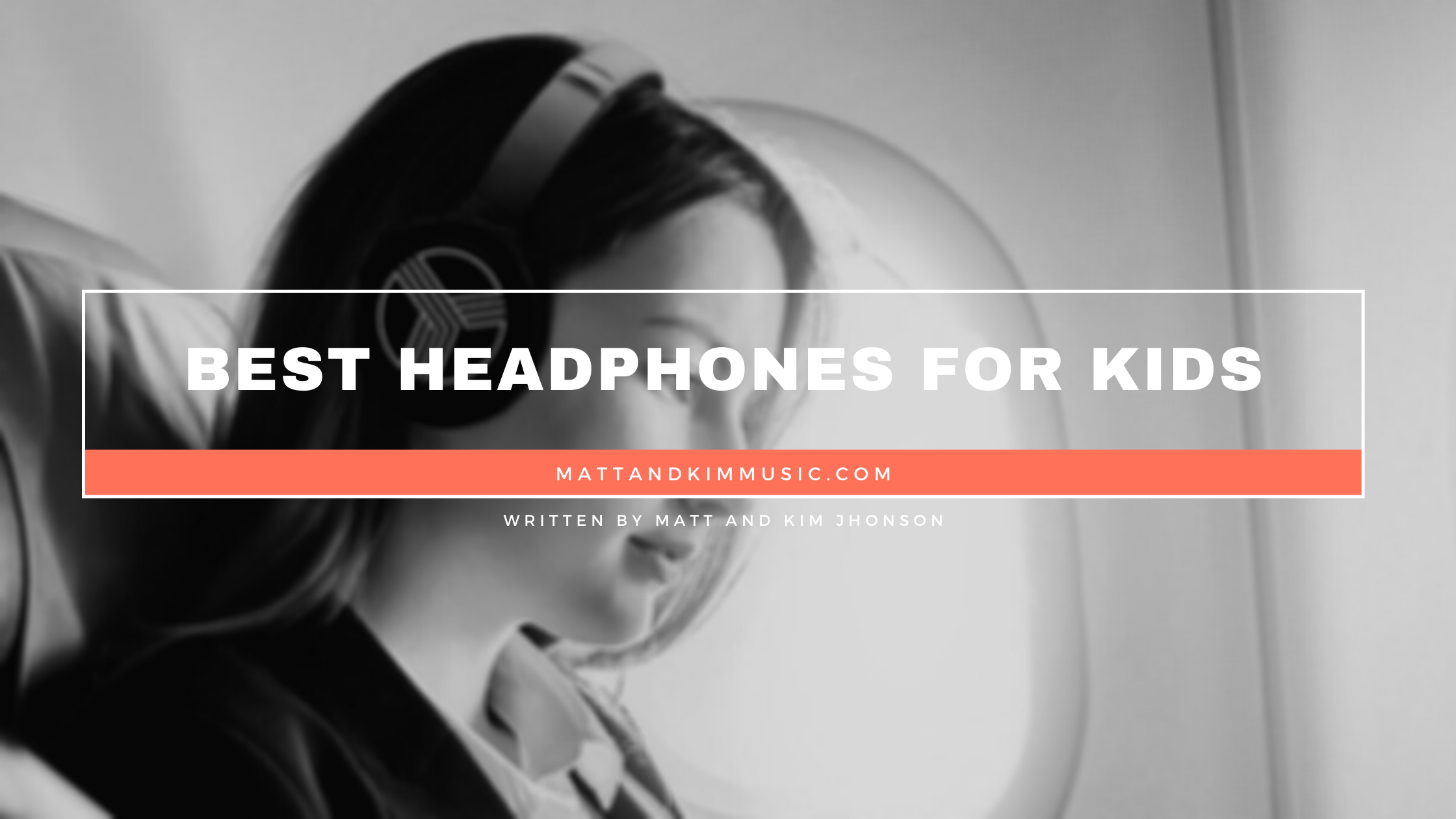 Okay, don't panic or give up on getting your niece, nephew or child a pair of headphones yet. We have a solution for the complication that comes with buying headphones for kids. Sure it is a delicate ground to walk on as you can't tell which is perfect for your kid and which isn't. But guess what? We have reviewed the best headphones for kids. Now, all you need to do is buckle up and prepare to find that headphone that's great for your kid.
Best Headphones For Kids in 2021:
1. iClever Boostcare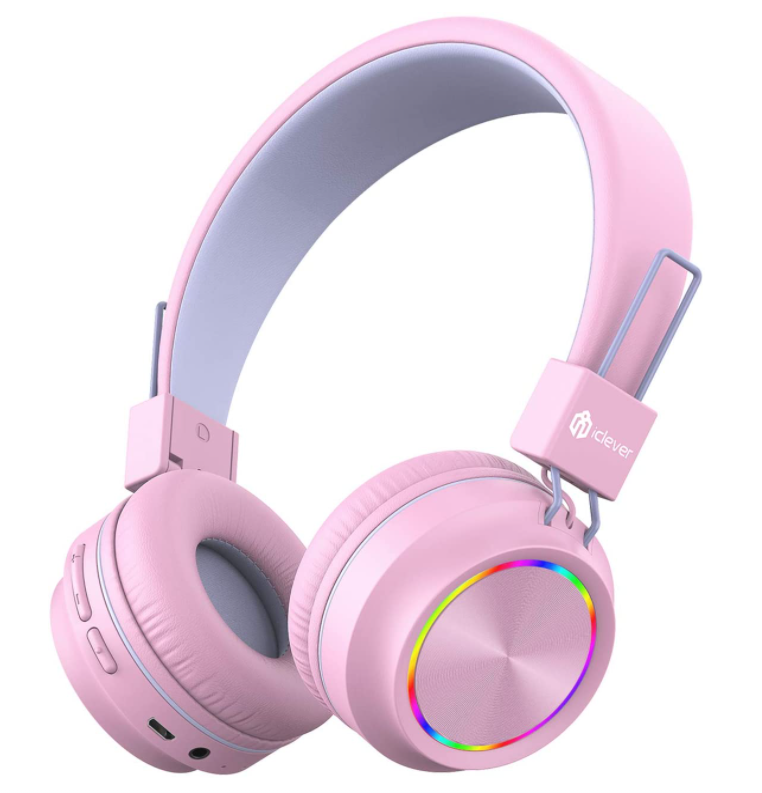 The first headphone on our list is the iClever headphones. With the fancy design of a cat's ear on top of the headphone, this headphone is perfect for young kids. Aside from the design, you have nothing to worry about because of the volume limiting technology. This feature ensures that your kids cannot listen to songs with the headphone on volumes higher than 85db. Frankly speaking, 85db is best for children's hearing. It poses no threat at all to their hearing ability as kids.
Another thing with these headphones is that you can bend and stretch them and it's all thanks to their food-grade material. The best part? Kids can listen to songs with this headphone for long hours without their earlids getting sore. Rather than be in pain, the soft headband and cushioned covers ensure that they experience maximum comfort while they listen to their favorite song on the radio or off their playlist.
If your kids are between the ages of 3- 12, giving them this headphone as a birthday or Christmas present might be a great gift idea. Don't worry these headphones work perfectly with any device from Android, Lenovo, Tablets, Samsung Galaxy phones, iPhones, iPods, etc.
There are a couple of reasons why these headphones are the best kids headphones in 2020. It is durable and very safe. Also, it produces great sound quality that would not damage the eardrum of your kids. And let's not forget to mention the design. The design is amazing and fancy. The cat ears on top of the headphone makes it easy for your kids to fall in love with it.
2. Noot K11 Kids Headphones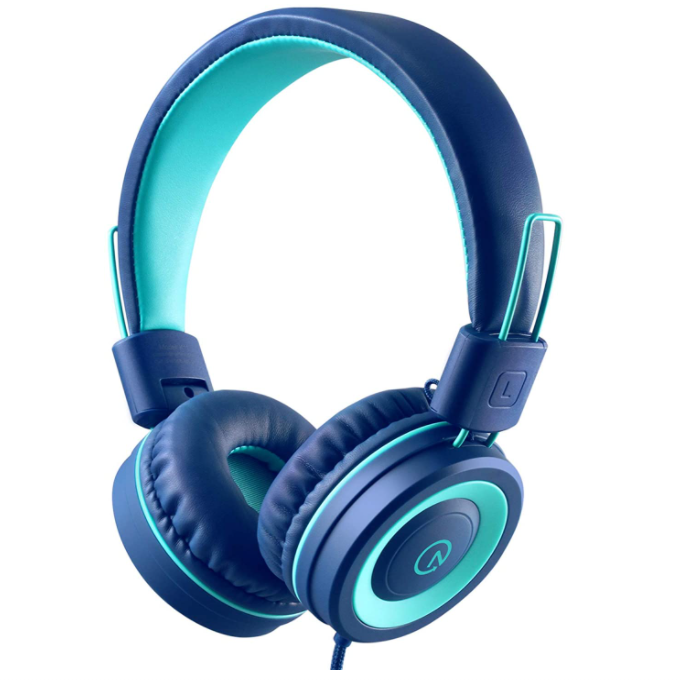 If your son or daughter is around the age of 3 years old and above, you should consider getting these headphones for them.
Even though it looks all blue and cool, it has no volume-limiting technology. In other words, your kids can increase the volume to be a little louder than expected which could be a bit dangerous. However, one thing you can be sure of is that this headphone has amazing sound. It is refreshing. Even though they are not wireless headphones, your kids can still easily travel anywhere with it. Also, the cord is absolutely tangle-free.
The earmuffs are soft cushioned. The effect? The headphone makes your kids' music-listening experience comfortable and pain-free. They can use the headphone too when they are asleep or when they leave it at home and this is all thanks to the adjustable headband.
Regardless of this headphone not having a volume-limiting feature, they made it to our best kids headphones for any child list because they are lightweight. You would almost not feel it on your head whenever you wear it. With the noise blocking feature, your kids can get soaked into what they are watching or listening to.
3. LilGadgets Kids Headphones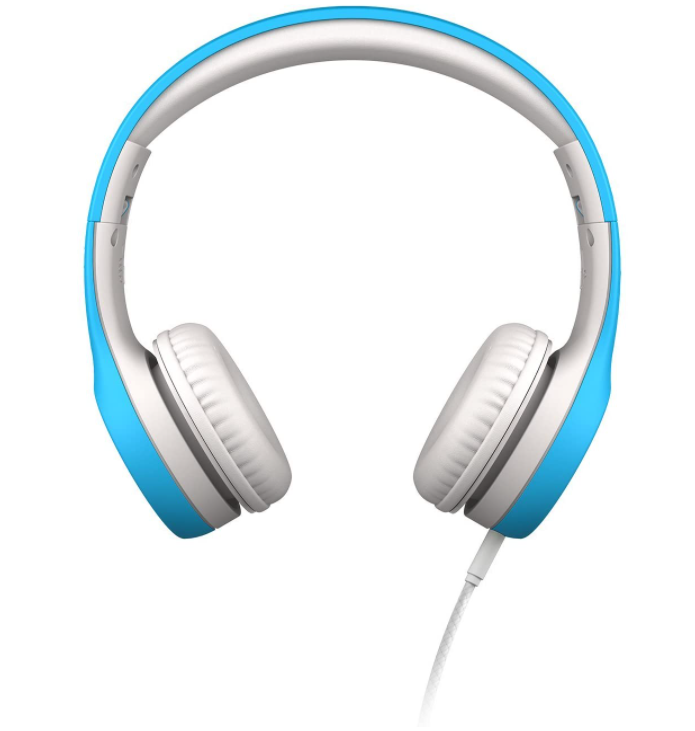 Perhaps one of the best features this headphone has is the buddy system. If you have twins or siblings that like to share their stuff, this buddy system is great for them. This system allows you to connect more than one headphone to a laptop, etc. And guess what? You wouldn't need an extra cord or cable splitter to achieve this. It is a great way to encourage your kids to do things together.
For instance, connecting about two or three LilGadgets Kids headphones to a laptop or mobile phone allows them to either watch a movie or listen to songs together. When it comes to design, it is quite simple. It looks like a regular headphone. Hence, most kids would love it because it looks fancy but still mature.
You can receive calls with this headphone thanks to the audio quality. It is smooth and enjoyable. Nevertheless, it has the volume-limiting technology with the maximum volume set at 93db.
Aside from the volume-limiting technology, the earmuffs are padded and built to give maximum comfort. And the headband? Easily adjustable to fit any head shape which is a good thing. Your kids can keep using this headphone as they grow older until it stops working or they request another one. So, when next you think of getting headphones for children as a Christmas gift or birthday present, here is one amazing option for you.
4. Ailihen MS300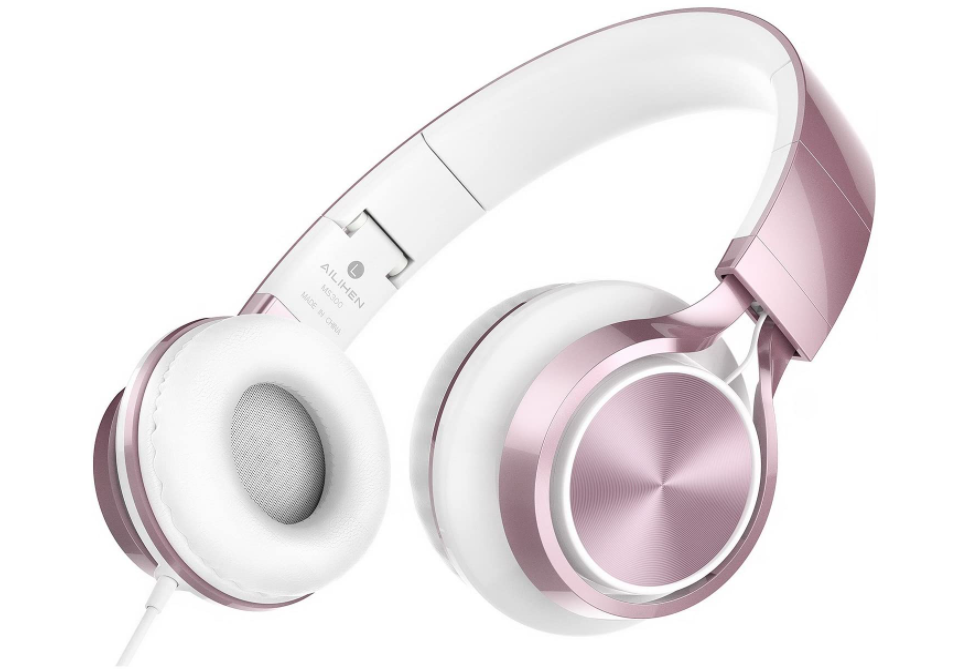 The first thing that hits you when you set your eyes on this headphone is that you doubt if the manufacturers designed it for kids. Well, while it might not follow the expected kids' headphone design, your kid would love this.
And here's why! Some kids grow up so fast that they stop wanting things that look too fancy and childish. So, if your kid falls into this category, you might want to consider buying her/him this headphone. Let's dive deeper into why investing in this headphone might be worth it.
First, the earmuffs are made to be breathable. Thus, your ears won't sweat much no matter how long you wear them. As for the headband, it is adjustable and you can fold it when it is not in use. And thanks to the braided nylon cable, the cord won't tangle.
This headphone utilizes the sweatproof feature to protect the ear cushions. Regardless of how much you sweat on the cushion, it won't get damaged.  They come in a few different colors.
Sometimes, simple is the best and this headphone proved it with its amazing sound quality. The bass and treble quality is quite outstanding, making them one of the best headphones for kids.
And don't worry, you can lend this headphone from time to time as they look nothing like they are meant for kids.
5. Mpow 2-Pack Kids Headphones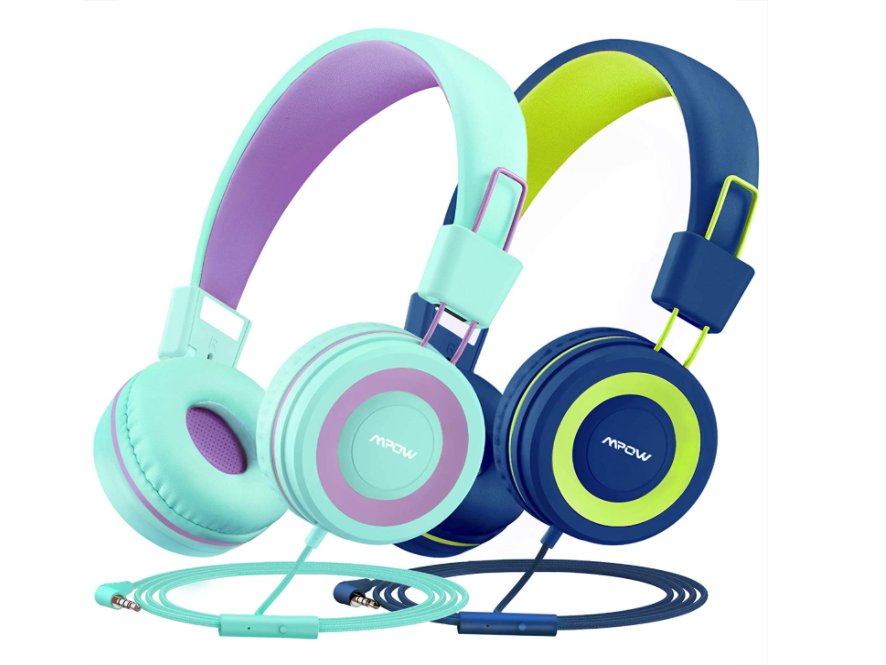 From the title, these headphones come as a pack of two. Unlike the Ailihen MS300, these two headphones are designed to be fancy for kids. But, they have great value, and here's what I mean. It comes with the volume-limiting feature that ensures that your kids do not expose their eardrum to possible damage. If you are curious, the maximum volume is 85db.
The headphone is portable and foldable. Simply fold it and your kids can safely travel anywhere with it. Also, the adjustable headband makes it flexible and comfortable to use. Regardless of the volume limiting feature, your kids would still enjoy the great sound quality that this headphone produces. And yes, the earmuffs make it safe and comfortable for them to wear it for prolonged hours. Hence, you got nothing to worry about.
Let's also not forget to mention the anti-tangling technology that this headphone utilizes. It prevents the cord from tangling even though your kid might be clumsy. Looking for the best headphones for younger kids? Look no further. These headphones have everything your kids want and need. From fancy or simple designs to volume-limiting technology, anti-tangling technology, etc. Choose any of these headphones on our list and your kids are in for a real treat.