A good pair of Headphones for sensitive ears can take your audio experience to another level. If you are into music, headphones will easily outweigh classic speakers and can provide access to clearer instruments and crisp vocals. If you are into games, they come with a major advantage over your enemies – the ability to hear footsteps and small details. But headphones often come with an issue…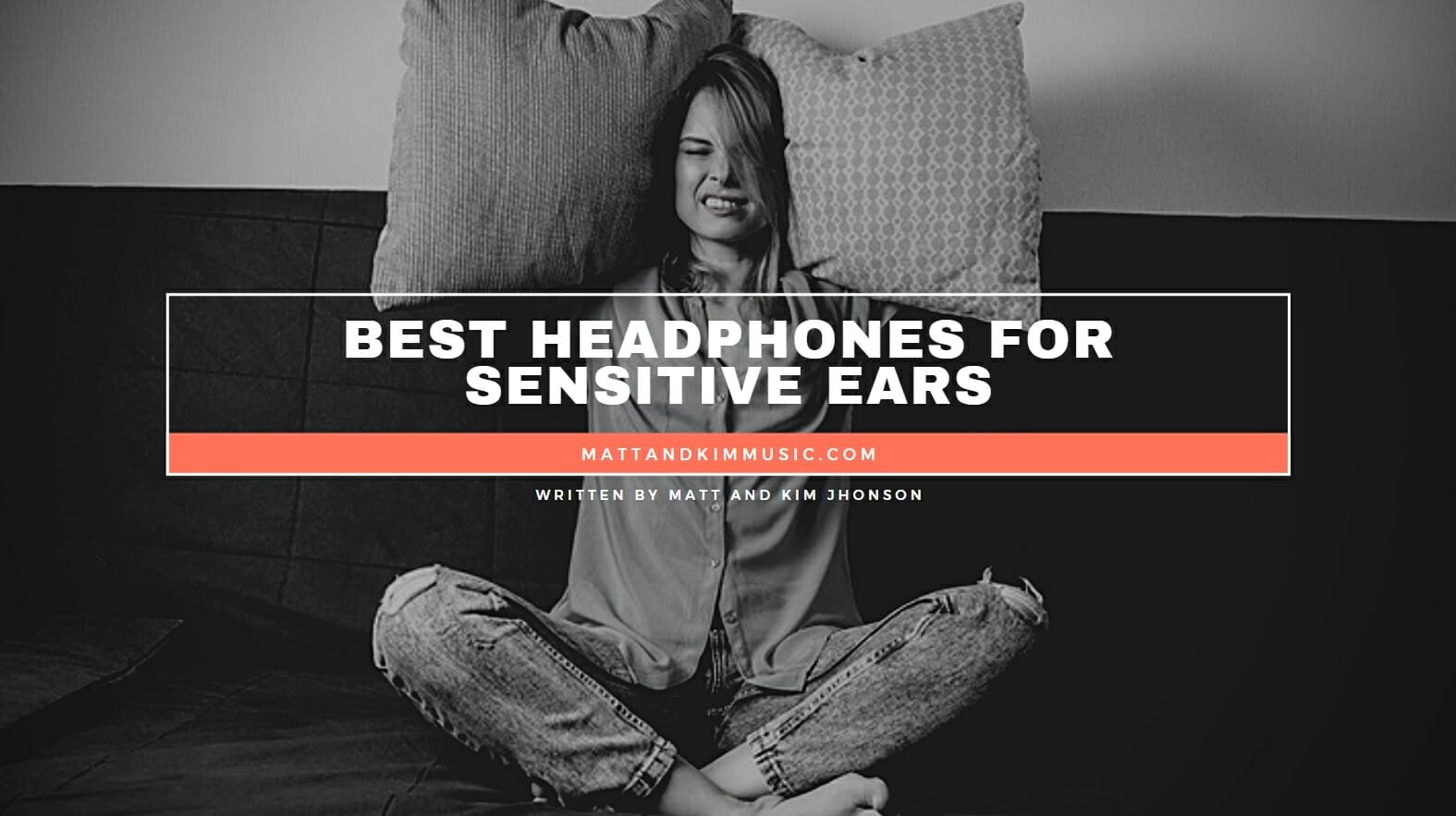 Wearing headphones for many hours may cause discomfort and painful ears. There are, however, a few models that come with little to no pressure and a few features to increase comfort. Choosing the best headphones for sensitive ears could be difficult without doing your homework. Here are some of the top-rated options based on people's personal experiences.
Top 5 Headphones For Sensitive Ears
Rockpapa's headphones provide excellent value for money. They come in a sleek and simplistic black design, but you can also buy them in a bunch of other color combinations. They are suitable for kids aged six or older, as well as adults.
When it comes to kids, the headset will provide over-ear cups. Adults will experience an on-ear headset that goes soft on their ears. You have cloud foam cushioning and eco-leather for a comfy experience – you can play music or games for hours without feeling any pressure.
The headband is well adjustable – hence the popularity of this headset among both kids and adults. The metallic understructure allows a bit of flexibility, so you can get a good fit without experiencing painful sensations.
The sound is excellent for this price. You have large speaker drivers, so you can enjoy deep bass and exquisite clarity, even if you turn the volume too high. Vocals and instruments are distinguishable at low volumes too.
In terms of connectivity, you have a five-foot cable. It ends with a 3.5 jack, which is suitable for most devices on the market – consoles, computers, tablets, TV sets, phones, and so on. It is L shaped for durability and convenience.
There are no fancy bells and whistles – no extras either. This headset is inexpensive and provides just what you look for – a good audio quality and a comfortable experience.
Pros
Durable and well put together
Suitable for both kids and adults
Excellent value for money
Compatible with most devices
Sleek design
Cons
MKJ's comfortable headphones with no pressure on your ears will surprise you. They feature a solid design and large ear cups, but they are also good looking. They are available in a few different designs, with the large ear cup USB option being the most popular one.
Connectivity is wired. It goes over USB, meaning it is compatible with anything that has such a slot. You might need an adapter for some devices, such as most smarphones. The headset is mostly recommended for computers – music, games and office or call center work.
The headphones come with a microphone that should go in front of your mouth. Ear cups are thick and well padded. They do not put any pressure on your ears, so you can literally keep the headphones on for a full working shift without experiencing any pain.
Headphones do not provide noise cancellation, but the large ear cups can seal the noise in and prevent ambient noise. The microphone is a bit more advanced though and comes with noise cancellation – loud sounds are simply cleared out. Ear cups feature large drivers for a good audio experience though.
The microphone has voice recognition too. You have more control over your activities. Plus, in line volume control will adjust the productivity while you work. A clip for cable management is also included for convenience.
In terms of durability, this headset can literally take eight hours a day without showing any signs of wear and tear. It has been created for professional workers, so it can take a good beating.
Pros
Sturdy design and durable materials
Noise cancellation features for the microphone
Good audio quality
Super comfortable to use for hours
Great for workers, gamers and music lovers
Cons
USB connectivity is not suitable for mobile devices
OneOdio's comfortable headphones with cushioning come in a beautiful sleek style and a black design, yet you can also buy them in silver. They have large ear cups, but the cushioning makes them comfortable on your ears.
Featuring 50mm neodymium drivers, there is nothing to complain about in terms of sound. You have a deep bass and clear instruments and vocals. Both low and high volumes will ensure the same high quality audio.
Furthermore, OneOdio has carefully tuned its headphones for a more natural sound. Both vocals and instruments will sound realistic. High notes are less likely to get distorted, so these headphones are suitable for music, games and even professional uses in a music studio.
The cable is detachable and features a 3.5 plug and a 6.3 one. In other words, it works with any device out there, including old phones, gaming consoles, laptops, TV sets and so on. The headset is a plug and play device.
Large ear cups ensure a good seal against ambient music. They are well padded for comfort – the same rule applies to the headband, which is also adjustable for a better fit. The ear cups also tilt to 15 degrees.
In terms of extras, you may not have fancy features like active noise cancellation, but you have a quality noise isolation feature. Plus, the padding on the ear cups features protein cotton.
Pros
Multiple connectivity options for maximum compatibility
Durable materials
Great fit
Suitable for gamers, music lovers, office workers and studio professionals
Great value for money
Cons
No controls on the ear cups
Beats has some of the best-rated headsets in commerce and its headphones for sensitive ears will surprise you with their comfort. They come in a bunch of funky colors, with light blue being the most popular option.
Apart from the sleek design, the headset does not look bulky at all. It has a long headband that feels soft and comfortable on top of your head. You can easily adjust it if you have a small head though. Moreover, the memory cushioning for headphones ensures there is no pressure on your ears, even if you use the headset for hours.
Class 1 Bluetooth connectivity clears the frustration associated with cables. It has an extended range, so you can freely move around without experiencing dropouts. You have about 22 hours of playtime, but it can go up to 40. You can charge the headphones for 10 minutes and get about three hours of playtime.
The headset comes with active noise cancellation technology. Ambient noise is well filtrated. The technology involves emitting waves to block all the external noises. You can turn it on or off – if you keep it off, the battery will last longer.
It is worth mentioning the transparent operating mode too. While noise cancellation is present, the transparent mode allows a few sounds in. This way, you will be aware of the surroundings – handy if you work in an office or you play your favorite music while walking or jogging.
Last, but not least, you have a few controls on the ear cups, a built in microphone and integrated voice control.
Pros
Superior Bluetooth connectivity
Transparent mode to keep you aware of your surroundings
Active noise cancellation technology
Comfortable to wear
Highly adjustable
Cons
Might hear a static sound in the background when the unit is turned on
It seems that ear comfort has always been a priority for Riwbox and its headphones, but the WT-8S model can easily stand out in the crowd. The design might look a bit childish, but you could do with some lights and colors at times – especially when you play games or you take a jogging session at night.
The headset comes with memory cushioning for the ear cups. They are quite thick and ensure a good noise isolation experience – no active noise cancellation though. The headband feels soft on your head, but it is also adjustable for a comfy fit.
Connectivity is both wireless and wired. The wire is long enough to prevent discomfort. It also ends in a 3.5 jack, meaning it works with all kinds of devices – MP3 players, smartphones, TV sets, or gaming consoles. It is also suitable for old devices that cannot make a Bluetooth connection.
On the other hand, the Bluetooth 5.0 connection is wireless. You have good battery life and a decent range of 33 feet. Once paired, you will not have to do it again – the headset will reconnect automatically when in range.
The headset features a foldable design. It is easy to store or transport without risking to break its joints. Whether you play some music in the dark or you enjoy a good game, the stars on the ear cups will change their colors according to the rhythm – LED-based.
Finally, the headphones come with a built-in microphone for convenience.
Pros
Great audio experience
Comfortable to wear for hours
Wired and wireless connectivity
Compatible with almost every audio device
Easy to adjust
Cons
LED lights on the ear cups may distract you at times