Sometimes, you find yourself deep into a run with very little energy left to carry you through the final lap. When you get to this point in your workout, the blast of your favorite music flowing through excellent headphones can re-energize and empower you to continue and complete your run.
Good music can keep you motivated during your workout sessions which is why you must get yourself the best wired headphones for running and workouts.
Running does not just push you physically, it affects you mentally hence you need premium quality headphones to furnish you with the sound you need for the best workout sessions of your life.
There are a lot of similarities between headphones designed for running and those built for commuting and home use. The major difference lies in the specific features designed to help you get the best out of your workout session.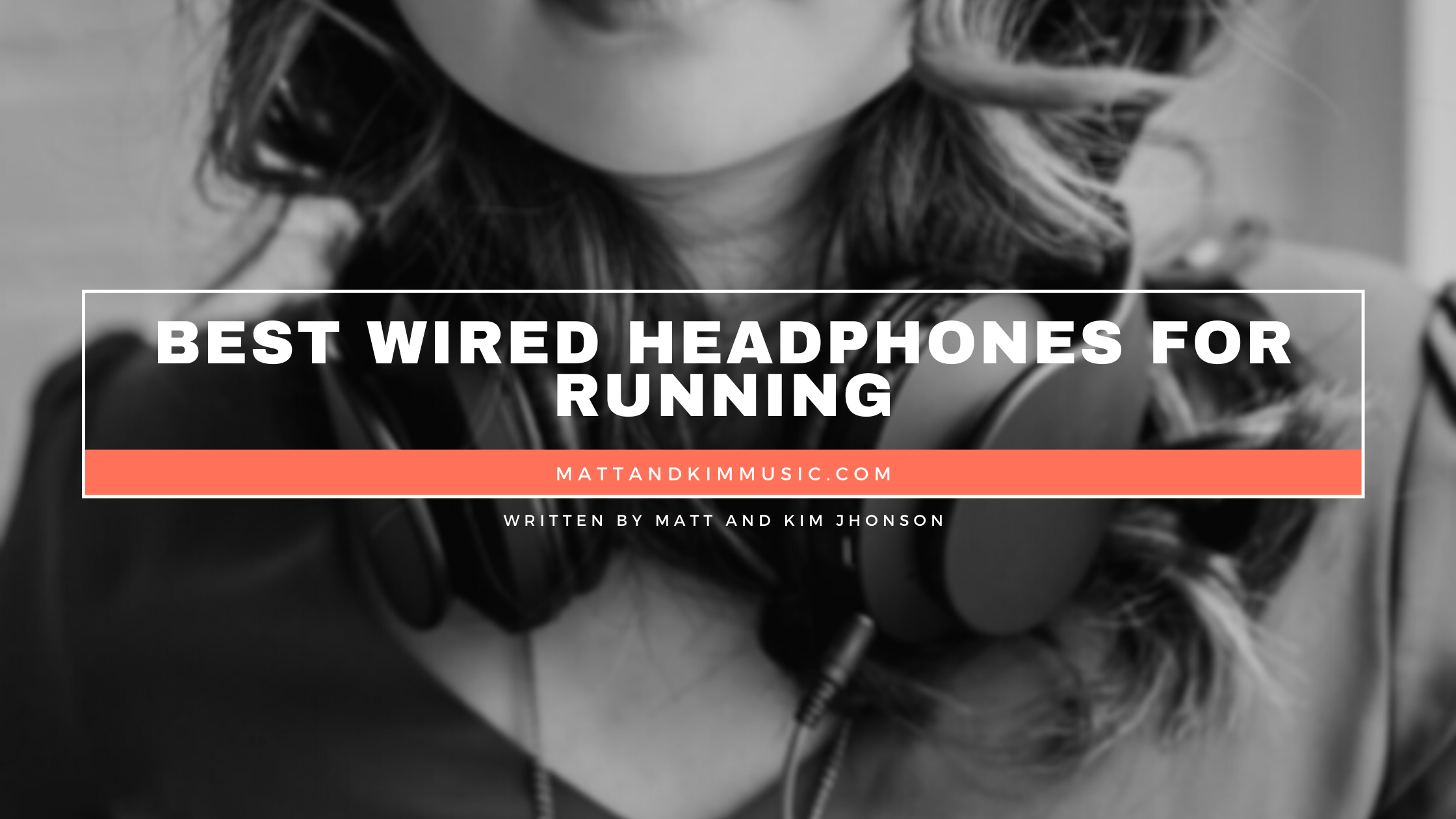 Making a decision on the most important features for you and what you are willing to spend on running headphones is never easy. We have created below, a catalog of the best headphones available for runners and their unique budgets to help make your choice easier.
Best wired headphones for running in 2021 are:
1. Sony MDR-XB510AS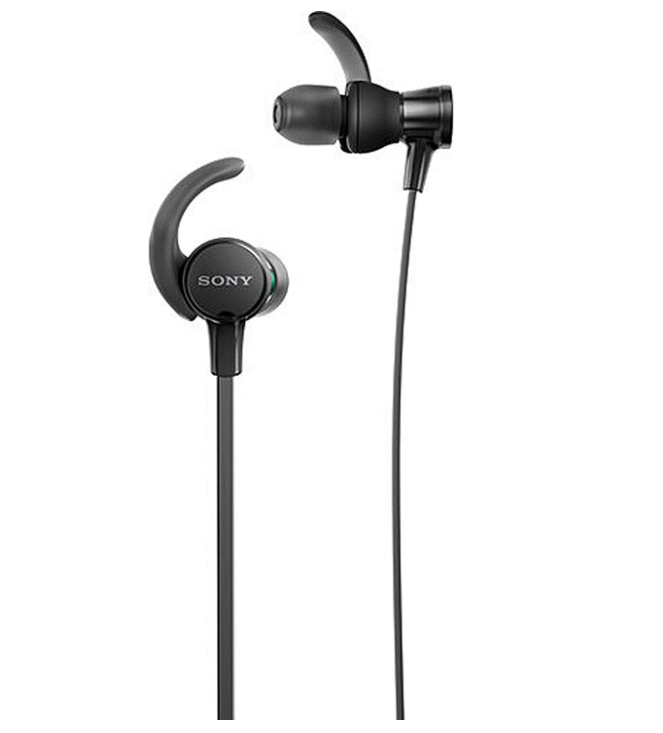 Every runner requires flexibility even with their headphones. Out of the box, headphones may not always be comfortable on the ear and runners must have an option that allows their headphones to fit perfectly. The Sony MDRXB510AS offers all of these.
Unlike other wired headphones, the Sony earbud comes with multiple sets of covers and hooks designed to keep the earbuds securely in place. This means you can get a set that is a comfortable fit without the possibility of the earbuds falling off during a long run. They are waterproof and designed to handle the elements perfectly.
Numerous companies are currently moving towards the creation of wireless running headphones but there are still a few excellent wired headphones for runners available and Sony's MDRXB510AS is one of them. These headphones are IPX5 certified which means they are both sweat and water-resistant. They are so well protected that you can wash them under a running tap after your run.
The MDR-XB510AS comes with Sony's trademark EXTRA BASSS remarkable for its full, rich low-end sound reproduction. It is armed with a range of different-sized ear tips and arc support to provide a stable fit in your ear. There is a 1.2m cable included which is long enough to ensure the runner's legs are not caught in the cable. There is a small in-cable control box attached.
Interested buyers can get these in four different colors including black, red, green, and blue. The MDR-XB510AS is the best budget wired headphone for runners and the best option for runners who aren't ready to switch to wireless headphones.
2. JBL Endurance RUN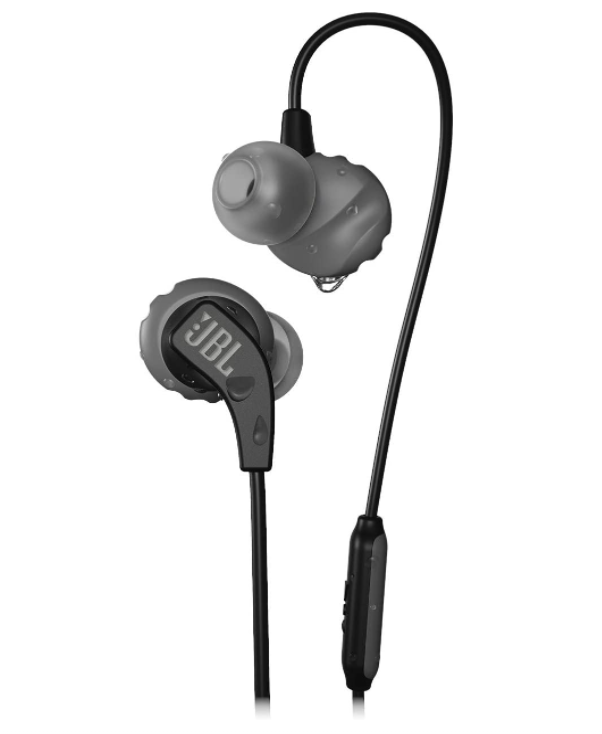 While some wired headphones are very reliable, dealing with the cables can be a very annoying reality. No one likes to see those wires tangle in their gym bags, worse is when it flaps about while running. Of course, you could find wired headphones for running that will give you all you need while helping you avoid the hassles of flapping and tangling cables and this is what JBL offers.
The earbuds are magnetic allowing you to keep them connected while you're on the move. It costs less than $20 so you are getting a great pair of headphones at a give-away price.
A creative design tweak allows you to choose whether you want to wear them the usual way with the cables straight down or with the cables going behind your ears. The second option serves better because it makes the earbuds lightweight and offers a reduction in microphonics.
The earbuds have magnets built into them to lock them together, this helps to keep them from falling off your neck when you are not using them.
Sweat proofing is available here as is demanded of sport-oriented headphones. An unexpected bonus is a high-quality microphone which is not expected from a budget product like this.
The bass is noticeable, making the overall sound output warm. Generally, you get an enjoyable listening time. It offers well-defined mids and crisp highs.
JBL Endurance shows you don't have to break the bank to get an excellent pair of headphones for running.
3. Bose SoundSport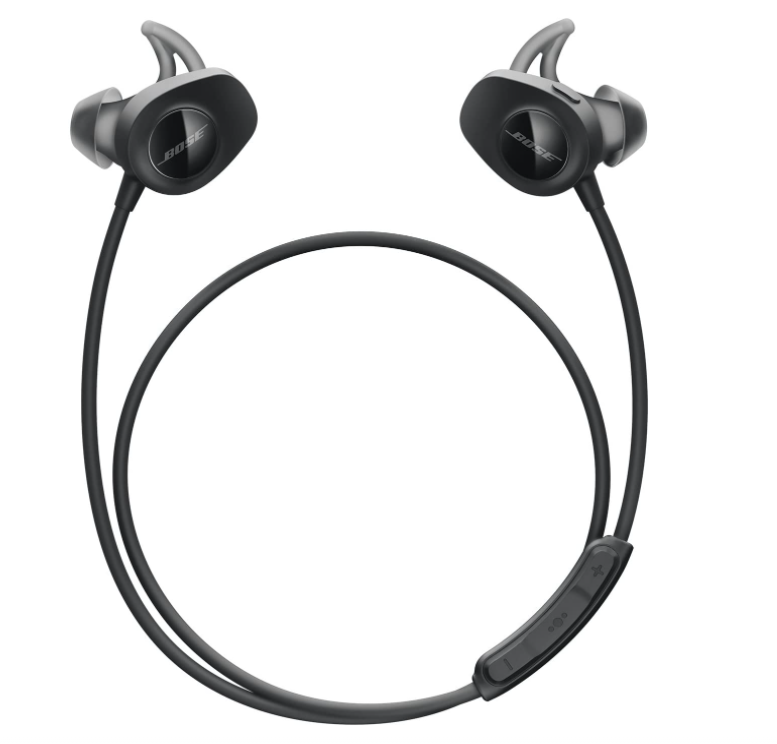 If audio clarity is a priority for you, then the Bose SoundSport is your best option. They are a wired pair with the volume control designed for easy access so that you can quickly tweak your music while you run.
Bose can be considered as the biggest brand in the business of headphone production with their headphones available on all scales. Triport technology is partly responsible for the audio quality of the SoundSport headphones. It offers built-in vents which boosts the bass and makes the sound much fuller.
They provide some of the best comforts you can find amongst wired workout headphones. They are so comfortable you barely know they are on your ears and because of their small size, you can sleep without removing them provided you lie on your side.
It leaks some sound which helps you remain aware of your environment. This makes them great if you wish to wear them and walk the streets. This also makes them excellent for running since being aware of your environment keeps you safe.
They are sweat and moisture resistant which means they can survive your hot and sweaty workout sessions. Note; they aren't waterproof.
These headphones offer exciting and dynamic sound although audiophiles may not enjoy the imbalance in the sound caused by its recessed highs/mids and enhanced bass. You will enjoy excellent beats with these headphones because they do not overly lack mids or highs. The typical Bose signature is obvious here.
If you are looking for comfort and a perfect fit for sports with a little bass thrown in, go for Bose SoundSport in-ear headphones.
4. Samsung Active In-Ear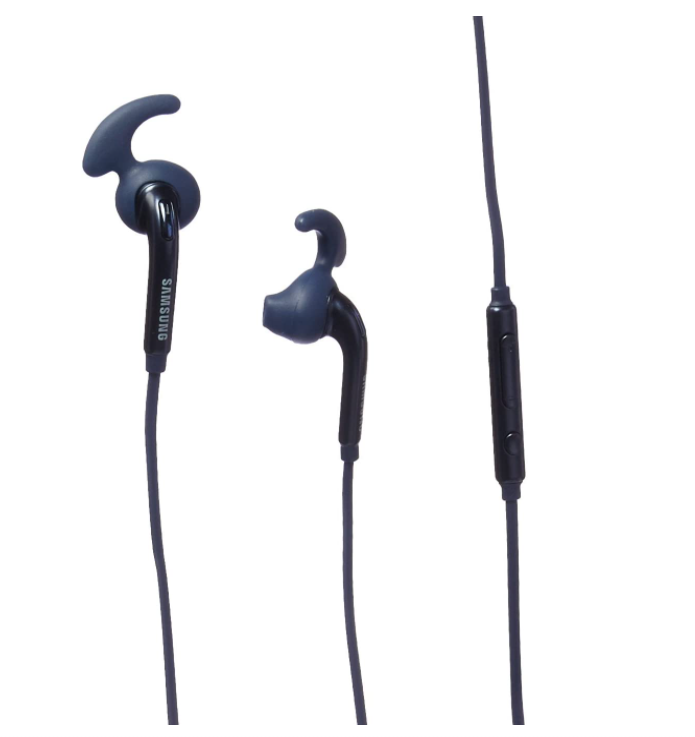 These headphones look very similar to Apple Earpods and new AirPods. Finding the right fit for the Active In-Ear is never easy.  To make the choice of right fit easier, Samsung created soft-gel ear tips that provide extra grip. You may choose to keep them in a tip with an ear fin, this makes them even more secure while you work out.
You will find the controls on the cable which makes it easy to skip music and raise the volume with ease. You can answer calls easily since it comes with a microphone of excellent quality.
The build is sturdy and can last for a reasonable length of time. Extra gel tips are included in the package.
Some users have reported quality control issues, which is often the case with budget products. If you do not get a perfect fit, your sound will always arrive muffled. If on the other hand, you find one that fits perfectly, you will get an excellent sound quality; punchy, reasonably clear midrange and treble.
This pair of headsets for running are budget-friendly and can be used easily. It also has good microphone stability.
5. JVC HA-EBR80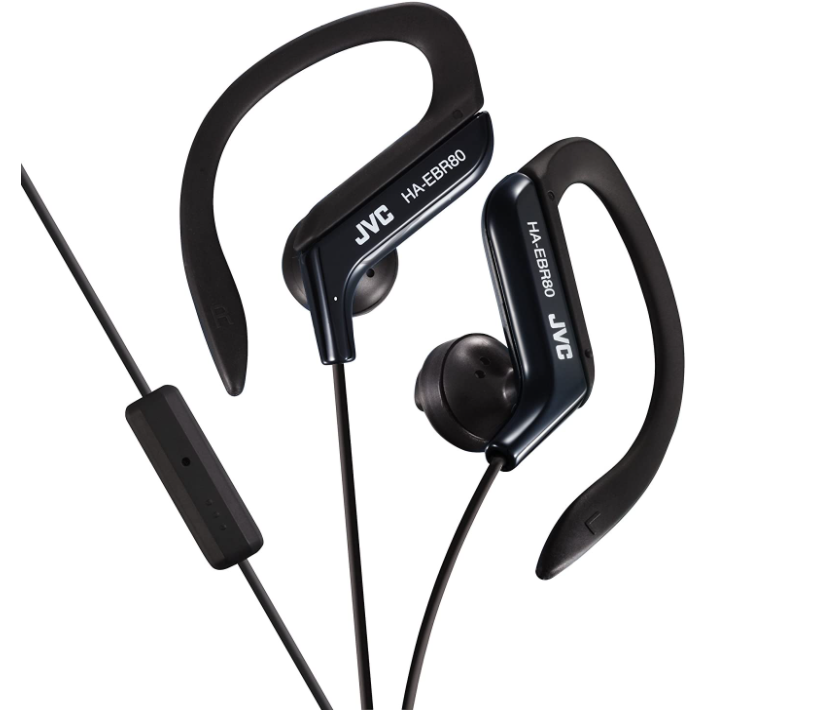 What you get here is a classic design and a perfect fit with which you can run and gym.
They sit lightly on your ears instead of going deep into the ear canal. They do not have good noise isolation as a result of the above but it will help you to be more aware of your environment.
There are adjustable ear-clips to help secure them to your ears. These clips are made out of soft rubber which ensures comfort.
They are sweat and water-resistant. Your music can be controlled by 1-button-remote. There is a microphone for phone calls.
You cannot tweak the volume with remote control, it can only be done through your phone. The sound quality is not much to speak of.
It offers a balanced sound signature with clear mids. Its bass isn't strong and some people might complain about the lows.  Despite these drawbacks, for a budget classic headphone, the sound is good as long as you don't compare them to other expensive in-ears.
They offer a secure fit and comfort while allowing you to be aware of your environment (this is great for running). All of these qualities are housed in a classic design. These are the best cheap classic headphones for running.