Whether you only plan to use your headphones at home or in the office only, chances are you do not necessarily need a Bluetooth connection. Sure, it would be handy at times for some extra moving freedom, but at the same time, you risk forgetting to charge the headset every now and then – terrible when you run out of battery in the middle of a conference call or an important game.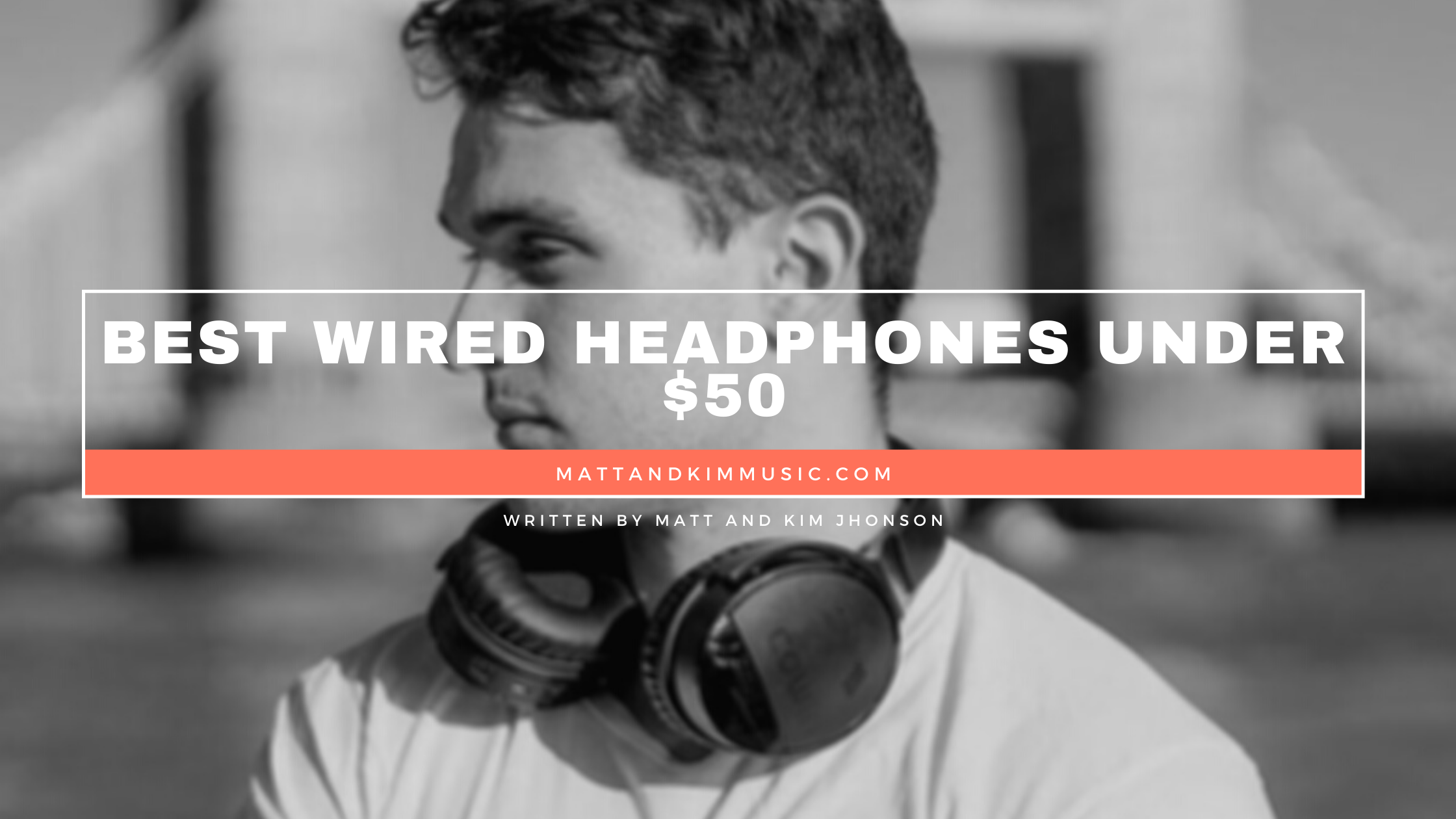 Luckily, you can find some high quality headphones with a solid wired connection too – no need to pay extra for fancy bells and whistles. However, deciding on the best wired headphones under 50 could be challenging with so many options out there. Some of them are not worth the money, while others provide excellent value for your hard earned buck. Here are the options worth some attention.
Top 5 Wired Headphones Under 50
1. Sennheiser HD 300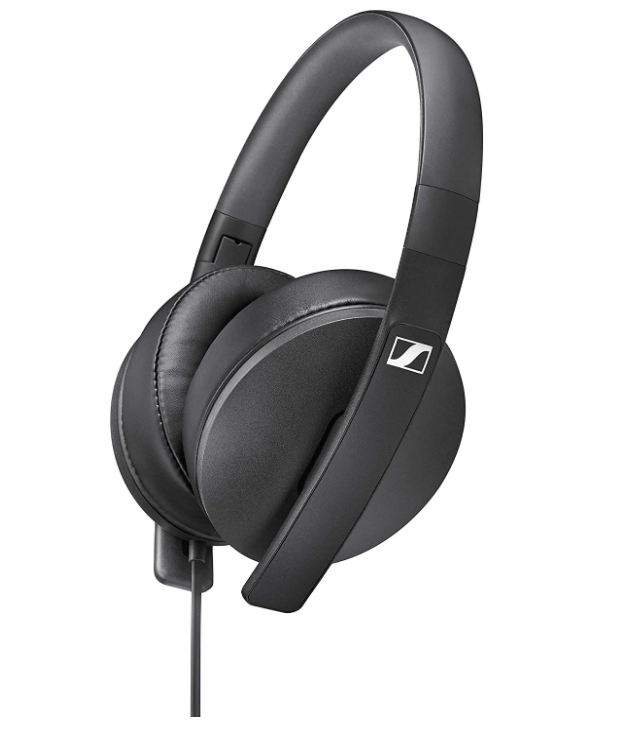 The simplistic design of this headset looks great – no bulk at all, but a compact appearance that will never put pressure on your head or neck. These headphones are only available in black and one size only. Given their performance, they could be the ideal wired headphones under a $50 budget if you want value for money.
German engineering brings in 32mm drivers – standard for this price range. The bass is crystal clear and the audio is crisp. You will love the clarity at both low and high volumes. The impedance is set at 18 ohm. It is almost impossible to miss any details.
Connectivity is wired. You have a 3.5mm jack, which works with almost every device out there. You can use it with both old and modern gadgets, from phones and tablets to computers and TV sets. The cable is about five feet in length – plenty for a bit of freedom.
The headset may not have active noise canceling technologies, but it features a passive noise isolating feature. Besides, the secure fit over your ears ensures there will be little to no audio leakage, while ambient noise is successfully removed.
Overall, these headphones feature a simple design and no weight at all – just under 6.5 ounces. They have a foldable design too, so you can store or transport them the right way – no risks to break the headband or the joints.
The headband is fully adjustable for both small and large heads. Ear cups cover the whole ear and feature thick cushioning.
Pros
Excellent value for money
No fancy bells and whistles that only add to the price
Compatible with most devices out there
Secure fit over your ears
Good noise reduction technology
Cons
2. OneOdio A70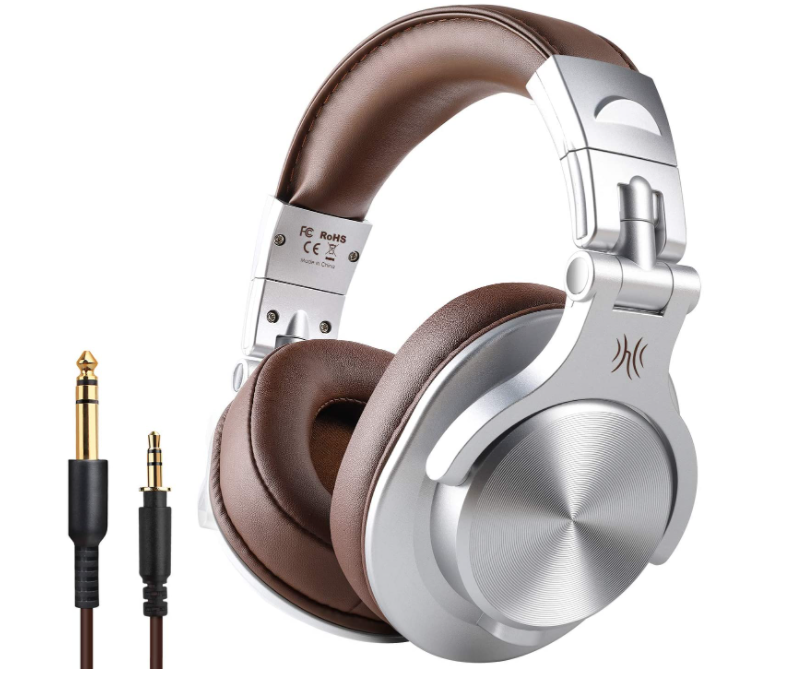 OneOdio has gained some good reputation over the past few years in this segment range. Its cost efficient products deliver great performance without costing a fortune. The A70 wired headphones under a $50 budget are less likely to disappoint either, whether you count the beautiful looks or the actual performance.
Talking about design, the metallic accents and heavy padding underline two things – luxury and comfort. Ear cups and joints are metallic. The headband and ear inside of the ear cuffs are ultra cushioned and available in a bunch of different colors – silver, gold, red or black.
Ear cups come with memory foam to ensure your ears will not suffer from too much pressure. Sound insulation is great, despite the headset not having a professional noise canceling technology. Furthermore, the headband is widely adjustable for small and large heads.
The 40mm drivers guarantee for a high quality bass that will shake your whole body. The audio is crisp and clear – no funny noises or ambient noise. You will hear vocals and instruments even if the volume is set low or too high.
The wired connectivity features a long cable and a 3.5 jack. The package also comes with a second cable and a 6.35 jack, so your headphones are compatible with everything out there – both old and modern devices.
It is worth noting that you also get Bluetooth connectivity if you want more freedom or distance – such as watching a movie. You get 25 hours of playback time on a full charge – again, compatibility is flawless with any Bluetooth device out there.
Pros
Package includes a carry pouch
Both wired and wireless connectivity
Built for a great fit
Good looking design
Super comfortable
Cons
3. Sony MDRZX110NC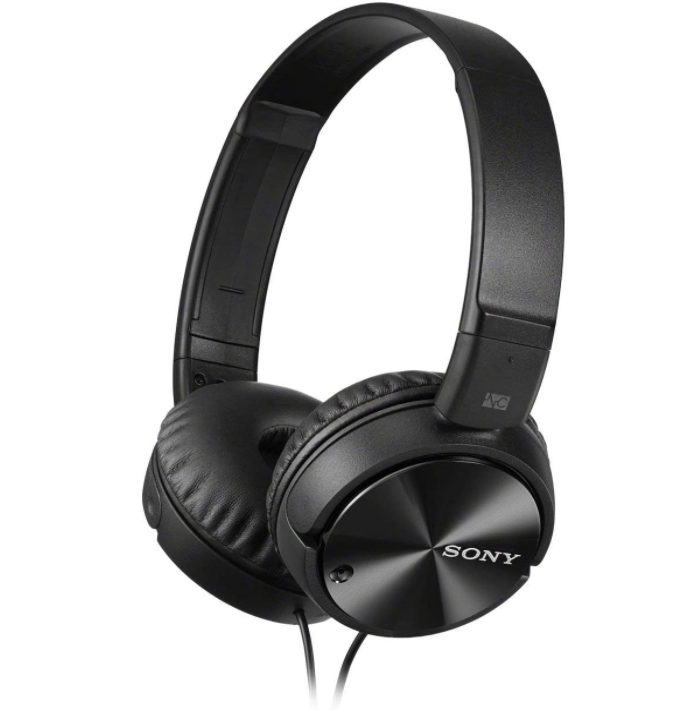 Could you ever go wrong with Sony? Not really, especially when you find something in this price range. What you get for under $50 can compete against what you get for two or three times more money. The headset is modern and simplistic in design and comes in a sleek matte black color.
Weighing just 5.29 ounces, the headphones feel pretty sturdy and well put together. They come with super large ear cups, as well as lots of padding. A bit of swivel capability ensures a good fit. The headband is easy to adjust for an even more comfortable experience.
Connectivity is wired. The cable measures just under four feet in length – more than enough for games, music and office work. It ends with a 3.5mm jack, so you can fit it into any device with such a slot – old and new smartphones, laptops, TV sets and tablets, among others.
Now, when it comes to the performance, it is quite standard, but there are a few extras. Basically, you have 30mm neodymium drivers. You can find headphones in the same price range with larger drivers, but the difference is not necessarily easy to notice.
The noise isolation is the element that makes the difference. While not a professional noise cancellation feature, the noise isolating function mixed with the oversized ear cuffs ensures there is no audio leakage and ambient noise will never cause any issues.
You may also want to know that while there is no pouch included in the package, the headset is foldable and easy to store or transport.
Pros
Foldable design
High quality materials
Good noise isolation feature
Sturdy and well put together
Compatible with most devices
Cons
4. Audio-Technica ATH-M20x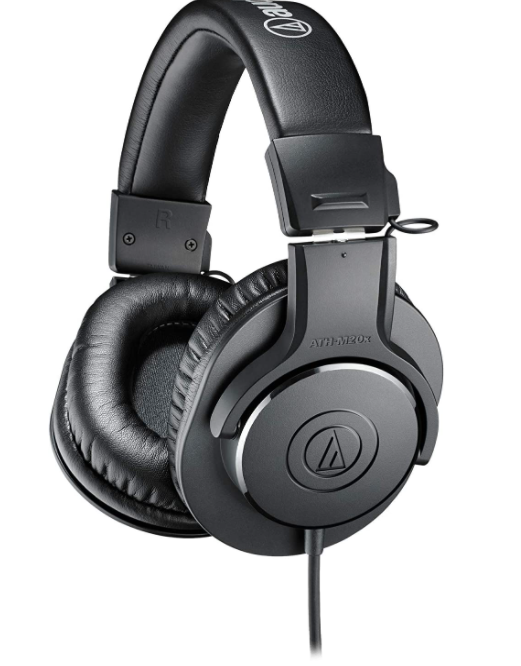 Audio-Technica has designed some quality under $50 wired headphones that will take professionalism right into your bedroom, living room or office. Basically, this headset is widely used by professionals in the music industry due to its incredible capabilities.
The headset looks sophisticated and well put together. At 6.7 ounces in weight, it is heavier than other models in this range, but quality materials are never lightweight. It is great for everyday uses without worrying that the ear cup covers might crack.
The inside of the ear cups imitate the contour of human ears for a better fit. While the headphones do not feature active noise canceling technologies, the sound isolation is exquisite and almost feels the same – you will notice the change in loud environments.
Performance is great – you get 40mm drivers, as well as rare earth magnets. The copper clad aluminum wire voice coils add to the flawless transmission and excellent performance – even at very low frequencies.
The wired connectivity is compatible with devices that have a 3.5mm jack slot. You can get the headphones with or without a microphone.
Pros
Ideal for studio mixing and tracking
Professional standards and performance
Highly adjustable
Incredible sound isolation
Great at both high and low frequencies
Cons
Package does not include a carrying case
5. Falwedi Headphones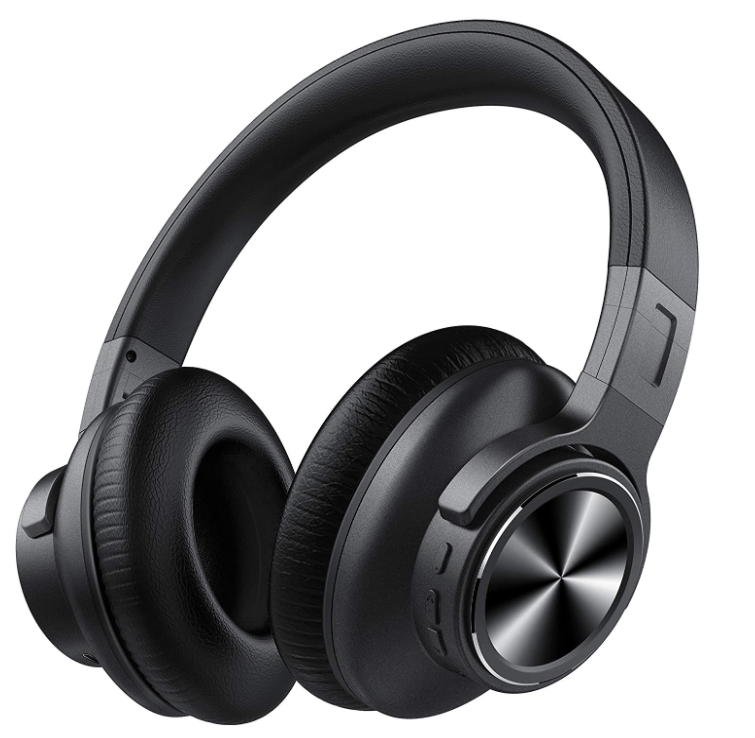 Falwedi may not be the most popular name on the market, but you will fall in love with its best wired headphones under 50 the moment you see them – a sleek and simplistic design with a textured headband available in black only.
The design is foldable. You get a good fit on your ears without any pressure. Plus, you can store these headphones in tight places – ideal for transportation too. The package comes with a beautiful hard case, which has some compartments for wires as well.
The headphones are quite comfortable with that soft textured headband – which is also adjustable, by the way. You also have thick padding on each ear cup – protein leather to imitate the skin. The mesh material is breathable to prevent sweaty ears. You can use them for hours with no discomfort as well, although they may press against your ears if you wear glasses – a common issue with most over ear headphones.
The wired connection ends with a 3.5 jack but you also have Bluetooth connectivity if you need some distance from the device – such as a TV set. The battery provides up to 90 hours of continuous usage.
Moving on with the performance, you have 40mm large diameter dynamic drivers, APTX decoding support and noise reduction technologies. The sound is crystal clear, regardless of what you use the headphones for. It is worth mentioning the built in microphone too, which ensures clear conversations.
Pros
High quality active noise reduction technology
Wired and wireless connectivity
Large drivers for a crisp sound
Comfortable to wear
Durable materials
Cons
Audio might leak at high volumes