These best bass headphones are for music lovers who live for the exhilarating thrill of a dirty beat drop. Trust us: it wasn't easy to find them. It's no small feat to reproduce those powerful lows in the space of an ear cup, without reducing the overall quality of the sound. Luckily, we've discovered some manufacturers who were up to the task. It took months of research and testing, but boy, do these headphones deliver.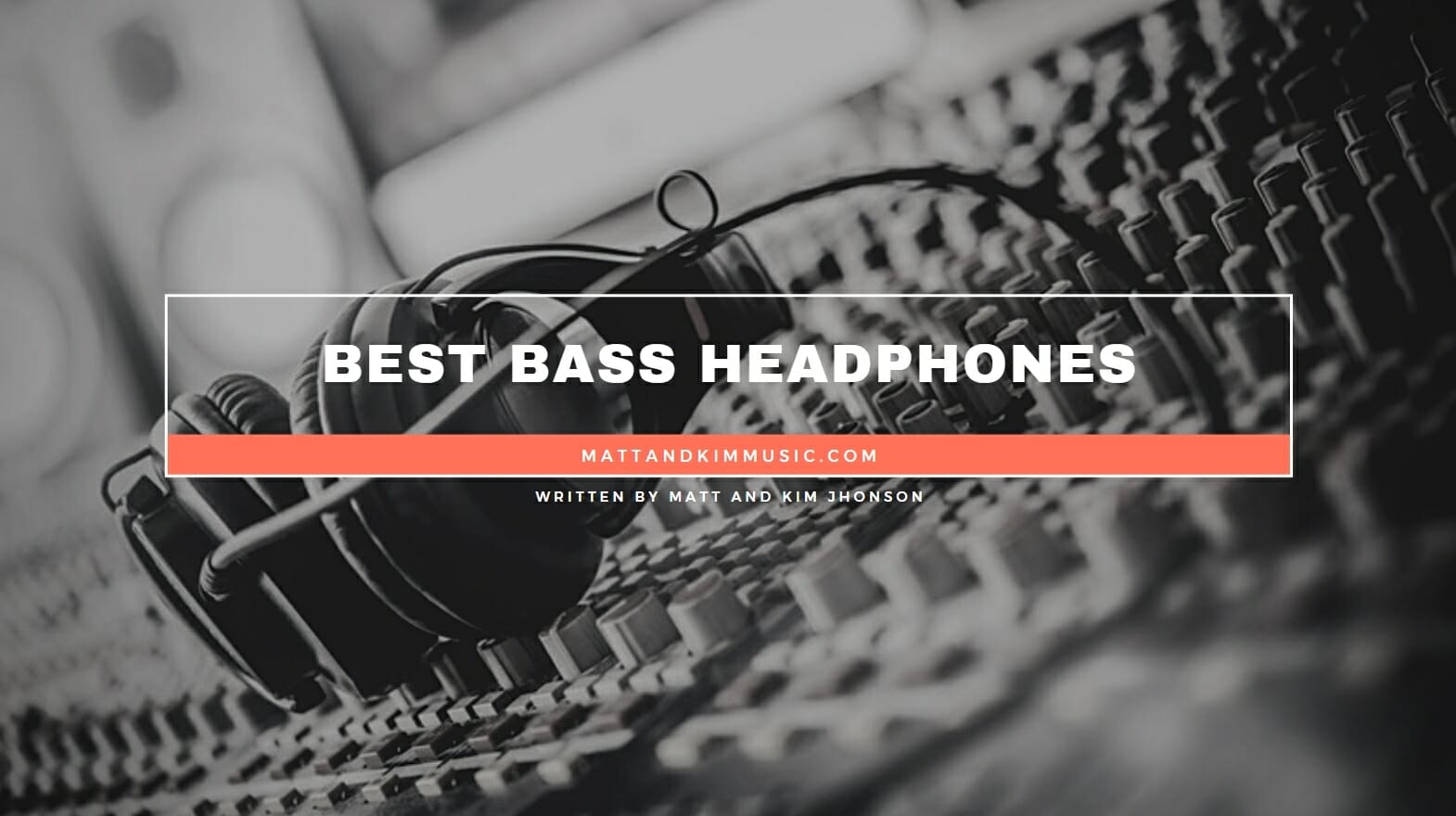 If you're after some hard-hitting cans to put your favorite tunes in a new light, you're in the right place. Yet we wanted more than pristine bass for our selection. We also wanted the best headphones for overall sound quality, features, durability, and comfort. A powerful bass was our main priority, but what's the point of a fantastic headset if you can't wear it for more than a few minutes at a time?
Some of the best, most comfortable bass headphones can get pretty expensive, but not all of the options on our list are. So, no matter your budget, you'll find something here to suit your needs. Get ready for a closer look.
Top 8 Best Bass Headphones:
1. Sony WHXB900N: The All-Round Best Bass Headphones
What happens when you combine an epic bass with the latest sound-canceling tech? You get the Sony WHXB900N, which we believe are the absolute best bass headphones on the market today. These trusty cans won't let you down – no matter where you are or what is going on around you, you can pop them on to hear every word and every tune of your favorite mix.
That said, what truly makes these bad boys shine is Sony's signature Extra Bass option, which uses Electro Bass Booster technology to lift those low lows into focus without affecting the mids. The headphones come equipped with some of the best batteries in the industry, and these can keep the music going for up to 30 hours between charges.
Features:
Convenient touch panel.

You can crank up the bass, change the track, or make a call by simply touching the earphones.

Never take them off.

If someone's talking to you, just touch the right ear cup to lower the volume and deactivate the noise-cancelling function.

Sony App.

Download it on your phone to tweak the ambient sound settings and to access the Equalizer.

Made to travel.

When folded, the headphones fit neatly in their soft carrying bag.
Pros:
Pristine sound, even when you turn up the bass

The best noise-canceling tech in the industry

Long battery life
Cons:
Expensive

Simple, somewhat boring design
2. Skullcandy Crusher Evo: The Most Powerful Bass Headphones
No other headphones will rattle your head like the Skullcandy Crusher Evo. If this makes them sound savage, that's because they are. But in a good way. The Crusher Evo headphones are designed with Skullcandy's proprietary Sensory Bass system, which basically means that they have a secondary, dedicated bass driver in each ear cup.
The headphones also come equipped with a dedicated slider, which lets you control just how much bass you want to hear. But before you crank the slider up to max, be warned: these headphones will drill the bass into your bones. Not that that's a bad thing for a bass maniac like yourself, right?
Features:
Crusher bass.

You won't find another pair of bass headphones this powerful, not in the same price range anyway.  

Skullcandy App.

You can use the app to run an easy audio test and customize the sound for your unique hearing.

Collapsible design.

Not only are the headphones easy to carry, but the bag is strong and padded, so it'll protect your precious cans better than most.

Tile finding.

Misplaced your precious Crusher Evos? You can "ring" them using Tile finding, so they're never really lost.
Pros:
Signature Sensory Bass system that'll truly elevate your favorite songs

Customizable sound for your own, unique hearing

Convenient tactile buttons on both earcups
Cons:
Slightly heavy

No active noise-cancellation
3. Audio-Technica ATH-WS1100iS: The Best Bass Headphones for Sound Clarity
A heavy bass can cause a rush of adrenaline like nothing else, but some of the effect is lost if the bass starts digging into the higher frequencies. If you love bass, but you don't want to compromise on mids, the Audio-Technica ATH-WA1100iS headphones are your best bet. They're not as expensive as Sony's Extra Bass headphones, but they deliver a similar quality of sound.
The headphones come equipped with large, 53mm audio drivers designed for the deepest bass, but their best feature is actually the rigid housing with an aluminum centerpiece. The latter acts as a stabilizer ring, which helps reduce vibration and prevents the bass from lingering for longer than it should. The result is pristine sound clarity: no compromises.
Features:
Bass venting system. Extra side vents on each earcup provide outstanding bass reproduction.

Comfortable earpads. There's a firm inner layer to maintain the shape of each pad, and a super soft, outer layer for comfort.

Detachable cable. The headphones aren't wireless, but they do have a sturdy cable with mic and call control.

Powerful bass and sound clarity in one. These headphones aren't just for bassheads. Whatever the music you're into, you'll hear it in pristine quality.
Pros:
Solid bass that doesn't interfere with higher frequencies

Earpads are comfortable and roomy

Sleek design
Cons:
No wireless option

The hinge between the earpads and the headband is slightly frail
4. Sennheiser HD 650: The Most Versatile Bass Headphones
The Sennheiser HD 650 headphones are recommended by their manufacturer for lovers of classical music, but! Before you skip to the next pair of cans, give us a sec to explain. These headphones might not be designed with powerful bass in mind, but when we tested them, we were stunned by the smooth, rich, and natural quality of the sound. 
As for the bass, it was tight and deep. It wasn't as strong, but the frequencies were so pure and detailed that we didn't even mind.
Sure, The Sennheiser HD 650s might not be the best bass headphones for every diehard basshead out there, but if you're an audiophile who also happens to enjoy the occasional EDM mix, they'll be perfect for you.
Features:
Open-back design. The headphones won't cancel out noise, but they deliver a more natural sound.

Luxurious feel. Between the light-weight titanium finish and the generously padded headband, these headphones look as exquisite as they sound.

Bespoke components. The drivers, damping element, and neodymium magnet systems are all hand-picked for optimal sound.

Premium cable. The detachable cable is made of highly conductive OFC copper, and equipped with a gold-plated jack plug.
Pros:
Premium sound, look, and feel

Improved frequency response

Very low THD (less than 0,05%)
Cons:
Very expensive

Bass isn't as strong as with other headphones
5. Bose QuietComfort 35 II: The Best Bass Headphones for Workouts
Who doesn't feel pumped up by a good, heavy bass? If you want a pair of headphones that'll deliver that extra oomph during an intense workout session, the Bose QuiteComfort 35 II is an excellent candidate. Granted, they're a bit expensive but wait until you see what these bad boys can do.
Bose is actually famous for its active noise-canceling technology, which is probably the best in the industry and certainly competes with what Sony has to offer. The QuietComfort 35 II headset comes with 3 levels of noise-canceling, so you can let some sounds through or block everything out entirely. And the bass? Against the perfect silence, it comes out even stronger.
You can even create customized settings based on your location. The headphones are equipped with Bose AR, a multi-directional motion sensor that helps them determine where you are and how to best render your music.
Features:
Alexa-enabled.

Have your virtual assistant play songs for you or add soy milk to your shopping list. Meanwhile, you keep pumping iron.

Complete control.

Use the Bose app to manage noise-canceling, share music, or connect through Bluetooth.

Earpad touch controls.

Turning up the volume or changing the song shouldn't distract you from your workout.

Reliable microphone system.

If you have to pick up a call, you can do it without having to worry about ambient noise.
Pros:
Superior noise-canceling technology with multiple settings

Snug, but comfortable design

Balanced audio, even at high volume
Cons:
Very expensive

The battery can't be replaced
6. V-Moda Crossfade M-100: The Best Customizable Bass Headphones
The latest release in a long and successful line of products, the V-Moda Crossfade M-100 headset stands out of any crowd. It's not just the quality of the sound that's impressive, but also the build and durability of the headphones themselves. You won't find another headband that can contort this way without breaking. The aramid fiber-reinforced cable is also made to last.
But perhaps the best part about the Crossfade M-100 headphones is that they can be fully customized before purchase. You can change everything from the material and design of the shields to the smallest details, such as the color of the screws. As a DJ, you'll love the possibilities. You might also appreciate that the headphones come with a SharePlay audio cable, so you don't have to buy an adaptor separately.
Features:
Signature sound from V-Moda.

Frequencies are clear and properly layered, so the bass won't interfere with the mids.

Extremely durable.

Twist the headband in whatever direction you like. The SteelFlex is made to last, as are the earpads.

Hi-Res audio.

Certified by the Japan Audio Society, these headphones can deliver your bass with outstanding clarity.

100% Vegan.

Each headset is built with large memory foam cushions for comfort, and vegan leather for the headband.
Pros:
Fully customizable for a unique look

Will last longer than most headsets

SharePlay audio cable is included
Cons:
Expensive

Not very comfortable if you're wearing glasses
7. Sony MDR-XB950B1: The Best Bass Headphones Under $100
Ok, so the Sony MDR-XB950B1 headset costs just under $200, BUT they've been on sale for months, and we suspect that the price will stay low for some time now. Why? Sony has released newer models since the MDR-XB950B1s, but this actually gives you the golden opportunity to buy something really good at a bargain.
These headphones come with Sony's proprietary Extra Bass technology, so you can count on them to reproduce that thundering bass. Just be careful: the Extra Bass button is easy enough to reach, but the effect can be overwhelming for someone who isn't a diehard basshead. The bass is also a bit less clear compared to Sony's WHXB900N headset, but it's a small compromise given the price difference.
Features:
Flexibility.

If you remove the cable, you can easily control the volume, bass, and playback using the buttons on the earpads.

Extra Bass tech.

Looking for a truly skull-shattering bass headset? This is one of the best candidates.

Great ergonomics.

The headset has a cool, hard finish to it, but it's actually one of the most comfortable ones we've tested.

Sony App.

Customizing your sound doesn't get any easier.
Pros:
Powerful bass at a low cost

Can go wireless for up to 18 hours at a time

Easily paired through Bluetooth
Cons:
Frequencies are not as clear

Extra Bass is always on in the wired mode
8. OneOdio Studio: The Best Bass Headphones Under $50
We promised you an affordable set of bass headphones, and this is the perfect fit. OneOdio Studio is a headset that looks fabulous for its price range, and it comes with a bunch of great features. But first things first: how good is the bass? Well, as it turns out, it's pretty decent. There's no extra setting for more bass, but overall, the quality of sound is really good.
Remember that these headphones were primarily designed for DJs and studio monitors. It's an adapter-free set with a detachable cable, and the ergonomic earpads stay comfortable even during long sessions. Thanks to the swiveling earcup design, you can easily use the headphones for single-side listening when you want to take a break from the immersive, deep bass.
Features:
Crisp design.

If you didn't know better, you'd think that the OneOdio Studio headphones are far more expensive than their actual price range. They look outstanding.

Great audio quality.

The absolute best sound we've tested in this budget.

High-power drivers.

You won't have any trouble getting your bass fix with these headphones. Weak bass, begone!

Built for comfort.

You can wear them for hours on end without feeling the pressure.
Pros:
Punchy bass and Hi-Fi sound

Decent noise-cancellation

Super cheap
Cons:
No wireless option

The quality of sound is not as impressive as with other, more expensive headsets