Ear hook headphones are a popular style of headphones for sports. If you take on a lot of physical activities while wearing headphones, you will know it is important that they can stay in place.
It can be frustrating or downright annoying when earbuds fall off during exercise. The sound from in-ears is affected even when they move inside your ear canal. The experience is unpleasant.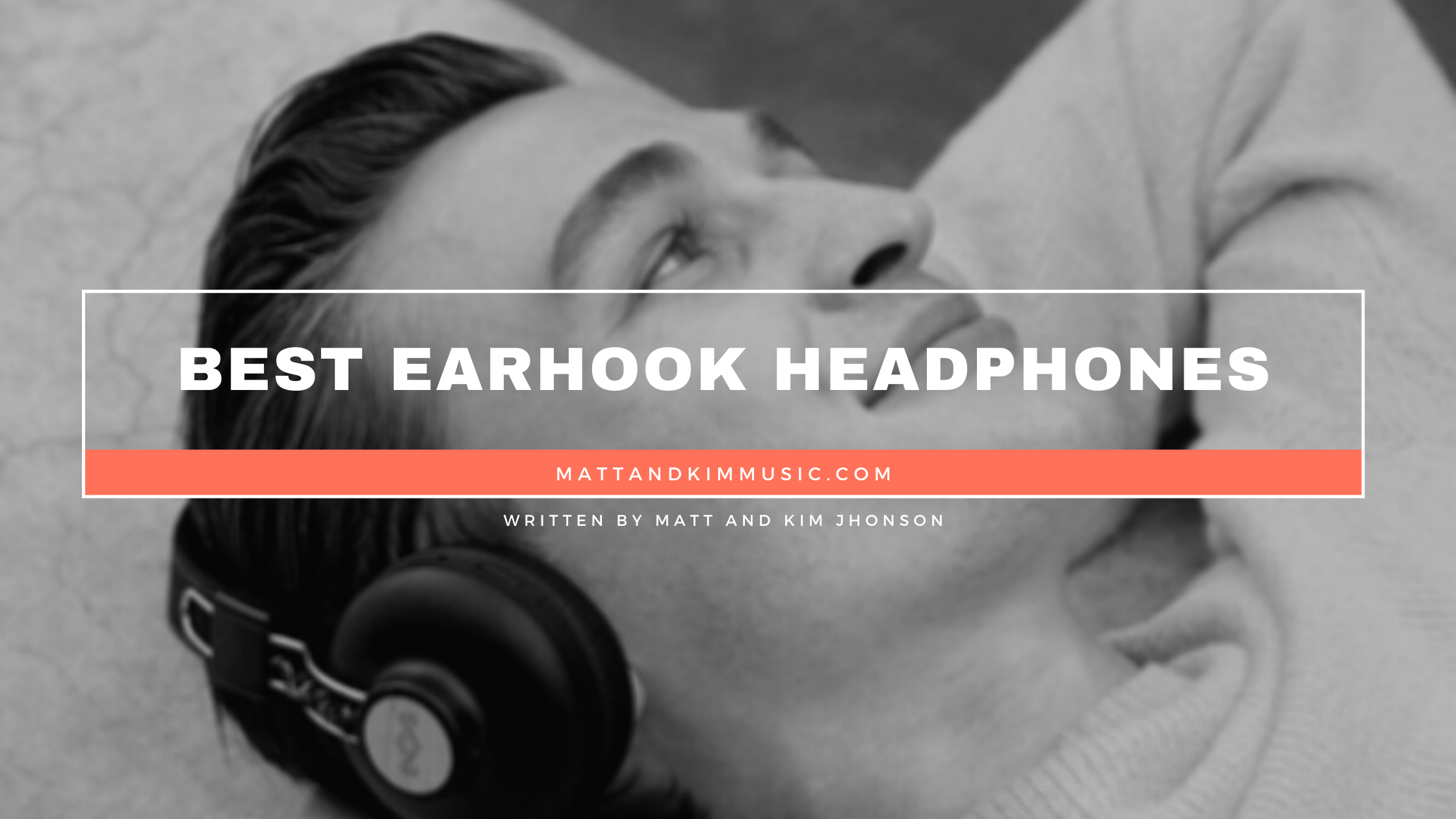 With this design, the headphones hook around the back of the ear while a wire or rigid hook made from plastic or silicone provides stability during movement.
Headphones with an ear hook design are ideal for use at the gym while running, cycling, and activities. There are some uncomfortable hook headphones, but we have provided you with a list of the best ear hook headphones on the market.
Best earhook headphones in 2021 are:
1. Aukey Key Series B80 Headphones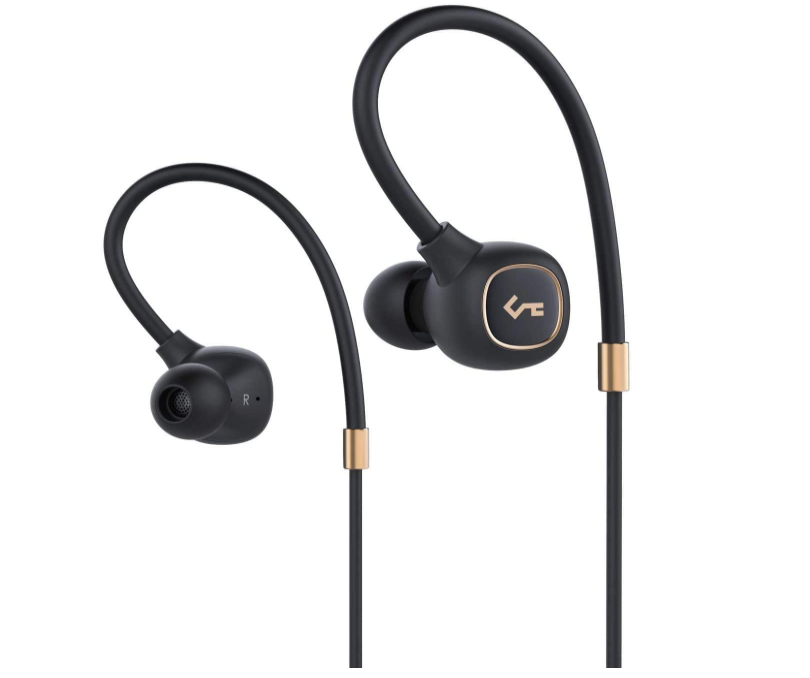 Aukey Key Series B80 is one of the best ear hook headphones. It can be difficult to find ear hook headphones that provide stability, comfort, and great sound. The Aukey B80 Bluetooth wireless in-ears have got you covered.
The Aukey B80 is a good choice of headphones that stay in place. They have soft memory foam tips that can conform to the shape of your ears and fit properly.
The headphones come with three pairs of foam ear tips and three silicone pairs. These provide you with different options to choose from whether you have big or small ears.
The battery life is decent at 8 hours. Besides, when you're in a rush and out of battery, you can charge for only 10 minutes to keep them running for up to 2 hours.
With their IPX6 rating, these wireless in-ear headphones are water-resistant and can withstand sweat and rain, making them suitable for use in all conditions.
There is an inline microphone with which you can make and receive phone calls. The microphone also works with devices that have voice support. This means that you can use your Alexa or Siri with the Aukey headphones.
The inbuilt mini drivers have an excellent frequency response which ensures clear audio that far outweighs the pricing of this device. The only downside is that they have a white noise issue.
Aukey Key Series B80 is the best sounding Bluetooth wireless ear hook headphones with great durability and water-resistance. They also have the latest USB-C charging feature.
2. Plantronics BackBeat FIT 350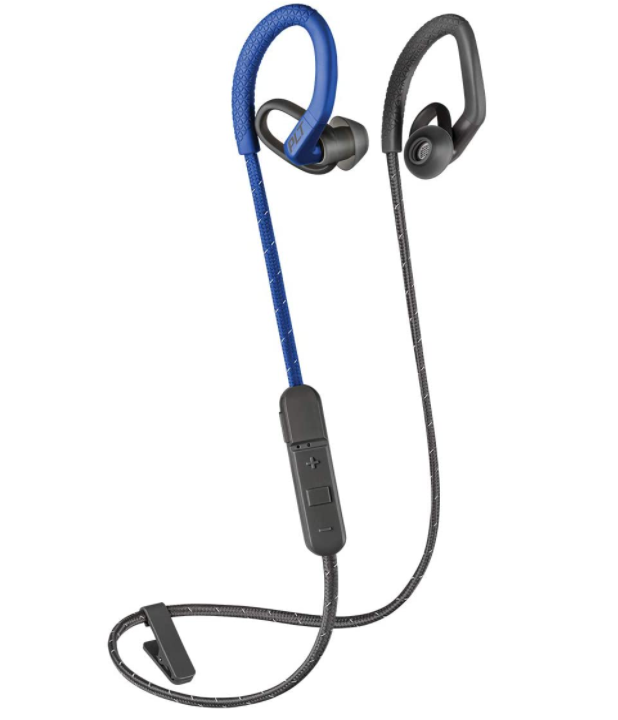 Plantronics BackBeat FIT 350 is the best ear hook headphones for workouts. When you purchase a new pair of headphones, there has to be a balance between the price and the features. These are the best option for value for ear hook headphones.
These headphones are stable. They provide a secure fit with ear hooks that are made out of soft silicone. They stay in place even during rigorous movement and also feel soft on the skin.
The headphones are also a clip-on style. You can fasten the clip on your shirt to prevent them from falling off or extend the cable to the back of your head.
With an extremely lightweight build, the BackBeat FIT can remain very comfortable even when you wear them for extended periods.
They feature specific patent-pending ear tips that enhance comfort and also provide good passive noise isolation.
The battery lasts up to 6 hours which isn't too bad, though it is not the best. It should get you through a number of workouts or runs. You can get at least one hour of listening from a 15-minute charge.
Though the Plantronics BackBeat FIT 350 can't exactly be compared with the very best of sports headphones, they come very close. They offer you a thrilling, slightly prominent bass sound that is great for working out, all for a small price. They are one of the best headphones with an ear hook selling for less than $70.
If you are looking for lightweight and comfortable earbuds with excellent stability, great sound quality, sweat protection, then you should consider getting the Plantronics BackBeat FIT 350.
3. AfterShokz Aeropex Headphones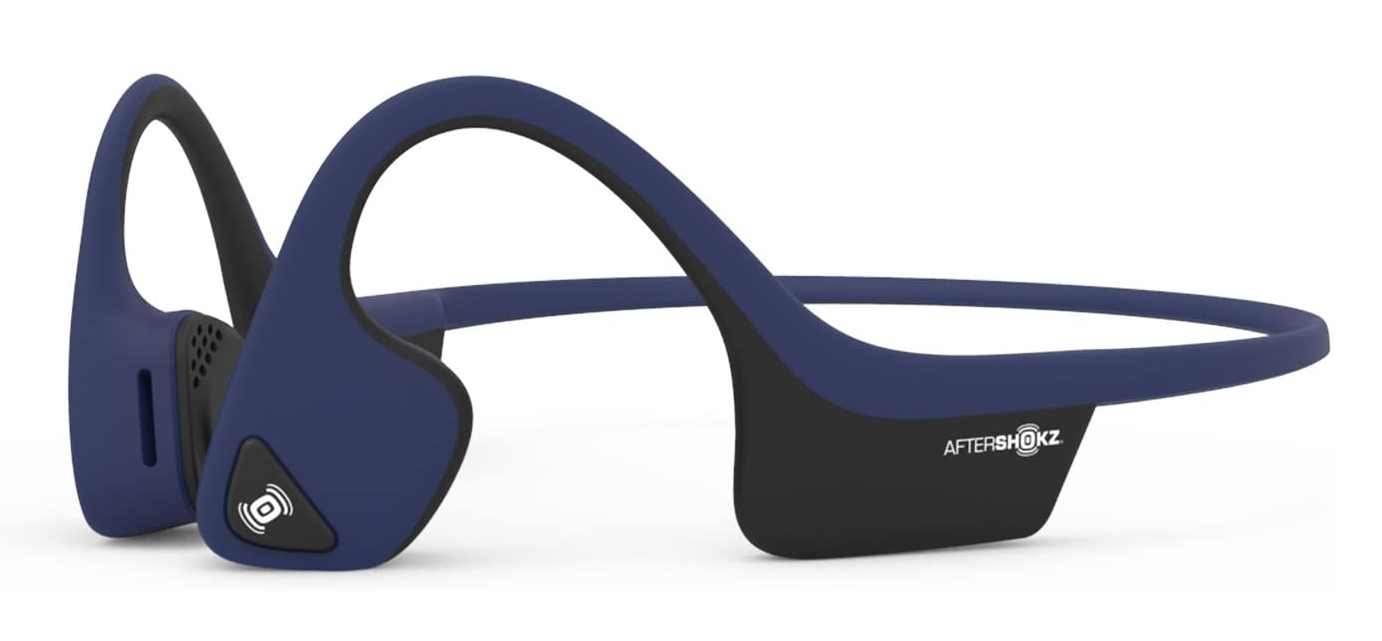 These are the best bone conduction ear hook headphones. They are one of the most recent kinds of headphones. Since they don't sit on your ear lobes, it's possible to hear the sounds in your environment while listening to music.
Bone conduction headphones let you stay aware of the world around you because the sound is transmitted through your bones rather than eardrums.
AfterShokz Aeropex features rubbery ear hooks of high quality which prevents them from falling off while you are working out. They are designed for an intensive rigorous lifestyle and with their hooks, they offer a great deal of stability.
They have an IP67 rating which makes them able to withstand water and small particles such as sand and dust.
The Aftershokz Aeropex is an improvisation on the previous model from the brand, the AfterShokz Air. The Aeropex has a longer battery life and is lighter by 30%.
The audio quality is unarguably the best that any headphone with bone conduction technology can offer.
The bass output is also better than the Air model even though it still leaves some things to be desired. You can also choose from any of the several sounds presets to improve the sound.
If you want headphones that offer decent audio quality without affecting your ability to hear sounds from your surroundings, then the AfterShokz Aeropex is what you need.
4. Mpow Flames S Headphones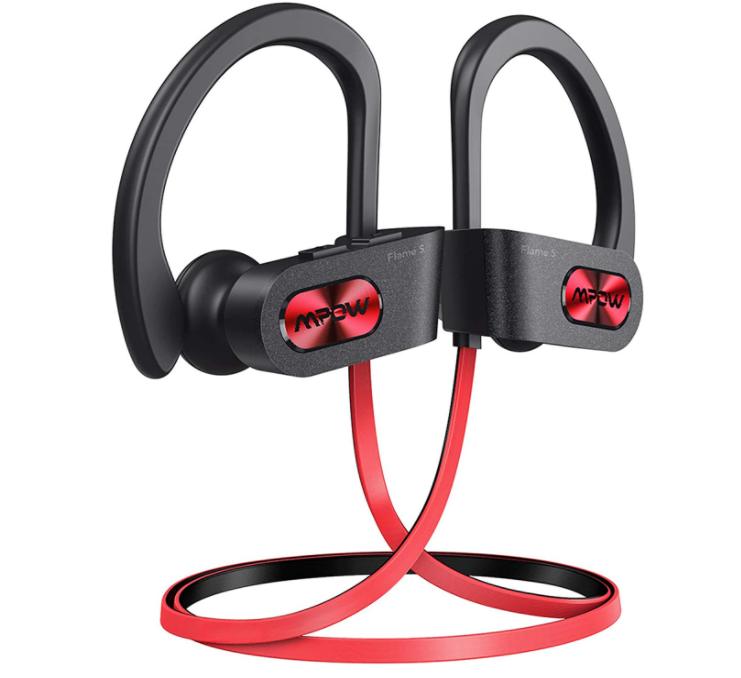 These earbuds from Mpow are packed with some major specs. They are compatible with aptX HD high-resolution audio codec and also come with Bluetooth 5.0 and IPX7 water resistance, all in a durable construction.
People who work out often will find ear hooks to be a very useful accessory. Flame S headphones are great for this purpose. With their durable build, you can throw them in the bag when you are done exercising.
They also have IPX7 water resistance which implies that you can fully dip them in water and clean them when they become too sweaty. Two buttons are located at the top of the earbuds, which serve as essential controls.
Flame S earbuds are equipped with a number of handy technologies, such as the aptX HD support which ensures clear audio delivery and minimal video lag. In addition, there is an AAC. The battery life is also reasonable at 12 hours.
The headphones come with big 11 mm drivers which deliver an unexpectedly rich, crystal clear sound that matches most music genres well. The sound output is balanced, which means they are not the best headphones for bass enthusiasts.
For the value they offer, Mpow Flames S is priced way too low. They are the best cheap ear hook headphones.
5. Anker Soundcore Spirit X Headphones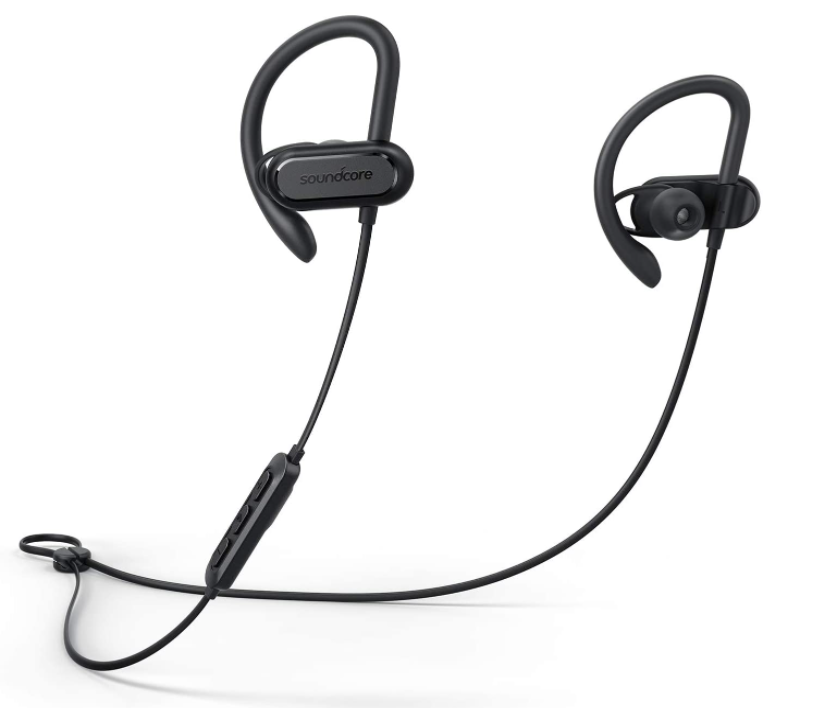 These are the best ear hook headphones with wires for sportspeople who are looking for something durable and reliable for an affordable price.
A lot of ear hook earbuds are below average when it comes to comfort. But the Anker Soundcore Spirit X is different because they provide optimal comfort. They have a secure, snug fit and a very lightweight that you will admire, especially when you take them for use at workouts.
When the need arises, you can run a tap over the earbuds to have them cleaned up without any concerns about them getting ruined. Thanks to their IP68 rating, they are resistant to everything, from dust to water of up to one-meter depth.
For Bluetooth earbuds of this category, the battery life is pretty decent. You get up to 18 hours on a full charge, plus extra 3 hours from a quick charge of only 10 minutes. The microphone is also worth mentioning because it has really good quality which is great for people who have to be on calls often.
Though the sound quality is not exactly an audiophile standard, you will still enjoy listening to music through them while exercising. There is also a Bass Up feature that you can activate when you want to add more thrill to the sound.
Anker Soundcore Spirit is another great budget-friendly product from this prestigious brand. With a price tag of less than $30, they offer a high level of comfort and a good fit, long battery life, and a very decent microphone.