Perhaps your child needs headphones for homecoming, or it's their birthday and you are thinking of what gift to get them. Either way, you're likely on this page because you are considering buying a pair of headphones for your kid.
Many people think selecting headphones for a 2-year-old is all about cool designs, but this is very wrong. There are mistakes a parent can make and we have written this comprehensive guide to help you avoid them.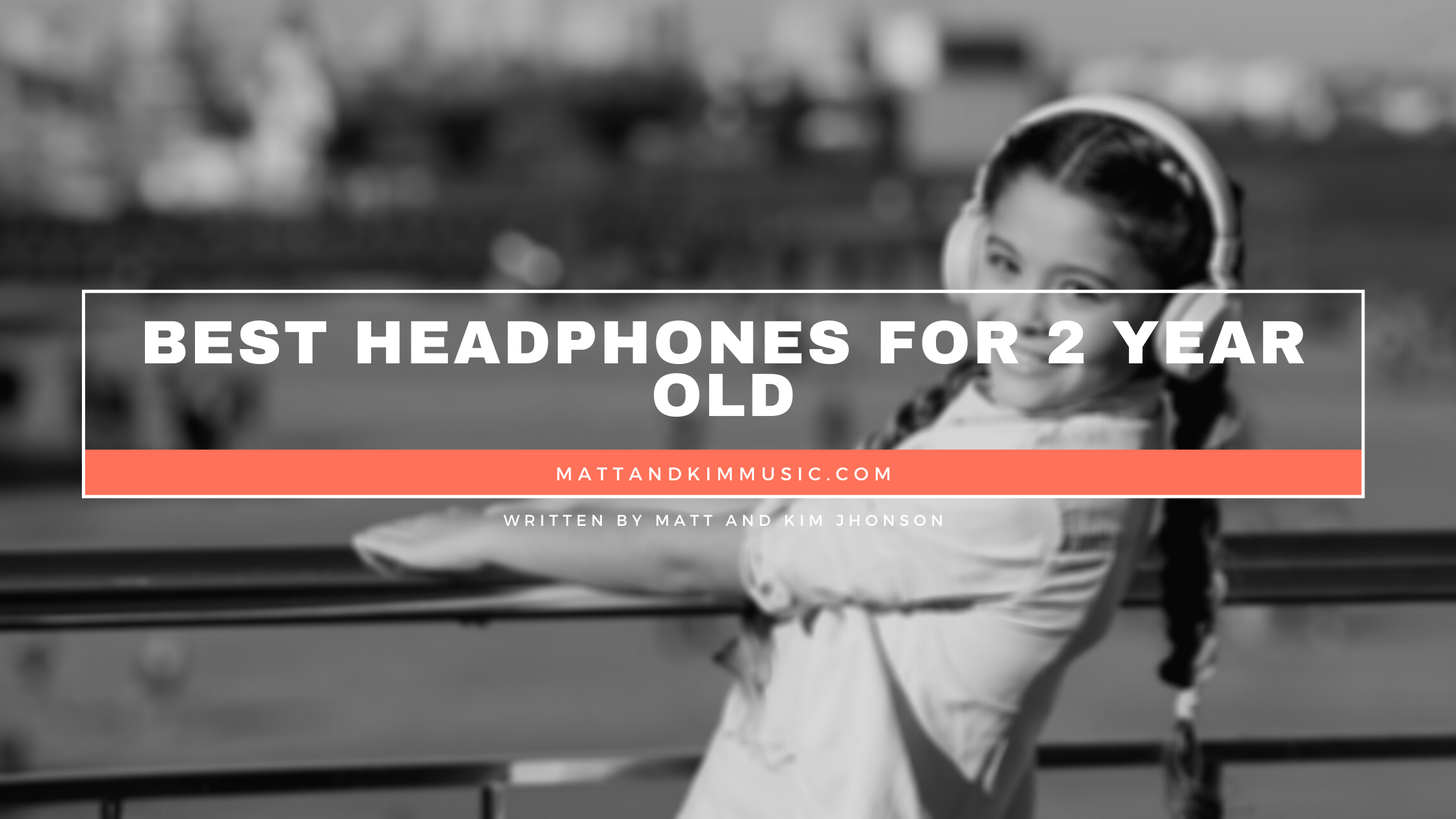 It is not safe for a child to use regular headphones, so you can save yourself unnecessary worry by getting them kid-friendly headphones.
You might wonder if there are any differences between kids' headphones and regular headphones.
Though your child can listen to music with both kinds of headphones, regular headphones expose them to certain risks. There are safety measures on kids' headphones that take care of these risks.
We will get you acquainted with the best headphones for 2-year-olds in this article.
Best headphones for 2 year old in 2021:
1. Mpow CH6 Headphones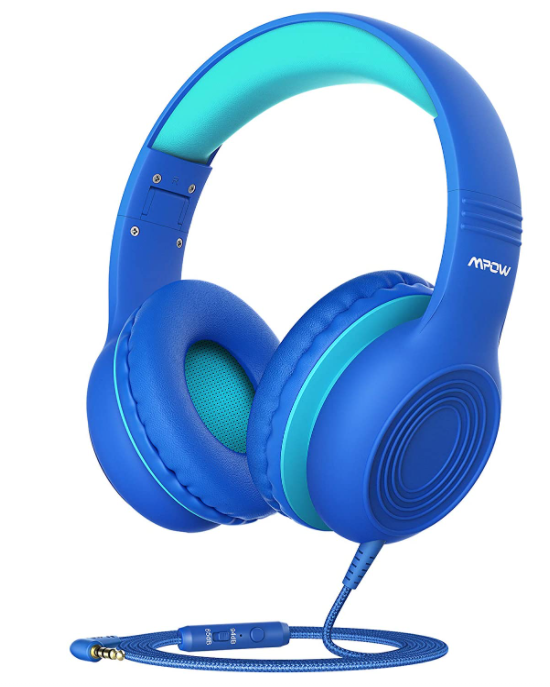 The Mpow CH6 features a volume limiter that you can turn on or off. The maximum volume on this control switch is at two levels:
85 dB (which is the approved safe volume by the World Health Organization)
94 dB
If your kid would like to listen to louder music, you can further adjust the volume limit to 94 dB but make sure that this is kept to a short listening time.
It is great that siblings can also share the same listening experience with these wired headphones. These brilliant colored headphones for a 2-year-old have a shareable audio feature with a built-in 3.5mm jack that is compatible with most headphones. With this kind of design, you don't have to connect through a splitter to share your listening experience. The Mpow CH6 delivers a balanced sound signature in which the treble, mid, and bass notes are equal in weight. Kids can enjoy a comfortable listening time with this kind of sound quality.
These kid-friendly headphones are perfect for children age 1 and above because of the less aggressive sound they produce.
There is a natural curiosity in every child to test the limit of their toys, which often leads to destruction. It is safe to say that Mpow CH6 is built ready for this with its well-constructed headband. The headband is super flexible and is sure to not break easily even when it is accidentally sat on.
Another feature that makes most parents keep coming back for the Mpow CH6 is the adjustable headband. The headband can be adjusted so that it fits all children of various ages. The headphones also sport an inline microphone so that your child can participate in remote calls with their classmates and teachers.
Take note that the build quality of this device is on the cheaper side so if you're looking for premium quality headphones, you should look at other options.
2. CozyPhones Kids Headphones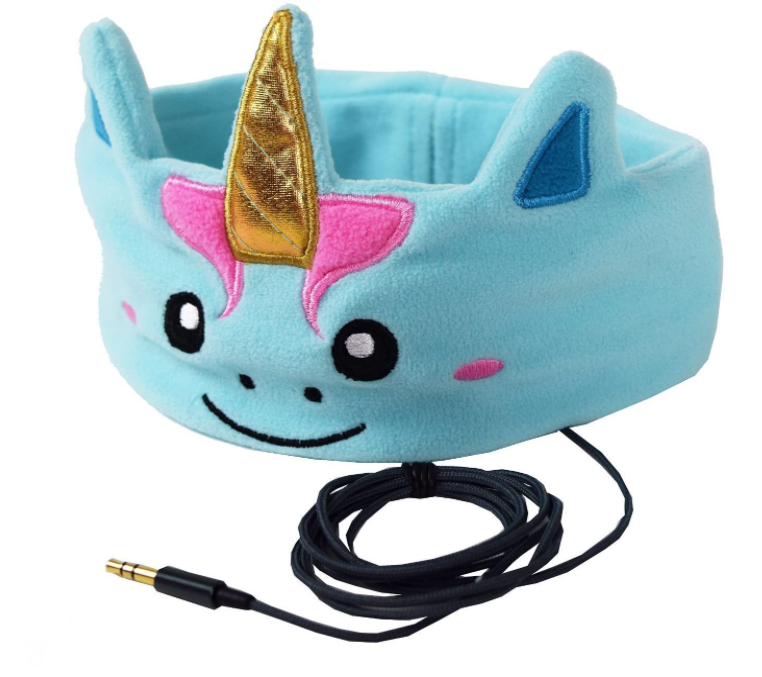 These headphones for 2 year old kids come in a large variety of cute fancy designs ranging from exotic animals to popular characters from cartoon shows like Paw Patrol and Teenage Mutant Ninja Turtles.
CozyPhones offer your kids fun beyond the basic color combinations that most other headphone brands offer. Every time the kids wear their CozyPhones headphones; they can transform into a bunny, unicorn, or even a pirate.
The headband is made with fleece which ensures maximum comfort when the headphones are worn. Because it is a very warm and comfortable material, fleece is used widely in the production of many items of bedding and clothing for babies, toddlers, and children.
The most rated attribute of CozyPhones is comfort and you can get this for your children for a very affordable price.
Since the headband of CozyPhones is made with fleece fabric, you can easily fold and store the headphones whenever and wherever you like. The use of fleece to make the headband of headphones has improved the portability feature of most of them. Headphones can be folded compact and kept in a bag without taking up much space so that at any time or place, your child can listen through their iPad or any other mobile listening devices.
In addition to that, the fleece headband can also serve as an eye mask which can help reduce the brightness of the surrounding when your child needs to take a good nap even in broad daylight. Another plus is that the headband is totally washable and washer safe.
3. Riwbox CT-7S Bluetooth Headphones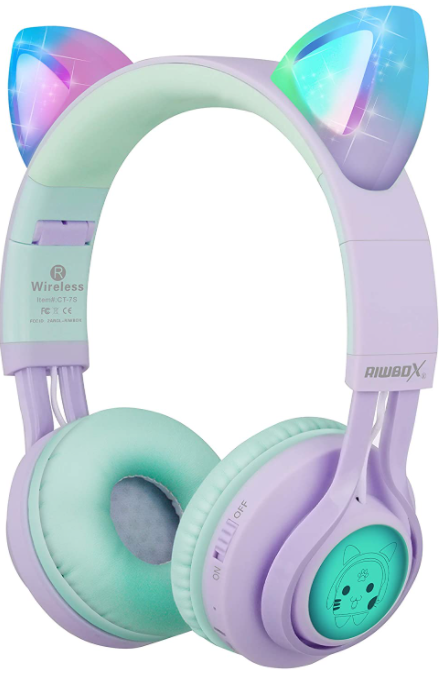 With the CT-7S Cat Ear headphones, Riwbox is offering parents the option of going wireless.
Headphone cables can be dangerous in some situations because children are always jumping, pacing, and generally moving around constantly. Going without wires can reduce the risk of incidences in which your child gets dragged by wires or the device gets dragged mistakenly.
To go from a wired connection to wireless, all you need to do is unplug the cable from the headphones and connect via Bluetooth to an audio device.
The pairing is a very easy process and the wireless headphones have been commended by most buyers because they are so easy to connect via Bluetooth.
Another great feature of the Riwbox CT-7S is the inbuilt microphone which allows children to participate in remote conference calls with their classmates and teachers. It is also useful for children to FaceTime with their parents.
It is a common practice among Toy manufacturers to include a blinking light feature on some of their toys so that children can find them more interesting. The Riwbox CT-7S has such a feature as you will see on the headband and the cat ears.
Don't worry about the LED lights staying permanently on. There is a button on the device with which you can turn off the light feature easily. This allows the battery life of these wireless headphones for 2 year olds to last long.
Unfortunately, the headphones are known to stop charging after some time. But despite the charging issue, the headphones are still very popular especially among younger kids because of the quirky LED light feature and the compact nature that allows easy storage.
4. Baby Banz Earmuffs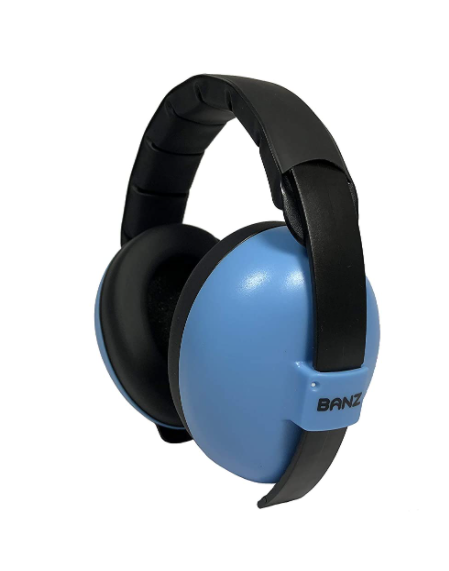 You should think of protecting the ears of your baby if you ever think of taking them along with you to a party or wedding. Their ears should also be protected when they're at home and their brother or sister is playing an instrument. Every parent can do this by simply buying earmuffs that do not play any audio. These are capable of protecting the ears of their little ones from unnecessary noise.
Baby Banz is a very popular brand of safety devices for children. Their earmuffs are equipped with a noise reduction rating of 31dB to help reduce or completely cancel out background noise.
These kid-friendly headphones are highly rated for their lightweight nature and how they're able to completely cover the ears of a baby.
5. Mumba Kids Headphones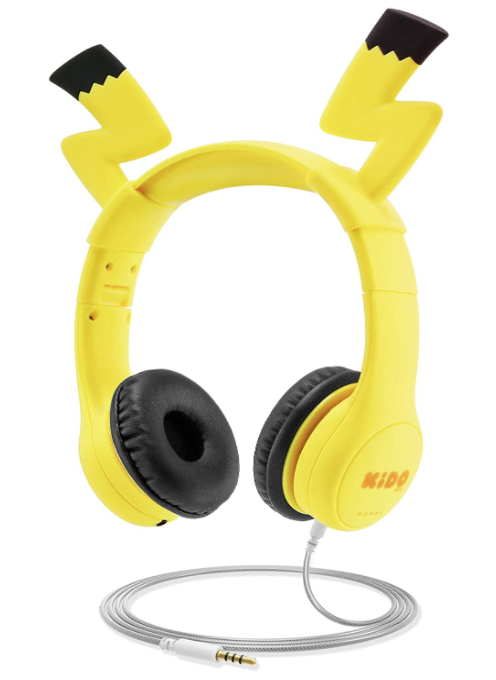 Children are such little forces of nature that one can't help but be amazed at how they can ruin a toy without using any other thing but their teeth or their small hands.
It is soothing to know that Mumba headphones with Volibolt ears are built with a material that is strong enough to withstand strenuous twists.
Even with headphones for 2-year-old kids, the kind of material that the headphones are made of is an important factor that should not be overlooked.
Your children will likely refuse to chew on their vegetables, but you can expect them to chew on the most random items like their pencils and even their headphones.
You should know that Mumba Volibolt headphones are built with food-grade and non-toxic materials that are okay for children's use. Hence, be rest assured that the headphones will pose no harm to your kids if they chew on them.
Besides being a hearing protection headphone, you can share audio on the Mumba headphones with Volibolt without having to use a splitter.