Whenever you have a limited budget and you need to settle for some headphones under $25, you may feel confused about the best choice in a highly competitive market. To give you a hint of the process of selection, we are presenting to you details of our best headphones under $25 in 2020. This compilation will keep you informed of the available options before selecting your preferred choice among a variety of headphones.
While we may not suggest products that are audiophile-pleasing at the lower spectrum, we have a range of options retailing that are not only great but also affordable, under the $25 range.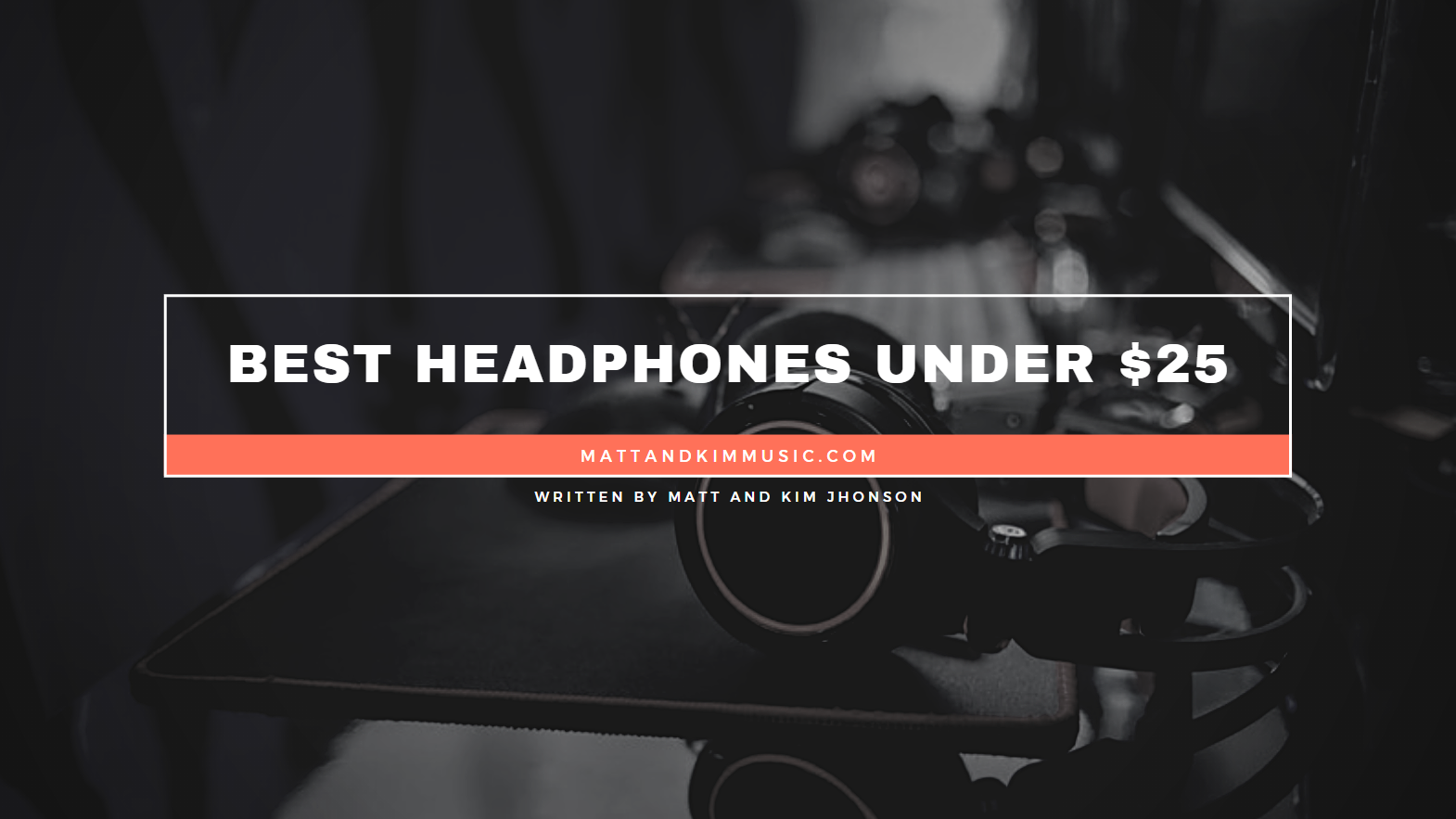 We don't mean to undermine the audio quality; our point is that now, there are various cheap headphones whose functionalities and features are far higher than the price they are sold for. Such a great development can be attributed to the fast rate at which the industry is growing and, of course, the advantages of trickle-down-technology. The growth in technology offers consumers a more favorable deal, as product upgrades and improvements occur at an unprecedented rate.
Best Headphones under $25 in 2020
This model is one of the best headphones under $25, They function properly and boast of some of the nicest features when compared to more expensive sets.
Having been upgraded, this model now incorporates an over-ear hook to facilitate secure positioning and enable the wearer to move easily. Attached to the bud is a new memory foam formula whose enhanced exterior makes it fit more snugly than the previous version, plugging the bud tightly in place and supported by the new hooks.
The Mpow Flame Bluetooth headphones ensure the stability of the connection with improved compatibility, making them suitable for travel, especially as they have an IPX-7 certification that protects them from moisture damage.
Mpow Flame Bluetooth headphones deliver excellent audio, courtesy of in-depth research and development which their array design is provided with, a development made to enhance bass for a much-improved presence in the mix.
Pros:
Over-ear hooks
Water-resistant
New foam tips
Improved bass
Why they are one of the best under $25: These headphones have witnessed an upgrade to their design and a circuitry overhaul, which help them to display some convenient features and qualities. In addition to the amazing audio at such an affordable price, their IPX certification makes them one of the best headphones for less than 25 dollars to consider.
Considering the fact that this review focuses on cheaper sets that we can opt for in times of limited budget; in our compilation, we have carefully picked this set from the pros at Panasonic where you can get good over-head headband headphones with high audio quality for ten dollars or less. So, this is definitely one to include in our Headphones list of best under $25.
The big dual drivers bring out powerful audio accompanied with great depth. Besides, this set has a wonderfully accurate mid-range for further enhancement. There are neodymium magnets and over-sized coils incorporated in the driver, which has been manufactured to mirror Panasonic's premium lines and transmit improved low-frequency response and produce better bass.
This set is naturally adjustable, flexible, and comfortable enough for the wearer. To last longer, the cups are protected with plush padding.
These types of headsets are durable and convenient to carry. They contain a very strong and long cord, a feature which enhances durability. And they are very suitable for home leisure use.
Pros:
The primary traditional headphone set
Extra-long cord
Broad dual drivers
Improved bass
Durable features
Why they are one of the best: These conventional pair of wired headphones give a robust listening experience with features that make them outrank others within the same price range.
3. iJoy Matte Finish Premium under 25
This is a great but cheap set of headphones under $25 with a space-saving, fold-away design suitable for commuting. They are some of the models of iJoy's premium line built with excellent features including impressive audio quality. Apart from being durable, they are well-designed with folding devices.
These products have their response steered by neodymium, a rare-earth magnet, with good quality parts used for their build. The wearer can wire them directly or use them wirelessly or via the onboard Bluetooth.
The audio quality is great with good dynamics. The large nature of the bass frequency response allows them to produce a wide-range sound with lows that are relatively punchier than some.
There are two notable features in these headsets. First, they can easily pick up radio signals without a paired device; and second, they have a built-in micro SD card reader that enhances their versatility and makes them outrank their competitors.
Pros:
Extensive low-frequency response
Folding set
Radio antennae
Micro SD card reader
Why they are one of the best: These headphones are rated as one of the best under $25 because they are affordable and well-designed. They produce quality sound and give some exceptional merits as well.
4. Sony MDRZX110/BLK
The next selection on our compilation of the best headphones under $25 is the Sony MDRZX110/BLK. This Sony wired set of headphones have simple and well-built features. They are fully adjusted and carefully padded. The closed-back ear cups and on-ear enable them to easily transmit the sound to the wearer while they passively repel noise.
Their swivel structure enables them to improve comfort levels and enhance portability. The layout helps the cups to fold within the semicircular sizes of the headband so as to decrease their footprint significantly to ease portability and storage.
The on-board driver parts are very loud and have 30mm combination diaphragms. They transmit vibrant, full-range sound while they have a wide frequency response. They are decorated with strong Y-leads cords which are difficult to entangle. They are also available with an optionally incorporated microphone.
Pros:
Durable sliding flexible headband
Strong wires
Affordable price
Swivel cups
Why they are one of the best: They are cheap and well designed. They also come with a flexible headband and are relatively suitable for a low-end pair. Though the sound is not that excellent, it surpasses the expectations of many users.
These are on our list of the best headphones you can get for less than $25 because of the ultra-soft ear cushions and the padded headband which provide a stress-free listening experience. You can wear these headphones comfortably for long listening sessions. They come with an adjustable slider that helps you attain the right fit easily. These headphones are great for workouts, work commute, and listening at home.
The LORELEI X6 is built carefully with strong and sturdy plastic that offers durability and long-lasting resilience. They come with a premium 1.5m nylon braiding cord that doesn't tangle and is suitable for kids and children. The lightweight and foldable design ensure that you can easily take these wired headphones along with you anywhere.
The friendly in-line microphone allows for making calls and skipping tracks back and forth. These headphones support a wide selection of devices such as computers, cell phones, laptops, MP3, and MP4 players, as well as other 3.5mm audio jack devices for games, listening to music, the gym.
Pros:
Built for maximum comfort
Lightweight
Folding and durable design
Easy in-line control via microphone
Why they are one of the best: They have quality design and serve as a more affordable alternative to the other folding sets under $25.