Having dreams is never a bad thing, even though they exceed the actual limits of what it is we can achieve at that specific time. Headphone lovers can attest to this: there are times when the cost of your dream headphone supersedes the funds readily at your disposal. They may cost a fortune, but the most important thing is applying some responsibility while shopping. Just because you have a budget doesn't mean you have to go for a headphone with a mediocre sound.
If simplicity, quality sound, comfort is your style, you must know how finding your preference can be one tough nut to crack. There are variations of options out there in the market, but the question is, how do they add up?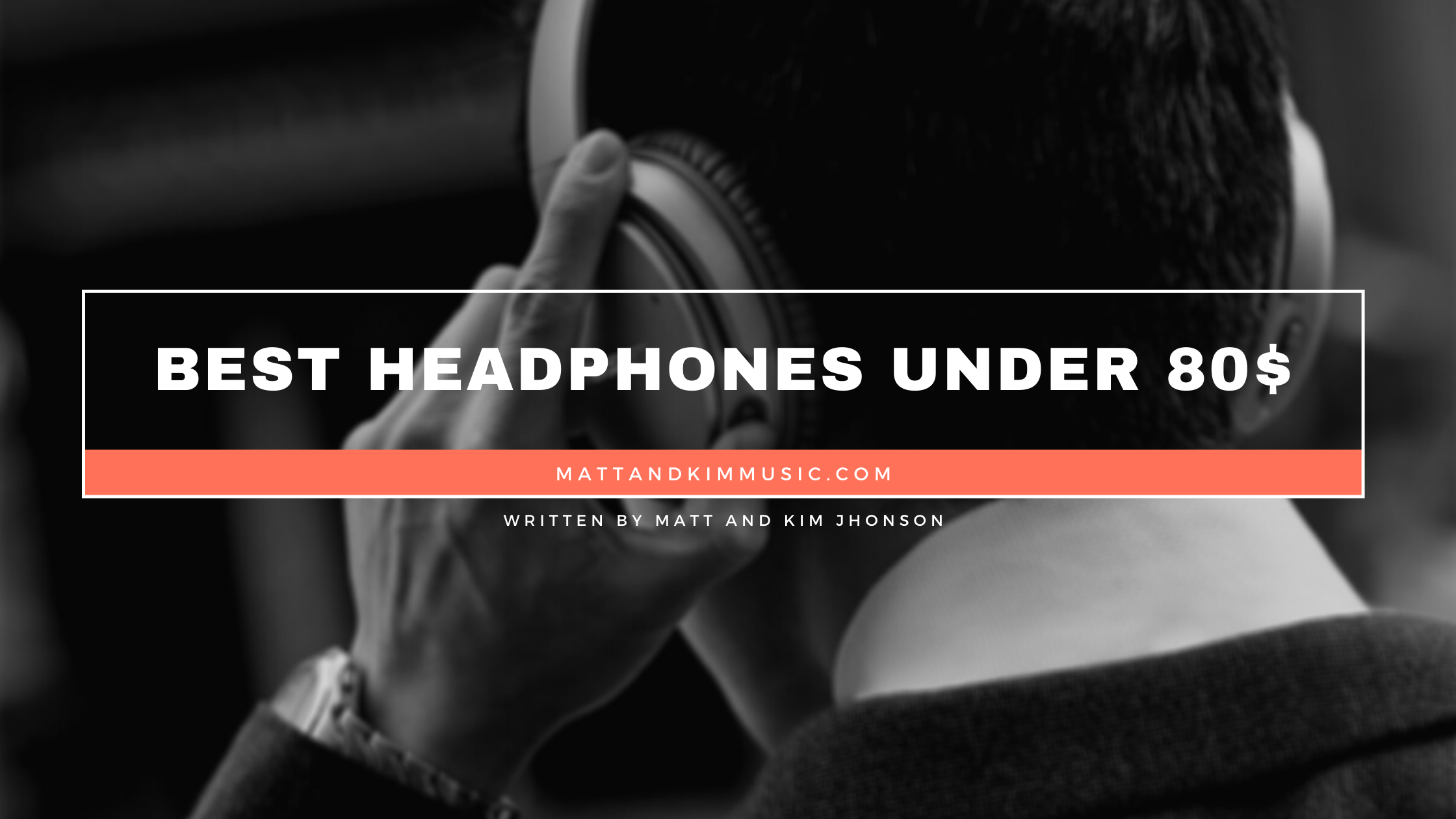 As stated earlier, it all depends on your preference. Some headphone models offer more versatility with their Bluetooth and noise cancellation feature – which is an added advantage if you're on the go. However, gamers commonly go for headphones that are a bit inconspicuous, while audiophiles are prone to gunning for luxury and sound quality. Whichever one you are, you'll find something for you, and at a price under $80.
The market has a near limitless pool of budget headphones, and lots of them go above and beyond the call of duty. As a result, many of them feature in our rundown of best headphones, even when we don't consider the price.
Having gone through lots of headphones, we have the following recommendations for you on the best headphones under 80.
Best Headphones Under 80$ in 2021:
1. 1More Triple Driver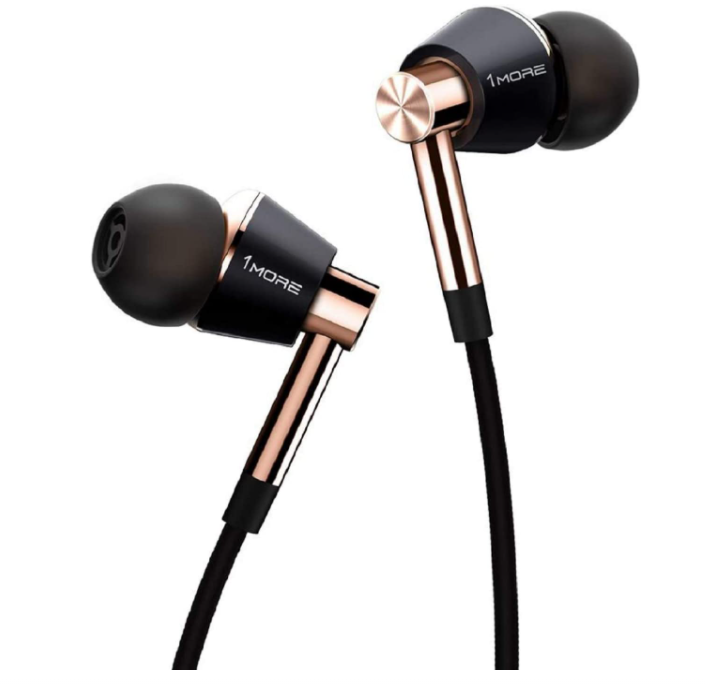 Utilizing a package with an exclusive design pleasant to touch and sight, Chinese company 1More's Triple Driver earbuds succeed in discharging the qualities of high-class in-ear headphones; and at a modest price.
1More's Triple Drivers discharges clean, exceptional high sound frequencies, with the company pegging the maximum frequency range at 40kHz. They also allege a bass sound that is steady yet heavy and comfortable without compromising the rest of the sound mix. Bearing this in mind, you get to relish the midrange and treble drivers' execution in one splendid combo of distinguished sound.
Another impressive detail about the Triple Driver is the quality of its build. For in-ear headphones in this price range, the Triple Driver utilizes excellent materials. The casings are aluminum alloy with a gleaming lacquer of sandblasted copper, while the cable is in triple-braided Kevlar. As a bonus, you also get an attractive case when you make a purchase.
The Triple Drivers cater to your phone call and music replays with its in-line mic feature and triple button control. For such qualities, it's astonishing that these earbuds fall under the $80 price range.
2. Philips SHP9500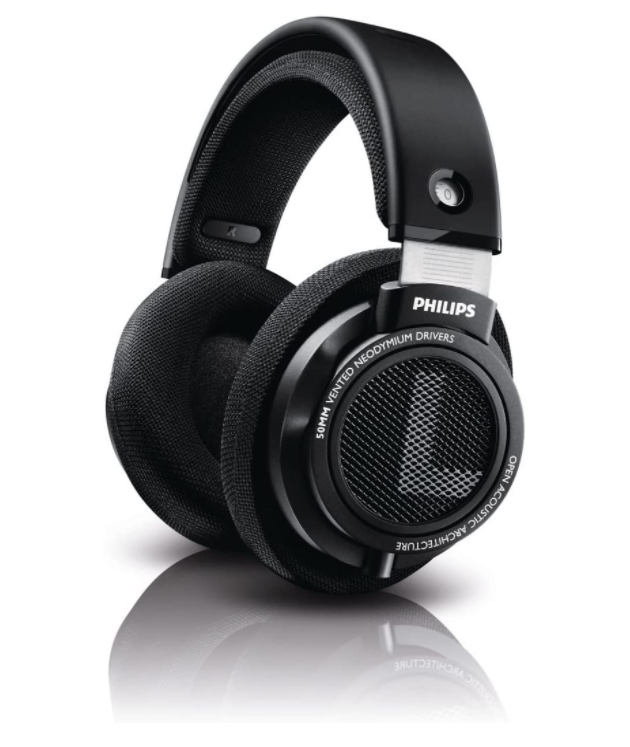 The Philips SHP9500 isn't wireless, but this doesn't stop it from sporting a comfortable design and remarkable sound. Even though they cost more in the past, you can get these headphones for less than $80 now.
Sporting an open-backed design, Philips SHP9500 accommodates a broader soundstage, emphasizing sound quality over noise insulation. The ear cups come in double-layered, permeable cushions, enabling you to listen comfortably over periods. The headphone's overall build is spectacular and features gold-lacquered connectors and a 1.5-meter removable cable. If you want, you can use a shorter cable.
The Philips SHP9500 has a few snags. At the low-end, they don't make for robust products. Also, you can't use them for phone calls as they don't have a microphone.
The 12-35000 Hz frequency response and the open-back design give this earphone a clean and steady sound that makes it a great choice to produce and mix music, listen critically, or listen for pleasure.
3. Cambridge Audio Melomania 1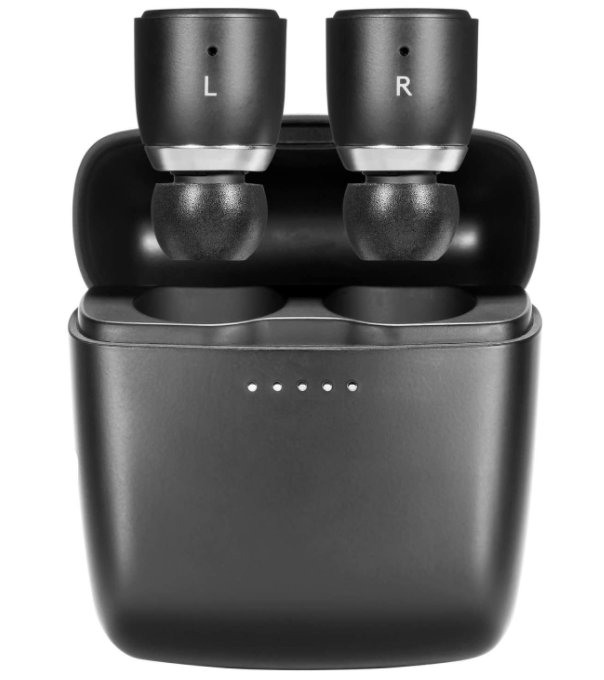 If you're an audiophile looking for an incredible wireless audio experience, then the Melonamia 1 should be your bullseye.  The British audio company hit the jackpot on their very first attempt. The Melonamia 1's build is exceptional, weightless, and cozy. To enhance your listening pleasure, it comes with a variety of ear tips. If you want the headphone to fit perfectly, you should go for the tips with memory-foam.
As an audiophile company, Cambridge Audio ensured that the Melomania 1 produces music as naturally as possible. The earbuds deliver a sound that's steady and outstandingly clear, cutting across all frequencies.
The headphone commands a remarkable battery capacity that allows it to run for a complete 9 hours, with an extra 36 hours if you store it in its charging case. And what's even more remarkable, you don't need to spend boatloads of time charging it up if the battery runs down. Thirty minutes is all you need for a full charge, and you can continue your musical ride.
There's an option for those who like to work-out – the IPX5, which shields the earbuds from sweat or water. The Melonamia 1 also features aptX, which offers a seamless video-watching experience for people who love to binge Youtube on their phone.
Melomania 1 might be your pick if what you're searching for is the best true wireless headphones under $80.
4. Status Audio CB-1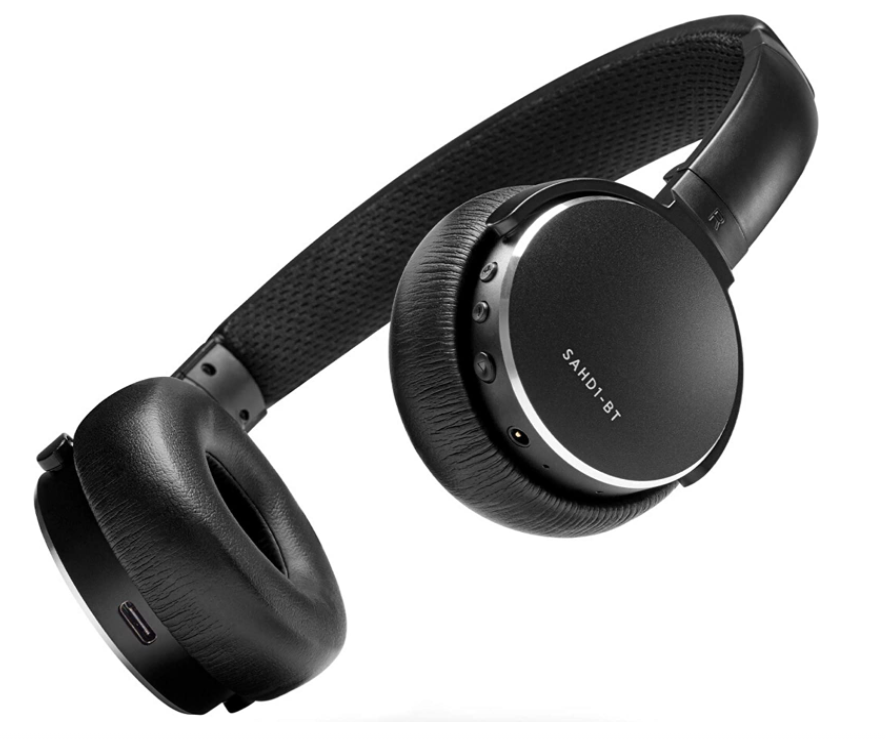 Usually, headphones meant for professional studio use hits higher than the $80 benchmark, but does it always have to? The Status Audio CB-1 are impressive trendsetting studio headphones selling for less than $80. They would make a great pick if you're at the start of your professional audio career and require headphones at modest prices.
These headphones are foldable and cozy despite their large size. If you've got big ears, don't fret. The headphone utilizes deep cushions that fit all ear sizes and makes listening to music through periods painless. It aids concentration during studio sessions by featuring a closed-back design and pads that fit snugly around the air, thus shutting out external noise.
The Status Audio CB-1 has cables that you can remove at will, but the entire frame is on the average side. If you can overlook the regular endurance, and maintain them properly, you can have a headphone you can work with or use for fun.
The headphone appropriates precision and deepness for its sound production, making it apt for any kind of work you want to do using audio. The Status Audio CB-1 can be an excellent headphone for DJing and will also serve if you're listening to music for the sake of it.
5. TaoTronics TT-BH090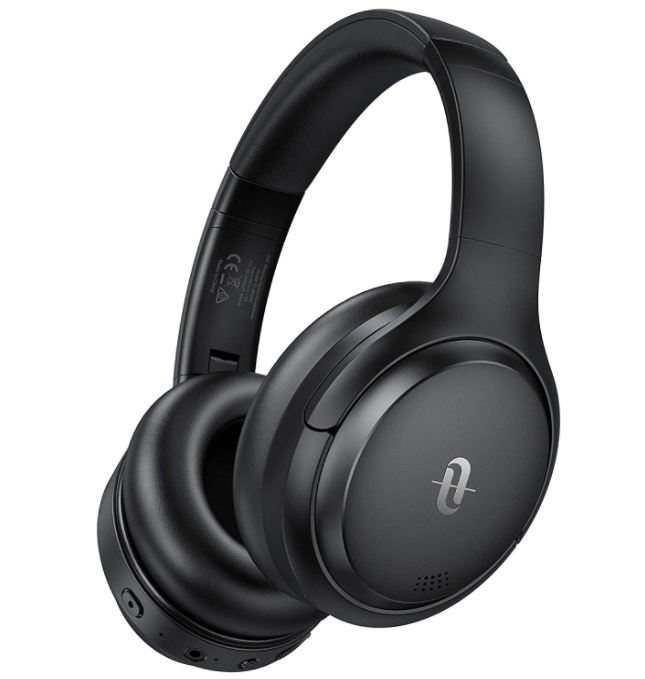 Budget headphones usually come with lots of concessions in return for the pro of cost-effectiveness. The BH090 changes this narrative by punching above its weight, even going as far as providing a noise insulation feature that's functional. Its structure is a bit restrained and dull. The headphone feels solid due to its construction from hard plastic. Its earcups have a rotation span of 90 degrees allowing you to turn it in various directions and fold it to make carrying it about more comfortable.
The battery life should give you 35 hours of listening time from a single charge. The earcups come in pads that fit snugly and cozily, making listening for long periods free of pain. The cups also accommodates a variety of ear sizes.
The BH090 has got your back if you want to cut out the low noises from the planes or buses' engines. Its fully functional noise-insulation feature works commensurably in most situations.
The headphone can deliver an incisive bass sound that's effective and possesses the ability to stand out from the midrange. On the other hand, the midrange retains sound clarity, sporting a smooth treble on top of it all.
If you're in the market for the best noise-canceling headphones for less than $80, we suggest that you check these out.